April 29, 2007 - Gumball 3000 Rally - Unconfirmed but word on some of the Gumball forums is that Hayden may not have been able to make it for the start of the rally but hopes to join the team for the drive back.
April 29, 2007 - Gumball 3000 Rally- According to GTSpirit.com and CoPilotLive Team Christensen is among the 100 or more teams competing in this years Gumball 3000 set to start today in central London. The Co-Pilot Live website lists the team number as 10 and Tove Christensen and Hayden Christensen are listed as drivers of a Porsche GT3 but it could be a black Aston Martin V8 Vantage according to GTSpirit. Most of the information we've gathered on Gumball 3000 is from various news sources and rally sites. We have no official word on Hayden's particiaption or the actual drivers for Team Christensen at this time but will post it as soon as we hear anything definite.
Other links to help you keep track of Gumball 3000:
Metacafe: Gumball 3000 2007 Videos
Youtube - Gumball 3000 2007

April 28, 2007 - Gumball 3000 - Press Release - "Imagine the scene; Jamiroquai's Jay Kay leading the pack of supercars in his Porsche GT3 with supermodel Jodie Kidd in hot pursuit, whilst Star Wars Darth Vader Hayden Christensen vies for position just behind, as Danny Dyer chills out in his Range Rover, and MTV's Pimped My Ride host Xzibit cruises in his pimped out Lamborghini and you start to get the picture. Gumball is no ordinary event!" Maximillion Cooper (Gumball host). Read more on the Gumball 3000 Forum.
April 23, 2007 - Sighting - Where in the world is Hayden Christensen? - Hayden was recently sighted arriving at Los Angeles International Airport and meeting up with fellow Canadian Alanis Morrissette.
April 23, 2007 - Gumball 2007 Route - "The 2007 Gumball Rally will be going from London to London. The cars will depart London on the 29th of April 2007; from there they will drive to Frankfurt via a stop in Amsterdam. We will load all of the cars, and their drivers onto planes and fly them to Istanbul. Once unloaded in Istanbul the cars will go for a quick blast around the F1 circuit. The next day will see everyone head onto Athens via a short stop in Thessolaniki. From Athens we'll head up to Dubrovnik and Vienna. The penultimate stage will see everyone drive through the Alps and Germany to Berlin. From Berlin the final stage will be take everyone back to the London and a massive party!" Gumball 3000
April 23, 2007 - Gumball 3000 Rally - Driver registration will take place on Saturday April 28, 2007 for most drivers at the Sofitel St. James with kickoff party at London's Trocadero. The start of the rally is set to begin the next day April 29, 2007 at Pall Mall, London from 4:00 p.m to 6:00 p.m.. (Still awaiting further confirmation of Hayden's participation.) Information source: GT Spirit. Check the official site at Gumball 3000
April 23, 2007 - The Need for Speed -Gumball 3000 tests driver endurance - "The Gumball 3000 features an outlandish cast of drivers from the worlds of film, fashion, finance, and music in a party-fueled adventure around the world. This year's rally goes from London to Asia and back, and drivers set to participate include actors Hayden Christensen and Jason Statham, rapper Xzibit, and musicians Jay Kay and Huey Morgan." Read more at Business Wire
April 19, 2007 - Happy Birthday Hayden Christensen!
April 16, 2007 - Factory Girl Review - "Christensen's believable role as folk star Billy Quinn shined brightest in a very revealing scene in which Warhol filmed the bold folk singer in his factory studio. Like all of his other actors, Andy refused to pay Dylan for his contribution and eventually, reluctantly offered him the $11 he managed to scrape out of his tight pants pockets.
Although Quinn complained about Warhol's characteristic lack of cinematic direction, he quickly took the chance to reveal Warhol's meager generousity and manipulative tendencies. But since Dylan is well known for his candid and outspoken nature, his eloquent speech was more introspective social commentary than juvenile whining." Read the entire review at Imprint Online
April 15, 2007 - Happy Birthday Hayden! - USA Weekend Magazine's Birthdays this week and for April 19th include Hayden Christensen 26, Kate Hudson 28, James Franco 29 and Ashley Judd 39. USA Weekend is included with many Sunday newspapers and the article is also online at USA Weekend.com
April 12, 2007 - Remembering Kurt Vonnegut Jr. - Kurt Vonnegut Jr., celebrated author, died at age of 84, on April 11, 2007. Among the author's many literary works made into movies (including feature film Slaughterhouse 5) was "Harrison Bergeron," a 1995 science fiction TV movie starring Sean Astin, Eugene Levy and Hayden Christensen. Source The Indy Star
April 12, 2007 - Factory Girl Review - "Better, believe it or not, is Star Wars prequel vet Hayden Christensen who, after his bravura performance in Shattered Glass a couple of years back, finally gets another chance to actually act. Here he's immerse as the mulish and self-possessed folk singer (Billy Quinn though the credits merely list the character as 'folk singer') who tries to rescue Sedgwick from 'bad influence' Warhol." Read the review at Moviehole
April 12, 2007 - March news has been archived and can be found HERE.
April 11, 2007 - Bio-Diesel Baja! Veggie Monsters Aim for Run in Baja 1000 - We just got a tip from our guy Skiny (above), idea man and Audi Avant road-rallyist. His latest project involves a ragtag group of diesel engineers, celebrities and related cohorts. Their mission is to field a 100% biodiesel team to run the Tecate Baja 1000 in November. .....And there's talk of biodiesel proponent and driver of a veggie El Camino Daryl Hannah, and Hayden "That Anakin Guy" Christensen, being involved in some capacity. More details to come when Skiny decides to spill the whole thing. From Jalopnik.com News
April 10, 2007 - Jumper - Goyer Brings Big Screen Life To Another Superhero - "While Goyer is busy getting scripter Justin Marks' "Super Max" Green Arrow project off the starting line he is also busy with the script for the anticipated remake of the classic SF movie "Scanners" and putting the finishing touches on another flick currently in production, the SF film "Jumper" starring Samuel L. Jackson, Diane Lane and Hayden Christensen. "Jumper" is due out in theaters by February 2008. In one more tidbit of Goyer news, he and David Heyman are co-producing a big-screen version of the James A. Owen fantasy novel "Here, There Be Dragons," based on the real and fantasy lives of J.R.R. Tolkien, C.S. Lewis and Charles Williams." Read more of this article at Slice of SciFi.
April 4, 2007 - According to Hayden's ETalk interview from March 27, he will not be doing The Madison Kid, the Phil Hellmuth biopic. Hayden also said filming on Jumper is continuing however, with another shoot sheduled for Tokyo this month where he thinks he may be spending his birthday. You can view the videos from several sources of the ETalk interview here at You Tube
April 4, 2007 - Rosario Dawson Interview - "And it was like, if you're going to be sixteen years old and living on your own and decide to be an actor, then you have to go to acting classes. I went to Strasburg with Hayden Christensen, Scarlett Johansson, and I'm in these classes and that's how I met Talia Lugacy, wearing her long curly hair and big Stanley Kubrick t-shirt. She was very very serious, and walked into the DGA at ten years old to try to get her card." Read the interview at Slash Film
April 3, 2007 - Governor vs. Lt. Governor Over Film Industry Incentives - In a rare public disagreement over a major state policy initiative, Governor Jim Doyle and Lieutenant Governor Barbara Lawton find themselves on opposite sides of the debate over whether Wisconsin should accelerate the effective date of a package on financial incentives to lure film projects to Wisconsin.
The approved package of tax credits and other incentives begins in January, 2008. But the producers of some film projects with interest in Wisconsin have said they will locate their work in Canada or elsewhere if Wisconsin's incentives are not in place this year, including the producer of a movie based on the life of Madison-native and world reknown poker player, Phil Hellmuth. Read entire article at WKOW TV
April 3, 2007 - Crash Bandits has been removed from the Internet Movie Database along with all related entries and pages. No other information was available. I may be late in getting this news and sadly, I'm removing the IMDB message board link. This is one I was looking forward to seeing on the big screen. Other movie sites still have entries for Crash Bandits so maybe there's still hope.
April 2, 2007 - The Making of the Star Wars Celebration IV Program Cover - "It took me two months to complete this painting, but it took about 4 months of sketches and discussion before a brush was ever set to canvas. Note how the canvas seems to migrate all over the room!" Randy Martinez: poster artist. See the story in pictures at Randy Martinez' website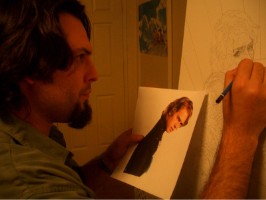 Sketching Anakin
April 2, 2007 - Catching up on Star Wars news
The New Hyperspace - March 31, 2007 - "Hyperspace has certainly gone through its phases over the years but being an Official Star Wars Fan Club Member is now more beneficial as well as more affordable for fans. Starting this year Lucasfilm has dropped the combo 1-2 punch of Hyperspace being bundled with the Star Wars Insider. Hyperspace is now available for only $14.95 a year!" Get more info at Hyperspace
Celebration IV Collectible Program Book - March 27, 2007 - "Star Wars Celebration IV will pack endless memories into five full days and nights over this coming Memorial Day Weekend. To help fans remember all the amazing things that they do over the course of the weekend, and to let them read about all the things they couldn't get to, Gen Con LLC and Lucasfilm Ltd. are creating a beautiful, full-color souvenir program book. The program is slated to sell for $5 in the Celebration Store, and will be available throughout the show, while supplies last." Read more at StarWars.com