Movie Pages - Click on the pictures below to go to Hayden Christensen Fan News movie pages for Awake,, Jumper,Factory Girl and Virgin Territory, New York, I Love You with trailers, reviews, articles, trivia, release dates and general information. Check out the interactive media page for Jumper.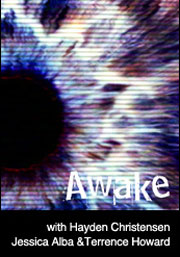 Hayden Christensen - TV Listings
Hayden has worked with the following charities:
Rally for Kids With Cancer 2010 raising donations for SickKids Foundation.
Buy ( RED ) - helping in the fight against Aids
Christopher and Dana Reeve Foundation - Supporting those with spinal cord injuries.
HAYDEN CHRISTENSEN FAN NEWS UPDATES
EMAIL and COMMENTS: - Share news, comments, updates and images. Contact me about anything concerning the site. Your help is always appreciated and credit will be given. Infringement of any rights is not intended.Email: Hayden Christensen Fan News. A credit and/or a link back to this site when using pictures, information and resources found here would be much appreciated. Please don't copy content or hotlink images or remove tags. Thank you.
Comments are temporarily off until a new comment system is embedded. Sorry for the inconvenience.



May 17, 2013 - Hayden Christensen hosting Glacier Films yacht party in Cannes - An exclusive official launch party for Glacier Films will be held Sunday during the Cannes Film Festival. Hosted by Hayden Christensen, the party celebrates the launch of his new film production company with partners Tove Christensen, Sarik Andreasyan, Gevond Andreasyan and Georgy Malkov. Sources: My Yacht Cannes
About Glacier Films - Glacier Films is a full service film production and finance company with offices in Los Angeles, Toronto, and Moscow. Check out Twitter, Facebook page, and IMDB profile for more information! Full website goes live July 1st.
Click for Larger Images

Glacier Films Twitter
Glacier Films Facebook

May 17, 2013 - Hayden Christensen launching new film production company in Cannes - Announced at Cannes this past Thursday, brothers Hayden Christensen and Tove Christensen have officially introduced Glacier Films with partners from Russia. The new film company plans to make six films budgeted at $10 million and five movies micro-budgeted at $1.5 million over the next 3 years. Others joining the venture are Sarik Andreasyan, Gevond Andreasyan, Georgy Malkov.
Click for Larger Images

The first production for the new company will be "American Heist" starring Hayden Christensen in the remake of the Steve McQueen 1959 true life drama "The Great St. Louis Bank Robbery". Filming begins in New Orleans June 16th. Taking on producer's duties will be Tove Christensen, Gevond Andreasyan, Georgy Malkov and Vladimir Poliakov. Paradigm is the sales rep at Cannes for American Heist.
Click for Larger Images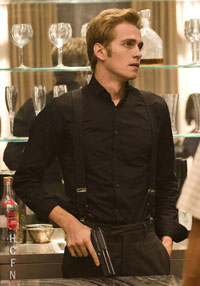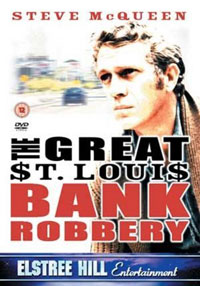 The first micro-budgeted title to film will be a historical horror fantasy about Elizabeth Bathory, known as the Blood Countess, who allegedly killed hundreds in 16th century Hungary.
American Heist Synopsis - Two brothers with checkered pasts, one struggling on the road to normalcy, the other just released from prison intertwine when one drags the other into an ill-fated bank robbery spearheaded by a gang of dangerous criminals, testing the loyalty of their sibling bond and how far they will go for greed and family. Sources: The Hollywood Reporter

April 19, 2013 - Happy Birthday Hayden Christensen - All your fans hope you're having a great birthday today.
Happy Birthday - The Birthday page is up so everyone can post birthday wishes for Hayden. Have fun!
Click for larger image.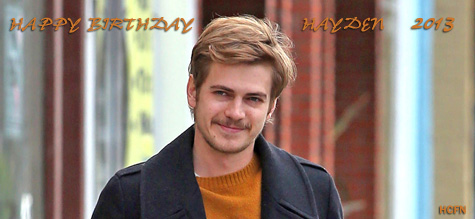 April 12, 2013 - Former Hayden Christensen project Crash Bandits back in development. - Five years ago this month IMDb removed Crash Bandits from it's database and it seemed to be the end of an interesting movie and story. Today Crash Bandits has a new start, a new production company and a new director ready to set things in motion again. There is no word on who will be cast in the new production at this time. Nu Image and Millennium Films will produce and Rob Cohen (Fast and Furious, XXX) will direct and do a rewrite of the original script by Michael Stokes. Sources: The Hollywood Reporter

The 2006 project would have had Hayden playing the role of Jack McBride a treasure hunter specializing in downed aircraft. He would find himself chasing his nemesis, who is holding Jack's ex-wife hostage, while racing towards a critically missing treasure clue aboard a downed plane deep inside the jungle. Bauer Martinez was the production company at time and John McTiernan (Die Hard) was to direct. The legal and financial problems of the production company and the director caused the project to fall apart just before principal photography was set to start in February 2006 in Thailand.


Click for larger image.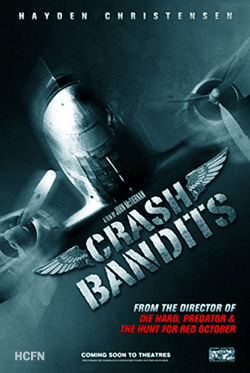 April 10, 2013 - Hayden Christensen News Updates - Scroll down the page and check out updates to news for February 19th with news about the latest Star Wars collectibles from Mythos featuring Hayden as scarred Anakin and black cloaked Darth Vader with photos and article links.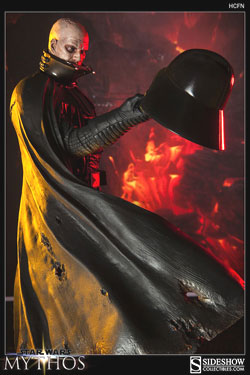 Click for larger image.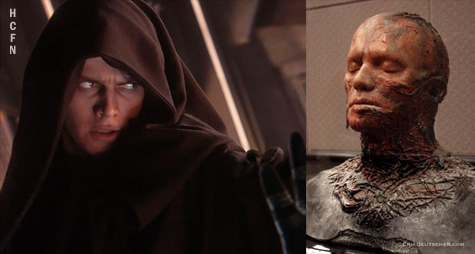 Scroll down to February 19, 2013 for more information and pictures

March 30, 2013 - Happy Easter from Hayden Christensen fan News - I hope it's a beautiful weekend wherever you are and your holiday is a funfilled celebration.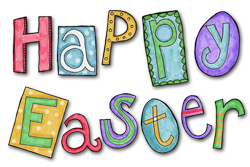 March 22, 2013 - Hayden Christensen, Joseph Fiennes movie The Diplomat still on? - A report about a new role for Joseph Fiennes in the upcoming Brett Ratner Hercules movie also mentions The Diplomat which was recently put on hold.
Fiennes lands Hercules role - "Joe has releases lined up through 2014. Production is underway for his next film, Simon Wells thriller The Diplomat, with Hayden Christensen. The celebrated actor will also join Morena Baccarin in Ross Katz sci-fi thriller The Unholy next year.
Click for larger image.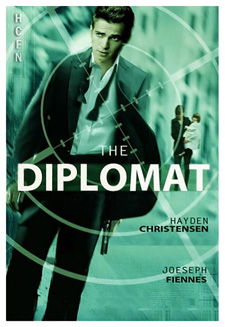 March 20, 2013 - New Hayden Christensen video. - This video from Youtube doesn't look recent and there is no other information posted about it. They are speaking French so my best guess is that this might be from Hayden's French Open visit to Paris in 2009 or when he was there filming some scenes for Jumper in 2007. If anyone has anymore information about the video, please send me an email and I'll post it here.

March 6, 2013 - Ian McDiarmid wanted Hayden Christensen and Ewan McGregor to take their swords skills on the road. - As Emperor Palpitine in the original and prequel trilogies, Ian McDiarmid was a master of the dark side of The Force. Later this year he'll bring his talents to Star Wars Celebration Europe to be held 26-28 July at Messe Essen in Germany. Recently he spoke about his Star Wars experience and about the action in Revenge of the Sith.
Star Wars' Ian McDiarmid on taking Palpatine to Celebration"> - "What was it like filming the action scenes?" "Well, I didn't have a great deal of physical action to do, of course in the movie. It looks like I'm an expert swordsman, which I assure you I'm not, but I was surrounded by them, particularly Hayden [Christensen, Anakin Skywalker] and Ewan [McGregor, Obi-Wan Kenobi], who really, really worked hard and I don't know whether they keep it up, but they are as good as it gets in terms of sabre fighting. I joked to them that they should go on the road when we were selling the movie and so and do a few demonstrations, just to show how skillful they were, because what happens in digital movies and the way things are cut up and edited, you never really see how brilliant they are, and also you can think Oh well (as they did in my case), they can always fake it."

Click for larger image.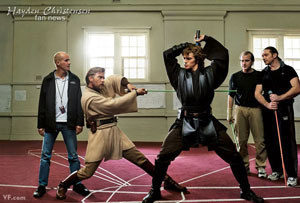 Click for larger image.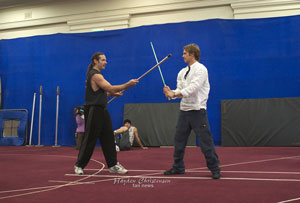 Click for larger image.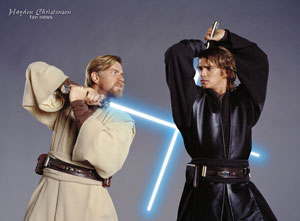 Click for larger image.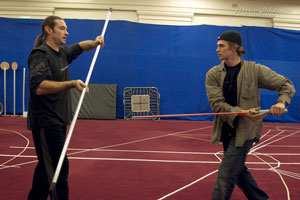 March 17, 2013 - Arclight Film's Hayden Christensen / Nic Cage movie Outcast debuts at Filmart Asia - The Hollywood Reporter - Outcast, staring Nicolas Cage and Hayden Christensen and repped by Arclight, will be given its sales rollout at the Asian industry confab. A Nicolas Cage-starring mainstream remake of the Christian film Left Behind will also be making its Asian market debut at Filmart.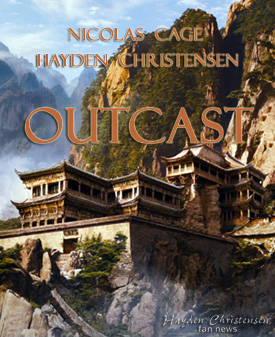 February 19, 2013 - Hayden Christensen and Sebastian Shaw Immortalized in Mythos Vader Collectible Statue. - Slideshow Collectibles has opened pre-orders to collectors for the Darth Vader Statue that is getting some high praise from fans of the Star War franchise. The beautifully rendered statue, with interchangeable parts, is able to depict a newly transformed and scarred young Darth Vader in the prequels as portrayed by Hayden Christensen and the older Darth Vader as played by Sebastian Shaw in the original trilogy. Different arms with mechanical hand/fist or light saber are just some of the parts included to make the statue more personally yours. The statue begins shipping September 2013. Enjoy a few of the pictures below.
I recommend going to Slideshowtoy.com to see more pictures and read the Darth Vader story which gives some intriguing insight into the movie character of Darth Vader and background on the inspiration for the statue.
More story links
The Coolest Darth Vader Statue Ever
I Want That Darth Vader Mythos Statue
Click for Larger Images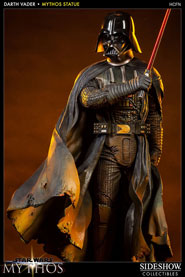 Click for Larger Images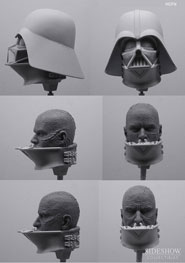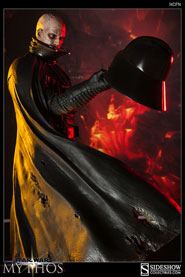 February 15, 2013 - Was Hayden Christensen robbed by the Academy once upon a time? - According to SFGate he was. The movie was Shattered Glass and though it did receive critical acclaim then and continues to do so today there were no Oscar nominations from the Academy.
They Wuz Robbed - By the Academy - "The Academy has made some mistakes over the years, some big ones; they've already made some big mistakes this year, and the awards haven't even been given out yet. And if you believe the prognosticators, it looks like they're primed to make a few more mistakes at the ceremony on February 24."
"And so today we take a few moments to ponder some of the Academy's big mistakes."
Three possible nominations for Shattered Glass - picture, actor (Hayden Christensen as Stephen Glass) and especially Peter Sargaard as his editor. No nominations.
Click for larger image.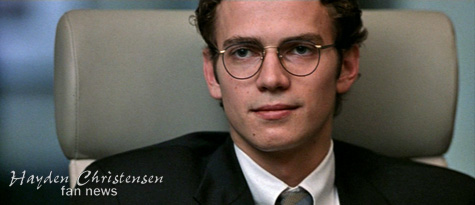 February 13, 2013 - Hayden Christensen to begin filming Outcast in August with Nicolas Cage in China. - Nicolas Cage is a very busy man, with several films in the pipeline currently getting ready to begin filming. When I read that he had signed on for the lead role in Tokarev which begins filming in May, I wondered how that might affect Outcast filming. Not to worry though. Hayden and Nic will still be in the roles of two wandering knights who end up in China and rescue a princess.

The Hollywood Reporter (February 12, 2013) is saying that the movie originally moved to a November 2013 start date before it finally landed an August date to accommodate Mr. Cage's schedule. Hayden attended the Beijing press event last November to announce the launch of the co-production with Gary Hamilton of Arclight Films, Ying Ye of Easternlight Films and director Nick Powell and top ranking Chinese film officials. Location shooting was to begin in April in Yunnan Province, China but now Hayden has a little more time to brush up on his Mandarin.


Click for larger image.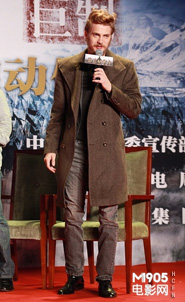 February 8, 2013 - K-OS says Hayden Christensen is a Renaissance dude. - When Canadian rapper K-OS needed a little creative atmosphere to help him finish his Black on Blonde Album last year, he ended up at the Laurel Canyon home of fellow Canadian and friend Hayden Christensen. Hayden's stylish modern home is up for sale now but K-OS made the most of his time there. His Black on Blonde double album was released January 29, 2013 and is available on iTunes. You can read more about Hayden and K-OS below.
The Force is With Canadian Rapper K-OS - "The force was definitely with Canadian singer-songwriter-rapper-producer k-os when he was making his new double album of hip-hop and rock, BLack on BLonde.
K-os, whose real name is Kevin Brereton, wound up at the Laurel Canyon house of Canadian actor Hayden Christensen, who played a young Darth Vader in the Star Wars prequels.
"Oh, my God, I'm a Star Wars nerd," said the Whitby, Ont.-born, Vancouver-based artist, 40.
"It just made sense where I was like four or five records (into my career). I'd already done a lot of stuff in Canada and being in a new environment, but also having a place of my own, especially that place, cause it's very much a barren Miami Vice old '80s mansion. It's nothing glamourous. There's a lot of space. But there's that lonely feeling that you can channel. (Hayden's) also a musician. He's a great piano player. We'd jam together. He's a renaissance dude. So he totally relates to everything I do."
It turns out k-os met Christensen on a flight to Vancouver during the 2010 Winter Olympics, and moved to L.A. for five months in 2012 originally because of a girl, an actress, but they've since broken up.
Click for larger image.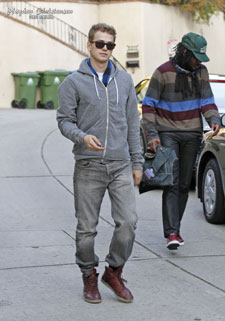 January 10, 2013 - A Look Inside the L.A. Home of Hayden Christensen - Hayden's L.A. home was listed for sale back in September. Described as "celebrity owned", the home is a bright and airy architectural modern design located near Studio City and nestled in a gated community in Laurel Canyon. The home invites nature into every room with its many widows and views of mature landscape, pools and a spa. The indoors are made for comfortable family living and includes multiple entertainment, dining and living areas, and a third floor suite with elevator. No doubt the already handsome 6300 sq. ft house was given some professional staging to stir the imagination of prospective buyers. Hayden and Rachel were out shopping for paint and home decor last summer and may have added some of their own sense of style as well. Follow the link below for more about the home and links to pictures and other information.
Look Inside the Gorgeous L.A. Home Hayden Christensen - "Christensen listed his 6,300-square-foot gated home in Studio City, California, nearly four months ago for $2.65 million, and later dropped the price of the 5-bedroom, 5-bathroom property by more than $150,000, to the current list price of $2.495 million. The house, located in L.A.'s San Fernando Valley, is currently still on the market."
Click for Larger Images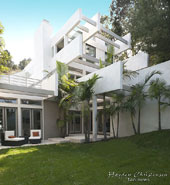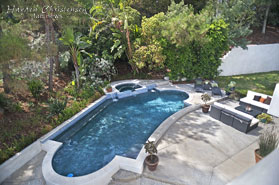 Click for Larger Images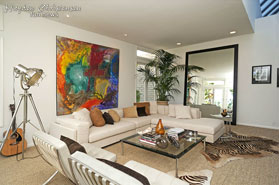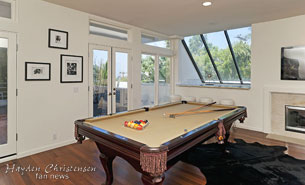 Click for Larger Images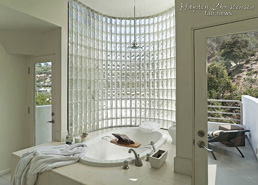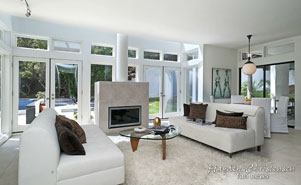 December 25, 2012 - Happy Holidays from Hayden Christensen Fan News - Happy Holiday wishes to fans around the world. Happy celebrations with family and friends and peace too all.
Click for larger image.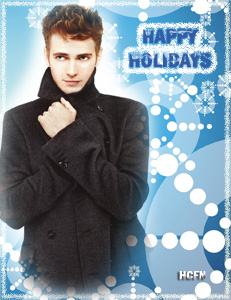 December 16, 2012 - Hayden Christensen globetrotting to Moscow, Beijing and back to LA. - Hayden made a stop to visit friends in Moscow on his way to Beijing in November and attended the Beats by Dr. Dre party at the Soho Room. Tove Christensen also attended along with Dr. Dre and wife Nicole, producer Jimmy Ayvinom, Marat Safin , Alexander Ovechkin, Maria Kirilenko, DJ Nicky Romero, producer George and Anna Malkov Khil'kevich. Hayden made the trip to Russia before leaving for Beijing for the official announcement of a co-production deal for his new movie Outcast also starring Nicolas Cage.Source

Click for larger image.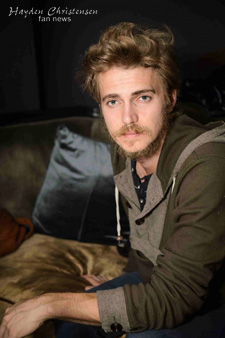 Click for larger image.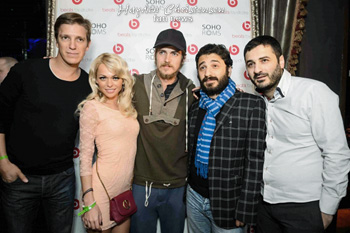 December 2, 2012 - Video: Comments by Hayden Christensen on stage during Beijing Launch of Outcast. - The launch of the International movie Outcast included remarks by Nick Powell and Hayden on stage during the event. Hayden thanked everyone for having them and was excited to talk about the new movie. You can hear his comments in the video below and view the official launch ceremony. The title of the film in China will be The Last War.
If the video doesn't work, you can visit the site to view it HERE.

November 24, 2012 - Hayden Christensen at the Beijing launch of Outcast. - More articles and video from Hayden's visit to China for the press announcement of Outcast. Nicolas Cage is in advanced negotiations to co-star in the 12th century historical adventure film about warriors from the Crusades traveling to China tasked with protecting a Chinese Princess and her young brother. We're also awaiting news of who has been cast in the role of the princess. Hayden's brother Tove Christensen was also in China for the event and he appears in the videos below where director Nick Powell also talks about choosing a Chinese actress for the film.
Click for Larger Images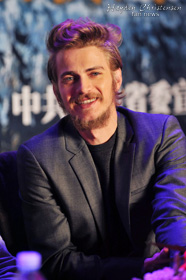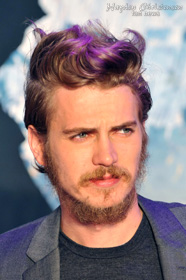 Click for Larger Images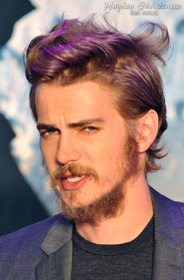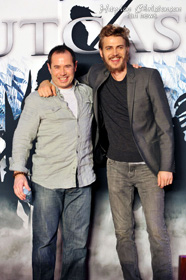 Click for Larger Image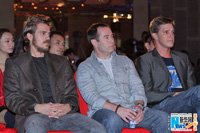 November 22, 2012 - Happy Thanksgiving from Hayden Christensen Fan News - Wishing you all a very happy holiday with family and friends. Enjoy!
Hayden Christensen Fan News has been online 6 years this month. Thanks to all of you who visit and hope you keep coming back. Thanks to friends who contirbute with information and pictures. It is much appreciated. I look forward to continuing to bring good news and keeping us up to date about Hayden's career. Stay tuned.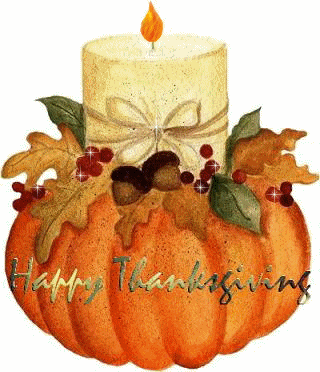 November 19, 2012 - Hayden Christensen is your tour guide from China. - There are more posts today by Hayden as he went out to see the sites in and around Beijing. Pictures below.
WEIBO - Hayden posted the following pics and comments to Weibo today. Click on WEIBO to visit Hayden's page.
"All my Chinese fans It's getting cold,keep warm okey?love you all:)"
"Okey i am your guide today let's go:)"
"The world is my oyster so i'm enjoy it:)"
"maybeeeeeee i should be more serious:)"
Click for Larger Images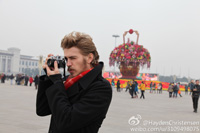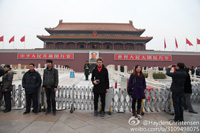 Click - Previous Great Wall Enlarged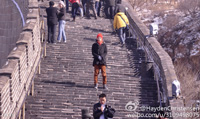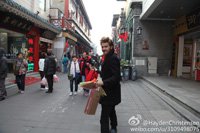 November 18, 2012 - Hayden Christensen posting on Weibo for fans in China. - Ni Hao China! Hayden greeted fans in China on Weibo, China's version of Twitter, in a video saying it was a pleasure to be in China and he was excited to be making his next movie there. He invited fans to watch the film when it comes out. While in Beijing Hayden took time to walk about the city and posted pictures from his climb of the Great Wall. Hayden was in Beijing Thursday for the press launch of a new China co-production on the film Outcast which also stars Nicolas Cage. Arclight Films is in charge of sales and it's China division company, Easternlight, will distribute in China.
VIDEO - Ni Hao China!
WEIBO - Hayden GreatWallWalker went for a walk about up the Great Wall of China and posted the following pics to Weibo with the following comments.
"Greatwallwalker tired out after climbing the greatwall.well...i gotta go to sleep.i really love China and love my chinese fans:)"
"hey bro let's climb the Great Wall ,come on"
"hey, buddy i'm here:)"
"It's my first time to come to China.I just want it to be good.I love you my Chinese fan:)"
"Ni Hao China!"
"I love China!"
Click for Larger Images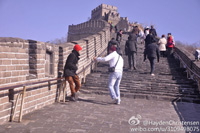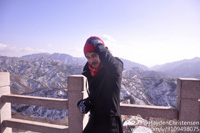 Click - What a nice day :)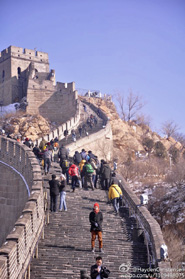 November 18, 2012 - Hayden Christensen's video interview from Beijing for the launch of the movie Outcast with Nicolas Cage. - Hayden did several interviews while in Beijing for the announcement and press of the new movie Outcast. I can't promise the video will work for everyone. Make sure your flash player and/or Quick Time player are updated.
If the video no longer works, you can visit the site to view it HERE.

November 18, 2012 - It's Official - Hayden Christensen's next movie will be Outcast with Nicolas Cage. - Stay tuned for updates, pictures and video this week about Hayden's upcoming movie Outcast. As I posted to the HCFN Blog earlier this week, Hayden was in Beijing along with Director Nick Powell to launch the Chinese Co-Production for Outcast. Hayden said in an interview that Nicolas Cage is in exclusive negotiations to join the film. Other reports out of Beijing say Cage has agreed to do the film and details are being finalized. The two actors will play disgraced knights who find their way east to China and become involved in protecting a princess and her young brother. Hayden has already started to grow a beard for the role and intends to let it grow until shooting begins in April 2013 and his hair is getting long too. At the moment it's styled high on top of his head but one wonders how long before gravity eventually takes hold. He also says he will be putting on some size for the role of Arken who will use a fighting style similar to Braveheart instead of Martial arts.
Inevitably Hayden was asked about the much talked about Lucasfilm sale to Disney and if he would have a role in the new upcoming Star Wars trilogy. "It's obviously very big news", he said, and "Star Wars will continue to live on and they will be making star wars movies for many years to come....I don't know if i will have any involvement in it....Darth Vader dies at the end of Episode 6....we'll leave it up to disney..we'll see".
Hayden was also asked about which Chinese actress would take the role of the princess. Rumors are flying about which actress will play the part but, Hayden, according to the reports kept everyone guessing.
"The actresses I'm interested in working with are the ones we are going to be meeting with so again I can't....we can't....really talk about it. We'll be very interested to share with you once we cast someone but at this point it just wouldn't be appropriate." Meanwhile the fans in China have their favorites for the role and a few were mentioned. Among them, Fan Bingbing, Li Bingbing, Tang Wei and Zhang Ziyi.
Director Nick Powell also answered questions about the film. He has worked as an action and stunt coordinator and 2nd unit Director on some very big action films like The Bourne movies, Gladiator, Braveheart and The Last Samurai. This will be his first movie as Director. One article on the Beijing movie launch says Hayden has known Nick Powell for a long time and they are good friends. Hayden is very excited to be working with him.
Outcast begins filming in April 2013 and The Hollywood Reports says it will be in theaters in November 2013. Hayden and Nick Powell will be going to Yunnan Province in January for more preparation. The Yunnan Film Group is backing the production. Arclight Films' Gary Hamilton and their China Division Easternlight Films are also producing. Picture Souce
Click for Larger Images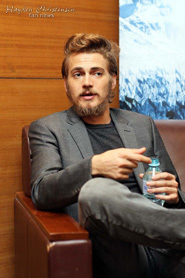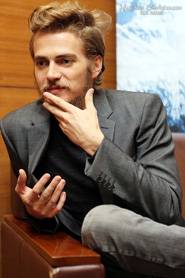 Click for Larger Images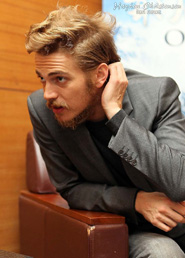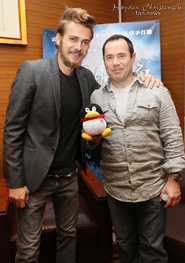 Click for Larger Image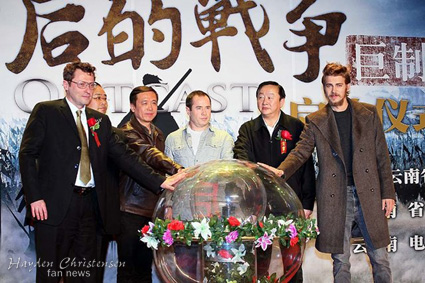 November 4, 2012 - Help for Hurricane Sandy Victims - Most of us have seen by now the terrible toll that Hurricane Sandy took on the New York and New Jersey coastline. As someone who has seen the aftermath of a hurricane first hand, I know that the people of New York and New Jersey and other nearby communities will be needing help for a long time to come. With winter and the Holidays just around the corner, some hope and the basic necessities will be needed immediately.

Fortunately, beside government agencies there are also private organizations and charities who have the means to mobilize large numbers of people and goods to help meet basic needs right now. Governor Chris Christie of New Jersey gave special thanks recently to the American Red Cross and charities like The Salvation Army and The Southern Baptist Convention who have gone to the area to volunteer help and to provide necessities and hundreds of thousands of meals to victims and responders.

I am providing the names of some of the organizations who have demonstrated in the past the ability to help in times of natural disasters for your information. There are many other organizations so I am also including a link to Charity Navigator, the web site that gives organizational information and rates charities, to help you do your own research if you are trying to decide how best to help.

Click to visit Organization




November 2, 2012 - Outcast starring Hayden Christensen, a Knight in Shining Armor. - I began to suspect there might be more clarification on the cast for Outcast after Nicolas Cage was announced to be starring in the remake of "Left Behind" and also filming in 2013. As of today, Hayden is the only cast noted on Easternlight's production page for Outcast. There is also an update to the synopsis which gives more details about the story and you can read that below along with the first teaser poster. The one sheet announces, "From the producer of Resident Evil Franchise - Two Worlds Collide - One Epic Battle - Directed by Nicholas Powel - from Easternlight and Arclight Films - Coming Soon" A start date is projected for some time in 2013.
Synopsis - In ancient China, Princess LIAN and her younger brother, ZHAO, flee for their lives when their father, the Emperor, is murdered by his ambitious eldest son SHING.
Pursued by Shing's soldiers, the royal runaways hire battle weary Briton, ARKEN, who's wandered east to escape memories of the Crusades, and an unlikely romance blooms between the refined Han princess and the rough English man of war.
But Arken has a secret from his past. A MOOR has tracked him half way across the world seeking revenge. Worlds collide when his past endangers Lian, Zhao and ultimately, the throne.
Click for Larger Image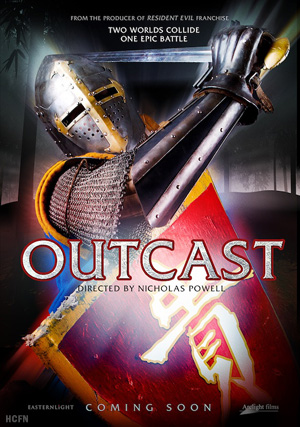 October 31, 2012 - Arclight's AFM 2012 slate includes Outcast starring Hayden Christensen. - Arclight Films movie slate for the AFM 2012 film market, which kicks off today, includes the historical drama Outcast with Hayden and Nic Cage co-starring. Easternlight Films, the China division of Arclight Films will also produce. The movie is hoping to begin filming sometime in 2013 in China. Source: Chicago Tribune

Synopsis - Outcast is an action adventure film set in ancient China where a prince and princess hire a former Crusader to protect them when they flee after the murder of their Emperor father.

Also on Arlight's AFM 2012 lineup is the remake of "Left Behind" which also stars Nicolas Cage. Shooting on that movie hopes to get underway in early 2013 and could affect when filming begins on Outcast.

Click for Larger Image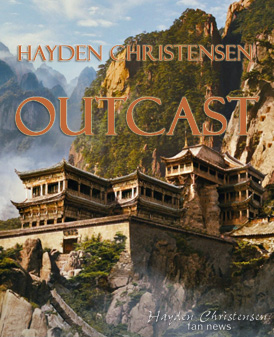 October 30, 2012 - Star Wars has nine lives. - The story of Luke Skywalker and Anakin Skywalker (Hayden Christensen) may have ended with episode 6 but the saga will continue after all. Disney today has acquired Lucasfilm and the Star Wars Franchise and intends to make a new trilogy of movies starting with episode 7 to be released in 2015. George Lucas has hinted about retiring for some time now and it appears he is doing just that and leaving his characters and creations in the capable hands of the Disney Studios. Lucas will still be on board as a consultant. The deal also includes the Indiana Jones character and franchise, the special effects company Industrial Light and Magic, Skywalker Sound and LucasArts video game company.
I love all the Star Wars films so this is good news and as The Clone Wars and all the Star Wars novels have proven there is so much more to explore in the Star Wars Universe. It's also a little bittersweet for me as I greatly admire George Lucas imagination and talent. I will always be grateful for the family memories and fun created in our home and family outings watching Star Wars movies together.
Click for Larger Image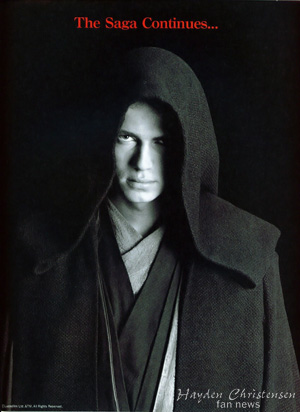 October 28, 2012 - Hayden Christensen Tidbits from Around the Web - Catching up on some of the interesting conversation around the world wide web about Hayden. Read all about it below.
October 28, 2012 - K-OS has another album ready to hit stores November 27th and Hayden has been watching the progress and supporting his friend's latest musical work. Hayden has been spotted out with K-OS a few times in the last year while he was in LA working on the album and also in New York in the audience for the Jimmy Fallon late night show. Might there be another music vid featuring Hayden?
K-OS Black on Blonde Double Album - October 02, 2012 - "Innovative, provocative, ground-breaking, fearless and incredibly talented - k-os is yet again leading the charge of our musical landscape's next chapter. What better way to do that then with a double album - out through Crown Loyalist / EMI Music on November 27, BLack on BLonde is two slamming records: one album of rock tunes, on which k-os sings and plays drums, guitar and bass, and one album of old-school hip hop jams. Recorded at Hayden Christensen's deserted Laurel Canyon mansion, BLack on BLonde is Canadian hip hop's first double album and the only thing large enough to contain k-os' big musical ideas."
Click for Larger Image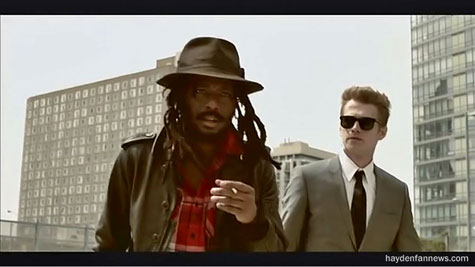 October 28, 2012 - Uh Oh, another comic book movie coming our way. This time it's Ant-man and you-know-who (Hayden) is mentioned. Okay, I know what you're thinking. Ironman, the Hulk, Thor, Captain America......Ant-man? Meh. However, considering what Marvel has done with the other Avengers, I trust that Ant-man (aka Henry "Hank" Pym a founding member of the Avengers) has a story more interesting than his alter-ego's name would imply. Over at ComicBookMovies.com a contributor has written his argument for Hayden being cast in the upcoming Marvel film. (I'm not one of those silly fan girls. I'm not! Really! Well, maybe just a little.)
My fan casting for who should play Ant-Man. (themcdougalbugle) - September 16, 2012 - "(Dear Marvel, I'm not a normal fanboy. I'm smart like you guys, listen to my cast, go with Hayden Christensen!) Despite the doubts of Ledger and Hathaway being cast in Nolan's Batman trilogy. There were people that made logical arguments for their casting. Here's mine if they cast Hayden Christensen. So there. When do choices for comic book movies please everyone? Look at all the casting choices so far in the MCU and the director choices. Did you have doubts? Anyone remember when Ledger was first cast as the Joker or Hathaway as Catwoman? I know film, I know my sh*t. Yes, I have completely unrealistic dreams of being a filmmaker of top grossing movies. But like I said, I'm not your average fanboy, Iv'e put my thinking mode in the heads of Marvel and this is what should happen."
Click for Larger Image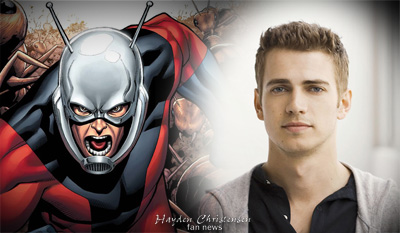 October 28, 2012 - A scathing review of Factory Girl except for one thing.........Hayden Christensen! I've always thought Hayden was the best part of that movie but I'm totally biased. That's why I like to hear it from someone who isn't and that's why I like this review of Factory Girl about Hayden's performance.
With Factory Girl, I Swear Off Biopic Fiction For A While - September 15, 2012 - "Why, then, do I list the acting as one of the few decent things about this movie? First, Hayden Christensen. Yup, Hayden Christensen. Writers Aaron Richard Golub, Captain Mauzner, and Simon Monjack and director George Hickenlooper may have chickened out or not gotten the clearance to call Christensen's character anything other than "Musician" but from the moment Christensen appears on screen, he is Bob Dylan. And you know what, it's not "Hayden Christensen as Bob Dylan," it's Bob Dylan. He's that good. No one is more surprised than I!"
Click for Larger Image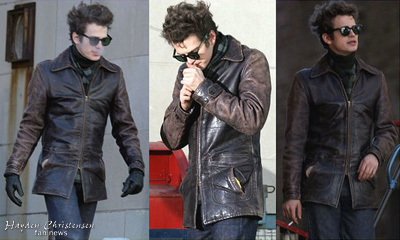 October 28, 2012 - Remember the biopic Poker Brat aka The Madison Kid? Phil Helmuth's story is a very interesting one. At the age of 24, he dropped out of college to play professional poker full time and became the youngest World Champion of Poker in 1989 by defeating the two-time defending champion, Johnny Chan, in the World Series of Poker main event. Helmuth's father, a college professor, was not pleased to say the least but he eventually reconciled with his son.
Confessions of a poker player: Phil Hellmuth - September 2012 - Question - "Who would play you in the film of your life?" Phil Helmuth - "Hayden Christensen was signed to play me in the movie of my life. Then he decided to shoot Jumper instead."
Click for Larger Images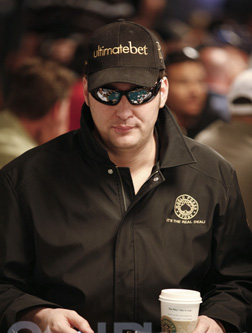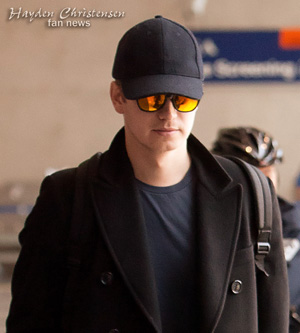 October 11, 2012 - Hayden Christensen and Nicolas Cage added to "Outcast" - IMDb has updated it's movie listing for Outcast by adding Hayden and Nicolas Cage to the cast of the film about a warrior who tries to redeem himself by saving a princess in 10th century China. IMDb shows Outcast as being in Pre-production. Just a little FYI but Hayden and Nicolas Cage were rumored to be attached at one time to the movie Broken Horses. Also, this would not be Hayden's first historical or period movie as he appeared in Virgin Territory, a tongue in cheek medieval romantic comedy based on The Decameron.
Click for Larger Image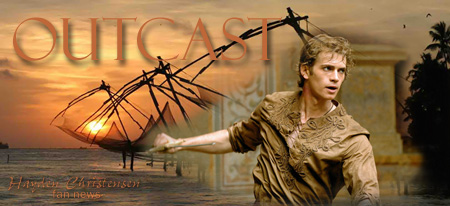 October 9, 2012 - Hayden Christensen and Nicolas Cage to Star in "Outcast" - According to a Wrap exclusive, Hayden along with Nicolas Cage have signed on to appear in Outcast, to be sold to film buyers ahead of the American Film Market by Arclight Films and also produced by Notorious Films and Impact Pictures. The movie centers around the story of a warrior who tries to redeem himself by saving the life of a princess in 10th century China. With a budget of $25 million, Outcast is aiming to start filming in China some time next year.
Outcast - IMDb Synopsis - A mysterious warrior teams up with the daughter and son of a deposed Chinese Emperor to defeat their cruel Uncle, who seeks their deaths.
Click for Larger Image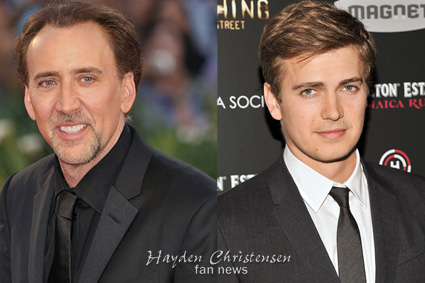 September 6, 2012 - Hayden Christensen's Shattered Glass has become one of the movies on journalism and authors by which other movies on the subject are judged. - Name a movie concerning integrity about journalism, authors and writers. Almost inevitably, the movie Shattered Glass is brought up as an example of an intriguing and realistic look at the pitfalls and drama that can be a part of that world. Hayden Christensen's compelling and engrossing portrayal of Stephen Glass, who made up so many of his stories published by the New Republic Magazine, is often brought up when comparing these types of films. Here's the latest article by Time: Entertainment that does just that with the Bradley Cooper movie "The Words", giving it a less than glowing review. Shattered Glass writer and director Billy Ray continues to remain a master of creating true to life drama that is always hard to turn away from and fascinating to watch.
The Words: Oh What a Tangled Web They Weave
"If you want to see a master at the craft of crimes against truth on a page, check out Shattered Glass, Billy Ray's riveting rendering of the Stephen Glass story, with Hayden Christensen as the famously duplicitous New Republic writer, or The Hoax, which starred Richard Gere as the fabulist biographer of Howard Hughes."
Click for Larger Image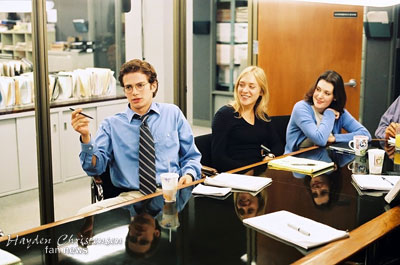 August 28, 2012 - Double the Star Wars Fun with Back to Back 3D Movie Episode Releases. - As Star Wars Celebration VI was winding down it's four day run in Florida, there was an announcement for fans of the movies. Star Wars Facebook also posted that Episode II Attack of the Clones in 3D is now scheduled to be released September 20, 2013 with Episode III Revenge of the Sith to be released the following month on October 20, 2013. That means that Hayden Christensen as Anakin Skywalker in 3D will be coming to a theater near you in 2013. I was having a hard time waiting for the release of 3D Attack of the Clones on the originally scheduled date, February 2013 but oh well...Source: Star Wars Facebook
Click for Larger Images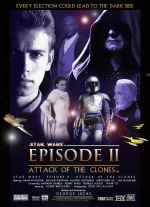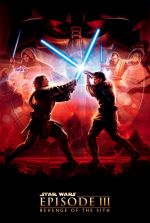 August 23, 2012 - Ian McDiarmid Talks About Working with Hayden Christensen in Star Wars - Ian Mcdiarmid appeared at Star Wars Celebration VI this week and recalled his time working on four of the six Star Wars movies. McDiarmid is one of the central characters in the Star Wars films, having played the evil Emperor Palpatine in Return of the Jedi, Phantom Menace, Attack of the Clones and Revenge of the Sith. It's been reported in articles and tweeted by convention goers that when asked which actor he most enjoyed working with he replied Hayden Christensen. Revenge of the Sith included many pivotal scenes between McDiarmid's Palpatine and Hayden's Anakin Skywalker. Of the actor, McDiarmid said, "His performance is greatly underrated. I really liked him."
Click for Larger Image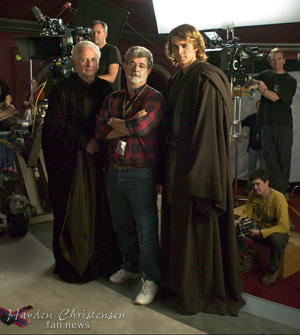 July 26, 2012 - "Call Me Maybe" Star Wars Mashup a viral online hit. - Using Carly Rae Jepsen's song "Call Me Maybe", James Covenant of StarTunes has put together a Star Wars mashup using scenes from all six Star Wars and there are plenty of notes from Hayden Christensen too. The Youtube video has been viewed over six million times and just for fun view the video below.

July 21, 2012 - Teaser Poster for "The Diplomat" with Hayden Christensen - Here is an early teaser poster for Hayden's upcoming film, The Diplomat. The cast and date have since changed but I thought you all might like to see it since it features Hayden. The movie is in pre-production and the current cast includes Hayden, Joseph Fiennes, Connie Neilsen and Jim Broadbent and will be directed by Simon Wells on location in London and Dublin.
The Diplomat: Synopsis - Junior diplomat Brent Forbes is thrown into a violent conspiracy when his daughter witnesses the murder of the US Ambassador to Ireland and forces stop at nothing to make sure she never testifies.
Click for Larger Image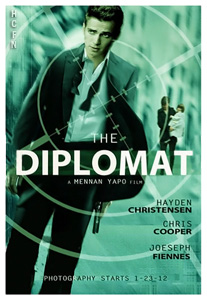 July 18, 2012 - Hayden Christensen Fan News Affiliates Addition - Movie Room Reviews has been added to the Affiliates link in the left column. They have a page of movie information for Hayden with lots of videos. Hayden Fan News is also listed there. Check out the rest of the site for lots of movie news, videos and reviews.

July 14, 2012 - Hayden Christensen Attends Johnny Wujek's Birthday Party - Hayden and Rachel attended a 90's style skate party at the Moonlight Rollerway in Glendale, California to celebrate the birthday of Johnny Wujek on Saturday night. Katy Perry was also there to help with the celebration in honor of her friend and personal stylist. Guests including Amber Heard and Zoe Saldana dressed in 90's R&B style for the event.
Click for Larger Image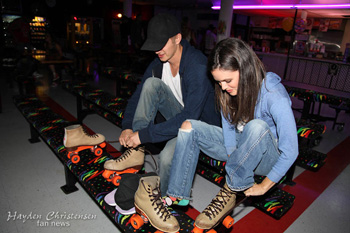 July 9, 2012 - Hayden Christensen's Project Updates - Battlecreek and The Diplomat are still in Pre-Production. Nothing new on the casting front for these two films but the production team is growing on both so they are definitely still in the works. Battlecreek recently added three new producers and The Diplomat has added one. Marcia Gay Harden has been mentioned as a possible cast member on Battlecreek but nothing definite. It seems like The Diplomat may be the closest to a start date with filming to take place in Dublin and London. Previously, filming was going to be in Bucharest and London.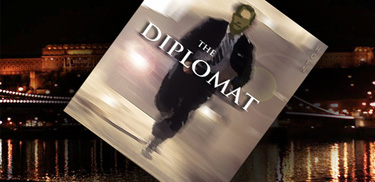 July 3, 2012 - Hayden Christensen on latest list for Fifty Shades of Grey - Hayden was at the top of a recent list of actors nominated to be cast as Christian Grey in the upcoming movie Fifty Shades of Grey. Source The movie has been a hot watercooler topic since Universal's multi-million dollar deal for the movie rights to the ebook by E.L. James which started out as an online erotic fan-fiction based on the characters from another hot franchise, Twilight. Many actors have spoken publicly about being interested in the role of Christian Grey and fans have conducted their own polls and continuously voice their opinions online for their favorite cast. Since, the movie is in early development, it will be awhile before we hear any real casting news for 50 Shades of Grey. It's alway fun to know that Hayden is one of the fan favorites for any upcoming film and his name has been mentioned frequently by fans for the role of Christian Grey.
Click for Larger Image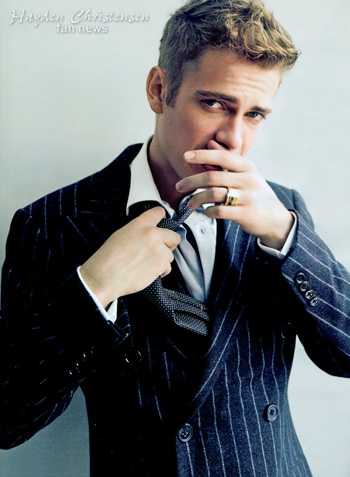 And just FYI...you should know that fans think Hayden would also be great in some other upcoming film franchises. Here are a couple that keep popping up on Facebook, Tumblr and Twitter and elsewhere online.
Vampire Academy
Some Vampire Academy fans think Hayden's brand of cool would be perfect for Adrian Ivashkov, the worldly and charming party-going vampire who tends to be protective of younger vampires in spite of his huge ego. Here's a Facebook page dedicated to Hayden as Adrian. Click here.
Hunger Games: Catching Fire
Hayden's athleticism would be an asset if some fans of The Hunger Games: Catching Fire got their wish and he would be cast as the very handsome District 4 tribute, Finnick Odair. Finnick is the husband of Annie Cresta, and the father of their son.
Click for Larger Image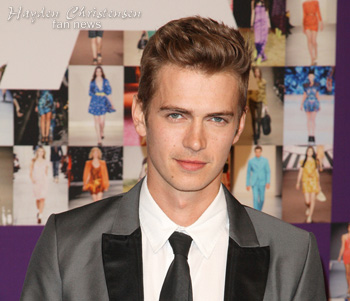 June 2012 Archive