Hayden Christensen: Another fun and bloody day on the set of American Heist.
Click for Larger Image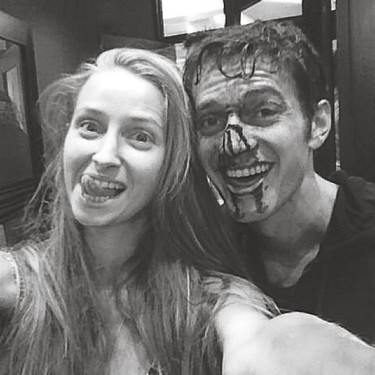 Even though the movie scene was probably serious, Alena Andreasyan's selfie with Hayden on the set of American Heist shows the lighter side of filming. Hayden's face is covered in blood with a big grin while working on the set of the movie filmed last summer in New Orleans. Everyone involved in making the film is smiling big these days, as American Heist will make it's world debut at the Toronto International Film Festival in September as part of the Special Presentation Program.
When Hayden filmed Takers, he said it's what you dream about growing up.... playing cops and robbers and making Takers was a lot of fun. Somehow seeing Alena's selfie makes me wonder if Hayden will look better dead in Takers than he looks wounded in American Heist. (Thanks to Nanour and SA forum for a heads up on the pic.)
You can see Takers today on FX at 4:30 pm CT.
Click for Larger Image