New Movie Project for Hayden Christensen?
Does Hayden have a new project in the works? Hayden was recently pictured in Sherman Oaks for a business meeting holding a page of a script or screenplay in his hand. There are more questions than answers with no hint of news anywhere at this time but hopefully we'll get some official news soon.
It's possible Hayden could be wearing his producer's hat on an upcoming project or have a starring role or both. Maybe he's looking at something for a friend. I don't want to give too much away but what I can say from the snippet of the scene is that it would be a very different role for Hayden, maybe even surprising to some. He's always said he likes a challenge and looks for roles that are different from his previous projects. We'll just have to wait and see if this a done deal or one of the choices for his next project.
More pictures in the Gallery here: Hayden Christensen - business meeting, Sherman Oaks, December 13, 2014.
Attention: Hayden Fan News Updates Coming Soon.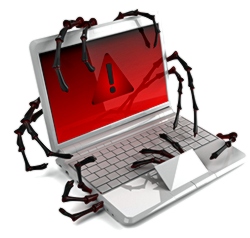 My apologies for not updating regularly in awhile. I could say the dog ate my homework but it was more wicked than that. My computer, which is always updated, got a nasty bug which took over and I had to just shut it down. A very kind soul helped me clean things up so I wouldn't lose all the personal information and pictures on my old computer but that kind of effort takes patience and time. I've also been taking care of a family member with serious health issues which is ongoing and that requires patience and time as well.
I don't foresee Hayden Fan News going anywhere in the near future. Running the site and looking for news is always fun and a pleasant distraction and I will always be a fan and supporter of Hayden, his projects and work. I've been collecting news and photos during my hiatus. It was just a little tedious and restrictive trying to update from a netbook and without all my usual programs and features.
Watch for updates below this post throughout today and over the weekend
Hayden and Rachel welcome baby Briar Rose.
Click for Larger Images

Congratulations to Hayden and Rachel on the birth of their first child, daughter Briar Rose Christensen. All your fans are celebrating this happy occasion. Best Wishes and happiness to mom and dad and your family.
Rachel Bilson, Hayden Christensen welcome baby.
"It's a girl!

Rachel Bilson and Hayden Christensen are the proud new parents of a baby daughter.

Name: Briar Rose Christensen.

She was born on Oct. 29, says an announcement from Bilson's rep, Marcel Pariseau.

This is the first child for Bilson and Christensen, both 33. Baby and mother are healthy and doing well, says the announcement.

Also, the announcement seems to say we shouldn't expect to see any photos anytime soon.

"The couple is requesting privacy," it says, adding that the two stars said they support the No Kids Policy, a celebrity coalition to protect children of celebrities from being photographed without consent."
Russian trailer for American Heist with Hayden Christensen, Adrien Brody.
The first full trailer for American Heist has been released in Russian on Kinopoisk.ru Thanks to Lilith of Amazing Hayden Russia for posting a link. Screencaps have been added to the gallery.
American Heist with Hayden Christensen, Adrien Brody, Jordana Brewster, Akon and Tory Kittles will have it's Russian premiere January 22, 2015.
American Heist was also supposed to debut in the US at the New Orleans Film Festival on October 22, 2014 but the festival site is showing the screening as cancelled. No further information is available.
Update: I received a reply from the New Orleans Film Society on Facebook today. While the ticket cart was still active on American Heist, the movie has indeed be cancelled and replaced in the program and the site was being updated today to reflect the changes.
American Heist Trailer 1 Screencaps Gallery




Hayden Christensen in the October 2014 issue of Esquire China
Thanks to Crysania from Hayden-C China for sending Esquire (China) Magazine scans with Hayden which I cropped, edited and added to the gallery late last night. Phew! There is a rather long article and I will post the translation soon. For now enjoy the scans.
Hayden Christensen Esquire Magazine China Gallery




Hayden Christensen Outcast Beijing Premiere
The China press junket for Hayden's latest movie Outcast started off with a bang in Bejing on September 22. Red carpet appearances with the cast and the traditional egg breaking ceremony at the end signaled the start of some very exciting promotion to take place in some of China's most beautiful cities. Hayden was in attendance for the week with appearances and Outcast screenings in Beijing, Guangzhou, Chengdu and finally in Shanghai the day before Outcast was due to be released in theaters nationwide on September 26. Unfortunately, what started off with a bang seemed to end in a wimper and a lot of disappointment for fans who were told that Outcast would be postponed with no further explanation. Arclight Films was also totally caught off guard and was scrambling to find out the reason and if things could be righted.
Outcast is not the first international movie to be postponed in China and certain theories immediately began to make the rounds of media here and abroad. Outcast was to be released during a national holiday season where blockbusters are normally released. Probably similar to films being released around the 4th fo July or Memorial Day in the US. Typically, Chinese films are released at this time and given priority over foreign releases but Outcast is not quite a foreign film production. It is a China, Canadian, French co-production and was filmed in China with a Chinese storyline.
The next theory is that the movie did not pass censor requirements probably for violence and will have to be edited before released. Django Unchained had that problem and was finally released a month after first scheduled. There is another boxoffice season starting between November and December in China and there are a lot of highly anticipated Chinese films being scheduled for release then too so we'll have to see if Outcast fits into the schedule.
We hopefully still have a US release date to look forward to. I love Chinese costume dramas and I love series like Game of Thrones so I think this is something I really want to see. I hope the fans worldwide get a chance to see Outcast. Meanwhile enjoy the latest updated Outcast Press Junket albums which I'll probably be updating forever. No shortage of pics from China sources. LOL
Outcast Movie Stills with Hayden Christensen
Outcast Movie Stills Album has been updated with new hq images.
Hayden Christensen and Akon talk about American Heist
The film clip below is part of a longer video you can find on Tribute.ca where Hayden and Akon have a hard time keeping a straight face while telling a story about Akon's first day of filming on American Heist. (Thanks Rosie for the heads up.)
Hayden Christensen latest news on Outcast premiere in China
Hayden Christensen in Beijing for Outcast press events and premiere
Hayden along with director Nick Powell, Liu Yifei, Summer Jikejunyi, Andy On and Bill Su were on hand for ceremonies to start press events ahead of the premiere of Outcast in Beijing. The media is enthusiastic about the movie, calling it China's biggest co-production so far. The movie is ranked high on most movie sites in China as well and there seems to be a lot of anticipation. The press conference is currently running a repeat of the live stream of the press event here on Youku. and I've added first photos to the gallery with more to come.
There are a lot of helpers looking out for news to the east and I want to thank Maria (Summer Jikejunyi on Facebook), Meyree, Marcy, Rosie, Karen, Lilith and others for keeping eyes and ears open so we won't be deprived of news.
Here is a new extended behind the scenes video
Hayden Christensen TIFF 2014 Photoshoot
Hayden Christensen's official TIFF 2014 photoshoot has been added to the TIFF Appearances Gallery.





Hayden Christensen Outcast Videos Playlist
Thanks to Summer Jikejunyi on Facebook for sending a link to her Youtube playlist with new Outcast behind the scenes videos. Outcast will premiere in China next week, September 26. Two movie premieres for Hayden in one month! Enjoy the Outcast playlist below.
Distribution for Hayden Christensen's American Heist acquired by Saban Films.
Bill Bromiley's Saban Films had it's eye on American Heist from the start of the Toronto Film Festival. The day after the premiere, Saban Films made a deal for US distribution rights. The Glacier Films crime drama sale was handled through Paradigm and Voltage Pictures. Producers JoJo Ryder, Michael Wexler along with stars Hayden Christensen and Akon and director Sarik Andreasyan were on hand to celebrate the film during it's red carpet premiere and after party in Toronto. Glacier Films' Vladimir Poliakov with Tove Christensen were just at Cannes to announce a $100 million fund to gear up a production slate.
Click for Larger Images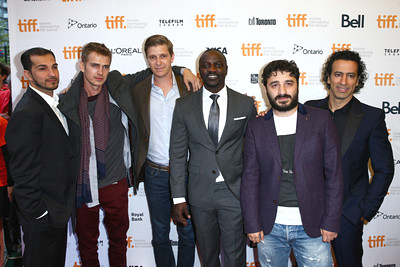 ""We were eager to see 'American Heist' coming into Toronto and the film lived up to our expectations," said Saban Films president Bill Bromiley. "It's just the type of commercial, talent-driven film we are looking for at Saban.""
Hayden Christensen talks about American Heist at ET's TIFF Central.
Hayden dropped by ET Canada's TIFF Central with Akon on September 11th to talk about their latest movie American Heist. ET Canada's videos are Geoblocked so we only have a short video of the interview but there is also a brief article with photos posted below. More pictures in the TIFF Gallery.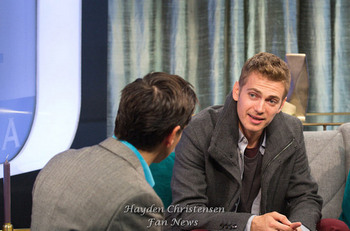 "On Thursday, Vancouver-native and American Heist star Hayden Christensen talked about his chemistry with Adrian Brody during his visit to the lounge.

"You know it was just a lot of time spent together and trying to organically develop that relationship, and we really did become friends," he shared.

Speaking of organic relationships, Christensen and fiancée Rachel Bilson are weeks away from welcoming their first child. The actor opened up about the new family member to ET Canada and gushed about this upcoming new phase of his life. "I'm very excited. We're both very excited, Rachel and I, so it's a happy time," he said."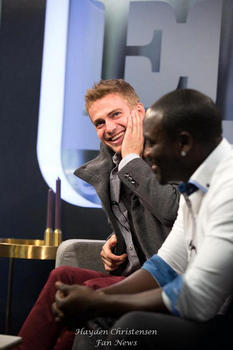 " "American Heist" stars, Hayden Christensen and Akon, visit ET Canada Festival Central to chat about their new TIFF crime thriller, which also stars Adrien Brody. "

Hayden Christensen Blushes: Akon makes his "American Heist" co-star Hayden Christensen blush when the conversation turns to baby talk. Hayen is expecting his first child with Rachel Bilson.
Hayden Christensen arrives and signs autographs for the American Heist Premiere at TIFF.
Hayden signed autographs for fans outside the Princess of Wales Theater just after arriving with his family for the premiere of American Heist at the Toronto International Film Festival on September 11th. One article reported a "crush of fans" as Hayden stepped out of his car and seemed slightly overwhelmed at the sight. The Brampton Guardian added it was one of the biggest reactions from a crowd of fans at a movie premiere during the festival. It was clearly a hometown welcome for the Toronto native and international fan favorite.
Hayden, Akon, director Sarik Andreasyan with producers Tove Christensen, JoJo Ryder and MIchael Wexler posed for pictures on the American Heist red carpet before going into the theater to introduce the film.
TIFF 2014 American Heist Premiere
Hayden Christensen Departs LAX to attend American Heist Premiere at TIFF.




Hayden flew out of LAX on Tuesday to attend the Toronto International Film Festival where his latest film will premiere tonight (9/11/2014) at the Princess of Wales Theater at 7:00 p.m. An after party for cast, crew and guests will take place at Cube Nightclub and sponsored by Citizen. More pictures in the "New" Gallery