April 28, 2008 - Bullrun Memories - This year's Bullrun takes place June 20th through June 27th, 2008, rallying the amazing Continental Divde! Drivers will be traveling from Calgary, Canada to Phoenix, US.
In an interview with Car Domain's John Coyle, Andrew Duncan (Bullrun organizer) was asked about some of the craziest things he's seen on the rally.
"Andy: Oh my God, where do I start? Watching Carl Lewis in a sprint competition against a Mosler in 2006. Hayden Christensen and Dennis Rodman having a 180mph drag race against each other on the Bonneville Salt Flats in Lamborghinis (and Hayden spinning out at 180mph). Police chiefs asking to drive our cars, then taking a Ferrari off one of our drivers and doing 150 down the road in it! The California highway patrol had all of their leave cancelled one day because they heard we were going to be coming into the state. You name it, itís happened. We had 25,000 people in Times Square for the start of the rally is 2006--we actually shut down Times Square at that start. No one has done that before, and I doubt anyone will ever do it again. So many memorable moments..."
It's not known if Hayden intends to participate in this year's event but he is quoted as saying, "It's the one thing I look forward to every single year". It's an event with lots of fun memories for him as well.
You can watch the video of Hayden and Dennis Rodman's drag race here on YouTube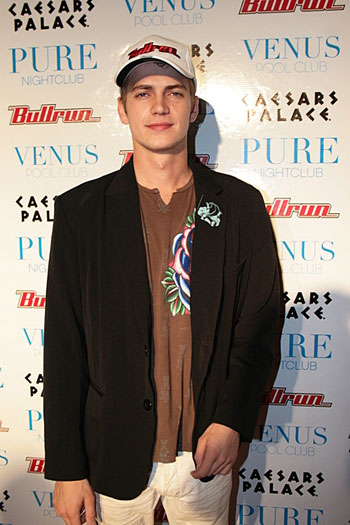 April 28, 2008 - More "New York, I love You" - More video of filming on location in New York City with Hayden and Rachel. One scene, many takes on a hot day in the city. Click the picture with Woody Allen to stream the video. You'll get another menu once the video starts and you can click the picture to stream Hayden and Rachel's part of the video. New York, I Love You Filming Part 2.
April 27, 2008 - New York, I Love You director Jiang Wen - I guess directors are supposed to be illusive and hidden behind the camera for the most part so it's hard to find photos of them working sometimes. But here is a picture of the director on the set of New York, I Love You with Hayden and Rachel. Some of my favorite pictures on set are those of Hayden and Rachel speaking through a chain link fence at the West 4th Street courts. In the picture below, you can see the director showing Hayden how he wants him to lean into the fence and touch hands with Rachel through the chain links. You can watch the video at New York, I Love You Filming.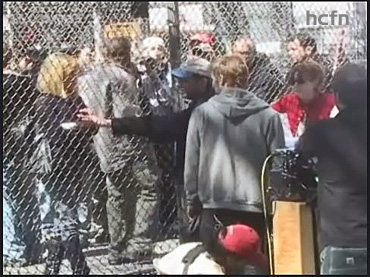 Here is another video of Hayden and director Jiang Wen shooting the basketball scene on the courts. Jiang Wen is the guy in the white hat running in and out of the shot.
April 26, 2008 - Jiang Wen directs Hayden, Rachel and Andy Garcia - Chinese actor and director Jiang Wen is the director for Hayden's vignette in the movie anthology "New York, I love you". Filming took place at the West 4th Street Courts, also known as "The Cage", in New York City's Greenwich Village and at Walker's Bar in Tribeca .
"Jiang Wen was directing Hayden Christenson, Rachel Bilson (from the OC), and Andy Garcia. Andy Garcia had to say a few phrases in Chinese, including typical Beijing phrases like, "wa cao!" (kind of like, 'holy shit') and "bu kao pu," ('sketchy') which was kinda funny. Overall, JW seemed really confident and comfortable working with the NY crew. There's something about working on a NY set with a Chinese director that's really comforting and encouraging for me."
Set visitor, Wendy Seo-Ling Cheng, got to meet the director and watch filming for a couple of days. You can find out more about the director and read the rest of her account of the set visit on her blog. Wendy Seo-Ling Cheng's Blog
April 25, 2008 - New York, I love You Update - The Internet Movie Database (IMDB) has updated its cast information for the movie. Hayden's character is "Johnny" playing to Rachel's character "Molly" in the romance feature film currently filming in New York City. Hayden and Rachel filmed scenes last week for the movie along with Andy Garcia who had been rumored to be directing the feature. "New York, I love You" is scheduled at this time for release in the first quarter of 2009. (Source: IMDB)
April 25, 2008 - 28 Sequels Later: more films you didn't know were coming - "Lots more sequels to films are on the way - and we've uncovered new adventures for Rambo, Jumper, AvP and a whole lot more. Get ready to be happy. And depressed."
Jumper 2 "Quite an international hit Jumper proved to be. Very early exploratory work has started on a follow-up, and currently Doug Limanís name is linked with the project. Donít expect to hear much else on it for a while, though." Source: Den of Geek
Click to enlarge

April 20, 2008 - Hayden a Scruffy-looking Nerf Herder - Who's scruffy-looking? Well, that's would be Hayden but we all love him scruffy-looking.
So much happened while my online time was limited this last week and a half. Hayden's segment of "New York I Love You" began filming and a gazillion pictures started showing up online. I don't know if the Pope's visit to New York City got this much photo attention.
Rachel Bilson is also in the film and we found out that she and Hayden are in the same short film that is part of the anthology featuring 12, five minute shorts about love against the backdrop of New York City's 5 boroughs. I'm featuring a few pictures here and thanks to Sophie and the amazing hq's she sent me, you'll be seeing a lot more photos in the weeks ahead.
Of course Hayden and Rachel looked great together on the New York set locations and we can only guess at the love story behind the scenes. Rumor is that Rachel plays a wealthy young woman desperate to find a man to really love her regardless of whether he is rich or poor.
Scenes filmed this week included Hayden playing hoops at an outdoor basketball court near city park where he meets Rachel's character wearing a blond wig and maybe purposely disguised. There is what looks to be a little drama filmed as they talk through a fence with fingers touching through the chain links. Andy Garcia is rumored to be featured director of this segment by the way.
If anyone has more info on the storyline of the segment and exact filming locations that go with the photos, please let me know.
More stories of romance in the big city with photos in the next post.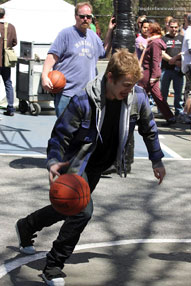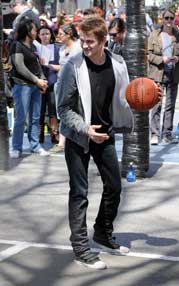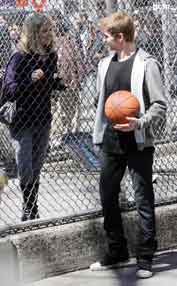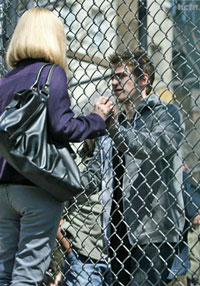 April 19, 2008 - Happy Birthday Hayden! - All your fans around the world are thinking about you today and wishing you the best birthday ever and hoping for great things to come to you in the years ahead.
There are Birthday Wishes and Predictions on the blog. Everyone is invited to add theirs.

April 15, 2008 - Vivendi acquires 'New York' rights - "Marking its first acquisition as it branches out into theatrical distribution, Vivendi Entertainment has partnered with Palm Pictures to acquire U.S. theatrical and home video rights to "New York, I Love You," the starry anthology of 12 short films that is filming in New York."
"Vivendi, with its new distribution team is headed by Mike Doban, expects to have its first titles in the market by the end of the year and expects "New York" to be released in the first quarter of 2009. The cast includes Kevin Bacon, Orlando Bloom, James Caan, Hayden Christensen, Julie Christie, Chris Cooper, Ethan Hawke and Shia LaBeouf." Source
April 15, 2008 - Hayden is an Author - In anticipation of Star Wars: The Force Unleashed, the groundbreaking video game due out in September, Lucasarts heralds the video game with a new book titled The Art and Making of Star Wars: The Force Unleashed. As an avid video gamer and as part of the Star Wars family, Hayden has written the foreword for the book authored by Haden Blackman (project lead) and Brett Rector (assistant producer) which will be available this August. You can pre order the book from Amazon.com.
More about The Force Unleashed - Lucasarts News
Click to enlarge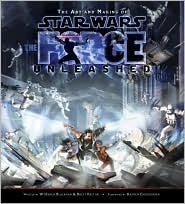 April 12, 2008 - Awake on In Demand - Awake is now airing on In Demand Pay-Per-View. Check you local cable company for previews and information. You can also check the website here for a schedule for Awake on In Demand PPV.
April 11, 2008 - "Do Not Believe Anything You Hear About Awake"(Roger Ebert) - Taipei Times - "Down and (almost) out - "Hayden Christensen is a rich kid dominated by his mother, in love with Jessica Alba, and undergoes heart transplant surgery ó during which he is awake."
"Do not believe anything you hear about Awake, do not talk to anyone about it, and above all do not even GLANCE at the poster or ads, which criminally reveal a crucial plot twist. This movie, which was withheld from critics and has scored a pitiful 13 percent on the Tomatometer from those few who were able to see it, is a surprisingly effective thriller. I went to a regular theater to see it Friday afternoon, knowing nothing about it except that the buzz was lethal, and sat there completely absorbed." Read more...
April 11, 2008 - Awake Opens in Taiwan Today - Awake may be out on DVD in the US but it continues to be released theatrically in countries around the world, this month opening in the UK and Ireland and other foregin markets including Taiwan, Brazil and Mexico.
Current Box Office Numbers for Awake:
Domestic (US) - $14,374,840
Foreign - $7,715,355
Worldwide - $22,090,195
DVD Rental
Rental Gross: $17.97 million (From Box Office Mojo as of 4/6/08)

April 10, 2008 - New York, I Love You - "An eclectic group of thesps and helmers are fanning out across Gotham's five boroughs to shoot "New York, I Love You." Orlando Bloom, Olivia Thirlby, Hayden Christensen and Ethan Hawke are among those who have boarded the omnibus pic, a mixture of contemplative romance and unabashed civic boosterism. The anthology of shorts follows the format of "Paris, je t'aime," a surprise specialty hit released last year." Source
Similar Articles:
Empire Online: New York, The Stars Love You
Reuters: LaBeouf and Christie join "Love
April 4, 2008 - Spike TV Is Where the Fun Begins this April - Spike TV Enters A New Galaxy With The Complete 'Star Wars' Saga - Remember when you were little and you waited for the annual airing of your favorite special movie like "The Wizard of Oz" or "The Sound of Music" well now Spike TV will be the home of special airings for all 6 Star Wars movies including the last and final prequel Star Wars: Episode III Revenge of the Sith.
"The Force is with Spike TV this April as the complete Star Wars Saga comes to basic cable. Airing Friday, April 4 through Sunday, April 6, and Friday, April 11 through Sunday, April 13, the two-weekend event includes the broadcast premiere of Star Wars: Episode III Revenge of the Sith and the basic cable premieres of Star Wars: Episode I The Phantom Menace and Star Wars: Episode II Attack of the Clones. Spike TVís Star Wars presentation marks the first time that all six movies will be presented together on a basic cable network.
Spike TVís presentation of the Star Wars Saga will feature digitally re-mastered versions of the films, shown uncut and presented in HD where available. Throughout each weekend, Spike TV viewers will be treated to special Star Wars features provided by Lucasfilm Ltd., including a behind-the-scenes look at the making of Star Wars: Episode III Revenge of the Sith. Spike TV will also premiere an exclusive clip of LucasArtsí highly anticipated new videogame, Star Wars: The Force Unleashed, which is scheduled for release this summer."
For the full tv schedule and lots of goodies and info including the 1977 original trailer visit Starpulse.com
April 4, 2008 - 'New York, I Love You' role for Hayden - Visitor Pictures Production - "New York, I Love You [Drama] - In Production - "The universal theme of encountering and celebrating love is told in 12 separate stories taking place in the five boroughs of New York City. Directed by Faith Akin, Yvan Attal, Alan Hughes, Shunji Iwai, Scarlett Johnansson, Shekhar Kapur, Joshua Martson, Mira Nair, Natalie Portman, Brett Ratner, Jiang Wen and Andrey Zvyaginstev."
An impressive international cast has been assembled for the production which is currently shooting through April 30th in New York City.
The cast includes Carlos Acosta, Isabelle Adjani, Kevin Bacon, Justin Bartha, Rachel Bilson, James Caan, Orlando Bloom, Hayden Christiansen, Bradley Cooper, Chris Cooper, Taylor Geare, Ethan Hawke, Irrfan Khan, Cloris Leachman, Drea de Matteo, Emilie Ohana, Natalie Portman, Maggie Q, Shu Qi, Olivia Thirlby, Eli Wallach, Saul Williams, Robin Wright-Penn, and Anton Yelchin and Ugur YŁcel. [Producer: Marina Grasic, Executive Producer: Jan Korbelin]. (thank you Rosie and Hayden Christensen Chat for the info)
Follow the links for more information:
Visitor Pictures
IMDB: New York, I love You
A permanent link to IMDB New York, I love You has been added to the IMDB links in the right column of this website under 'Forums and Blogs".
April 3, 2008 - Hayden Jumps a Journalist - Well not exactly but you'll have to watch the video interview to see what I mean. The video is in English w/Spanish subtitles from Cinescape Peru with Bruno Pinasco. You can watch a larger version of the video HERE ON TRUVEO.
April 2, 2008 - Jumper on Blu Ray DVD - PRESS RELEASE - Anywhere is Possible - JUMPER: The Adrenaline-Packed Adventure Teleports To DVD And Blu-Ray Disc Worldwide This June From Fox Home Entertainment. Bonus Material Includes Commentaries, Deleted Scenes, Featurettes, An Animated Graphic Novel And More.
CENTURY CITY, Calif.--(BUSINESS WIRE)--Anywhere. Anything. Instantly. The evolution of the action thriller takes its biggest jump yet when Jumper makes its global debut on DVD and Blu-Ray Disc (BD) on June 10th in North America and from June 16th internationally from Twentieth Century Fox Home Entertainment. Read more...
Jumper Single-Disc Bonus Features:
The Jumper single-disc DVD is presented in North America in full screen and widescreen (1.85:1 aspect ratio) on a flipper disc with English Dolby Surround 5.1 and Spanish and French Dolby Surround, plus English and Spanish subtitles. Bonus content includes:
Audio Commentary By Director Doug Liman, Writer/Producer Simon Kinberg and Producer Lucas Foster
Jumping From Novel To Film: The Past, Present & Future of Jumper Featurette
Making An Actor Jump Featurette
Previz: Future Concepts
Jumper Two-Disc Special Edition Bonus Features:
The North American Jumper two-disc special edition DVD with digital copy includes all the above single-disc content along with the following additional bonus features:
-- Doug Liman's Jumper: Uncensored Featurette
-- Jumping Around The World Featurette
-- Jumpstart: David's Story Animated Graphic Novel
Deleted Scenes
-- Inadvertent Jumps
-- Alternate Roland Introduction
-- Tokyo And The Machine
-- David Hides From Roland
-- Taxi To Airport - Rome
-- Epilogue War
Click to enlarge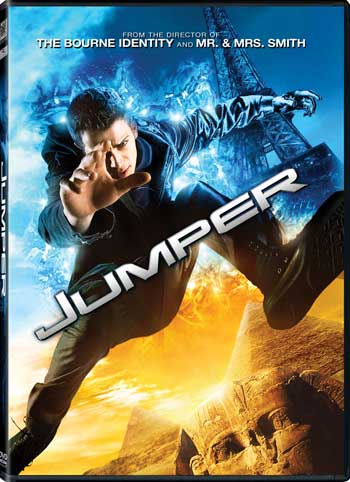 April 1, 2008 - Star Wars Prequels on Spike in April - Episodes I, II, and III will air on Spike Television beginning Friday April 4 when Spike becomes the exclusive home of the Star Wars movie franchise "including the Broadcast Premiere of Star Wars Episode III: Revenge of the Sith". The fun begins with Episode I: The Phatom Menace this Friday at 7:00 p.m. CT on Spike TV. Check your tv guide for airings througout the month of April.
Visit Spike TV's Star Wars countdown page with videos and the ultimate trailer. Star Wars on Spike TV
Spike TV also has some witty ads going around to help gear up for the Star Wars celebration. You can see all the ads at /Film
Click to enlarge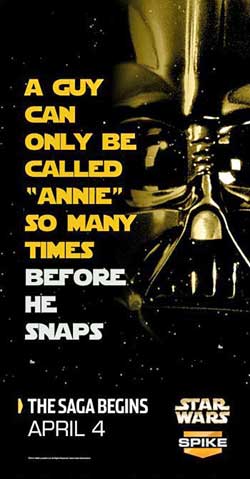 April 1, 2008 - Jumper Sequel Seems Likely - The Internet Movie Database (IMDB) has added Jumper 2 to it's movie pages and shows a projected release date of 2011. IMDB's status for the film is "announced" and "in development" and was last updated March 12, 2008. No cast is listed but listed are director, Doug Liman and writers Steven Gould (novel) and Simon Kinberg. You can keep track of Jumper 2 here on IMDB.
The Jumper 2 Message Board is also online at IMDB and the movie page has been added to the IMDB menu in the right column of this webpage for handy access.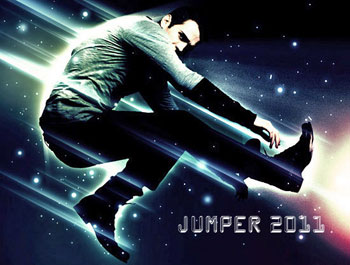 April 1, 2008 - Jumper Debuts at Top of German Box Office - There was no single number one movie to top the overall Eurpean Box Office this past weekend. Instead each of the 5 European movie markets had their own number one winners.
"In Germany, Kinowelt's sci-fi actioner "Jumper," starring Hayden Christensen and Jamie Bell, teleported to the top of the charts, displacing local hit "The Wave." Yet sunny spring weather contributed to a dramatic 18% drop at the box office over the weekend as Teutons enjoyed the outdoors."
"Doug Liman's ďJumperĒ took in $2.5 million from 405, ahead of Constantin's "The Wave," which added $2.2 million to its $12.1 million cume in its third session." Source...