December 31, 2008 - Happy New Year! - All the best to Hayden, his family and all the fans in the new year with wishes for only good things and fun surprises the whole year through. See you all here in 2009.
Click to Enlarge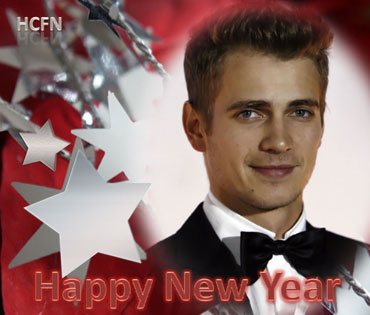 December 27, 2008 - Hayden Christensen Fan News - Site Update - As you can see, I put up a new color scheme and banner on Christmas day. Hope you all like it. Be safe and happy holidays.
December 26, 2008 - Beast of Bataan Filming to Begin Soon? - On December 10, 2008, I updated about changes to IMDB's "Beast of Bataan" film page, one of Hayden's upcoming projects, including a release date for 2010. There have also been changes to Film Bridge International's website, the production company for "Beast of Bataan". The information is inconsistent however and seems to be a mix of past and maybe current information.
The most interesting news is the addition of a planned fiming date set for " first quarter 2009 in Queensland Australia". The inconsistent information has to do with the director. FBI's "About Us" page has changed the director to Paul Verhoeven who was the previous director who dropped out before Fred Schepisi took over the project. On FBI's "Beast of Bataan" page however, Fred Schepisi is still listed as director and the only cast listed is Koji Yakusho. The cast list was changed several months ago. Check out Film Bridge International.
Hopefully, this is a sign that something is in the works and maybe this means the movie is closer to going into production and we get to see Hayden in uniform one day soon.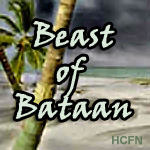 December 24, 2008 - Jumper Premieres on HBO - TV Alerts in the left column have been updated. Jumper, starring Hayden Christensen, Samuel L. Jackson, Jamie Bell and Rachel Bilson, makes it's cable television debut on HBO, Saturday January 3 at 8:00 p.m.
December 24, 2008 - HAPPY HOLIDAYS - Wishing everyone the happiest, warmest and brightest holiday season. Peace to all.
Click to Enlarge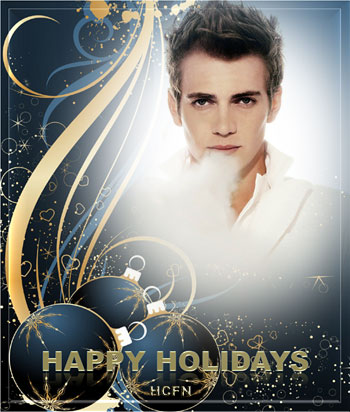 December 24, 2008 - Vader Still the Biggest Baddie - Sure he was the Chosen One and redeemed himself in the end but before that he tortured Princess Leia and Han Solo and cut off his son Luke's hand just before revealing, "Luke I am your father". He left a path of destruction wherever he went throughout the galaxy. Hayden Christensen was the tortured soul who gave in to the Dark Side, James Earl Jones the intimidating voice and David Prowse the imposing figure . Darth Vader leads off Entertainment Weekly's list of the Most Vile Movie Villians. Think I'll go and pop in Revenge of the Sith and enjoy the memories all over again. Read more....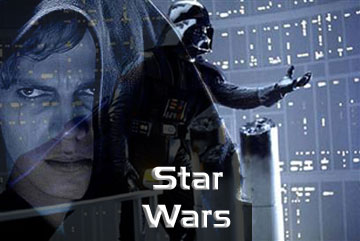 December 18, 2008 - Bone Deep Set Video - Reelz Channel - Bone Deep - Walker meets Skywalker - Only mentioned but not much, if anything of Hayden in this behind the scenes video unless Hayden is one of the heist crew in the orange coveralls, hard hat and hiding behind a face mask. Keep an eye on the hard hats. You can view the video by clicking here on Reelz Channel - Bone Deep
Bone Deep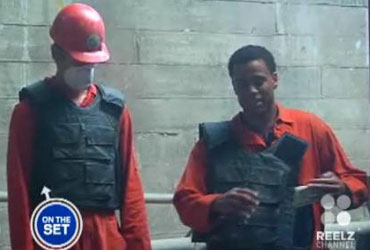 December 18, 2008 - Related News - Shattered Glass writer/director Billy Ray has signed to write and direct the big screen version of the horror fantasy novel Conjure Wife. The project is under development at United Artists.
"The filmmaker previously wrote and directed the thriller Breach, which starred Chris Cooper, Ryan Phillippe, Laura Linney, Gary Cole and Dennis Haysbert, as well as the Hayden Christensen flick Shattered Glass." Source
December 17, 2008 - Quantum Quest Mention - Sony Animation, Gotham Ink Pic Deal - "New York-based talent management and production firm has signed a first-look production deal with Sony Pictures Animation. Led by founder and CEO Ellen Goldsmith-Vein, Gotham represents some of the industry's top directors, writers, authors, actors, illustrators, publishing houses and comic book companies. Its access to movie source material such as popular books and comics is attractive to Sony Animation......
The Gotham Group's first major producing effort, The Spiderwick Chronicles, was released in February of this year and grossed more than $200 million worldwide. The company recently produced the direct-to video animated feature Dead Space for Starz Media, and the CG, large format film Quantum Quest. The first movie ever initiated by NASA/JPL, Quantum Quest boasts an all-star voice cast that includes Samuel L. Jackson, Hayden Christensen, Sandra Oh, Amanda Peet, Jason Alexander, Abigail Breslin, and Chris Pine. More...
December 16, 2008 - Bone Deep Set Photos - I've been busy like Santa the last couple of days so thanks to Ashla and Sophie and everyone who let me know about the new set photos for Bone Deep. Bone Deep looks to be a different type of role for Hayden. You can view all the photos by clicking here for the LA Times Gallery.
Click to Enlarge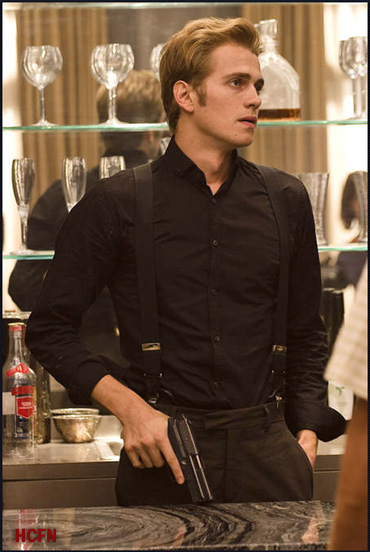 Click for more Bone Deep Photos


December 15, 2008 - Jumper on DVD in India - Mumbai: Excel Home Videos and Twentieth Century Fox have released the sci-fi thriller Jumper on home video.
Jumper is helmed by director Doug Liman whose earlier hits include The Bourne Identity and Mr. And Mrs. Smith. The movie, which is the $180 million box office hit, is based on the best-selling science-fiction novel by Steven Gould. The movie stars Samuel L. Jackson, Rachel Bilson, Diane Lane, Michael Rooker and Hayden Christensen. Read more...
December 11, 2008 - Related News - As a first time writer and director, Joby Harold garnered attention for last years' entertaining thriller Awake starring Hayden Christensen and Jessica Alba. His life just got a little busier. Joby is in talks with Dreamworks to adapt the comic Atlantis Rising for the big screen. Previously he was chosen as writer for Frank Miller's futuristic Samurai movie Ronin and Warner Bros. Army of the Dead.
December 10, 2008 - Beast of Bataan Update - If you've visited the Internet Movie Database page for Beast of Bataan lately, you'll notice a mostly blank page saying only that this project is "In Development". There is also a release date shown as 2010. The page was updated December 2, 2008. Other than a change to the release date, the information about the movie remains the same on IMDB Pro. The cast is Hayden Christensen, William Hurt, Kôji Yakusho with Fred Schepisi (director) Jonathan Sanger (Producer), Mark Jean (writer), Hayden Christensen (Producer). Production Company: Film Bridge International.
December 5, 2008 - Three Women at Different Points in Their Careers - "It's 8 a.m. in a sun-drenched conference room deep inside Paradigm's luxurious Beverly Hills headquarters. Half a dozen agents are gathered around a mahogany table, and right now they're looking exhausted. The world is tumbling off a financial cliff, but these guys still have to find money to make films.
Andrew Ruf, Paradigm's head of motion picture finance, runs down a list of possible projects with stars like Andy Garcia and Hayden Christensen. There is a June start on one of them -- "and I need $15 million," he groans." Read More....
December 1, 2008 - Los Angeles Star Trek Over Film City - A Hollywood movie tour - "At Sony Pictures Studios in Culver City – everything from Ben Hur to Men In Black was filmed. I visited the stage where director Peter Berg made Hancock, an action-packed Will Smith film about a hard-drinking superhero who finds saving people a pain in the ass.
Hancock had finished filming – the film is out on DVD on Monday [Dec. 1st] – but I still had an amazing glimpse at some other up-coming movies.
The fantastic tour took me right through the set of Bone Deep – a heist thriller staring Matt Dillon and Hayden Christensen – where some serious gun-battles had gone down. The "hotel room" I was in was riddled with bullet holes (even a dressing gown in the bathroom was shredded) and the floor was splattered with blood.
It was a stunning up-close-and-personal look at how Hollywood works – a true highlight of the trip as a whole." Source
December 1, 2008 - Canucks the New Australians - What a honor to host the Geminis," said Jason Priestley. "And an even a bigger honor to be considered 100 percent, unabashedly Canadian ... it's never been cooler to be Canadian in Hollywood. We are white-hot there."
It's true, Canucks are the new Australians.
Although Celine Dion, Alanis Morissette and Pamela Anderson have been waving the Maple Leaf flag for decades, with Hayden Christensen, Ellen Page, Evangeline Lilly, Michael Cera, Rachel McAdams, Ryan Gosling and Ryan Reynolds becoming insanely famous in the ensuing years, Canada had never been better represented. Source