January 31, 2008 - Another Jumper Video Clip - Another video clip is up on Yahoo Movies entitled "This May Hurt" in which Millie finds out what David's been keeping from her. Click Here for Videos
January 31, 2008 - New Jumper Clips with Hayden and Rachel - Millie isn't exactly thrilled with David and she let's him know it. David has a bad case of puppy love but the whole scene is dramatically interrupted.
David finds out he's not the only Jumper and just what kind of a royal mess he's jumped into.
January 31, 2008 - Hayden and Jumper TV Alerts - You'll find a list of upcoming TV previews and interviews on the blog. I'll be adding more as I hear about them. Please post if you hear of any TV coverage so we can crank up the dvr's and vcr's>
The Insider had a segment last night previewing Jumper and showed a brief interview with Hayden. They also said they will have more interviews with the stars from Cairo and file a report from the pyramids but didn't say exactly what night. Insider - Get it Now You'll find more info about The Insider on the blog.
TV ALERTS- BLOG THIS


January 30, 2008 - Featured Jumper Promo Photo - I've seen a few Jumper promotional pics different places on the net today. Sweet look at the chemistry between Davy and Milie.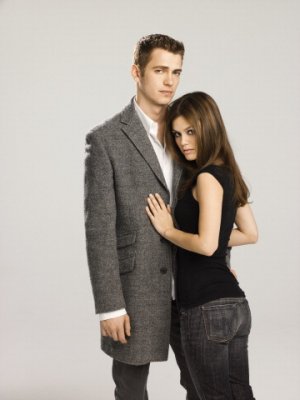 January 30, 2008 - New Jumper Contest - If you're handy at making movies, The Official Jumper Website is runnig a Comic to Film contest. Visit the site and you'll find full size pages of the new Jumper: Jumpscars graphic novel which you can use to make your movie. Have fun. Jumperthemovie.com
January 30, 2008 - Hayden's Interview with Ryan Seacrest - Check out Hayden's interview with Ryan Seacrest on KIIS FM and enjoy the photo gallery while you listen. Hayden's tone brightened considerably when talking about his farm, the barn he is planning to build and the addition of two pot bellied pigs and other livestock he plans to acquire. Wonder what he named the pigs. You can listen to the entire interview on Ryan's Seacrest webpage at KIIS FM. Click on the photo below to go to the interveiw and photo gallery.
Click the pic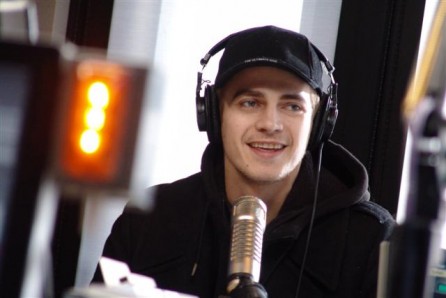 January 30, 2008 - Jumper Featured in Sci fi Now MagazIne - The February Issue of Sci Fi Now, a UK magazine, will feature an in-depth look at Jumper. Sci Fi Now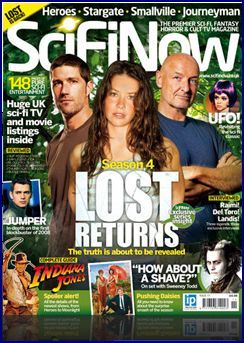 January 29, 2008 - Jumper Interactive Web Ad - Soap Creative, an advertising company, has created an interesting ad you'll find on JumperTheMovie.com Australia. You can also view the project on their website here on Soap
January 29, 2008 - Hayden in GQ Russia Magazine - Hayden jumps to Russia in this version of the February issue of GQ. GQ Russia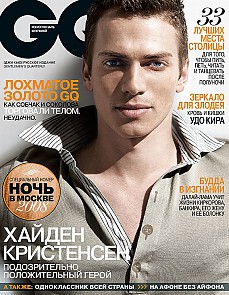 January 29, 2008 - Hayden's Cosmo Girl Interview - The 26-year-old star of Jumper (in theaters Feb. 14) chatted with CG!'s Michelle Lee Ribeiro as he drove to his farm in Canada. (He has pigs. We think that's pretty neat.) Here are a few random snippets from their conversation.
What's something you absolutely have to have when you're on set filming a movie? Music. It helps me get into whatever state of mind I'm supposed to be in that day. I try to find artists, or genres, that are fitting for a specific role. When I was filming Jumper, I was listening to a lot of upbeat hip-hop mixed with a little bit of Bob Dylan and Neil Young. The hip-hop to get in the right mood, the Dylan and Neil Young to keep me sane. Read more...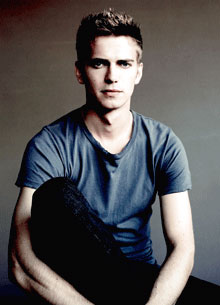 January 29, 2008 - Call Me Crazy, I'm Excited for Jumper - "Jumper is a hipster sci-fi flick that stars Hayden Christensen and Samuel L. Jackson, with the actor's worst set of hair since Unbreakable or maybe even -- gulp -- The Great White Hype. We're supposed to find the teleportation in the movie all shades of cool. We're supposed to take Hayden Christensen seriously as an actor. We're supposed to "ooh" and "ahh" at the scope of the film as depicted in the teaser and most recent trailer. But here's the scary part... I do find the teleportation scenes kind of cool. I am taking Hayden Christensen seriously (after Sith all was forgiven). And I'm doing my fair share of ooh and ahh-ing, thank you very much. Read more...
January 29, 2008 - Taking a leap with Jumper - Sci-fi flick director dismissed by U of T prof receives audience with MIT physicists - "Director Doug Liman didn't get much teleporting love when he tried to talk science with a professor at the University of Toronto last year.
In town then to shoot the sci-ficaper Jumper, the big-time lens-man thought he'd try to learn more about the ins and outs of electrons. His movie, after all, concerned a man -- played by Hayden Christensen -- who could beam himself anywhere, anytime, anyhow. So, off went Liman to the inner reaches of academia." Read more...
January 28, 2008 - Want to go to s Jumper Screening? - Here's your chance - The Big Picture says it has "oodles of passes" to their Jumper premiere which takes place February 13, 2008. They just didn't mention where the premiere will be and it's hard to tell from the article if this is the actual movie premiere with the cast in attendance. If anyone has more info drop me an email please. The Big Picture
Besides the above contest, there seem to be oodles of websites with similar offers for free movie screening passes. Just Google "movie screening passes jumper" and see what comes up. Buyer beware.
January 27, 2008 - Hayden is Teens for Jeans Campaign Spokesperson - You can help - I've added all the info for the Teens for Jeans Campaign in an article on the HCFN blog. Aeropostale has made it easy for you to donate your gently worn jeans at any of their stores in the US and Canada. Visit the blog for links, info and ideas for spreading the word and simple things you can do to help. Don't wait. Do something now. The Teens for Jeans Campaign continues until 2/10/08.
TEENS FOR JEANS - BLOG THIS


January 27, 2008 - Jumper Featured on Box Office America - Next week's episode of Box Office America will feature an early look at Jumper. Box Office America is a syndicated television program covering the latest movie openings and upcoming feature films. Times and channels will vary from city to city so check your local listings.
January 26, 2008 - Jumper Novel Press Release - "Tor Books is proud to present a new edition of Jumper, the classic novel about a young man who discovers his ability to "jump"—or, teleport—anywhere on Earth in the blink of an eye." Source
The new Jumper tie in mass market book will be available February 5th, 2008. More information on Amazon.com
January 26, 2008 - Magazine Alerts - Hayden is featured on the cover of 2 upcoming February magazines.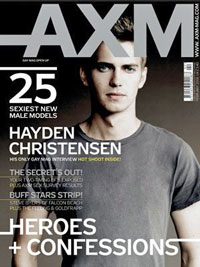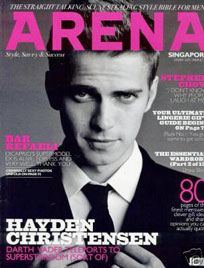 AXM Magazine - "It's a tough life for Hayden Christensen. Tall, blond and incredibly handsome, the 26-year-old has yet to find his feet outside of his star-making turn as Anakin Skywalker in the 2002 Star Wars film Attack Of The Clones. The movie and its follow-up Revenge of the Sith collectively grossed nearly $700 million at the US box office alone, and have so far proved a tough act to follow. Whilst he's played creepy in Shattered Glass (2004) and sexy alongside Sienna Miller in Factory Girl (2007), neither movie made an impact commercially. This is all set to change for the Canadian actor though as he stars in new film Jumper."
Thanks to Sophie and Stephanie for sending in the info.
January 26, 2008 - Hayden Screen Caps from X Games 12
Watch the videos HERE.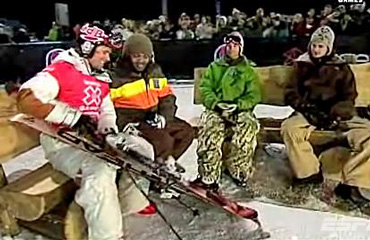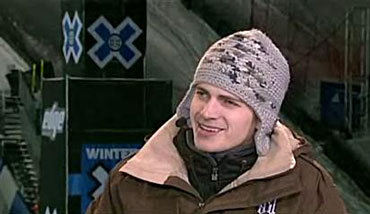 January 26, 2008 - Hayden at the Winter X-Games - Hayden and Rachel Bilson will be in Aspen Colorado doing promotion for their upcoming movie Jumper. Hayden will be joining Sal Masakala of E! TV as guest commentator on some of the events. He will be appearing at the Snowboard Big Air Final airing tonight and maybe at other events as well. Watch out for new Jumper commericials and trailers too. The Winter X-Games will be televised on ABC and ESPN and it looks like ESPN will re-run the program on late night if you need to catch up. Check your local listings for exact times.
Programing today starts at 2:00 p.m. (CT) on ABC and tonight at 8:30 p.m. on ESPN (CT)
Saturday, January 26, 2008
Snowboard Big Air Final 8:15 p.m. - 9 p.m. (Mountain Time)
Articles:
Freeskier.com - "Situated at the bottom of the big air next to Sal Masakala and Jumper star Hayden Christensen, Mike Douglas picked which skier he thought had the better jump, while they stood in the spotlight waiting."
Rocky Mountains News - "Attracting the most attention - and on purpose - are Hayden Christensen and Rachel Bilson, who are in town to promote their new film, Jumper. They are expected in the studio with Sal Masekela for the snowboard big-air contest tonight and are planning on other ESPN Winter X Games appearances as well."
WATCH HAYDEN'S INTERVIEW AND BLOG THIS


January 26, 2008 - Hayden on E!'s Daily 10 - Hayden and Rachel Bilson did an interview with Sal Masekala from Aspen Colorado where they will be doing promotion for their upcoming movie Jumper during the Winter X-Games throughout the weekend. Hayden will also be appearing with Sal as a guest commentator during some of the events. You might also be able to catch the interview again on E!'s Daily 10 weekend show which recaps segments from the last week.
January 24, 2008 - Bullrun 2008 Continental Divide - Calgary, Canada to Phoenix, USA - The dates, route and entry info are up on the official Bullrun website for this years exciting Bullrun 2008.
It's too early for a list of confirmed drivers and it's not known if Hayden intends to participate in this year's event but he is quoted on the site as saying, "It's the one thing I look forward to every single year".
Bullrun dates and route!
Where are we going this year? Bullrun is rallying the amazing Continental Divide!
WHEN: 20th June - 27th June 2008
WHERE: Calgary, Canada - Phoenix, USA
Website: Bullrun Official 2008
Thanks to Kelly for sending in the alert.
January 23, 2008 - Hayden 'terrified' over Alba sex scene - "Hayden Christensen has admitted that he was "terrified" of filming his sex scene with Jessica Alba in forthcoming movie Awake.
The films focuses on Christensen's character, a man who experiences anaesthetic awareness and can feel the excruciating pain as he undergoes heart surgery.
The actor revealed that he found the love scene even more difficult than shooting a fight scene for Star Wars. Christensen said: "I was just so nervous. Really nervous. Running around with a lightsaber is really pretend, but when you are put in a situation where the scene you are doing becomes so real, it is terrifying!" " Source: Digital Spy UK
According to the UK official website for Awake, the film is scheduled for a UK and Ireland release April 2008 Awake UK Official Website
January 22, 2008 - Jumper iPhone Site Live - Fox adventure film gets Apple tie-in. Century Fox and Apple have launched an iPhone tie-in site for the forthcoming sci-fi adventure film Jumper.
In the Doug Liman-directed film, opening February 14th, a genetic anomaly allows a young man [Hayden Christensen] to teleport himself anywhere. He discovers this gift has existed for centuries and finds himself in a war that has been raging for thousands of years between "Jumpers" and those who have sworn to kill them.
The Jumper iPhone site is formatted specifically for iPhones, allowing the user to experience the "jumper" phenomenon by redirecting them -- "jumping" -- to other cool iPhone sites. Just punch JumperTheMovie.com/iPhone/ into an iPhone browser and you'll "jump" to a custom iPhone site.
Furthermore, the Jumper iPhone site offers a Jumper graphic novel (an iPhone first), wallpapers, trailers, character bios, and more. Source
January 22, 2008 - Jumper New Zealand Adventure - Win a $10,000 New Zealand adventure and Jumper start your adrenalin! - To celebrate the release of "Jumper" on February 14, MovieFIX and Twentieth Century Fox are giving you the chance to win a $10,000 trip for 2 to New Zealand!
From Director Doug Liman (The Bourne Identity and Mr & Mrs Smith), starring Hayden Christensen, Rachel Bilson, Jamie Bell, and Samuel L. Jackson, comes JUMPER... More details...
January 22, 2008 - Awake DVD Release Info - Get ready for this spooky surgical thriller on DVD. Awake is coming to DVD on March 4. We don't have any pricing or cover art at this time. The film stars Jessica Alba, Hayden Christensen, Terrence Howard and Lena Olin.
A psychological thriller that tells the story of a man (Hayden Christensen) who suffers "anesthetic awareness" and finds himself awake and aware, but paralyzed, during heart surgery. His young wife (Jessica Alba) must wrestle with her own demons as a drama unfolds around them.
Special Features
- Audio commentary
- Seven deleted scenes
- Behind the scenes featurette
- Storyboard-to-film comparisons
January 21, 2008 - New Awake Poster - "Genius Products will release "Awake" on DVD this March 4th. The film stars Jessica Alba, Hayden Christensen, and Terrence Howard." Read more...
Click to Enlarge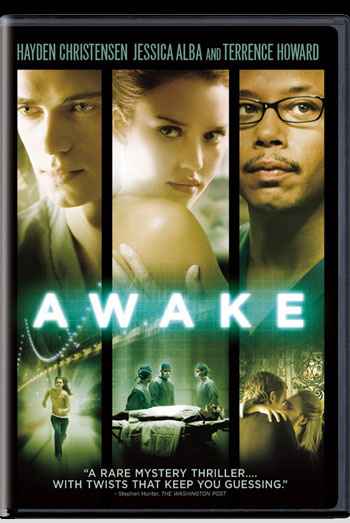 January 21, 2008 - New MIT Jumper Panel Pics - From IESB.net - "Funniest thing…while I was getting these pics ready to post and simultaneously watching American Dad on Adult Swim, they had a funny little dialogue about JUMPER. It went like this,"
Anyone gonna see that new movie JUMPER? You know the one where Darth Vader can ski and teleport? But look out Anakin, Mace Windu has a new hair cut and he's gonna kill you! More pics....
Click to Enlarge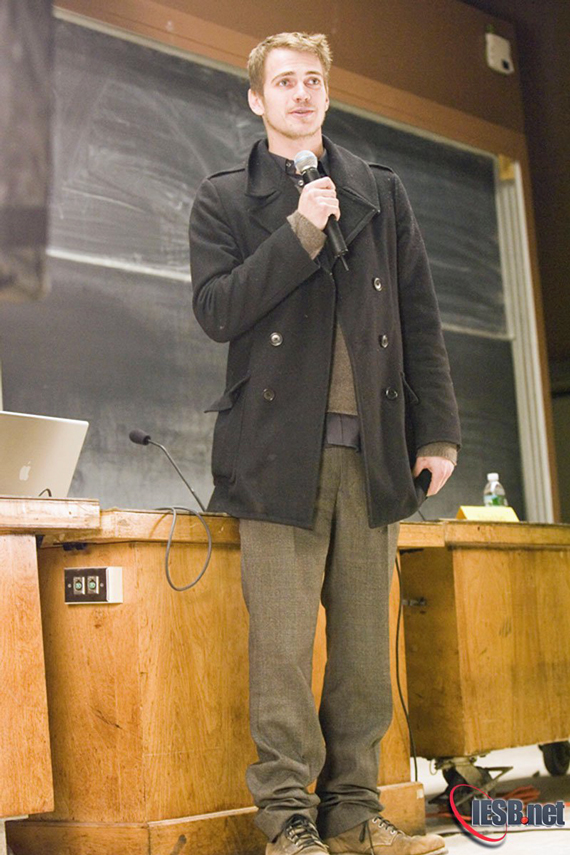 January 21, 2008 - Jumper: Griffin's Story Trailer - "The Jumper game extends the film's storyline, following Griffin, a battle-hardened Jumper determined to avenge the death of his parents at the hands of the Paladins. Griffin's quest to find the killer spans exotic locales around the world. Developed by Brash Entertainment, Jumper: Griffin's Story is due to ship for PS2, Wii and Xbox 360, on February 12 2008, followed by the theatrical release on February 15, 2008." Read more...
January 21, 2008 - Children's Acting Classes Coming To The Desert - "International producer/director Jorn Winther presents his acclaimed 8-week magical children's workshop.
Jorn has directed some of the biggest stars and celebrities in the world just to name a few:....and includes the SKYWALKER: HAYDEN CHRISTENSEN who Mr. Winther discovered, hired, coached and directed at age 13."
Winther is also responsible for 350 hours of network television shows he produced and directed that gathered 39 Emmy nominations and won 14 Emmys. Source
January 19, 2008 - It's not just a job, it's an adventure - One way to see the world is to make movies. While shooting "Jumper," director Doug Liman says he filmed actor Hayden Christensen (below) in more than a dozen countries. One of the last locations, he told MIT students this week, was last September in the surf near Gay Head on Martha's Vineyard. Liman said he and Christensen shot the scene themselves without any crew. Don't blink or you might miss it in the movie. The whole scene lasts about 7 seconds. The movie opens Feb. 14, but Liman has arranged a special free screening at MIT the night before. Source
January 18, 2008 - Teleportation: The leap from fact to fiction in a new movie - While the movie, directed by Doug Liman, may have taken the reality of teleportation and spiced it up quite a bit, Christensen, who gained fame and heart-throb status playing Anakin Skywalker in Star Wars Episodes II and II, told Computerworld that it's an alluring fantasy.
"I've always been a sci-fi fan. I like things that stimulate the imagination," he said before clips of the movie were screened for the MIT audience. "Obviously, I think there's great appeal to be able to be where you want, whenever you want. You could escape anything you need to escape."
And what situation would he like to teleport out of the most? "I might be home right now," he said, laughing. "Just kidding. Just kidding. Well, I'd at least like to be somewhere warm."
January 17, 2008 - MIT video clip with Hayden - Local Entertainment news WBZ in Boston has a featured video and brief interview with Hayden from the MIT Jumper Preview. VIDEO: WBZ NEWSRADIO
January 17, 2008 - Teleportation gets reel in new Sci-Fi movie "Jumper" - "I flew out from L.A. this morning with Hayden Christensen and we are very excited to be here with the MIT professors and to have some of the science of the film ripped apart. I am someone that does not shy away from a challenge in my career," Liman said. "Hayden and I were cramming the entire way out here over quantum physics realizing we should have read it before we started making the film. We might not have made the film if we knew quite how impossible these guys are going to tell us teleportation could be." Read more...
January 17, 2008 - Hayden and Doug Liman Photos from MIT - Just Jared has a lot of pics up from last night's MIT Jumper screening. JustJared.com
January 17, 2008 - Hayden at MIT - Hayden and Doug Liman answered questions and took pictures with fans and talked about Jumper and the science behind the story at the special screening held at MIT last night. They were joined on the panel by two of the university's physics professors who answerd the more scientific and technical questions about teleportation. During the Q & A, Hayden asked the crowd not to think of him as only a "sci fi kinda guy" adding that he has two films coming out that have nothing to do with science fiction, saying "it will be a nice change". Where would he teleport? "Home, it's always good to be home."

Articles:
Boston.com
Boston Herald

Click to Enlarge

January 16, 2008 - Rachel Bilson Red White and Blue - Just in time for Presidents Day - American beauty Rachel Bilson is featured on the cover of the February issue of GQ Magazine wearing an Agent Provacateur bikini in red, white and blue with Christian Louboutin espadrilles. Rachel co-stars with Hayden in the upcoming film Jumper to be released Febrauary 14th and talks about the movie in her interview with GQ. Read more.....
And here's the entire GQ article: GQ Featured Article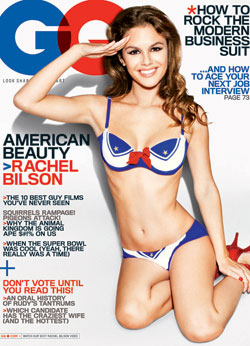 January 15, 2008 - MIT Press Conference This is a German press release concerning the Jumper screening and panel discussion at MIT tomorrow night. I would also check the Arts@MIT website for more info about this event if you plan to attend.

The Massachusetts Institute of Technology and 20th Century Fox Present a Special Panel to Discuss the Making of the Upcoming Film ''JUMPER'' and the Subject of Teleportation

WHAT: The Massachusetts Institute of Technology (M.I.T.) will host a special event and panel for the upcoming motion picture, JUMPER, from Twentieth Century Fox. The event will include a special presentation of footage from the movie followed by a panel comprised of the film's director Doug Liman ("The Bourne Identity" and "Mr. & Mrs. Smith"), the film's star Hayden Christensen ("Star Wars"), and M.I.T. physicists Dr. Max Tegmark and Dr. Edward Farhi. The special on-campus event will begin at 8:00pm.

Following the screening of special footage from the film, the panel will answer questions from the attending audience. Doug Liman and Hayden Christensen will address questions related to the making of the film. M.I.T. physicists Dr. Max Tegmark and Dr. Edward Farhi will address questions related to real world knowledge and research pertaining to the branch of physics that deals with teleportation and quantum mechanics.

WHEN: Wednesday, January 16, 2008
6:45pm-7:15pm Press conference with M.I.T. Professors Dr. Edward Farhi and Dr. Max Tegmark

Press check-in time for conference is 6:15 pm

7:30pm-7:55pm Red Carpet Arrivals - interviews with star,
Hayden Christensen and director, Doug Liman
Check-in time for red carpet coverage is 7:00 pm

WHERE: Massachusetts Institute of Technology
77 Massachusetts Ave., Room 26-100
(Parking available at meters on Mass. Ave. and in open Lot off Main St.)

January 15, 2008 - Trailer talk: 'Jumper' - "Sometimes when you watch a trailer you have to remind yourself: It's only a preview, it's only a preview. That's the case with Jumpers, director Doug Liman's sci-fi thriller that's scheduled to open Feb. 14. The trailer is non-stop CGI-enhanced action, and it's really, really cool." Read more: Arizona Republic

January 15, 2008 - Jumper Jumpscars - I'm looking forward to filling in some backstory for Jumper with the graphic novel that is coming out on February to coincide with the movie release. The graphic novels will be more about Mary Rice than Hayden's character David Rice. Mary's role in the movie is also going to be somewhat different from the book and expanded if my info is correct. How could you not have Diane Lane in Jumper and not expand her character's storyline. I'm trying not to think to much about the possibilties. I don't want to spoil it for myself but the clues are in the graphic novel and on the movie's website, if you want spoilers.

BLOG THIS

Check out the Jumpscars preview at Oni Press:
Jumper: Jumpscars at Oni Press
Jumper: Jumpscars Graphic Novel Preview

Click to Enlarge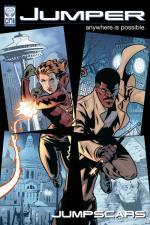 January 15, 2008 - The Liman Identity - If you want to know a little more about Jumper director Doug Liman here's a great article from January 12th in New York Magazine online. In the interview, the director talks about Jumper and there is a picture of Doug and Hayden on set.
"These days, Liman can't seem to cause trouble even if he wants to. "Now, if I try to do something conventional," he says, "I'm surrounded by people who say, 'That's not your way.'" It's a pissy complaint, part self-congratulation, but a complaint nonetheless. Now, the producers play nice, even when he veers off script. One day, inching through Times Square gridlock on his way to shoot at the Empire State Building, Liman thought, Wouldn't it be cool to pick up a piece of the final fight scene here! Hayden Christensen and Jamie Bell, two of the Jumper leads, were in the van with him, their clothing already splattered with what looked like blood. In the film, their climactic battle shifts from the pyramids to the Colosseum to the Empire State Building—they teleport, remember? Why not add Times Square? Liman rushed through tourists, cleared a space on the island in the middle of Times Square. He called action, and Christensen and Bell wrestled over a bomb detonator. It had the feel of the old days, except a producer signed off. He was in the van."
Click to Enlarge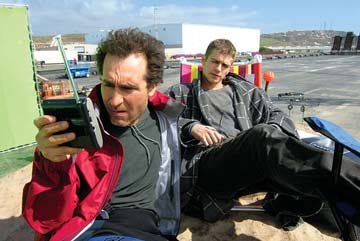 January 14, 2008 - Ron White's Shoe Drive for the Homeless - Hayden is listed among celebrity alumni who have donated their gently worn and autographed shoes. He is featured in the photos on the press release page of the website for Ron White's Shoe Drive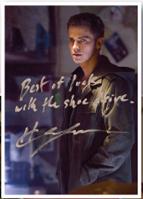 January 14, 2008 - MIT's Jumper Preview Screening - MIT's Arts webpage has more info on the screening hosted by the university's Lecture Series Committee. Hayden and Doug Liman will attend the event. You'll find all the telephone numbers and ticket information and more on the Jumper event here on Arts@MIT
January 14, 2008 - Jumper HD DVD Release set for Germany - At least that's the word coming from one blog today. Early news of HD DVD releases for Germany is that Jumper is scheduled to be released there October 10, 2008. Source: HD DVD Format Blog
January 13, 2008 - Hayden Photoshoot for Repubblica Delle Donne - Hayden is on the cover of the January issue of the Italian magazine which includes a photoshoot of several pages. You can view the entire photoshoot here at la Repubblica Delle Donne Web
Click to enlarge to HQ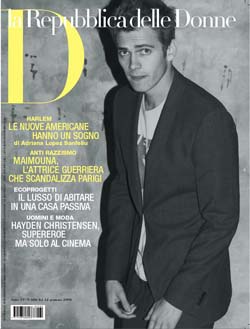 January 12, 2008 - MIT LSC Scheduled Jumper Sneak Preview with Doug Liman and Hayden Christensen
When: Wednesday, 16, January, 8:-00 p.m.
What: In the science fiction-action-thriller _Jumper_, a genetic anomaly allows a young man to teleport himself anywhere. He discovers this gift has existed for centuries and finds himself in a war that has been raging for thousands of years between "Jumpers" and those who have sworn to kill them.
The screening will be followed by a discussion panel about the film and the physics of teleportation featuring lead actor HAYDEN CHRISTENSEN, director DOUG LIMAN, and MIT Physics Professors MAX TEGMARK and EDWARD FARHI.
Who: This is a FREE Sneak Preview, with preferred admission for members of the MIT Community with an MIT ID or brass rat.
LSC members (including permpass members) may reserve tickets (for yourself and a guest). Email by Tuesday the 15th. Email: zykorex@gmail.comEmail: zykorex@gmail.com
Where: 26-100. Tickets will be distributed in Lobby 16 at 6pm on January 16.
DISCUSS
January 12, 2008 - Jumper Discussion and Footage Featured at MIT - Wednesday, actor Hayden Christensen (inset) will be at MIT, where footage from his new sci-fi film "Jumper" will be screened. (The film deals with the science of teleporting matter.) Christensen will take part in a Q&A with director Doug Liman and MIT physicists Max Tegmark and Edward Farhi. Source
January 12, 2008 - Hayden Christensen was left "battered" after filming his latest movie. - "The 26-year-old actor suffered a "hyperdilated pupil" and "split open" an ear and injured a hand during the shooting of 'Jumper', after director Doug Liman insisted he do most of his stunts. He said in an interview with Empire magazine: "I got battered. I came home every day with a new bruise. A lot of the action was last minute like, 'Alright, so now you're going to be hit and you need to throw yourself up against the wall and land there.' You just had to go for it. Doug doesn't like to fake anything, he likes you to go through it....." Read more....
January 11, 2008 - Jumper TV Spots - "I got to say, I'm absolutely geeked on Jumper. Say what you will about Hayden Christensen (I thought he did absolutely fine in Revenge of the Sith), but he looks perfectly comfortable in this role. Throw in upandcomer Jamie Bell, a gorgeous Rachel Bilson, a platinum Samuel L. Jackson, and we could really have something here.
And that's before we even begin talking about the idea of teleporting. Uh... cool!" CanMag.com
January 11, 2008 - Check Out Three New TV Spots for Jumper - Here at Movieweb
January 11, 2008 - Hayden Christensen Fan News Site Update - Visit the new Hayden Christensen Fan News Blog - I'll be experimenting with different programs this year to make HCFN more interactive.
I look forward to hearing your thoughts on all the news about Hayden and his latest projects. It's my way of adding one more vote, one more place on the internet for fans to show support for Hayden and all his work.
Have a little paitence while I fiddle with the settings, decorate the walls and hang the pictures and make the blog space a home. Happy posting!
January 10, 2008 - All New Jumper Interactive Website - The new improved and WOW website for Jumper is up with lots of info, soundtrack audio, movie stills and secret codes and other fun. JumperTheMovie.com
DISCUSS
Click to Enlarge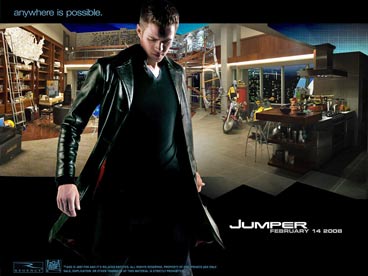 January 10, 2008 - Utilitarianism, Geneticism and Fetishism - "The past, present and future of science fiction - this week we look at dystopias. Plus, an update on the ongoing reader contest, and all the latest from the world of SF."
"Hayden Christensen may star in a proposed film based on William Gibson's seminal cyberpunk novel Neuromancer. (courtesy of Sci Fi Wire)
You know, this could actually work. Jumper looks like it could be a viable vehicle for Christensen's talents (you know, he is a decent actor, despite what Star Wars did to his reputation), and if he's content to stay in the sci-fi realm then Neuromancer could be a pretty high profile movie, even if it is being independently produced. My concern is still that Joseph Kahn is set to direct, with no real proven experience." Source
January 10, 2008 - Confessions of a Hollywood Dialogue Coach - "Another movie set to have an explosive release early this year is topbilled by Star Wars kid Hayden Christensen this time as Jumper. Some of the scenes in Jumper are set in Italy and Italian actors and actresses who need to dub their lines in English receive guidance from an English dialogue coach." Source
January 10, 2008 - Hayden's Role in Neuromancer More than Rumor - According to the Seven Arts Pictures website, Hayden is indeed listed as playing the main character, Case, in Neuromancer to be directed by Joseph Kahn with writing credits going to William Gibson. The project is listed as being in Pre-Production which means it's still early and anything can happen and things can change but it looks like sources for the rumor were reliable. Source: Seven Arts Pictures
DISCUSS
January 8, 2008 - Rachel Bilson and Hayden Christensen Want Your Jeans! - "Some of us have good genes and some of us have good jeans. If you just so happen to rock the latter, then Rachel Bilson and Hayden Christensen WANT YOU!!" Read more...
January 8, 2008 - HP Pairs the 'Jumper' With Serena - "Is it a movie trailer or an HP commercial? The new 90-second "Jumper/Serena", which played during last night's Bowl Championship Series title game on Fox, from Omnicom Group's Goodby, Silverstein & Partners, is both.
"......The creative was inherent in the tie-in: The jumper jumping into our commercial was a natural fit," said Stephen Goldblatt, group creative director, Goodby, San Francisco. "We didn't have to make any sacrifices. We maintained our commercial and got to use Hayden."
"Fox lent the film crew one of its studios and provided access to Christensen, said David Roman, vp, worldwide marketing communications, HP's personal service group, which is based in Cupertino, Calif. "It brings more attention to the spot [by combining it with a movie trailer] because it's different," he said. "It fits into the whole philosophy of 'The computer is personal again.' We like to play with material and it's a clever use of technology." Read more...
January 7, 2008 - Excuse me while I gloat - LSU BCS National College Champions - Congratulations LSU Tigers! As if that wasn't enough Fox was flashing Jumper across the screen throughout the game. (You knew I'd get something related to Hayden in here somehow, right. LOL)

January 7, 2008 - New Jumper Promo - There's a new Jumper promo for HP computers with Serena Williams and a virtual jump by Hayden from the movie Jumper into the commercial. Cool! The video linked below is good quality and you can click to make the screen bigger.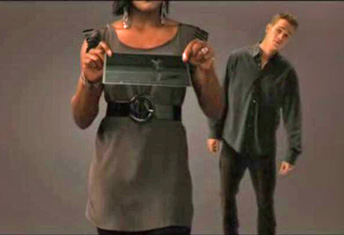 Read about the Jumper promo
Watch the Jumper promo
DISCUSS
January 7, 2008 - Celebs Gone Good - Get the mug shots, the scoop and behind the scenes info on Hayden, Rachel Bilson and Doug Liman and their Public Service Announcement at DoSomething.org
January 7, 2008 - Hayden and Rachel Bilson's PSA - Hayden and Rachel recently taped a Public Service Announcement asking support for the "Teens for Jeans" campaign sponsored by Aeropostale.com and DoSomething.org.
DoSomething.org has two videos up on Youtube including a really cute blooper video with an appearance by Jumper director Doug Liman.
DISCUSS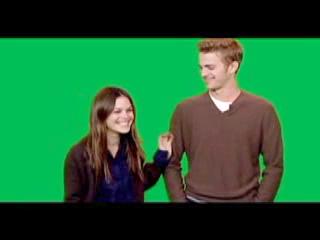 Teens for Jeans PSA

Teens for Jeans Out-takes
You can help the two organizations by visiting the website links above and find out more about Teens for Jeans. Do something today.
Check the Trailers and Clips section often on this page (left column) for the latest Youtube videos for Hayden as they are added.
January 7, 2008 - More Neuromancer - The book is a classic and was the first to be dubbed as "cyberpunk". Even though just a rumor at this point, news that Hayden may be starring in the movie adaptation of Neuromancer has already started a wave of chatter in today's cyberworld. There is a director (Joseph Kahn) and now rumored casting of Hayden Christensen as the central character. Just pick a link to any entertainment/movie news or blog search and this is big news.
The Production Chart website doesn't even say it's a rumor (though they misspelled the main characters name):
From January 6, 2008
NEUROMANCER
STATUS: Active Development
PRODUCER: Peter Hoffman
DIRECTOR: Joseph Kahn
CAST: Hayden Christensen
WRITER: William Gibson
Based on William Gibson's seminal cyberpunk novel, Hayden Christensen stars as Cage, a petty future Tokyo thief whose trade is jacking his brain directly into computer systems. When this skill is taken away from him, it seems his life is destined to end in an explosion of violence and drugs… until the mysterious Armitage offers redemption – at a price. Revelation follows revelation as Cage discovers that no one is in control of his or her own destiny and a new form of sentient technology is taking over. It's down to Cage to face Neuromancer and do something he never has before: make the right choice.
SEVEN ARTS PICTURES
Source
January 7, 2008 - New Movie Role for Hayden? - Joblo.com is saying that according to its sources Hayden will take the starring role as Case in the movie adaptation of the novel Neuromancer by author William Gibson. There is nothing official about this so it is still just a rumor. Source
Neuromancer was first published in 1984. Here is a brief summary of the main character from Amazon.com:
"Case was the hottest computer cowboy cruising the information superhighway--jacking his consciousness into cyberspace, soaring through tactile lattices of data and logic, rustling encoded secrets for anyone with the money to buy his skills. Then he double-crossed the wrong people, who caught up with him in a big way--and burned the talent out of his brain, micron by micron. Banished from cyberspace, trapped in the meat of his physical body, Case courted death in the high-tech underworld. Until a shadowy conspiracy offered him a second chance--and a cure--for a price...."
And here's your Neuromancer STUDY GUIDE with detailed info on the book.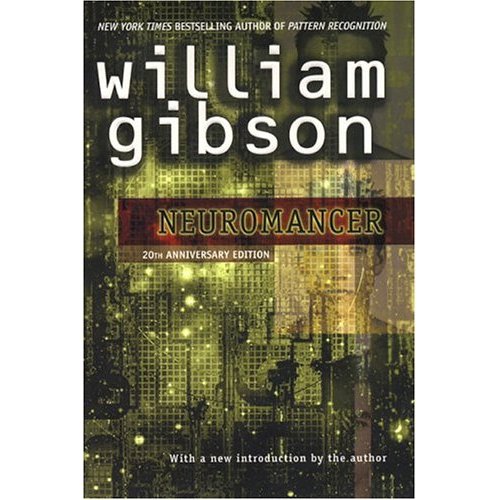 January 6, 2008 - Winter Moviegoing Season - "Welcome to the winter moviegoing season, where the demographics are falling like snow.
It's also the time of the year, traditionally, when studios refuse to screen a lot of movies in advance for critics. But lately, that season has spread to include the whole year. So you have just as much chance to find a clunker, or a hidden gem, as any time of the year. The summer season starts the first weekend in May, when the superheroes come to town. The first in line is "Iron Man," starring Robert Downey Jr.
What follows is partial list of what's coming soon to a theater near you.
Feb 14 - Jumper — Hayden Christensen can "jump" (teleport) from any one place to any other place in the world, and discovers that people like him have existed for centuries, and are always in conflict with non-jumpers. Doug Liman directs a cast that also includes Diane Lane and Samuel L. Jackson. PG-13." Read more...
January 4, 2008 - 2008 Winter Movie Preview - "While blockbusters aren't slated for winter releases, here are a few season surprises.
....Still, there are always a few movies from the first four months that surprise everyone. The swords and sandals epic "300" was released in March and ended up making more than $200 million. The mid-life crisis motorcycle flick "Wild Hogs" came out at about the same time and revved up $164 million in family sales. So which films will stand out this winter? Who knows? But here are 10 that seem like they have a chance of breaking out of the pack. As always, the release dates may be changed at the whims of the studios.........
"Jumper" (not yet rated) (Feb. 14): This thing looks absolutely crazy. Hayden Christensen stars as a guy who teleports himself from place to place. Then it turns out he's not the only one of his kind, and Samuel L. Jackson is part of an organization trying to wipe out the teleporters. Why is this interesting? Because the director is Doug Liman ("Mr. & Mrs. Smith," "The Bourne Identity"). And besides, dude teleporting. Read more...
January 4, 2008 - Jumper Featured in Empire Magazine - The February 2008 issue of Empire Magazine will feature a 2008 Movie Preview which includes interviews with Hayden and Rachel Bilson. On sale now in the UK. On newstands and in bookstores soon in the US.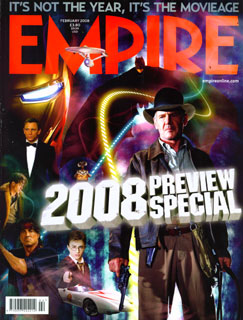 January 4, 2008 - Hayden's Current Movie TV Schedule - Shattered Glass, Revenge of the Sith and Virgin Suicides airing this month.
IFC Wed, Jan 9, 6:05 AM Shattered Glass
IFC Wed, Jan 9, 1:15 PM Shattered Glass
MOMAXe Thu, Jan 10, 3:00 PM Star Wars Episode III: Revenge of the Sith
WE Sat, Jan 12, 6:00 PM The Virgin Suicides
January 3, 2008 - Awake still in theaters? - Many local newspapers are still running reviews for Awake. Check you local theater. You may still have time to catch it on the big screen before it disappears and goes to dvd.
January 3, 2008 - The ones you'll be talking about - 2008 Movies Preview - This year, more than 200 movies will come to Richmond. Some will have big budgets and will fizzle. Some will be tiny and will do well. Some will surprise, some will delight and some will be everlasting embarrassments best forgotten.
The following are 21 upcoming movies we predict people will be talking about, plus "Speed Racer," which we included only because we think the whole concept is hilarious. As always, the opening dates are subject to change.
"Jumper," Feb. 14
Based on a novel for young adults, the sci-fi thriller stars Hayden Christensen as a young man who teleports himself to any place or time. He discovers there are others like him, who are in a centuries-old war with people who are out to kill them. Source
January 2, 2008 - Even more movies for 2008 - Last week's look ahead focused on movies with critical anticipation or blockbuster aspirations. Now here's a rundown of films through October that could create some momentum by opening weekend.
Feb. 14: "Definitely, Maybe." Ryan Reynolds is a soon-to-be-divorced dad whose 10-year-old daughter (Abigail Breslin) wants him to explain how he and her mother fell in love. Will it inspire a change of heart?
"Jumper." Teleporters try to enlist a newcomer (Hayden Christensen) in their war of survival.
"Step Up 2 the Streets." Outcasts bring street dance to an elite academy. (The weekend's other big film, "The Spiderwick Chronicles," will open on Feb. 15.) [Edit: Jumper Feb. 14]
Feb. 22: "Be Kind Rewind." Jack Black and Mos Def re-create movies for video store fans in the new one from Michel Gondry ("Eternal Sunshine of the Spotless Mind"). Source
January 2, 2008 - AWAKE on DVD This March - Movies Online reporting....."Jessica Alba's awake that went in and out of theatres it seemed with little fanfare will be on DVD March 11th. "Awake" is a psychological thriller about a common occurrence called "anesthetic awareness", a horrifying phenomenon wherein a patient's (Hayden Christensen) failed anesthesia leaves fully conscious but physically paralyzed during surgery." More and see the trailer
January 2, 2008 - Winter Movie Preview - With the 2007 movie year in the books, the Oscar race well underway, and the 2008 summer blockbuster season still on the distant horizon, what will occupy moviegoers over the relatively quiet -- at multiplexes, anyway -- winter season?
Look for the following tentative but probable mainstream releases during January and February: .....Hayden Christensen plays a teleporting, globetrotting thief with Samuel L. Jackson on his trail in the action sci-fi thriller, Jumper. Read more....
January 2, 2008 - Big Movies in 'O8 - We've got your first look at Hollywood's biggest blockbusters for '08!.....HAYDEN CHRISTENSEN's cool teleportation abilities get him into a heap of trouble in 'Jumper' (Feb. 14). Read more...
January 1, 2008 - 2007 Aussie films all about quality - Industry observers are hoping the new government tax rebate, or Producer Offset, announced in the May budget with bipartisan support, will mark a turning point for the Australian film industry. Judging by a sneak preview of the films that are slated for release in 2008, the coming year could produce a bumper crop........Fred Schepisi's World War II drama Beast Of Bataan, starring Hayden Christensen, is scheduled to start filming next year [2008]. Source
January 1, 2008 - A few bright spots can be found in a chilly season at the multiplex - Winter movie preview: "Jumper" Sci-fi thrills sub for romance in this Valentine's Day release. Hayden Christensen plays a "jumper," someone able to transport himself from one place to another. He lands in a war between his bizarre kind and those who would very much like to wipe out the jumpers. Doug Liman ("Mr. and Mrs. Smith") directs. (Feb. 14) Source