July 31, 2008 - Virgin Territory DVD Update - I posted awhile back that Best Buy had advertised a Special Edition 3 Disc Set for Virgin Territory and I posted the link to the page. The page is no longer there so I emailed Anchor Bay about the Special Edition and they said it was a mistake and there won't a 3 Disc set. Sorry for the confusion.
July 31, 2008 - When Spielberg Calls... - You don't head to the track - As I posted yesterday, Hayden was supposed to make an appearence at Fontana's Auto Club Speedway for a fun afternoon of kart racing and a meet and greet and photo op with fans and the media. According to a report in the OC Register today, Hayden never made it, even though his kart was ready and waiting for him outside the track. It seems Hayden got an invitation by Steven Spielberg to an audition just before he left for the track. Which may or may not be connected to a comment made by Hayden in a magazine article back in January about being offered a role in a movie by the president of Dreamworks Pictures.
It will be very interesting to see what comes of Hayden's meeting with Mr. Spielberg and we wish him the best of luck. Read more...
July 31, 2008 - More Canadian Content for the E! Network - True Hollywood Stories will feature Canadian biographies including, Hayden Christensen, Howie Mandell, Nelly Furtado and Céline Dion beginning this month.
Billed as made in Canada, and about Canadians, the 10-ep run begins August 6 with a look at game show host and Global TV mainstay Howie Mandel. Next up in the 10 pm spot: profiles of Dion, Furtado, Jim Carrey and the late wrestler Chris Benoit.
Another five episodes slated for fall will look at Kim Cattrall, Michael Cera, Hayden Christensen and Kiefer Sutherland. Read more...
July 30, 2008 - Political Satire - And what would the political season be without a little Star Wars satire and Darth Vader (Hayden Christensen).
'The One'? Take a Number, Sen. Obama
There have been so many Ones. The human imagination seems inclined to think in terms of them: King Arthur, Superman, Anakin Skywalker (or Luke, depending on your cosmology), Bobby Kennedy, John Galt, the Who's Tommy, Frodo, Bob Dylan, Siegfried, Harry Potter, Mighty Mouse, Godot, Joe Gibbs, Storm, Wonder Woman.
Being the One means passing lots of tests, because at first no one believes in you. King Arthur had to pull Excalibur out of the stone to prove he was the One. Being the One means being tempted by your dark side. Anakin Skywalker [Hayden Christensen] succumbed -- the One can be fallible, if not always human -- transmogrifies into Darth Vader, and only at the end managed to sort of live up to Obi-Wan's anguished declaration: "You were the chosen one! It was said that you would . . . bring balance to the Force!" Read more...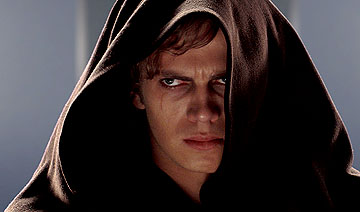 July 30, 2008 - The Force is with Canada's Space Channel - August is Star Wars Month on Space
SPACE joins forces with Warner Bros. to present a week of Star Wars programming to mark the August 15 theatrical premiere of Star Wars: The Clone Wars. Starting Monday, August 4, all six previously released Star Wars films air on SPACE. Inside Star Wars: The Clone Wars, a half-hour behind-the-scenes look at the making of the latest film in the epic franchise, airs Friday, August 8 at 7:30 p.m. ET / 4:30 p.m. PT, exclusively on SPACE.
Saturday, August 9
10 p.m. ET / 7 p.m. PT - Star Wars II: Attack of the Clones **SPACE PREMIERE** Anakin Skywalker begins a forbidden romance with Padmé Amidala. Anakin's teacher, Obi-Wan Kenobi, investigates a separatist assassination attempt on Padmé which leads to the discovery of a secret Republican clone army. Stars Hayden Christensen, Natalie Portman, and Ewan McGregor. (2002)
Sunday, August 10
9 p.m. ET / 6 p.m. PT - Star Wars III: Revenge of the Sith **SPACE PREMIERE** After three years of fighting in the Clone Wars, Anakin Skywalker concludes his journey towards the Dark Side of the Force, putting his friendship with Obi Wan Kenobi and his marriage to Padmé at risk. Stars Hayden Christensen, Ewan McGregor, and Natalie Portman. (2005) Read more.....
Space Channel Schedule:
Inside Star Wars: The Clone Wars - A look behind-the-scenes of the first animated Star Wars feature.2008 Check Schedule...
July 30, 2008 - Hayden Christensen Joins California NASCAR Sprint Cup Series - Hayden was scheduled to take part today in a Kart racing, fan appearance and photo op along with NASCAR driver Casey Mears. If anyone would like to share their experience and photos please email me. Thanks.
"FONTANA, Calif. -- Motorsports enthusiast and Star Wars trilogy star Hayden Christensen will join Bakersfield native Casey Mears, who currently drives the No. 5 car for Hendrick Motorsports, on the go-kart track at Auto Club Speedway on Wednesday, July 30. Mears will be in Southern California to talk about the NASCAR Sprint Cup Series season and the upcoming Pepsi 500 at Auto Club Speedway this Labor Day weekend. He'll cap his visit by talking to fans and taking some laps on the Speedway's go-kart track with Hayden Christensen. Media are invited to get an on-track lesson from Casey, and then test their skills against one of Southern California's favorite NASCAR drivers." Read more...
July 25, 2008 - 2008 Comic Con - Heads up Star Wars Fans - Today is Star Wars Friday at the 2008 San Diego Comic Con starting at 10:00 a.m. PT. There will be panel discussions and previews of Star Wars: Clone Wars and the latest video game, The Force Unleashed. Anything is possible at Comic Con and there could be a few surprises as well.

July 25, 2008 - FYI Madison Kid - The movie "Madison Kid" has not only been removed from Hayden's upcoming projects but has been removed entirely from the Internet Movie Database (IMDB). It had been listed as being in the script development phase.
July 18, 2008 - Jumper Interview - Thanks to Sophie for the heads up about this YouTube video interview with Hayden.
July 18, 2008 - Jumper Playlist - I've added the Jumper Playlist to the left column of the webpage. It worked so well on the blog, I thought I'd try it here too. It contains some of the songs by various artists (not the soundtrack music) that you heard in the movie. Let me know what you think. Enjoy!
July 18, 2008 - Weinstein brothers endure challenging second act - The Weinstein Company faces the critics about the company's performance at the box office.
But while their theatrical track record has been decidedly mixed, the Weinsteins say they've been busy building a 600-title library and tending to ancillary businesses such as home video and pay TV.......
At the same time, the Weinstein Co. has stepped away from a string of film acquisitions."Outlander," a $30 million sci-fi fantasy starring Jim Caviezel that has spent more than a year in post-production, is quietly being shopped to other distributors; "Virgin Territory," a period comedy starring Hayden Christensen and Mischa Barton, is going straight to video. The Weinstein Co. has let several of its film festival buys, including "Vince Vaughn's Wild West Comedy Show" and "All the Boys Love Mandy Lane," go to other distributors. Read more..
July 17, 2008 - Awake UK DVD Release - From Icon Entertainment - Awake starring Hayden Christensen, Jessica Alba, Lena Olin and Terrence Howard comes to DVD in the UK this August 26th.
Anna Roberts reveiws the DVD and says, "Stay Awake and enjoy its great twist."
Awake, starring actors of the moment Jessica Alba and Hayden Christensen, tells the story of rich heir Clay Beresford (Christensen) who has fallen in love with beautiful Sam (Alba). Life is perfect – well except for a few minor things – niggles really.
It's difficult to review Awake without giving away a twist. Suffice to say the ending is quite unexpected. In many ways Awake is pure fantasy – it's not plausible, but it's also fun. It is fast-paced, dramatic and thrilling....Watching Awake you certainly won't fall asleep… Read more...
July 17, 2008 - StarWars.com Updates - Star Wars the Official site recently updated with tons of fun for all ages in the way of Clone Wars movie downloads, galleries, info and games you can play online. Also check out other official pages for the Clone Wars Nintendo DS and Wii Games coming out Christmas 2008. Don't stop there. There are tons of Clone Wars books as well for young readers from Penguin in the Kids section of the site. (I'm a big kid so I looked at these, of course.) The bigger kids, like me, can expect more in the way of graphic novels, comics, and new novels by popular Star Wars authors as well as new collectibles in the neverending line of Star Wars Action Figures.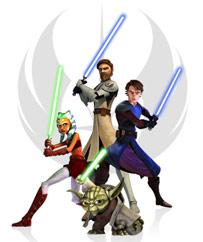 July 17, 2008 - Just for Fun - Check out the Video and Pic of the Day and the Jumper Playlist on the blog. Comments are open today on anything related to Hayden. (No discussions about his personal life, please.) Enjoy!

July 17, 2008 - 'Clone Wars' revives old-style 'Star Wars' fun - This is where the fun begins. On August 15th the first animated Star Wars theatrical movie, will come to theaters with much anticipation by fans. Critics have not been disappointed either, saying that it's an adventure bringing back the fun of the original 'Star Wars' trilogy.
An advanced screening of the movie was held Tuesday for The Associated Press. "Lucasfilm Animation.....has crafted a movie nicely tucked in to Anakin's early heroic days, before his transformation into the evil Darth Vader.
Dave Filoni, director: "I wanted this to have the banter. I wanted this to be funny," Filoni said in an interview at Skywalker Ranch, home to Lucasfilm Animation, a division of "Star Wars" creator George Lucas' filmmaking empire. "Telling that dark story of Anakin Skywalker was important for George, but this was a chance to show Anakin before that. Anakin as a hero, Anakin as the good guy, Anakin more like his son," Luke Skywalker, of the original trilogy."
Veteran Star Wars actors, Samuel L. Jackson, Christopher Lee and Anthony Daniels return to provide the voices for their Star Wars characters while Matt Lanter takes over as the voice of Anakin played by Hayden Christensen in the movies and James Arnold Taylor is the voice of Obi Wan originally played by Ewan McGregor in the prequels. Read more...
Click to Enlarge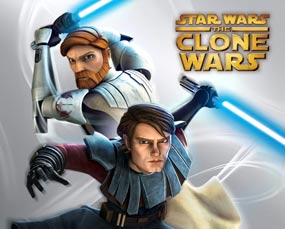 July 17, 2008 - The Force Unleashed Takes Gamers to the Dark Side - So you want to be Darth Vader's secret apprentice? - When LucasArts releases Star Wars: The Force Unleashed on September 16, players will have their chance to take part in a plot twist that will affect the way fans view Episodes IV through VI of the saga. The story takes place between Episode III 'Revenge of the Sith' and Star Wars: Episode IV 'A New Hope' where players train as Darth Vader's secret apprentice and use the dark side of the Force to hunt down remaining Jedi.
"There's a couple of big twists and turns in the story," said Blackman. "One revelation in particular really impacts the rest of the saga as a whole. It goes way beyond filling in gaps. We try to make a bridge on every level. The story has a real implications on 'Episode IV'. In some ways, without the apprentice, 'Episode IV' couldn't happen."
Aside fron a great story, gamers won't find any lack of excitement going through the various levels of the game where players will learn to use supercharged Force powers to wield a lightsaber, throw lightning bolts and evade enemies. You'll also be transported to places in the stronghold of the Empire like Kashyyk, the Wookie homeworld, the Jedi Temple on Coruscant and the exotic planet of Felucia.
It's really turning out to be a Star Wars year with The Clone Wars movie coming in August and The Force Unleashed in September. There is also a Clone Wars game coming soon to Nintendo DS and Wii by Christmas 2008 and books and graphic novels based on the movie and the Clone Wars animated series coming this fall to TNT and the Cartoon Network. Source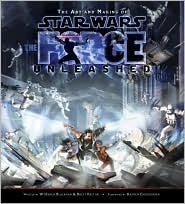 July 16, 2008 - Short but Sweet Jumper Review - Melanie Whiehead of the UK's Winsford Guardian wants more Jumper and we're hoping it happens too.
EVER been stuck in a situation where you wish you could shut your eyes and escape from it all? And in escaping, what if a genetic anomally allows you to teleport to anywhere in the world and do, say or take whatever you fancy without any consequences?
That's pretty much the premise for Doug Liman's film Jumper, starring Hayden Christensen, last seen sporting a big black helmet and cloak as Darth 'noooooo' Vader and Jamie 'he loves to boogie' Bell.....
It's excellent action fare and a wonderful idea... wouldn't it be a great super power to have up your sleeve when the going gets tough? It's just a little short and all gets tied up a tad too soon. Rumour has it there may be a sequel on the the way ... watch this space. Read more...
July 15, 2008 - Stars Go Green - InStyle Names 12 Most Eco-Friendly Star Couples - Rachel Bilson and Hayden Christensen - Jumper stars Rachel Bilson and Hayden Christensen may not discuss their relationship, but they are happy to talk about causes like Aeropostale's recent Jeans for Teens recycling campaign. Christensen recently bought an organic farm in his native Canada, and Bilson, along with line-drying her favorite vintage clothes, has incorporated environmentally-friendly habits into her daily life. "I try to be as green as I can," Bilson told the Metro newspaper. "Little things count, like recycling and driving my hybrid car." More from InStyle...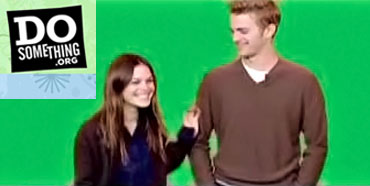 July 15, 2008 - Moviefone Names Top Villians - Moviefone has put together it's list of all time best bad guys in movies with James Earl Jones and Hayden Christensen's Darth Vader coming in at number 2. Yeah, yeah, I know what your thinking. It was probably rigged but since he-who-must-not-be-named will not be mentioned here you'll have to check out Moviefone's pictures to see who came in at number 1. *wink*
Moviefone's Top Villains Slideshow
Top Villains List
2. Darth Vader, 'Star Wars' series (1977-2005)
Played by: James Earl Jones, Hayden Christensen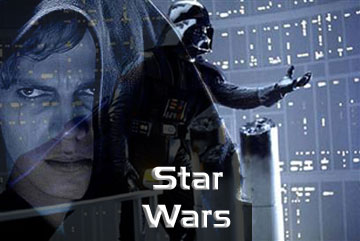 July 14, 2008 - Top Gruesome Surgical Procedures in Film - UGO.com takes a stab at naming the most grotesque movies centering around surgery with Awake as one of it's prime mentions.
Anakin - er, we mean, Hayden Christensen had better be careful of getting typecast as "dude who gets the shaft when it comes to medical procedures". After all, in Star Wars he goes from handsome savior of the universe to angry zombie robot, and in Awake he plays a fella who's apparently immune to anesthesia. Bummer, especially when you're due for open-heart surgery. Case in point, when Christensen is about to go under the knife, he realizes - a tad too late - that he's still awake, but can't move. What follows is pretty much exactly how most of us would react to being awake through a surgery - a complete and total meltdown. Umm...at least he got to get his freak on with Jessica Alba before all this...?
Check out the complete list here at UGO's top Gruesome Surgeries in Film
July 14, 2008 - New I Love You Release Date - It's another Valentine Holiday movie release for Hayden and Rachel. According to IMDB, New York, I Love You will be released in the US on February 13, 2009, just in time for Valentine's Day. (Coincidentally, the release date is also Friday the 13th. LOL) New York, I Love You is a compilation of 12 short stories about love in and around the 5 burroughs of New York City and starring a large ensemble cast including Hayden, Rachel Bilson, Shia Lebeouf, Orlando Bloom, Natalie Portman and Ethan Hawke. Jumper, also starring Hayden, Rachel, Jamie Bell and Samuel L. Jackson, was released Valentine's Day 2008. (Thanks to Sophie for the heads up.)
July 14, 2008 - Virgin Territory DVD Special Edition - A lovely maiden with three potential suitors finds the competition to take her hand in marriage heating up to a fever pitch in an adventuresome comedy romance starring Hayden Christenson, Mischa Barton, Tim Roth, and Christopher Egan. Based on the novel by author Giovanni Boccaccio, writer/director David Leland's rousing period film offers a unique mix of old world aesthetics and contemporary sensibilities. (Jason Buchanan, All Movie Guide)
Click to Enlarge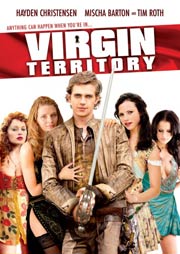 Best Buy and other DVD stores have two versions of the Virgin Territory listed as available for pre-order. One is a 3 Disc Edition and the other is the Collector's Dolby DTS. Both are rated R for sexual situations, nudity, profanity . There is not much in the way of product description for the 3 disc edition but it's pretty pricey starting at $49.99 (Best Buy) but prices will vary according to where you buy it. The Collector's Dolby DTS version doesn't list much in the way of specs either but has a price starting at $14.99 at Best Buy.
I'm guessing the 3 disc version has something to do with Anchor Bay's new "unzipped collection" and other previously mentioned extras.
EDIT/UPDATE - July 31, 2008 - Virgin Territory DVD Update - Awhile back, Best Buy had advertised a Special Edition 3 Disc Set for Virgin Territory and I posted the link to the page. The page is no longer there so I emailed Anchor Bay about the Special Edition and they said it was a mistake and there won't a 3 Disc set. Sorry for the confusion.
Extras:
Emobossed Foil O-Card - Keep Case
Visiting Virgin Territory featurette
Censored Scenes of Sexuality
David Walliams: Cart Pusher feat
You can check out the dvd and prices by visiting Anchor Bay for links to various stores online. Virgin Territory - Anchor Bay
July 9, 2008 - Awake Special - Click the picture below to view Simply Productions' interview with Hayden, Jessica Alba and Terrence Howard.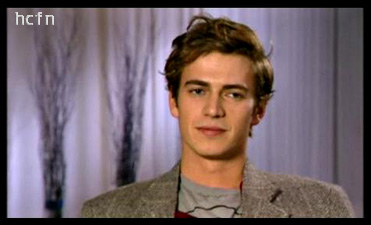 July 9, 2008 - Clone Wars Hollywood Premiere - I can't help but get excited about another Star Wars movie premiere even if this is an animated film. The previous Clone Wars animated features that ran on Cartoon Network were great back stories for any Star Wars fan. Even though all reports now say that Matt Lanter will be the voice of Anakin Skywalker in the new film coming to theaters August 15th, it's still an animated version of Hayden's face we'll see in this latest Star Wars movie.
Articles:
Clone Wars Hollywood Premiere
New Star Wars Adventures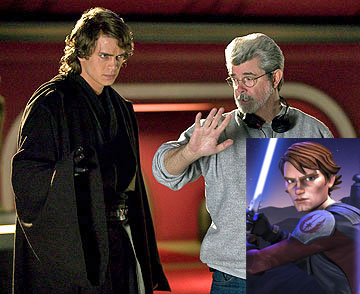 July 9, 2008 - Another Virgin Territory DVD Trailer - This exciting edited trailer focuses on the swashbuckling and swordplay action in Virgin Territory between Hayden, Tim Roth and Matthew Rhys.
July 8, 2008 - New Virgin Territory DVD Trailer - This is an unrated preview and contains mature subject matter that may not be suitable for all ages. (suggested for mature audiences)
Hayden Christensen, Mischa Barton, Tim Roth star in Virigin Territory out on DVD August 26th.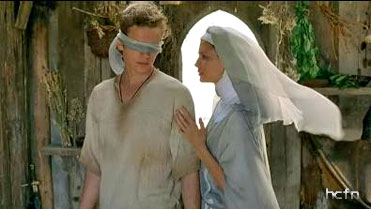 July 8, 2008 - Awake release date for Italy - Awake under the title "Alleged Innocence" starrring Hayden Christensen, Jessica Alba and Terrence Howard comes to Italian theaters August 29, 2008. You can view the official Italian tralier by clicking the link below.
Trailer ufficiale del film - "Presunta innocenza" - Agosto 29
July 7, 2008 - What Made Hayden Christensen a Household Name - A look Back - CTV's ETalk takes a look back at Hayden's career. It's been almost a decade since Hayden appeared in his first big screen role in "The Virgin Suicides" and even Hayden admits it's been a worldwind ride at times since then.
Watch the video here: ETalk Monday July 7, 2008
July 7, 2008 - Jumper available on Direct TV this month - You'll be able to watch Hayden in Jumper on Direct TV's Pay Per View on July 25th. Wow! That was quick.
Direct TV Jumper Trailer
Order Jumper Pay-Per-View
July 7, 2008 - Hayden to wear director's hat - Hayden has worn a few hats in his career; actor, producer even gentleman farmer but next year he'll get the chance to wear the hat of director when he takes the reigns on one of several featured shorts in the upcoming yet to be titled 2nd sequel to Paris Je Taime. In an interview with Video Hits Australia, Hayden revealed that he has been asked to come up with a story and direct one of the many shorts to be compiled into a feature length film about love in one of the worlds many beautiful cities. This will be the first time calling the shots behind the camera for the Star Wars and Jumper actor and If all works out Hayden says he will be directing the short in Bejing next year.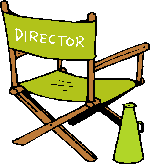 Click the link below for the video and catch up with other recent video interviews with the links below. Hayden to direct
Video Hits Part 1
Video Hits Part 2
Doug, Jamie and Rachel interviews
Movie Fix - Doug, Jamie, Rachel and Hayden
Hayden's Interview (larger screen)
David Rice "manning up" for sequel
Movie Fix - Hayden
Movie Rush - Now on DVD
Hayden talks about Doug's unusual style of filming.
Watch (Click Movie Rush Tab)
Movie Rush
(Click on June 19th Clip)
Download
On ITunes download the June 19th podcast entitled Ecapist (Download 6 MB)
Movie Rush
ITN Interview - Hayden's Letter from Samuel L. Jackson
ITN Video Interview
July 4, 2008 - Independence Day - Happy 4th of July to everyone and I hope you have a safe and fun day celebrating our country's birthday. Happy Birthday America!

July 3, 2008 - Jump Into Summer Movies-- Jumper on DVD!! - Nice dvd review of Jumper and I couldn't agree more with the writer. You can still catch Hayden in Jumper at theaters, though it's getting scarce. It's fun watching it on DVD but if you can get the full experience of watching it on a big screen in a theater before it's gone, go for it.
If you managed to skip JUMPER when it hit theaters, you did miss something. I must be one of the few people in my rather large-ish circle of friends who saw this flick when it hit theaters. It did respectable business as long you are realize that it's a *fun* movie-- not meant to be taken so seriously but an action-oriented flick about a young man who finds out that he can teleport himself (or *jump*) anywhere he wants just by thinking about it --even inside a bank vault!) Read more...
July 1, 2008 - Oh Canada! - I learned a new word yesterday. Canajun! I hope I don't get in trouble using it but from what I've read it doesn't seem to be derogatory. :)) I'm a Cajun and we've learned to capitalize on our nicknames. Anyway, my Canajun cousins to the north are celebrating Canada Day! So from this Cajun to all the Canajun's out there, Happy Canada Day. And if you don't consider yourself a Canajun then Happy Canada Day to all our Canadian friends. I might not even know about this holiday if it weren't for our favorite Canadian, Hayden, so I hope he has a great celebration with family and friends today. Laissez les bon temp rouler!