June 28, 2008 - Jumper Available for Pre-Order in France - Jumper will be available on Region 2 DVD in France September 10, 2008. The dvd can be pre-ordered now through Amazon.fr. Click the image below for more information. (en Francais)
Jumper DVD - Cet article paraîtra le 10 septembre 2008. Commandez-le dès aujourd'hui ! Expédié et vendu par Amazon.fr.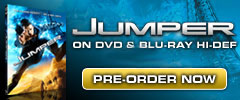 June 27, 2008 - Jumper Still in Theaters - You may still be able to catch Jumper on the big screen which is always the best way to watch any film unless of course you have a full size theater screen with all the sound equipment to really catch the full special effects at home. Jumper is out on DVD which is definitely one to own but you can also still catch it in theaters around the county.
Check Fandango for a theater near you
From Memphis Online - Jumper(PG-13, 89 min.) It's easy to see why audiences have embraced this critically lambasted film: Its premise -- a young man (Hayden Christensen) has the power to teleport himself anywhere, instantly -- is irresistible. Need cash? "Jump" into a bank vault. Need no-obligation sex? Jump to a hottie-heavy pub in London, then jump back to America from the lady's bedroom the next morning. Plot details are inconsistent, but Doug Liman ("The Bourne Identity") directs with energy, and it's nice to see Samuel L. Jackson as a straight-up villain.
June 27, 2008 - Jumper Number One in Blu-ray Sales - The numbers are in - Jumper stayed at the top spot of the Blu-ray chart for the second week in a row for the week ended 6-21-08. Jumper was in the third spot for the same time period in regular dvd rentals and fourth in sales. Source: Variety
June 26, 2008 - Hayden's Movie Virgin Territory on Region 2 DVD - I'm a little jealous of the beautiful Virgin Territory dvd cover for the region 2 UK release. Virgin Territory, directed by David Leland and starring Hayden Christensen, Mischa Barton, Tim Roth, Matthew Rhys and Rupert Friend will be released on dvd in the UK on August 18, 2008. The movie, based on Giovanni Boccaccio's The Decameron, has had many title changes since it filmed in 2005 in Italy including, Medieval Pie, Guilty Pleasure, Decameron: Angels and Virgins.
14th century Italy and a beautiful princess (Barton) in left penniless and alone after her wealthy parents perish during an outbreak of plague. Seizing on this opportunity the evil Gerbino de la Ratta (Roth) pressures her to marry him as an escape from financial ruin. The fate of the Princess now rests with a mysterious stranger, Lorenzo (Christensen), a travelling rogue who swears to win her affection and overthrow his long-time nemesis, the brutal de la Ratta. Source article and photo
Click to Enlarge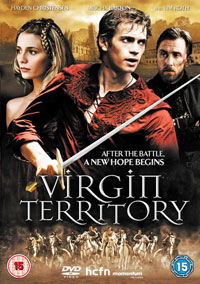 June 25, 2008 - IGN Previews Star Wars: The Clone Wars - What we know so far - IGN has put together a preview of the upcoming Clone Wars movie coming to theaters August 15, 2008. There's a rundown of the characters and what's known about the story. As reference, IGN throws in some quotes from previous articles from a Lucasfilm panel discussion at Wondercon back in February. Nothing new but the compilation of information gives a pretty good over-all view of the movie including some technical details on the look of the film. The trailers and images are included.
Of course the subject of who is voicing the characters is bound to come up and this is an excerpt from the article:
"Hayden Christensen and Ewan McGregor apparently couldn't be bothered to return to voice their characters for the project. Instead, some talented soundalikes have been found in voice actors Matt Lanter and James Arnold Taylor. Lanter (Anakin) is an up-and-coming actor who next appears in MGM's direct-to-video WarGames sequel. Taylor, who voices Obi-Wan, will be recognized by most IGN readers as the voice of Tidus in Final Fantasy X."
Actors from the original films IGN lists as returning to voice their characters are:
Samuel L. Jackson as Mace Windu
Christopher Lee as Count Dooku/Darth Tyranus
Anthony Daniels as C-3PO
That's not the last word however, as The Force.net is not entirely convinced about Hayden's and Ewan's roles in the new Star Wars animated feature. In an article today, The Force.net still holds to it's previous comments that there has never been any official confirmation from Lucasfilm on the cast of voice actors for Clone Wars so there's reason to hope. Maybe we'll get some clarification soon from Lucasfilm or maybe at next months Comic Con in San Diego. Read TheForce.net article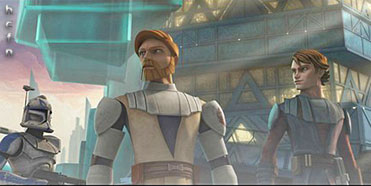 June 24, 2008 - Do Something PSAs Featuring Top Teen Celebs - Press Release - Hayden and Rachel's PSA for Teens for Jeans will be one of several PSA's broadcast over BusRadio as part of a new campaign with Do Something.org to promote community action and volunteerism.
Do Something.org believes teenagers have the power to make a difference. We leverage communications technologies to enable teens to convert their ideas and energy into positive action.
BusRadio is a national radio network that brings age-appropriate music, original programming, and public service messages to more than 1 million listeners between the ages of 6 and 18 every weekday during their daily bus ride. Read Press Release
You can get more behind the scenes stories and photos about Hayden and Rachel's PSA at DoSomething.org. Watch PSA and the funny out-takes which also features Doug Liman directing the video by clicking on the "Celebs Gone Good" logo below.
Click for more
Hayden, Rachel and Doug Liman are Celebs gone good


Click for Out-takes at Teens for Jeans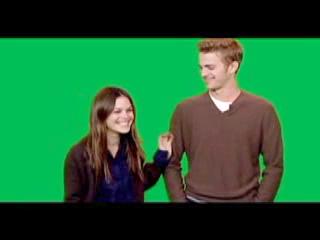 June 23, 2008 - Movie Buffs and Critics Baffled - Well, apparently if the movie is Virgin Territory - "Surely, you've had this happen to you: You're flipping the channels one weekend, stumble onto a famous face and you can't figure out what the hell the movie is.
You try to pinpoint when it was made hoping that might jog your memory, and then somebody else equally famous walks on screen and you can't believe these two people ever made a movie together.
"Why haven't I ever heard of this," you ask aloud. Then Tim Roth shows up to give the proceedings an air of respectability, and you're beside yourself. You've got nothin'."
That's what I call 'cute news'. Read more and see the trailer
June 23, 2008 - Join me for a little Star Wars conspiracy theory. - Last week MTV posted a video interview from the Jumper DVD press event in New York where questions about the Clone Wars movie came up. I didn't post it here because of the tone of the article posted with the video on MTV. It seemed kind of unfair. I'm posting the link today to the blog along with links to articles from The Force.net in answer to that MTV article.
Check out today's blog entry about the upcoming Clone Wars movie and some developments from over the weekend and speculation about upcoming surprises in the Star Wars universe.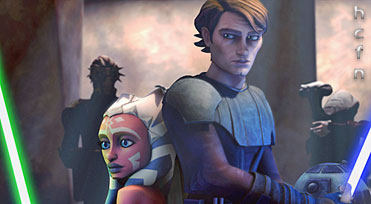 June 23, 2008 - Pre-Order Virgin Territory - This period costume comedy starring Hayden and Mischa Barton won't be seen in theater's in the US but it is coming soon to dvd and you can pre-order Virgin Territory at Amazon.com
Click to Enlarge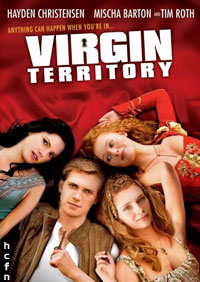 June 22, 2008 - Poll finds men staying single for fear of bad marriages - A SURVEY of 1500 heterosexual men set out to find why a growing number were steering clear of marriage. The result? Most men were not afraid of marriage - but they were afraid of a bad marriage.
"Men are 10 times more scared of marrying the wrong person than of never getting married at all," said 49-year-old bachelor Carl Weisman, who conducted the online survey to research his book So Why Have You Never Been Married? - Ten Insights Into Why He Hasn't Wed.
So what do celebrity bachelors think of marriage and why are they still single?
Hayden Christensen: "I think no matter what you have, if you don't have someone to share it with, you're inevitably going to be lonely. It's something I'm figuring out ... that I have so many great things but I move around so much. I'm not married, don't have kids, and those sorts of things are starting to appeal to me." Read More....
June 21, 2008 - Bullrun Pitstop in Aspen - "Duncan also said that all drivers are held within the guide­lines of the law.
"If our drivers get over zealous, they get a ticket — they all know this and are required to act accordingly," he said. "So far from the people who have cov­ered our event we've received very favorable press but we're always trying to improve across the board."
However, shortly after Dun­can's claim of a commitment to safety, he brought up one of the most memorable events in the Bullrun's history, in which two cars drag raced at 180 mph.
"We had Dennis Rodman and Hayden Christensen drag race each other on the Bonneville Salt Flats a few years ago in Lam­borghinis at 180 mph," he said. "That was pretty amazing to watch, especially after Hayden spun out." Read more...
June 20, 2008 - Jumper Tops DVD Rentals and Sales - Last week Jumper was the number 1 dvd rental in the country for the week ended 6-15-08 and number 2 in dvd sales for the week ended 6-14-08. The Doug Liman directed Jumper, starring Hayden Christensen, Samuel L. Jackson, Jamie Bell and Rachel Bilson stays in the top 5, as of June 20, 2008, currently at number 3 in both sales and rentals.
June 20, 2008 - Awake Props Auction this Weekend - Premiere Props have items from Awake up for bid on Ebay this weekend as part of the Hollywood Road Show. Pictured below is a military rain poncho and dog tags and authentic wardrobe tag worn by Hayden in the making of the movie. If the poncho and dog tags don't look familiar to fans, I'm told by Premiere Props that it may be part of a deleted scene but all items with a wardrobe tag is however used in the film and is considered "Screen used".
Click to View Items on Ebay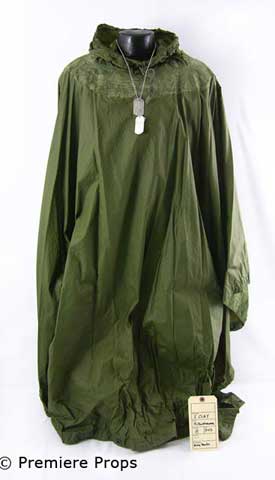 Click for More Awake Memorabilia at Premiere Props
Props from the Movie Awake starring Hayden Christensen and Jessica Alba.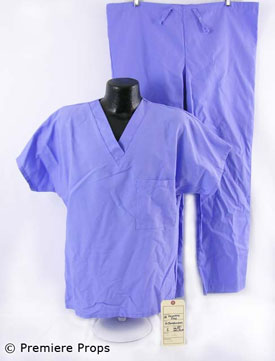 June 20, 2008 - Two Hayden Interviews One from Fox News also with Rachel Bilson and the other a YouTube video, interesting and given a slightly offbeat air by interviewer Roxanna Bina.

Another brief video with Hayden home:
No Place Like Home - at 00:39 counter



June 18, 2008 - Jumper Star Hayden Christensen - Jumper on DVD and Blu-ray - "Shooting the movie Hayden Christensen was left black and blue on a daily basis.
The actor says playing a young man who teleports meant getting into quite a few scrapes: "My character gets beaten up a lot in the movie, so I went to work every day ready to get thrown about or knocked on the ground, some sort of physical abuse."
But Hayden says he was more than willing to suffer for his art: "It starts to wear on you after a couple of months but it's what I signed up for so I can't complain."
Making the box office hit wasn't all pain and no gain, as the actor got to visit some fantastic places while making the film: "It was pretty incredible, from getting to film inside the Colosseum to walking the streets of Tokyo, London, Paris. We were filming in Mexico for a while, even Prague." Read here
June 18, 2008 - Jumper Star Hayden Christensen Stays Grounded - Hayden Christensen may play a young man with extraordinary talents in Jumper, but in real life the actor says he couldn't feel more grounded.
In the film - which topped both the UK and US box offices - Hayden's character David Rice has a genetic anomaly which allows him to teleport himself anywhere.
However, in real life the actor says he doesn't relate to feeling special: "I don't ever wake up feeling like I'm extraordinary, but I definitely get to be a part of very extraordinary experiences."
"Hayden explained: "You know you get to go to work on the Star Wars movies, hang a light saber from your belt, it's a little surreal and that's pretty extraordinary but it never really settles in to the point where that's your reality. It'll always feel a little surreal."
The movie is now out on DVD and Blu-ray, but Hayden confesses he's no expert at understanding exactly what that means: "I don't really understand it myself. I understand that there's a difference but I don't have a Blu-ray player and I guess it's a separate player for separate disks, you're asking the wrong guy!" Read here
June 17, 2008 - Teen Choice Awards - Congratulations to Rachel Bilson for her nomination in the category of "Choice Movie Actress: Action Adventure" for Jumper.
Category
Choice Movie Actress: Action Adventure
Abigail Breslin, Nim's Island
Christina Ricci, Speed Racer
Diane Kruger, National Treasure: Book of Secrets
Gwyneth Paltrow, Iron Man
Rachel Bilson, Jumper
June 17, 2008 - Jamie Bell on working with Hayden and Sam Jackson - Jamie has enjoyed working with directors like Peter Jackson, Clint Eastwood and Doug Liman who he says "are all very original, visionary people and that's always exciting." "I continuously enjoy working with good people, people that I can learn from."
Jamie got to work with Hayden and Samuel L. Jackson in Jumper:
"Hayden's a great actor," he says. "We actually had a great bond together and enjoyed the dynamic between our two characters. We just had fun with it really. We didn't take it too seriously.
"With Sam, the same thing. I think he's the coolest dude on the planet. He's also been in so many films, it's ridiculous and he's worked with some of the best filmmakers we have. So I definitely felt like I was in good company." Read here
June 17, 2008 - What do you see when you look at Hayden Christensen? - As fans, most of us see a nice guy (handsome, polite, kind) but as a director making a movie about someone who isn't a hero, Doug Liman saw something different that translated into the kind of character he wanted for the role of David Rice in the movie Jumper.
The Jumper director found exactly what he was looking for when he chose Hayden for the role of someone who finds they have the power to teleport but never thinks to use it to go out and save the world. Instead, David Rice is a self-absorbed person satisfied to live off his super ability and not be accountable for anything. You would think that Hayden got the role because of his anti-hero performance as Anakin Skywalker's turn to Darth Vader in Revenge of the Sith but that's not the case. What caught Liman's attention was the role Hayden played in Shattered Glass, as the pathological liar, Stephen Glass. Glass, as portrayed in the movie was a completely normal-looking, very likable guy who wove lie after lie in his published articles as an editor of New Republic Magazine.
"I just can't say enough good things about Hayden," he says. "What I love about him is he's complex, you actually don't know if he's a good guy or not. Hayden, for a filmmaker like me who is interested in the greys and the moral complexity of the world we're living in right now, I couldn't have had a better lead."
So where does Jumper go from here and what will happen to Hayden's character in a possible sequel?
"There are so many ideas - there's a sequel book that has such a cool twist, so unexpected, that I almost thought about doing the sequel film first," explains the director.
"I've never repeated myself but this one I could see doing a sequel and it being so original that maybe you wouldn't even use the name Jumper. It'd be the same characters but it'd be an insult to what it could be to call it Jumper 2." Read the article.
Jumper is out now on DVD and Blu-ray.
June 16, 2008 - Virgin Territory Comes to DVD August 26th - If you're a completist fan, you always want to add the latest of Hayden's movies to your collection. We didn't get to see this one on the big screen here is the US but Virgin Territory finally comes to DVD from Anchor Bay Home Entertainment this August 26th. Source: DVD Active
Extras:
Visiting Virgin Territory featurette
Censored Scenes of Sexuality
David Walliams: Cart Pusher feature
Promotional Campaign:
Press Participation with Mischa Barton, David Leland and Roberto Cavali.
Print Advertising in two issues of Maxim Magazine
TV Campaign targeting major college campuses
Viral Marketing Campaign
MYSPACE and FACEBOOK Pages
Additional Exposure with the launch of Anchor Bay's Unzipped Collection
Click to enlarge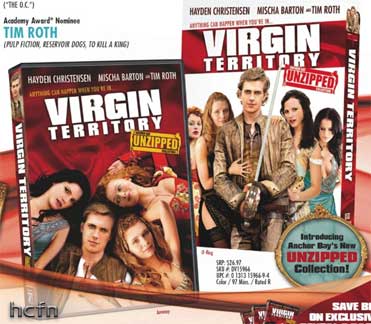 Click to enlarge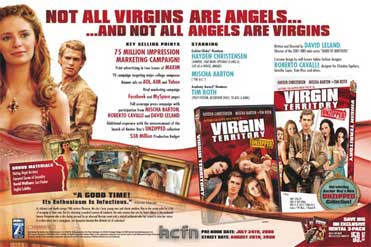 June 15, 2008 - 'Jumper' "Star Wars" star Hayden Christensen flies high with "Jumper," - "A satisfying popcorn sci-fi adventure enhanced with the same fine layer of substance that made the "X-Men" movies such huge hits.
Christensen takes a huge leap away from his Darth Vader persona for "Jumper," making us completely forget that he's the same force of evil that poised to rule the galaxy in the "Star Wars" saga. Here he plays a man in conflict, realizing that there's more to his gift than just the convenient ability to travel anywhere he wants at the drop of a hat." Read more....
The article also references a previous interview:
Hayden Christensen Interview
June 15, 2008 - Anywhere is possible - Jumper DVD Reveiw - "I checked out a flick on Tuesday night that turned out to be much better than expected. The movie in question is Jumper starring Hayden Christensen and Samuel L. Jackson.
This is one of the best "What if" movies I've seen in a long time. What if you could teleport? What if you could go anywhere at anytime? Sound nice? I thought so." Read more...
June 15, 2008 - IGN DVD Video Interview Hayden, Rachel Jamie and Doug did an interview for IGN. Follow the link to watch it in your choice of low res or hi res formats and full screen. There is also a a few of the dvd extras online. The links are below.
IGN Jumper DVD Cast Interview
Jumper DVD BTS - One Fight Many Locations
Jumper DVD BTS - Making an Actor Jump
Jumper DVD BTS - The Coliseum
Click to enlarge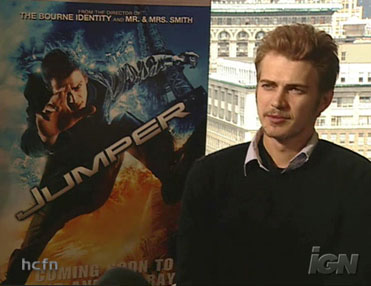 June 13, 2008 - Neuromancer Removed from Hayden's Project List - The Internet Movie Database (IMDB) has removed Neuromancer from the list of Hayden's upcoming projects. Hayden had also been listed in the cast on the Seven Arts Pictures information page for Neuromancer but there is currently no cast listed although Hayden's name is still mentioned in the synopsis.
June 13, 2008 - Liman says, "There'll be another, better Jumper DVD" - A Jumper Director's Cut coming next year? Yes, that what Doug Liman says he wants to do by the time the Jumper sequel is further along in development some time in the next year. Mr. and Mrs. Smith got the same treatment from the director who says a few changes were already made with the first Jumper DVD to reflect the difference between the theatrical and DVD versions of the movie. The second Jumper DVD will be the more important of the two dvd versions adds Liman. Read more: Edmonton Sun
June 13, 2008 - Bilson, Christensen on tap for Jumper sequel - Rachel talks about Hayden, their characters and the rest of the cast and and what it was like working on Jumper and we also hear from Rachel, Jamie Bell and Doug Liman about a sequel and from Hayden on how he would use the ability to teleport if he could.
Among his jumps, he [Hayden as David Rice] goes back to Ann Arbor, Michigan, to reconnect with his childhood sweetheart, Bilson's Millie Harris.
"It's realistic, I think," Bilson tells Sun Media about the Jumper scenario.
"Not the teleportation but the fact that he is running away from something. And what he does with his power is realistic. It's not: 'I'm going to save the world in spandex.'
"Hayden, he's not a spandex guy. He's a real guy, a guy's guy, but also sensitive. He's got both going for him. Strong male characteristics but also vulnerable. You feel for him. It's a good balance." Read more: Edmonton Sun
June 12, 2008 - Paladin's Pursuit Game - From the Official Site - There are a lot of wallpaper and video finds as you follow the clues in this game to find David. The wallpapers come in three different sizes. Cick below for the small wallpaper and visit the Media Page for links to Paladin's Pursuit to find all the wallpapers with Jamie Bell, Samuel L. Jackson and Hayden and Rachel.
Click to enlarge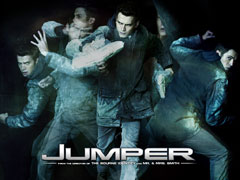 Click to enlarge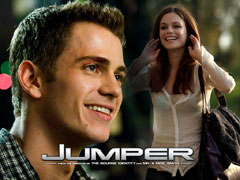 Click to enlarge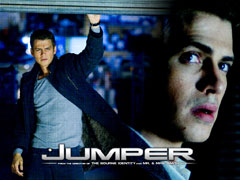 June 12, 2008 - Jumper Media and Interactive Sites - In connection with the Offiicial Jumper DVD site, there is quite a bit of interactive media promoting the DVD with lots of fun stuff offering videos from the movie and dvd, games, downloads including some beautiful wallpapers. Be sure to check out all the sites here on the media page.
Click here for HCFN Media Page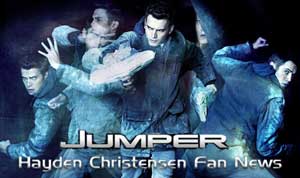 June 11, 2008 - 'Jumper' DVD Exclusive: Rooftop Round Up with 'Jumper' Stars - Here's a wonderful in depth interview with Hayden, Rachel, Jamie and Doug LIman on the release of Jumper on DVD. The interview on Hollywood.com features three Q & A articles with photos. There's also a picture gallery of the photoshoot they did for the interview and appropriately with the Empire State Building in the background on some of the pictures.
Interview: Press Event: Jumper Stars Interview
Gallery: Press Event Gallery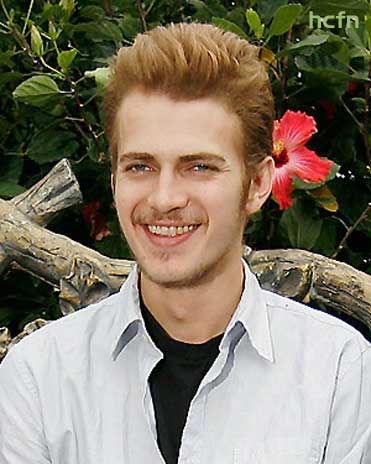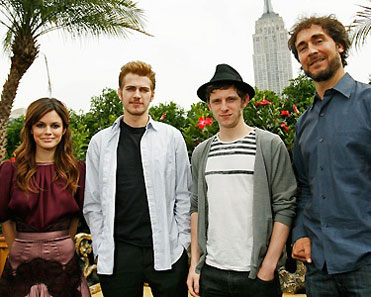 June 9, 2008 - Might as well Jump - In an interview with the Winnipeg Sun Times, Hayden talks about a Jumper sequel, Jumper not a typical superhero story and taking over the role from the previous actor.
"I know that they're having those conversations, I hear about them," Christiansen says of development plans for Jumper 2. Liman would like to eventually take the franchise in the same direction as his Jason Bourne series. Would Christiansen sign on again, as Matt Damon did with Bourne? "Oh yeah, and I think I probably will."
And will Hayden get the Jumper DVD for his own movie collection?
"You know what," he says of getting Jumper for his collection, "I will ... to see behind-the-scenes. That's also the only reason that I really have a Star Wars DVD in my collection, because I like to watch the behind-the-scenes (extras). That's really sort of the cool thing about it for me."
"It is like a scrapbook of very memorable times in my life that someone has actually gone and cut a little documentary to," says Christiansen. "It is way more enjoyable than actually watching the movies for me." Sun Times
June 8, 2008 - Another superhero movie hops to it - "It's tough to conceive of such a thing as an overlooked superhero movie these days, given the recent unrelenting hype for "Iron Man," "The Incredible Hulk," "The Dark Knight," and "Hancock." And yet "Jumper" (2008) just might be that movie. Hayden Christensen stars as David Rice, the genre-standard social misfit who discovers he can teleport, or "jump," to any spot he can picture, from mundane crosstown haunts to a perch atop the Sphinx to the occasional locked bank vault." Source
June 8, 2008 - Blu-ray Review: Jumper - "Visually Jumper is a stunning movie and the HD transfer on this Blu-ray disc will blow you away. Because of the constantly changing locales, the lighting, background, and even time of day is constantly changing and the film represents it all stunningly." Source
June 8, 2008 - Hayden featured in Summer Magazines - Hayden is featured on the vintage look cover of GQ Style an Italian magazine and he is also in the June issue of Russian Vogue magazine.
Click to Enlarge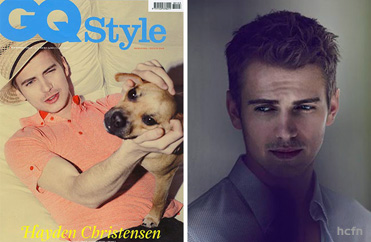 Source Photo: The Fashion Spot. Click to Enlarge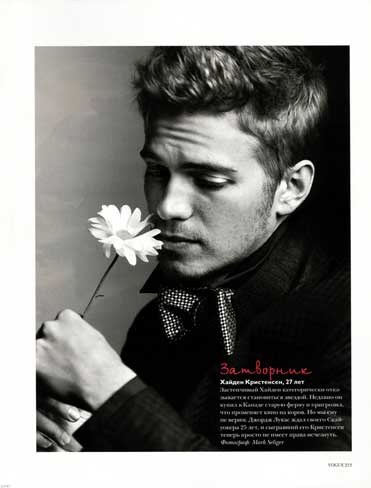 June 7, 2008 - Leap on 'Jumper' for a wild ride - "The best of the set's good extras is "Doug Liman's Jumper Uncensored," a 35-minute behind-the-scenes extravaganza focusing on actor grievances, on-location issues and the grueling production schedule. There are an additional four featurettes, deleted scenes and audio commentary as well." San Francisco Examiner
June 6, 2008 - Jumper DVD Official Site - The Jumper DVD site is online with new dowloads and special features. The sound effects made me "JUMP". It's a wonderful site that includes summaries of all the features on the DVD, pre-order information and new Wallpapers and icons to download and a gallery of great movie stills with Hayden, Rachel, Jamie and Samuel L. Jackson. JUMPERDVD.COM
Click to Enlarge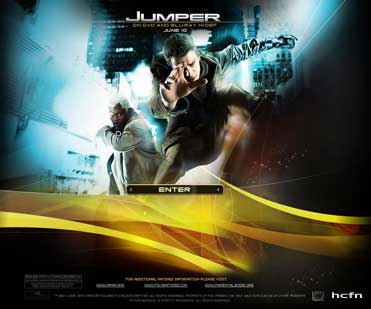 June 6, 2008 - Jumper Two-Disc Special Edition DVD Review - Playing with all the cliches of the typical superhero movie, Jumper turns out not to be at all typical of the genre. Jumper, based on the book by Steven Gould, blurs the line between hero and anti-hero, focusing on what might be the normal reactions of the main character (David Rice) to having a super power. Hayden as David in Jumper thinks he is free to do what he wants with his super abilities but there are always consequences with the use and mis-use of power.
"Hayden's emotionally torn and morally flawed character defies not just the constraints of space and gravity, but predictability as well. As such, there's plenty of intrigue when it comes to behavior and clash of personalities as well as clashes of enemies in battle. Though Jackson's malicious avenger is far too mysterious and lacking in fully explained motivations, a plot flaw that is likely to be cleared up in the sequel that of course threatens to hit theaters in the very near future." Source: News Blaze - DVD Review
June 5, 2008 - DVD Monthly Jumper Cover Feature - The July issue of UK magazine DVD Monthly features Jumper with Hayden jumping out from it's cover and a behind the scenes feature with the cast between it's pages. There are interviews with Hayden, Jamie Bell and Samuel L. Jackson. Source: DVD Monthly
Click to Enlarge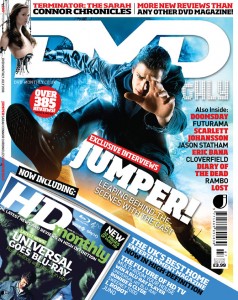 June 5, 2008 - What's New On DVD - Jumper Coming Soon - The Kansas City Star has a brief but fun description of some of the features that will be on the Jumper dvd when it comes out June 10th including how to make Jumpers like Hayden and Jamie NOT look like an I Dream of Jeannie special effect. Kansas City Star
June 5, 2008 - Hayden's Jumper Green Screen Challenge - Doug Liman appeared on The Fox Movie Channel's "Life After Film School" last night to discuss with three film school students the art and difficulties of making movies.
There is a segment on Jumper with behind the scenes video where Doug speaks about Hayden's experience working in front of a green screen and doing it for hours, having to stop in an instant and then pick up where he left off. "It is extremely challenging on the actors", Doug said, "but Hayden had the chops for how to act in that environment". It was a familiar environment for Hayden, which also demands a lot of patience but he was completely at home with the process.
Because of Star Wars, Hayden has a lot of experience working on special effects sets that rely heavily on actors doing their job in front of a green screen. In Jumper, there were more sets to work off of than green screen, Doug said, so it gave Hayden and the other actors something visually to work with other than mostly a green background.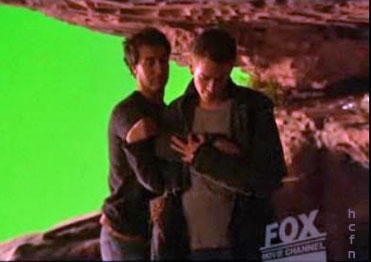 TIP: Use the zoom feature in your browser to veiw larger video.
OR click for larger video HERE
June 4, 2008 - Jumper Cast in New York - I've added the high quality photo to the news item below about Hayden, Jamie and Rachel at a press event on June 3, 2008 in New York. Just go and click on the smaller pic to get a much larger view. (TY Sophie!)
June 4, 2008 - Jumper Interview - With the release of Jumper on DVD in the US on June 10th and internationally after June 16th, there's bound to be some press and new promos so keep your eyes open. One new tv spot featuring Hayden jumping it and out of the commercial trailer is featured below.
Here is an article featuring an interview with Hayden and the rest of the cast:
"If you had a superpower what would it be?
Hayden: I might go for teleportation. Honestly, just the practicality of it is really appealing to me to not have to sit on planes and be stuck in traffic and all the things that get under my skin. To just be anywhere whenever you wanted, that would definitely be my superpower." Source: Female First
June 3, 2008 - Hayden, Rachel and Jamie Bell Promote Jumper DVD - Hayden and Rachel took a flight out of LAX on Monday for New York and along with Jamie are in town to promote the release of Jumper on DVD and Blu-ray. Rachel is also in New York to take care of business with her Edie Rose line of clothes for DKNY which will be in stores in time for back-to-school. Source: Women's Wear Daily and W Magazine Blog
Click to Enlarge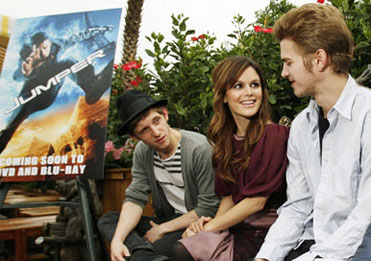 June 3, 2008 - Another Jumper DVD Giveaway - Hayden Christensen leaves Anakin Skywalker behind in the Fox action movie to be released on DVD June 10th.
The Man Room teams up with Fox Home Video to give away 3 DVD's in the next month. You can enter the contest once daily by submitting the form. Go to The Man Room for more information.
June 2, 2008 - Change of Heart for Jumper - There are some Jumper DVD reviews that are following the same criticisms of the theatrical release but some are being less critical and some even wondering why they were so harsh in the first place when the movie was out in theaters. Preconceptions maybe? The special edition DVD featuring a lot of extras and behind the scenes video, which is sure to feature Hayden, sounds like like good evidence of a sequel announcement coming soon.
One more Jumer DVD review:
Filmstalker: Jumper DVD Review
" There's a lot of interesting material on the DVD, and while before I didn't really think that I wanted to see another Jumper film, much less a series, I have to say that I'm now definitely interested and if the story goes the way they're hinting then I'd definitely want to see a trilogy."
June 1, 2008 - New Jumper DVD Commercial - Aired during the MTV Movie Awards. Jumper comes out on Dvd and Blu-ray June 10th.
June 1, 2008 - This is why Hayden is our favorite - In a recent interview in the Daily Mail, Hayden was asked:
"What do you look for in a mate?
First and foremost, kindness I guess. Kindness and niceties are sometimes overlooked and underrated. And a good heart goes a long way." SOURCE
That could go for people in general. A very nice thought Hayden.
June 1, 2008 - One More MTV Movie Awards Show is History - "Best Fight" went to Sean Faris and Cam Gigandet who take home the Golden Popcorn for their fight scene in "Never Back Down".
June 1, 2008 - Hayden Christensen dans Virgin Territory - Medieval Pie Territoires Vierges - A PARTIR DU 23 JUILLET 2008 AU CINEMA
Okay, I know that's in French because I am so jealous that French fans will get to see this movie on the big screen and still no US release date. Allocine.com lists the release date for July 23, 2008 in French theaters. Still happy someone gets to see it.
More about Virgin Territory....er...um....Medieval Pie HERE.
Click to Enlarge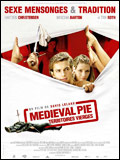 June 1, 2008 - Canucks hip to Sweep the MTV Movie Awards? - HA! I had no idea there would be such an invasion of Canucks at this years 2008 MTV Movie Awards but it sounds like a fun party. Canadians including Ellen Page, Seth Rogan, Jason Reitman, Mike Myers and Hayden Christensen are either nominated or will be participating in the awards show tonight. The show's producers announced the show will go on in spite of the fire at Universal Studios that is in headlines today. The Gibson Amphitheatre, the site of the awards show, is located at Universal Studios but was unaffected by the fire.
MTV hosts the Movie Awards live tonight at 8:00 pm ET with Mike Myers (one of the aforementioned Canucks) taking on the hosting duties. The pre-show with interviews from the red/blue/whatever color carpet airs at 7:30 pm ET. Hayden, our favorite Canuck, and Jamie Bell are nominated for "Best Fight" so I'm with MTV tonight to see what happens and will report back asap. Source
Hayden Best Villain 2006 MTV Movie Awards