March 31, 2008 - Hayden will not be Superman in "Justice League: Mortal" - Cinema Blend received more info over the weekend about the rumor that Hayden had been chosen for the role of Superman in the new Justice League movie. Cinema Blend was somehow able to get in contact with one of Hayden representatives on a Sunday to get a swift and definite denial of the story.
"Tonight we managed to get in touch with Hayden's representation, who confirmed that "this is not true." Hayden Christensen is not playing Superman in Justice League." Read more...
March 30, 2008 - Hayden Rumored in Superman Role - And that's a real kicker on a leisurely Saturday. Cinema Blend has posted a story today saying that someone sent in an email claiming that among other things, Hayden will play the role of Superman in the Justice League movie which begins shooting this summer. The tipster, calling herself Candace, wrote in to say she had met Adam Brody in a Vancouver, BC bar and he gave her the casting scoop over drinks. She also called the movie "Justice League Mortal" a recent title change. I'd say just pour a sack of salt on this one and call it suspicious. Read rumor here...
March 29, 2008 - Jumper coming to BlueRay Summer 2008 - According to "The Man Room.com" the trailer on the upcoming Aliens vs Predator: Requiem Blu-ray Disc shows previews for a summer release of Fox's Jumper on Blu-ray DVD.
"The trailer is for Doug Liman's Jumper, starring Hayden Christensen of Star Wars prequel fame, Samuel L. Jackson, Jamie Bell, Diane Lane, and Max Thieriot. It closes with a coming soon on DVD and Blu-ray Disc card, confirmation direct from the studio that Jumper is on the way.
Based on Fox's current release schedule, we speculate Jumper to appear on store shelves in either in late June or early-to-mid July."
March 28, 2008 - Jumper still making the rounds - Jumper is still in theaters but starting to disappear from many cities. The Rhode Island Providence Journal gives Jumper *** 1/2 stars. "Hayden Christensen, Jamie Bell, Samuel L. Jackson. A young man who can teleport himself to anywhere in the world in a flash discovers that he is wanted by murderous vigilantes in this colorful action-adventure film geared to teens. (1:28/PG-13)"
March 28, 2008 - WAKE-UP CALL - "Hayden Christensen is shaking off the Star Wars label and emerging as one of Hollywood's hottest actors, with lead roles this year in Jumper and Awake. But away from the big screen he's adapting to a rather different role - as a farmer. Whilst most movie stars tend to go for flash sports cars and luxury pads on the beach, Canadian-born Hayden invested in a farm last year, complete with pigs." Read interview...
Awake opens in the UK and Ireland April 4, 2008
March 19, 2008 - Unused Jumper Posters - Chuck Anderson's No Pattern website has concept art posters that were not used to promote Jumper. They are amazing and very cool action posters with Hayden posing mid-jump. Click to veiw all...
Click to enlarge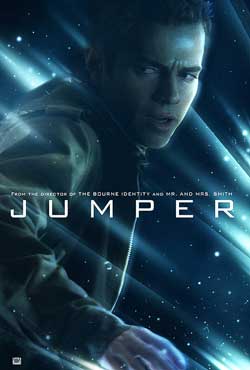 March 12, 2008 - Awake Better-than-expected Thriller - "It isn't Hitchcock and it wasn't an Oscar contender, but "Awake" also isn't the trash a lot of critics called it in its theatrical run. First-time writer-director Joby Harold still has a few things to learn about sweating the details of an operating room and getting inside the heart and mind of a torn man, but he knows how to create an intriguing plot and a mother-son relationship that moves the mystery along."
March 10, 2008 - Awake DVD Review - "I watched the movie "Awake" over the weekend not sure if I was going to like the film. As I watched the film and the story unraveled, I became absorbed in what was happening to the main character (Hayden Christensen of "Star Wars"). The film is worth seeing with a list of impressive actors: Terrence Howard, Lena Olin, Jessica Alba, Christopher McDonald, Fisher Stevens and Arliss Howard." The film has twists and turns but brings an interesting circumstance to the audience. I am surprise "Awake" didn't get the full attention it deserves at the movie theaters. It's worth an evening rental and more." Source: Screenhead
March 10, 2008 - Jumper Still Going Strong - After 20 days in release Jumper still ranks in the top numbers on the International Box Office, this week coming in at number 3 after spending 3 weeks at number one. "Jumper falls to three with $12.2 million (GBP6.1 million), while Vantage Point drops two places to four with $10.5 million (GBP5.25 million)." Source: Contact Music
March 9, 2008 - A party animal whose best friends go 'oink' - "Hayden Christensen has been cozying up in the winter wonderland of his Ontario farm, playing with his snowmobiles, his tractor that turns into a snowplow and his pet pigs. There is drilling and banging going on in his house; he is overseeing construction work. He had wanted to do it all himself, but somehow that never happened, because he's been constantly on the move - two days in New York, four days in the Bahamas, two days in Dubai.
"Yes, I am aware that I can be difficult to get hold of," he concedes sweetly over the telephone. No wonder his latest movie, Jumper, all about teleporting, held great appeal for him.
March 6, 2008 - Like Jumpers in arms - Hayden Christensen: " "To a certain extent, our story is a little bit of an origin story in that you have a guy who's sort of involved in this war that he doesn't want anything to do with; he really doesn't want to fight the fight. It's not until the very end of the movie that he's actually in a place where he can fill those shoes and become the person who he is gonna be and fight in this war against the Paladins. And so we had to get there, that's where the character had to end...and Doug really made the point of holding it off to the very, very end," he said.
The actor admitted that there were parallels between the character of David and his own life. "Some of the things I learned I sort of already knew, but just had to be reminded of, but...we're both people who had very internal experiences.
"I guess something that David comes to realize is that in order for any of it to mean anything he has to have someone to share it with. I think that something I'm coming to really appreciate is having someone to share the nice things in my life with," Christensen mused." "Jumper" opens March 7th in Japan. Read more...
March 6, 2008 - New Virgin Territory Website - The Russian website for Virgin Territory is up and the movie will premiere today, March 6, in that country. There are links to synopsis and story info, an English trailer and a picture gallery. You'll have to read Russian to understand the most of the site. There are two new movie posters online as well.
Click here for Virgin Territory Russian Site
Click to Enlarge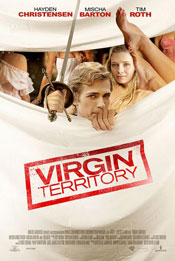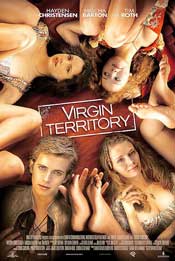 March 5, 2008 - Awake DVD Review - "I was skeptical about Awake as I popped it in. Never being one for medical dramas like E.R., I wasn't sure what I'd think. The premise of "anesthesia awareness" was interesting to be certain, but the idea of a movie about a man being subjected to horrific pain while unable to protest seemed like a recipe for something out of Saw or any number of shoestring budgeted torture-porn movies of the day. I was pleasantly surprised by this suspenseful character-driven film that starts out as a ho-hum romance set against the tragic foil of the lead character's heart condition and ends up as an exiting thriller." Read more....
March 3, 2008 - Hayden talks Atom - Or not...... If you were wondering what Hayden's parting words on the Tonight Show with Jay Leno were all about, well, mystery solved. As they broke for a commercial at the end of Hayden's segment, Hayden could be overheard to say something about not getting to talk about Adam or atom something. Turns out they were talking cars, (of course) and the car in question was the Ariel Atom, a Canadian distributed race car.
"You may have also caught the Atom getting another great little honorable mention on Jay Leno's show on Feb. 19th, at the end of his interview of Hayden Christensen. He was urging him to buy one!" Source: Autoblog
March 2, 2008 - Jumper tops International Box Office for Third Week - Traffic at the box office was only slightly better this year than the same time period in 2007. Internationally, Oscar winners did well and Jumper remained at No. 1 for the third consecutive week.
20th Centrury Fox's movie about a man (Hayden Christensen) who can teleport opened strong in Italy and continued it's first place run on the charts in Thailand and New Zealand.
"Its overseas gross is $81.9 million; worldwide, it is $148.7 million."
"Jumper" came in at No. 5 domestically. Newcomers, Will Ferrell's "Semi-Pro" came in at No. 1 and Natalie Portman's "The Other Boleyn Girl" came in at No. 4. Last weeks No. 1 movie, "Vantage Point", slipped to No. 2 with "The Spiderwick Chronicles" jumping ahead to No. 3. Source: Hollywood Reporter.
Find More Daily Box Office Totals:
Box Office Mojo