May 31, 2007 - SFX Fan Expo - "Toronto fans brace for Vader invasion - Hayden Christensen, a.k.a. Darth Vader, will make his first ever convention appearance at FanExpo Canada in August.
The SFX (science fiction) part of the Expo will further celebrate the 30th anniversary of Star Wars with a visit by Jake Lloyd, who played the young Darth in Episode 1. (We can't vouch for his cuteness at this point, as he's now 18.) The original Vader, David Prowse, is also attending......
"And if you like Haydens, Christensen isn't the only one. Hayden Panettiere, the Heroes cheerleader, will be there as well. And if you like cheerleaders, Charisma Carpenter (Buffy, Angel, Veronica Mars) is making an appearance. And if you like charisma, don't miss Malcolm McDowell.... Also attending, Sean Astin (LOTR), Tricia Helfer (Battlestar Galactica) and Jonathan Frakes (Star Trek.)" The Star
Check for more information about this convention in the Dates/Events section on this page.
May 29, 2007 - EnRoute June Issue - It's finally here! It's online! New interview and pictures with Hayden here at EnRoute Magazine. You can email enRoute for information to order the June issue or check the magazine counters at the airport on your summer travels.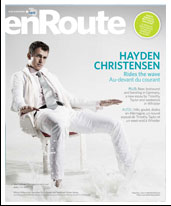 May 29, 2007 - Busting Out of Her Bikini - "Therefore, with six Alba-featured films coming out this year, 2007 may provide all the evidence on whether Alba should stick to comic book escapades and bikini-replete adventures.........Perhaps the movies that will make all the difference are Awake, in which she stars alongside Hayden Christensen, The Ten, which figures to be a poor man's version of Dekalog, and The Eye, a remake of the Hong Kong horror film Jian Gui." Source: Film Stew
May 28, 2007 - Factory Girl Exclusive - While you'll be able to buy the Factory Girl dvd from many sources, only Blockbuster Video will have exclusive bonus footage along with all the other extras. According to a post by George Hickenlooper on IMDB, the movie will only be available as an unrated longer version. The theatrical release version will not be available.
According to the IMDB post, planned features will include a 30 minute documentary about Edie Sedgewick featuring interviews with family and friends, Guy Pearce's candid video diary of the cast and crew, a 10 minute behind-the-scenes documentary with the director and cast, a 10 minute improvised scene with Guy and Sienna, Sienna's audition tape, director's audio commentary, theatrical trailer AND 10 minutes of added exlusive footage only available if you get your DVD from Blockbuster Video.
Factory Girl will be available for purchase on DVD July 17, 2007 from Blockbuster Video.
May 27, 2007 - Calgary Herald - "Duval acting up at Cannes festival - He was generous about the talent of young Canadians: "The guy you got from eastern Canada, a terrific actor that kid (Ryan Gosling.) On the west coast you got that guy, a wonderful kid who was in Star Wars (Hayden Christensen, who's actually from Toronto). And Barry Pepper can be OK too." " Article at Calgary Herald
May 25, 2007 - USA Today - Pop Candy - "The 'Star Wars' diaries: Day One - Now, I realize I haven't seen too many costumes yet at the Star Wars Celebration, but these guys have already impressed me with their lighting, wardrobe and grooming skills: .......And seriously, isn't that one of the best Hayden Christensen look-alikes you've ever seen? (Forget for a moment that he's probably the only Hayden look-alike you've ever seen ...)" Pop Candy
One of the posters on the blog also reminds us that The History Channel will celebrate Star Wars by airing the world premiere documentary, The Legacy Revealed, on Memorial Day.
STAR WARS: THE LEGACY - On The History Channel - World Premiere Monday, May 28, at 9pm ET/PT. Read the Press Release at TheForce.net
May 25, 2007 - Trip down memory lane - I've loved everything about Star Wars from the first movie. It represents many years of family tradition and family memories. I just realized how excited I am about celebrating 30 years of Star Wars and I'm noticing little things around me. A Millenium Falcon on a stand from Burger King. Gosh, how old is that thing? A life size cardboard R2D2 peeking out from the closet in the computer room, books and graphic novels on the shelf, an Empire Strikes Back waste basket from the 80's, a Topps Anakin Skywalker card a friend sent me placed near the computer screen and an army of action figures (all in original cases like I'm told they should be). Seems like all of a sudden Star Wars is everywhere again. To the man whose creations sparked our imagination, George Lucas, thanks for the memories.
Take a trip down memory lane with a slide show of 30 Star Wars covers from Empire Magazine courtesy of The Sun.

Empire Magazine celebrating 30 years of Star Wars. See all the covers and ordering information at Empire Online. Enlarge Photo.
May 24, 2007 - Own a piece of Star Wars history - The commemorative postal pane with various Star Wars characters from all six movies (including our favorite Anakin and Darth Vader) goes on sale Friday, May 25th. Available at your local postoffice or you can order from uspsjedimasters.com.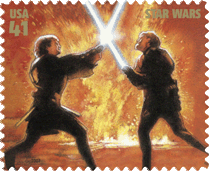 Single stamp from commemorative sheet.
May 24, 2007 - Star Wars Celebration IV - Fans were treated to a marathon showing of all six star wars movies in order to start off Celebration IV. This year's convention celebrates 30 years of Star Wars. The seventeen hour marathon was held in the Los Angeles Convention Center which began Wednesday morning and ended about 2:00 a.m. Thurday. Source
If your not able to make the convention this weekend you can celebrate in your own way and still catch all six movies back to back on Cinemax starting Friday at 3:00 p.m.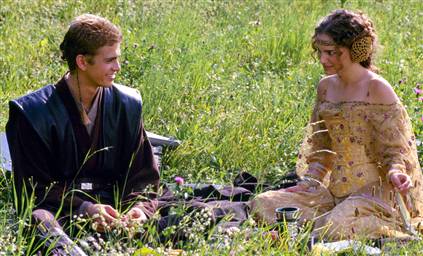 Star Wars celebrating 30 years. Thank you George Lucas!
May 21, 2007 - Awake - International Release Dates Added - It seems like the whole world will see Awake before the US. (Sources: IMDB and Box Office Mojo)
Release Dates/Countries so far:
Turkey 8/24/07
Germany 11/15/07
United Kingdom and Ireland and Malta 11/30/07
May 21, 2007 - Sightings - Las Vegas - "Actor Hayden Christensen, Mena Suvari and MySpace founder Tom Anderson, in the VIP area Friday at Pure (Caesars Palace) at rapper Fabolous' party." Source - Review Journal
May 20, 2007 - "These stuntwomen crave action - B.C. trio of fall gals among Canadians up for stunt awards - Uyeda has since returned to work - she just finished filming a role in Mexico and Toronto for the upcoming sci-fi adventure Jumper with Hayden Christensen and Samuel L. Jackson -- and she's heading to the L.A. awards with her husband Mike Mitchell, a veteran stunt performer who was also one of the stunt co-ordinators on X-Men: The Last Stand." Source - The Province
May 20, 2007 - From Napkin Nights - A little more on the monthly Myspace party at Pure Nightclub - "Fri, May 18th - Official Monthly Myspace Party Featuring Faboulous @ Pure Tons of hotties filled Pure Nightclub from across the country tonight to attend the 'Official Monthly Myspace Party.' Tom and Ted Skillet hosted the evening and surprised everyone with a live performance by pop-rap star Fabulous! Everyone enjoyed the music and poured endless glasses of bubbly while hanging out in VIP with Hayden Christianson. Even lovely actresses Mina Suvari and Cameron Diaz were seen enjoying their evening with friends as the night quickly slipped away! What an exciting night!" Napkinnights.com
May 19, 2007 - E! Planet Gossip - Myspace Party Las Vegas - "Meanwhile, inside at Pure, Mena Suvari and Hayden Christensen were among the revelers at the monthly MySpace party." The myspace party was held Friday night, May 18, 2007. E! Planet Gossip
May 18, 2007 - Hayden mention on ETalk - Find the link to the video on Hayden Christensen CA Welcome back HC.CA!
May 17, 2007 - Rumor Mill - New movie role for Hayden? - Filmmakers Steven Spielberg and Peter Jackson will team up to produce and direct three features based on the Georges Remi Belgian comic strip hero Tintin written under the pen name Herge. Spielberg and Jackson have talked about making a movie along the lines of the Polar Express using actors with the next level of motion capture and 3D special effects to recreate the vision of Herge's comic world. UK Teletext is reporting that Hayden Christensen is the bookies favorite choice for the lead role.
From Dark Horizons:
"Whereas superhero comics dominate the American market, in Europe and other areas of the world it has been comics like Tintin and Asterix which have left a far more indelible impression on the last few generations of young adults.
In the comics, Tintin is a young reporter and world traveler who in his time has been to the moon, sided with South American guerillas, taken down Eastern European royal conspiracies, uncovered a lost tribe of Incans and much more."
Read more at Dark Horizons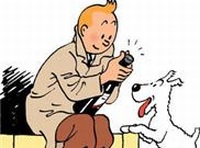 Herge's Belgian comic strip comes to life on the big screen.
May 16, 2007 - Fan Expo Canada - Hayden Christensen, Jake Lloyd and David Prowse will be in attendance at this years Science Fiction Fan Expo (SFX) to be held in Toronto, August 24-26. (see next article). Other guests include Adam West (Batman), Sean Astin (Lord of the Rings), Charisma Carpenter (Buffy the Vampire Slayer) and Daniel Logan (Boba Fett, Star Wars Episode II). Keep checking the Hobbystar website for updates to the guest list. A link for this convention has been added to the Convention and Dates/Events sections.

Jake Lloyd, Hayden Christensen and David Prowse - Three Vaders
May 15, 2007 - Appearance - The word is spreading through the Sci Fi community, on blogs and journals that Hayden will be a guest at the Fan Expo Canada to be held August 24-26 in the Metro Toronto Convention Center. More information on the convention can be found at Hobbystar, the official convention website.
May 10, 2007 - E! News Live - Rachel Bilson, fresh from the OC, is listed as one of Hollywood's hottest bachelorettes says the daily entertainment news show. In the brief segement, there was also speculation that Hayden and Rachel are dating, although they mentioned they have been working together on the movie Jumper as well. Video clips of Rachel and Hayden at separate events were also shown. Catch repeats of the segment tomorrow (May 11) at 7:-00 a.m. and 11:00 a.m. Central Time on E!.
May 10, 2007 - Factory Girl - Blockbuster will feature both a rated and unrated (5-28-07 edit: unrated only) version of the film due out July 17. The unrated version of the film will include 10 extra minutes that were deleted from the original theatrical release version. The director, George Hickenlooper, recently posted the information to the IMDB message boards recommending the unrated version to see the movie as he more or less intended it.
Extras on the DVD release will include extended scenes with Hayden and Sienna and also a scene where we see a few seconds of Hayden performing on guitar and the harmonica. There is also about 90 minutes of behind the scenes video including a documentary.
May 4, 2007 - Gumball 3000 Drivers withdraw from rally - After word of a fatal crash involving a British rally team on May 2, many drivers decided to withdraw and leave the rally even before organisers announced a halt to the event.
Maximillion Cooper, organiser of the event, described Gumball 3000 as a "cultural international tour" and not a race. In a statement to the Times on May 3, he said that "We are very saddened by what has happened and I feel that it would be wrong to continue. On behalf of everyone at Gumball I would like to extend my deepest sympathies to the family. We are doing everything we can for them." Article at Times Online
The end to the rally was set for the Bratislava checkpoint but some drivers left the tour before reaching the city, partly in protest of the handling of the situation by Gumball officials and the actions of the drivers responsible for the accident. Gumball 3000 events have operated in the past with cooperation from different countries with the understanding that rules to abide by the laws of each country are strictly followed.
*HCFN is posting rally updates for everyone following Team Christensen in Gumball 3000. Hayden was unable to make the start of the rally and it was reported that he would try to participate on the drive back, a situation which has obviously changed since the rally has ended. Tove Christensen, who was participating for Team Christensen, reportedly withdrew from the rally before reaching Bratislava.