October 26, 2008 - Hayden Christensen New Rumored Project - According to Production Weekly Hayden is listed in the cast of the upcoming film, "The Fallen" also starring Samuel L. Jackson. The movie is produced by Penny Marshall's Parkway Productions and is being directed by Brian Goodman with writing credits going to Michael Yebba and Emilio Mauro. Producers are Penny Marshall, Michael Yebba and Jim Wahlberg.
Source: Production Weekly
Status - October 2008 Location-Boston
Producer - Penny Marshall - Michael Yebba - Jim Wahlberg
Director - Brian Goodman
Writer - Michael Yebba - Emilio Mauro
Cast - Hayden Christensen - Samuel L. Jackson
"The Fallen is the true life story of a Boston fire fighter whose life is turned upside down after a devastating injury leaves him with a severe drug addiction. While hundreds risked and gave their lives to rescue survivors from the World Trade Center attack on September 11th, one man, once a Hero himself, is trapped in his own world of crime, drugs and addiction. A moving story, that will keep you captivated. A story of unbelievable circumstances that almost cost one man his life. Watch as this man struggles to kill his addiction and fights to keep his spirit alive."
In other rumors about the project, the movie production has been delayed from October 2008 to a possible mid November 2008 start date in the city of Boston.
October 23, 2008 - New York, I Love You in Japan - The official Japanese website for the movie New York, I Love you is online. The anthology film, featuring Hayden, Rachel Bilson and Andy Garcia in one of many shorts to make up the movie, is scheduled for February 13, 2009 in the US.
Click for New York, I Love You Japan

October 22, 2008 - Awake at Hong Kong Box Office - Awake, the mystery thriller with a twist, starrring Hayden Christensen, Jessica Alba and Terrence Howard is listed in the top 10 for movies currently in cinemas in Hong Kong.
Other foreign imports that made it to the top ten were the Hayden Christensen medical thriller "Awake," debuting at No. 8 with $48,000 from 10 screens, and the global phenomenon "Mamma Mia", showing ongoing legs going into its 6th frame at No.9 with $24,000, taking its Hong Kong cume to $1.5 million.Variety Asia
October 22, 2008 - Gallery Update - Some people only dream of being Peter Pan. Hayden got to do the whole flying, leaping, jumping and dancing on wires recently for a couple of days of filming on a Lacoste commercial shoot in downtown Los Angeles. The French commercial for Lacoste fragrance was reported to be a take on Hayden's 2008 released movie Jumper. The television spot will air later this year....in France. I don't know if we'll see it here in the US.
No stranger to wire work since his Star Wars and Jumper days, Hayden was pretty animated hanging from wires and suspended high above the street with the camera catching expressions of every kind.
Hayden suspended from wires, fun to see. Hayden's facial expressions, priceless.
Click to Enlarge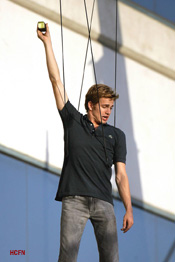 Photo Gallery
(Thanks to Sophie for the pictures)


The photo album has a new comments feature by default so I'll leave it for you all to try out.
October 19, 2008 - Site Update - The TV Alerts, located in the left column have been updated for October 20th through October 31st. Quite a few upcoming air dates with programs featuring Hayden including his appearance on Goosebumps in "Night of the Living Dummy" airing Halloween night.
October 17, 2008 - Sorry for the lack of updates. A little under the weather here but I'll catch up as soon as possible. There are technical difficulties with the photo album and I'll update with more photos from Hayden's Lacoste commercial shoot as soon as the album is working again.
October 11, 2008 - Site Update - All of Hayden's Factory Girl scenes have been embedded on one page HERE.
Stay tuned for gallery updates with Hayden's Lacoste commercial pics.
October 10, 2008 - Hayden Jumping, Flying, Leaping for Lacoste - Hayden was out in Los Angeles on Thursday filming a commercial for Lacoste and by the looks of things, it's going to be an action packed minute with Hayden and a bottle of Lacoste fragrance. Click the pics below for the larger image. Check back for more photos later.
JUMPING FLYING LEAPING........DANCING?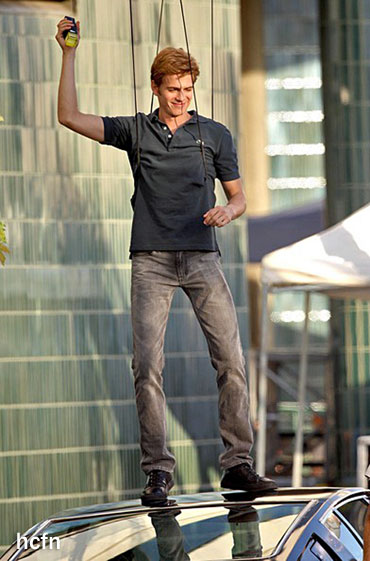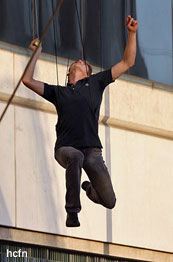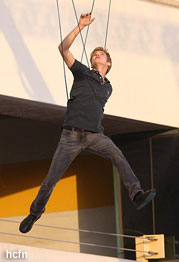 October 7, 2008 - More Factory Girl - The Director's Cut YouTube page with all the parts of the movie seems to be under construction and going through some frequent changes so just keep checking back for the videos.
October 6, 2008 - Factory Girl Unseen Cut Part 2 - Part 2 of the unseen director's cut is now up on YouTube. I will be embedding the additional video clips to the Factory Girl 2 movie page as they become available. Please don't forget to visit the director's cut YouTube page to vote and leave a comment to show your appreciation. You can also leave comments on the movie page here at HCFN.
MOVIE RATING: Also, please be advised that the theatrical version was rated R for pervasive drug use, strong sexual content, nudity and language. This uncut version is not rated but is sure to contain more of same R rated material.
October 6, 2008 - Factory Girl - Unseen Director's Cut - George Hickenlooper has been working on another version of Factory Girl and Part 1 is finally up on YouTube with, I'm sure, the rest to soon follow. Promised in this version is a love scene with Hayden and Sienna never before seen until now.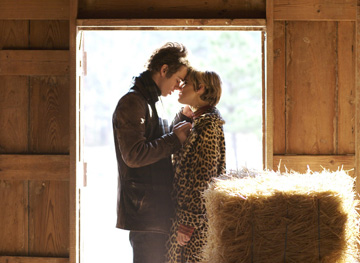 October 5, 2008 - Star Wars kind of mood - Feel like some new Star Wars? Cartoon Network re-airs the premiere two episodes of Star Wars: Clone Wars, Sunday night at 7:00 p.m. and this Wednesday, October 8, at 5:00 p.m. ET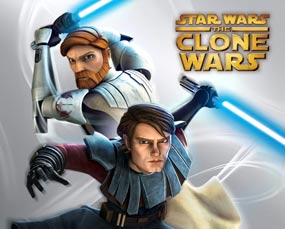 October 4, 2008 - Factory Girl TV Alert - Hayden plays musician love interest to Sienna Miller's poor little rich girl in Factory Girl the story of Edie Sedgwick on Showtime beginning October 7th. Check out the TV Alerts in the left hand column for other programs coming soon and air dates.
Click to Enlarge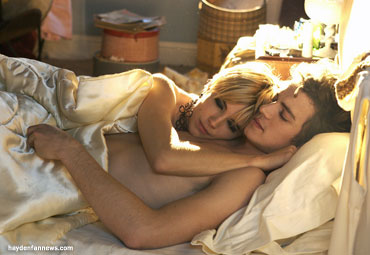 October 3, 2008 - Hayden's Screen Gems Deal on Hollywood Previews - Hollywood Previews included news of Hayden's three picture deal with Screen Gems in their daily video updates on The Fix. You can watch the video news clip here on YouTube
October 2, 2008 - Bone Deep Cast Dodges Bullets - MTV reported this week that Hayden and other cast members filmed an elaborately choreographed shoot out scene that will appear at the end of the movie and they have the video clip of the scene on their site. Paul Walker let slip on some of the details of the scene and now Russians are included in the story of a young hip and fly team of bank robbers who are skilled at high stakes heists. A movie page for Bone Deep has been added to MTV movie news and will be updated with video, photos and news as they become available.
There is some speculation about whether you can see Hayden at all in the brief video clip. You can view the clip and I've added a screen cap so you can try to pick out Hayden for yourself......if he's there at all.
Read MTV's Bone Deep Article:
Bone Deep movie news
Watch the MTV Bone Deep Video Clip
Bone Deep video clip
Click to Enlarge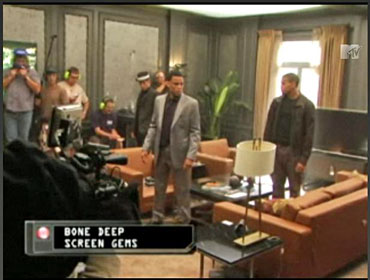 Michael Ealy and Chris Brown in foreground and guy with black & white hat behind them.
October 1, 2008 - Hayden Signs 3 Picture Deal with Screen Gems - Hayden has signed a deal with Screen Gems for two more pictures with the studio in addition to "Bone Deep" which is currently filming and also part of the pact.
As part of the deal with Screen Gems Hayden and brother Tove Christensen, partners in Forest Park Pictures, will be able to bring the studio their projects of interest and take part in Screen Gems studio projects as well. Hayden becomes the third actor to sign a multipicture deal with Screen Gems who signed similar agreements with T.I. and Chris Brown who all will appear in "Bone Deep". Noted are Hayden's starring roles in two "Star Wars" Films, "Shattered Glass" and the 2008 "Jumper".
According to Screen Gems Clint Culpepper, "Hayden is a very talented and versatile actor with a proven worldwide box office history".
Thank you Mr. Culpepper! Source