September 30, 2008 - Security Tight on Bone Deep Filming - Filming continues in Los Angeles on location for Bone Deep. Still no word or sighting of Hayden but those who have found themselves near the street filming say security is tough and bystanders say photos are not allowed. Could be why we've had little news about filming so far but still Hayden fans have one more film to look forward too.
One of our readers, Diva, caught Bone Deep and Heroes filming in LA last week! She saw Bone Deep on 9/21, ďMatt Dillon, Chris Brown and TI were all shooting different scenes on various streets that weekend. Sadly, no meeting or autographs that weekend either. Security is tough for that movie! Photos were actually not even allowed,....Security got their way with the Chris scene though (they were extra mean and diligently watching us during his scene!) Location Vacations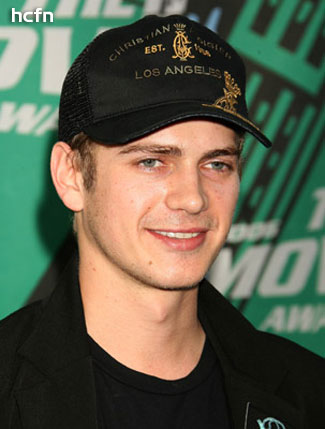 September 22, 2008 - Hayden Ranks as Canadian Power Celeb - Hayden ranked among the top 15 on Canadian Business Magazine's "Canadians in Hollywood Power List". The rankings also include sub-rankings on things like box-office, salary, web hits and media hits and mentions. Hayden ranked 12th overall in a three way tie with Sandra Oh and Ryan Reynolds. Others on the list included Brendan Fraser, Ellen Page, Rachel McAdams, Keanu Reeves, Mike Myers with Jim Carrey in the top spot. Click for the List
The former Darth Vader continues to parlay his mega-exposure from the Star Wars franchise into a thriving movie career, this year continuing in the sci-fi vein with the lead role in Jumper and following it up with a spot in the star-studded New York, I Love You. Heís also been at work on Beast of Bataan, a Second World War courtroom drama in which Christensen portrays a young lawyer helping to defend a suspected Japanese war criminal. Also on the sked is the filming of a bank heist flick, Bone Deep.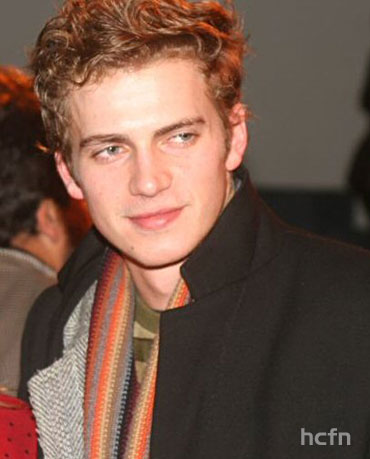 September 22, 2008 - Bone Deep Release Date - 411 Mania along with Coming Soon.net and other movie sites have now listed the release date for Hayden's new movie Bone Deep for January 8, 2010. Some fans are commenting that's a long time to wait for the anticipated crime thriller that boasts a pretty cool cast but we'll just have to be patient. Filming is in progress on Bone Deep in Los Angeles with the cast that includes Hayden, Paul Walker, Idris Elba, Matt Dillon and Chris Brown.
September 19, 2008 - Jumper Interview with Hayden - A Japanese interview with Hayden talking about all things Jumper. Enjoy.
September 19, 2008 - Weekend Filming for Bone Deep - I love hearing a little about how a scene is filmed. Seems to be lots of movie and tv filming going on this weekend in LA. According to Blogdowntown.com and other sources, filming on Bone Deep continues this weekend at locations around downtown Los Angeles with road closures due to action scenes scheduled for Saturday and Sunday. There will be lots of movie equipment on set including generators, condor and crane operation, camera and equipment on sidewalk, curb lane and on rooftops and bridges.
Description of the scenes include:
Interior and Exterior semi-automatic, full load gunfire and simulated bullet effects. Occasional traffic and pedestrian control. Foot chase scene on wall next to restaurant terrace, plaza outside of building entrance and Library walkway. Interior and exterior dialogue. Stunt driving. Traffic jam scene. Driving scenes. Picture vehicles traveling in reverse flow. Weapons brandished. Exterior dialogue, near hits and misses.
Bone Deep began filming September 9th on location around Los Angeles. The crime drama stars an ensemble cast including Hayden Christensen, Chris Brown, Matt Dillon, Idris Elba and Paul Walker.

September 17, 2008 - Battle of the Hollywood Hotties - Last week Digital Spy posted it's latest celeb voter participation poll asking readers to choose between Hayden Christensen and James Franco and give reasons for their choice. Hayden came from behind to win by a comfortable margin. Digital Spy
Kudos to Erica Campbell of Kentucky who voted and I think speaks for all of us as fans when she wrote in, ""The way he acts, smiles, eats, dresses, talks and kisses on the big screen - such a wonderful young actor."
Here are Hayden's scenes from one of my favorites, Factory Girl. Enjoy the video from Girlpower.
You can comment on this article by clicking the link below.
Why are you Hayden's fan?
Click to Post Your Comments


September 17, 2008 - Photo Gallery Update - Mor pics from Hayden's practice session at the Oak Tree Gun Club has been added to the gallery.
Click for Photo Gallery


September 14, 2008 - Bone Deep Filming - A poster on IMDB has posted he happened to catch some of the production in progress near Hollywood in Pershing Square on Saturday and became an instant extra with the rest of the public in a street scene being filmed with Matt Dillion and Jay Hernandez. No sign yet of Hayden on set yet. Check out the IMDB Bone Deep message board link in the right column under Forums/Blogs.
September 14, 2008 - Hayden Christensen on the gun range - Sporting the casual scruffy look we've seen over the last several months, Hayden made his way to the Oak Tree Gun Club near Los Angeles on Friday for some instruction and practice in firing a 9mm Beretta handgun. By the end of practice Hayden had shot over 100 rounds and improved his aim at the targets considerably. Hayden begins work soon on his new movie, "Bone Deep", in which he plays a rookie detective in the crime drama about a heist gone wrong. Bone Deep has already begun filming in Los Angeles with fellow cast members Chris Brown and Paul Walker already on set. The ensemble cast also includes Matt Dillon, T.I. Idris Elba, Michael Ealy, Steve Harris, Jay Hernandez, Marianne Jean-Baptiste, Zoe Saldana and Johnathon Schaech in the movie to be directed by John Luessenhop.
Click to Enlarge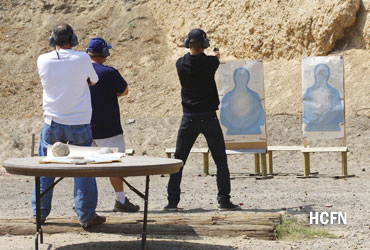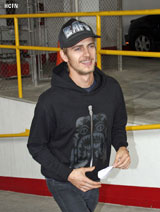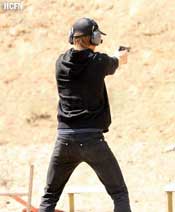 More in the Photo Gallery


September 10, 2008 - New York, I Love You at TIFF - New York, I Love You was screened as a work in progress on Saturday September 6 at the Toronto International Film Festival and while the audience was asked not to review the movie until it is finished the consensus seems to be that the movie is a good one. Most seemed to agree, that as hard as it might seem to blend so many vignettes into one movie that holds your attention throughout, New York, I love You pulls it off with style.
Hayden's vignette with Andy Garcia as two hustlers competing for the affections of Rachel Bilson's character has been mentioned among the many shorts as memorable and fun to watch.
Click to Enlarge

September 9, 2008 - Bone Deep Adds to Ensemble Cast - Michael Fleming of Variety reports that Michael Ealy, Steve Harris, Jay Hernandez, Marianne Jean-Baptiste, Zoe Saldana and Johnathon Schaech have joined the cast of Bone Deep which began shooting this week in Los Angeles. They join Hayden Christensen, Paul Walker, Matt Dillon, Idris Elba, Chris Brown and T.I. in the John Luessenhop-directed pic.
Story revolves around bank robbers who, after pulling off a daring heist, are dragged into one last job by a freshly paroled cohort.
September 9, 2008 - Virgin Territory Reveiw - "I had a chance to watch Virgin Territory this weekend. Itís much more of a comedy than I expected! Although the story revolves around the Black Plague, itís really only lightly touched on. Itís more or less the premise for all the wild behavior in the film. And thereís a lot of wild behavior, from people of all ages!
The movie is so over-the-top in its sexuality that it becomes a comedy aspect of its own. Itís not so much a ďsexualĒ film in the traditional sense, as the movie really plays it up. Itís basically all thatís talked about and everyone is doing it - which comes as a surprise, actually!
Under all of that, thereís an unexpected love story between Mischa Bartonís character Pampinea and Hayden Christensenís character Lorenzo...... Read more....
September 9, 2008 - Bone Deep filming in L.A. - Hayden's new movie "Bone Deep" began filming September 8 in Los Angeles in Little Tokyo. Chris Brown and Paul Walkder who also appear in the film were on the set Monday filming scenes for the movie. The movie about a heist gone awry also stars, Matt Dillon, T.I. and Idris Elba
September 9, 2008 - Virgin Territory Italian Box Office Report - "In Italy, "Kung Fu Panda" held on to the top spot in a frame otherwise dominated by local pics launched from the Venice fest.
Universal's martial arts toon kicked butt to the tune of $4.2 million off 669 in its second weekend, giving it a $14.7 million cume to date.
Ferzan Ozpetek's dark Rome-set drama "A Perfect Day" bowed at number two with $1.2 million from 403 via 01 Distribuzione, straight from the Lido competish.
"Perfect Day" came in ahead of "The X-Files: I Want to Believe," which landed at number three for $767,000 off 332 via Fox.
David Leland comic costumer "Virgin Territory," starring Hayden Christensen and Mischa Barton, got some action with $574,000 from 175 via Eagle Pictures.
Meanwhile, madcap comedy "The Seed of Discord," by Pappi Corsicato, another Venice competish title, opened at number six with $403,000 from 216 via Medusa." Source: Variety
September 5, 2008 - Hayden cast in "Bone Deep" - Hayden joins Paul Walker and Matt Dillon in the Screen Gems and John Luessenhop directed crime thriller "Bone Deep". The film also stars R&B singer Chris Brown and rapper T.I. The story is being described as a young hip hop mix between "Heat" and "Ocean's Eleven"
Co-written by Luessenhop, Gabriel Casseus, Peter Allen and Avery Duff, the film revolves around a group of criminals who find their $20 million plan interrupted by a hard-boiled detective (the previously cast Matt Dillon).
Walker stars as the leader of the bank robbers. Christensen is a newbie detective. Hayden is repped by Paradigm and will next star opposite William Hurt in "Beast of Bataan" and the anthology film "New York, I Love You." Source: Hollywood Reporter