April 29, 2009 - New York, I Love You at Cannes Market - New York, I Love you is included in the Product Listings for the Cannes International Film Festival Market. According to Cinando.com and The Hollywood Reporter "New York, I Love You" will be marketed at the upcoming festival. The Cannes Film Festival dates are May 13- May 24th.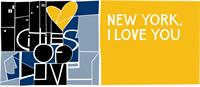 Mona Lisa Update via Cannes - Unfortunately it looks as though Hayden is no longer attached to Handmade Films project "Mona Lisa". According to Variety's product listings for the Cannes Film Market, Handmade Films shows Mona Lisa with Mickey Rourke and Eva Green in the starring roles. It looks as though they've decided to stick more closely to a remake of the original story instead of going with a younger character. The original role was played by Bob Hoskins. Shooting on the film begins September 2009. We'll be keeping an eye on things in case they change.
VARIETY CANNES MARKET LISTING
"MONA LISA," THRILLER, CRIME. PRE PRODUCTION.
Studio: HANDMADE FILMS.
Director: LARRY CLARK.
Cast: EVA GREEN, MICKEY ROURKE.
Shooting begins September 2009 on this modern day remake of the classic ovie starring Bob Hoskins and Cathie Tyson. 'Mona Lisa' tells of an ex-con who, finding it difficult to fit back into the criminal underworld, takes a job as the driver for a high-end escort - a woman who lures him into certain danger.
Casino Jack via Cannes From Variety's 2009 Cannes Product Listings
"BAGMAN a/k/a CASINO JACK," Thriller. Production.
Producers: George Vitezakis, Bill Marks.
Director: George Hickenlooper.
Cast: Kevin Spacey, Hayden Christensen.
True story of a lobbyist and his protege who go down hard as the schemes to peddle influence lead to corruption and murder.
April 27, 2009 - Casino Jack Production Update - Rionda Del Castro, chairman of Hannibal Pictures, said Casino Jack will begin shooting in late May, with a release expected in the summer of 2011.
"Spacey and director George Hickenlooper (Factory Girl) met with Abramoff Friday afternoon to discuss plans for a film called Casino Jack or Bagman, based loosely on Abramoff's career in Washington, said Richard Rionda Del Castro, chairman of Hannibal Pictures in West Hollywood, Calif. Rionda Del Castro said he is executive producing, cofinancing and distributing the film."
"Kevin Spacey wanted to get some personal information to be close to this character, and I believe that Abramoff was giving some ideas on the story and the information to make it as precise as possible," Rionda Del Castro said in a telephone interview. He said Abramoff has expressed admiration for The Usual Suspects, the 1995 crime film for which Spacey won an Academy Award as best supporting actor. He won the 1999 best-actor Oscar for American Beauty." Read more...
April 27, 2009 - Hot Button - Playing Abramoff - Two-time Academy Award winner Kevin Spacey has accepted a role to play disgraced fundraiser Jack Abramoff in a film called "Casino Jack," directed by George Hickenlooper.
The blog Deadline Hollywood Daily reported Mr. Spacey visited Abramoff in prison to research the role and plans to meet with Abramoff's old lobbyist friends in Washington. Hayden Christensen will play Abramoff's business partner Michael Scanlon and Spencer Garrett will play former House Majority Leader Tom DeLay, Texas Republican." Source
April 26, 2009 - Casino Jack Cast Update - IMDB has added Hayden Christensen in the role of Michael Scanlon and Kevin Spacey as Jack Abramoff in the political thriller Casino Jack. According to the Canadian Government website on media development the feature is schedule to roll cameras with George Hickenlooper directing from May 23 – June 28/09 in Ontario, Canada.
Here is a little of what Wikipedia has about Michael Scanlon.
On Friday, November 18, 2005, in a one-count criminal information filed by the US Justice Department, Scanlon was charged with conspiring with another lobbyist, who was identified only as "Lobbyist A,"[3] and believed to be Abramoff [4]. Allegedly, Scanlon and Abramoff's behavior was reported to the FBI by Scanlon's ex-fiancée, Emily Miller. She turned in Scanlon when he broke off the engagement in favor of a 24-year-old waitress at a Rehoboth Beach seafood restaurant, after having purchased a $4.7 million mansion in Rehoboth Beach, Delaware (part of the DuPont estate) and furnishing it for Ms. Miller.[5] [6] That same day Scanlon agreed to testify against Abramoff in any future criminal case involving his ex-partner.
On November 21, 2005, in proceedings before Federal District Judge Ellen Segal Huvelle, Scanlon pleaded guilty to conspiring to bribe a member of Congress and other public officials. Under the plea agreement, Scanlon will repay $19.6 million to his former Indian tribe lobbying clients. [7] He is expected to testify against Abramoff and anyone else indicted in the case, according to Justice Department sources.[8] Read more on Michael Scanlon
Hayden Christensen takes role of Michael Scanlon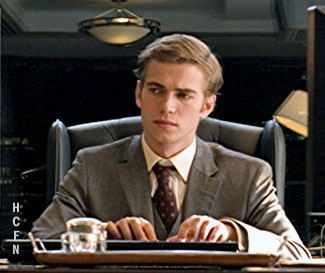 April 26, 2009 - Casino Jack Start Date - Internet Movie Database (Pro) has updated Casino Jack to show a May 23, 2009 start date. Only supporting cast is listed at the moment and the release date is still set for 2010.
April 25, 2009 - Casino Jack Recent Articles - Briefs and links to articles from around the net on the new movie Casino Jack starrring Kevin Spacey and Hayden Christensen.
'Captain Jack' - "Spacey to play Abramoff - Kevin Spacey will play Jack Abramoff in a film that starts shooting in May, reports Nikki Finke at Deadline Hollywood. Finke says she's told the film will be "a modern day GoodFellas set in Washington, D.C., that plays like a thriller involving Karl Rove and others in former President George W. Bush's inner circle," and will also star Hayden Christensen. Spencer Garrett will play Tom DeLay, and Tea Leoni is in talks to play Abramoff's wife." More from Politico
Kevin Spacey to Play Abramoff - "The two of them [Hickenlooper, Spacey] are shooting a script by Dead Ringers writer Norman Snider called Casino Jack (which was Abramoff's nickname)... The film is likely to cause a bit of a stir if marketed right: it's a Goodfellas-style thriller about Abramoff's corrupt stint in Washington, wheeling and dealing with members of the Bush administration. The film supposedly even involves figures such as Karl Rove, and most likely Tom DeLay as well. Production Weekly broke news last Friday that Spacey and Hayden Christensen (who Hickenlooper worked with last in Factory Girl) are playing Abramoff and Michael Scanlon." Read more....
George Hickenlooper, Kevin Spacey meet with jailbird Jack Abramoff - "George Hickenlooper, the native St. Louisan who directed the Warhol-era flick "Factory Girl" and the rock doc "Mayor of the Sunset Strip," is profiling a particularly infamous character in his next film: lobbyist Jack Abramoff, who is currently in prison after multiple convictions related to shady casino operations. Hickenlooper is preparing a movie based on Abramoff titled "Casino Jack." The director and star Kevin Spacey were recently allowed to visit Abramoff at federal pen to get the lobbyist's side of the story. Read more...
April 24, 2009 - Casino Jack - Rumor Mill Gets in Gear - Columnist Nikki Finke of Deadline Hollywood has posted today some behind the scenes goings on from a "source" about preparation for the upcoming movie starring Kevin Spacey and Hayden Christensen. The article reads like an intelligence gathering operation and pretty intriguing stuff. Among other things the article says the movie will start filming later next month. The director, George Hickenlooper also directed Hayden in Factory Girl.
"My sources tell me that 2-time Academy Award winner Kevin Spacey and film director George Hickenlooper (Factory Girl, Hearts of Darkness) are right now visiting Washington DC lobbyist Jack Abramoff in Cumberland Federal Prison. Abramoff, of course, was responsible for one of the biggest political scandal to hit the nation's capital since Watergate, and is the subject of a screenplay Casino Jack starring Spacey and directed by Hickenlooper. The story is described to me as a modern day GoodFellas set in Washington DC that plays like a thriller involving Karl Rove and others in former President George W. Bush's inner circle......Cameras will roll later next month."
"I'm told that Kevin Spacey is set to star as Jack Abramoff, Hayden Christensen will play Abramoff's closest associate Mike Scanlon, Spencer Garrett (Public Enemies) will play Majority Leader Tom DeLay, and Arrested Development star David Cross will play Abramoff crony Adam Kidan. The production is also in talks with Tea Leoni as Abramoff's wife." Read the article..
April 23, 2009 - Lacoste Photoshoot - Take a look at the Photo Album for 15 larger photos. (Thanks Meyree) Source
Click for photo album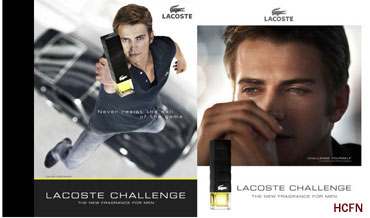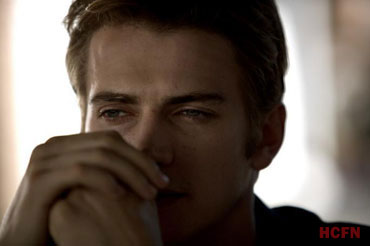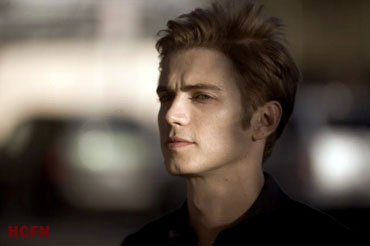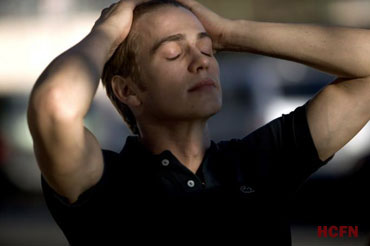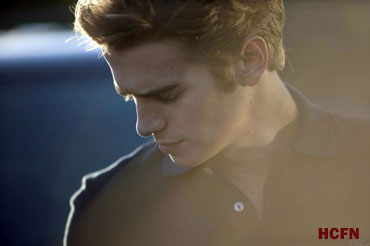 April 22, 2009 - Hayden Hearts Lacoste - Following in the footsteps of fellow hunks, Matthew McConaughey, Josh Hartnett and James Franco, Hayden looks fresh faced and well… just gorgeous.
Hayden said: "I'm excited that LACOSTE invited me to be an ambassador for the brand as the face of its new men's fragrance, Challenge. I'm an active guy and I always try to face what life throws at me head on, so I really identify with the ethos of the fragrance, to 'never resist the call of the game'. To me, LACOSTE is a brand that inspires men to embrace life's challenges with a stylish flair and masculine elegance – just as its founder René Lacoste did." Source
April 22, 2009 - Lacoste Oh Boy - "Lacoste has signed up Canadian actor Hayden Christensen to front a print and television advertising campaign for its latest male fragrance, Lacoste Challenge. Christensen, who is most famous for starring in the blockbuster Star Wars series, "perfectly captures the modern spirit of the brand," said Global Marketing Director Andreas Gerber, "He's young...dynamic, with a charismatic twinkle in his eye that brings to life the ethos of the new fragrance." The new scent will be available from July 1." Vogue UK
April 21, 2009 - Casino Jack in Pre Production - IMDB has updated the status of Casino Jack (working title Bagman) to "Pre Production". Supporting cast is also starting to be listed but so far the main characters of Jack Abramoff and Michael Scanlon do not have actors listed yet. Spencer Garrett takes the role of Tom DeLay and Jeffrey R. Smith will play Grover Norquist. The listing was update April 18, 2009. IMDB - Casino Jack
April 20, 2009 - Another NYILY Release Date? - Flixster is showing another release date for New York I Love You. Flixster on Facebook is showing a May 30, 2009 release date for the US. Source Thanks to Meyree for the news.
April 20, 2009 - Darth Vader for Lacoste? - Pretty funny look from Beaut.ie at how Darth Vader might carry out marketing for Hayden's Lacoste Challenge ad campaign. Source
[The setting: a large planet-sized weapon of mass destruction. Delightfully scented]
PERFUMER: Fragrance sales are down! What should our team do?
DARTH VADER: Perhaps I can find new ways to motivate them.
PERFUMER: But how, Lord Vader, how? I just don't know what approach we should take!
DARTH VADER: Obi-Wan once thought as you do. You don't know the power of the Dark Side
PERFUMER: Er, OK then. So anyway, we have this new launch for men coming out in July, it's called Challenge and we're using your young self to promote it.
DARTH VADER: Impressive. Most impressive. Obi-Wan has taught you well.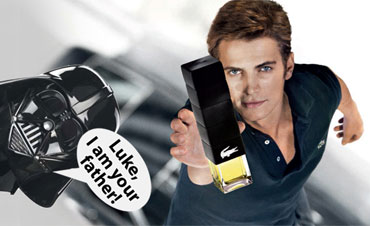 April 19, 2009 - Birthday Wishes for Hayden - The Birthday page will be up for a while so don't forget to add your birthday comments. You can also add appropriate images/pictures to your comments. The form makes it easy to add an image, birthday banner or share a favorite picture of Hayden. It shows as a clickable thumbnail in your post. Let's Celebrate!

April 18, 2009 - Happy Birthday Hayden! - Hayden's birthday is tomorrow April 19th and I've added a page where you can post your birthday comments for Hayden for his special day. You can start leaving messages right now. Happy Birthday 2009
April 18, 2009 - Political Thriller lands Kevin Spacey and Hayden Christensen - It seems that it's getting closer to a confirmation that Hayden will be taking on another true life dramatic role in the upcoming film Casino Jack. Hayden has been rumored for several months now in the docudrama to be directed by George Hickenlooper about the scandal surrounding Washington lobbyist Jack Abramoff. Hayden has shown in the past that he excels at playing roles involving true life characters. His portrayal in the film Shattered Glass showed a complete yet subtle character progression of Stephen Glass, the young writer of the New Republic found to have made up half of his stories for the magazine.
Hayden Christensen and Kevin Spacey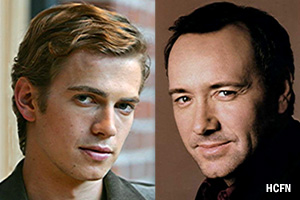 "Casino Jack is George Hickenlooper's indie drama about the Jack Abramoff influence peddling scandal. He was big on landing casino deals for Indian tribes, greasing the wheels of Congress. Kevin Spacey and Hayden Christensen have signed on as the leads, according to Production Weekly." Source: Orlando Sentinel
Production Weekly
"Kevin Spacey & Hayden Christensen attached to star in George Hickenlooper's "Casino Jack," a feature about Jack Abramoff and Michael Scanlon."
Michael Scanlon and Jack Abramoff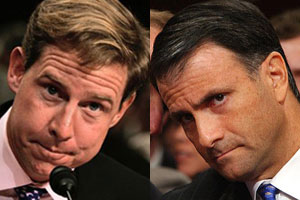 April 16, 2009 - Memorable Movie Library Scenes - Entertainment Weekly has chosen the 18 most memorable movie library scenes in celebration of National Library Week and Jumper has made the cut at number 4. Of course it is actually the scene where the younger version of Hayden's character played by Max Thieriot tries to save himself from drowning in a frozen lake and discovers he can teleport to the safety of the Library.
One interesting trivia fact about Jumper and libraries is that Jumper, the novel, was actually banned by the American Library Association when it was first published in 1992 for having subject matter to mature for teens. Jumper is in good company. Harry Potter was also banned by the ALA. The ban on Jumper was eventually lifted in 1999.
From Entertainment Weekly
JUMPER (2008)
"Wet books smell gross, so I don't envy the poor librarian who will have to clean up the flood that David Rice (Hayden Christensen) brings into the library stacks. Although he could be forgiven because it's kind of hard to be thoughtful when a) you're drowning in a frozen lake, and b) you don't even yet realize that you can teleport." EW's Wild Trips to the Library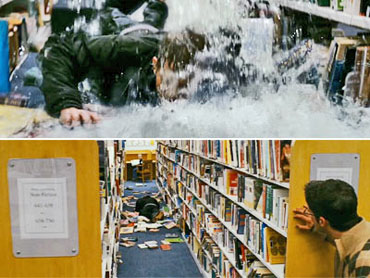 April 11, 2009 - Happy Easter - Best wishes for a joyful and happy Easter to everyone.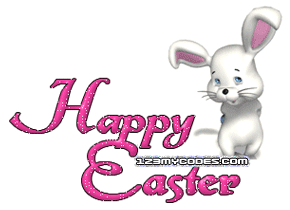 April 8, 2009 - Official Image for Lacoste Challenge - The first official image chosen for the Lacoste Challenge ad campaign has made it's way to the internet courtesy of Tetu. Don't you just love Google Translations.
"Visually, most importantly, it gives Hayden Christensen favorably highlighted by a small shirt and tight jeans. It seems as it was in the movie Jumper, suspended in space-time. But fans can rest assured, when the Canadian actor turned advertising along a facade of building in Los Angeles, he was restrained by a harness and cables."
"Less romantic to imagine that the beautiful Hayden really has super powers, but more reassuring for his safety. And curiously, it does not detract from the furiously sexy side of the campaign." Tetu Translation
Click to Enlarge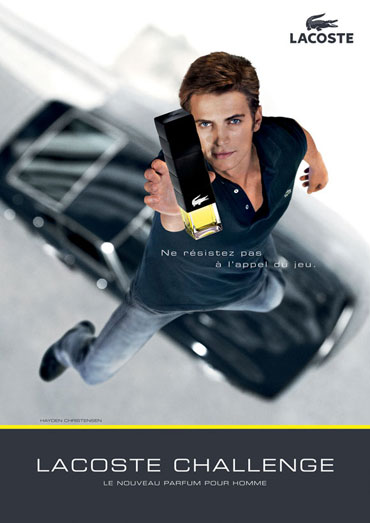 April 8, 2009 - Rumored "Casino Jack" at Cannes - The upcoming George Hickenlooper directed project, Casino Jack aka Bagman, will be featured at the Cannes Film Market in May. As previously mentioned Hayden is listed in the cast and Kevin Spacey has also been added. According to Cinando.com the year of production is 2009. The Canadian feature film which could go into production soon is written by Norman Snider and produced by George Vitezakis and bill Marks. Cinando
April 7, 2009 - Jumper Nominated for Two Saturn Awards - The nominations are out for the 35th annual Saturn Awards and Jumper is nominated for Best Picture in the Science Fiction category and Best Music Score by John Powell. The awards are hosted by The Academy of Science Fiction, Fantasy and Horror Films.
The Academy was founded in 1972 to honor and recognize genre filmmaking. The 35th annual Saturn Awards will be held on June 25 in Burbank." Aces Showbiz
Also, Rachel Bilson has been nominated for the Constellation Awards for Best Actress for her role as Millie in Jumper. The Constellation Awards are a Canada's annual awards for science fiction in film and television. The 2009 Constellation Awards ceremony will be held at Polaris 23 in Toronto on the weekend of July 10-12, 2009. Constellation Awards (Thanks to Sonia at EoL board for Constellation news.)
Complete List of Saturn Nominations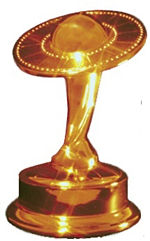 April 7, 2009 - Rachel Bilson talks about NYILY - More word on the movie coming out this fall from a interview with Rachel Bilson.

MCT: Your movie, "New York, I Love You," is out this fall. What was it like working with such an extensive and talented cast?
Bilson: Well you know what, it's all short films that are complied together to make one movie, so I didn't actually work with (all of) them. It's really cool to be a part of it. I was really thrilled. I am surrounded by many talented actors and stories so I think it is an amazing project as a whole."
Bilson: Well you know since it's a short film, it's smaller and takes less time. You only had three days or so. But it was cool because you can tell a little story and be a character for a few days and that's it. It was a different experience, but it was fun.
MCT: Who did you directly work with?
Bilson: Hayden Christensen and Andy Garcia were in my short.
MCT: What should viewers expect from "New York, I Love You?"
Bilson: I think it's sort of a different movie with lots of different stories but all about love in some kind of way in the city of New York. I think it's original and it should be really, really great. Read all...
April 6, 2009 - New York, I Love You September Release - According to the Hollywood Reporter, Reuters and other news articles Hayden's upcoming anthology project, New York, I Love You will be in theaters in September 2009.
"The Paradigm-repped [Chris] Cooper has "New York, I Love You" coming out in September."
Reuters and Hollywood Reporter
April 6, 2009 - Hayden's Exquisite Taste - Hayden looks good anytime but he does clean up well and much much more than okay for big occasions. He's got our eyes fixed on those red carpet and gala events. Naturally handsome features have a lot to do with it but the always perfect choice of clothes for the occasion makes us all a little more breathless. And that's your fashion and fan thought for today as I post this brief mention found in the weekend news.
Bespoken for - "The bespoke creations of Sydney shoemaker Andrew McDonald grace the feet of celebrities such as Kate Bosworth, Nicole Kidman, Natalie Portman and Hayden Christensen."
"Each pair of shoes is an unique item, embodying the best of traditional handcrafting techniques and materials tailored to the individual's personal requirements. But such exquisite perfection comes at a price, involving up to 40 hours of workmanship and costing up to $1200 for women and $2000 for men." Read more....
Click to Enlarge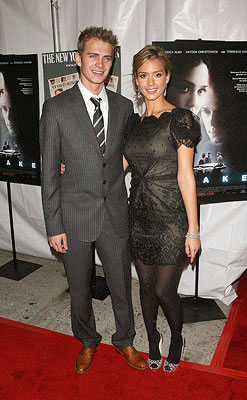 April 4, 2009 - Rumored Projects Update - One of Hayden's rumored projects, Bagman, is now titled Casino Jack. The film's story concerns actual events leading to the Washington D.C. scandal surrounding lobbyist Jack Abramoff. Abramoff had a number of Indian gaming clients and was known as "Casino Jack," to some around Washington. IMDB updated information March 5, 2009.
April 4, 2009 - New Orleans Museum of Art - Sam Taylor Wood's Crying Men exhibit has traveled all over the world. The New Orleans Museum of Art chose a picture from the now well known exhibit and book to display in it's foyer. Looks like Hayden's photo is a favorite of many.
"Bonus thing about it: The New Orleans Museum of Art had some awesome photographs on the walls of the foyer – including Hayden Christiansen [Christensen] crying for some reason." Source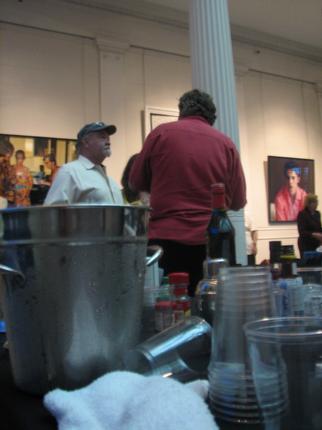 Picture below from Crying Men Exhibit in Australia

Click to Enlarge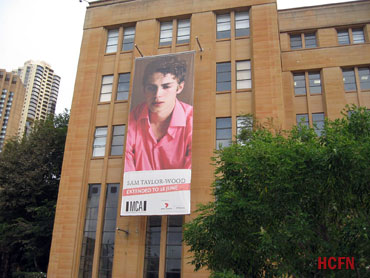 April 4, 2009 - Paul Walker Interview - In a recent interview for The Fast and Furious with Movies Online, Paul Walker talks more about Takers, the heist movie also starring Hayden Christensen coming to theaters in early 2010.
"I play a good bad guy. If you were to take 'Heat' and cross that with 'Point Break', that's 'Bone Deep'. It's fun. It's the same audience. It's the 'Fast & Furious' audience."
"I'll tell you something that's pretty interesting, actually. The guy that wrote it, this guy John Luessenhop, you guys remember the 'Italian Job' heist? That was this screenplay. The way that they boosted that armored truck, well somebody stole it. We were the original. We're just coming out a little bit later. That's all I'm going to say."
"Yeah, that's the background. That's the truth right there. So in the movie, now that it was finally going, John was like, 'You know what, we have to come up with something new, a different way to pull this off heist.' I hope that I didn't reveal too much by saying this."
"Yeah, it's a heist movie and at one point they talked about completely deviating from that, going in a completely different direction and coming up with something else and then decided, 'No, you know what, we were first. I was the one that wrote it. We're going to refer to it as "The Italian Job" in the movie. We're going to pull the "Italian Job".' I thought that was pretty cool. It's fun. You guys probably talk to Hayden [Christiansen] a lot. I liked Hayden a lot. That was a cool cast." Movies Online
April 3, 2009 - The Call of the Game Perfume - Lacoste Challenge - "Lacoste announced the commercialization of its new fragrance for the month of May 2009. Called Challenge, the scent is a nod to the fighting spirit of the founding father of the house Lacoste, the champion tennis legend. The fragrance Is aimed at all those for whom life Is a challenge, with the motto: 'Do not resist the call of the game."
"Challenge reminds of the playground on which René Lacoste has built its reputation.....A bottle like a tennis racket.....The bottle of Challenge is not unlike the handle of a tennis racket dressed in shiny black grip. This feature was born of a practice of Rene Lacoste who in 20 years, wrapped the handle of his racket in tape. The aim was to ease its adhesion and ease of grip. An idea that quickly became popular and today symbolizes the maker of the scent." (translated)
Eau de toilette Lacoste Challenge, spray:
50 ml : 40 euros. 50 ml: 40 euro.
75 ml : 50 euros. 75 ml: 50 euro.
90 ml : 60 euros. 90 ml: 60 euro.
Available from May 2009. In US Boutiques June 2009.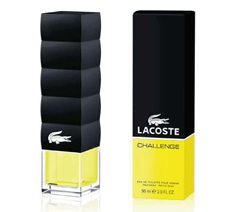 April 2, 2009 - Takers aka Bone Deep News Briefs - Elba and Saldana are Sylvain's 'Losers' - "Saldana is beginning to put together an impressive filmography which currently includes the upcoming May release Star Trek as well as the hotly anticipated return of James Cameron this holiday season with Avatar. Elba will be seen in Obsessed with Ali Larter and Beyoncé Knowles later this month on April 24. Both are set to star in Bone Deep with Paul Walker and Hayden Christensen on January 8, 2010." Read more...
Paul Walker's take on Takers - [watch the video] "In "Takers," which also stars Michael Ealy, Hayden Christensen and Idris Elba, Walker plays one of the bad guys the audience will root for. "I play this guy John Rodway," he explained. "It's a big heist movie. It's all about the robbery, and these guys coming up, and they're like the bad-guy crew that you can't help but pull for, 'cause they're all good guys. They're really tight. It's 'Heat' meets 'Point Break.' It's got that feel to it." MTV
April 2, 2009 - "Challenge", Lacoste perfume played by actor Hayden Christensen - "The case is two-tone, like the bottle, brilliant yellow, contrasting with the matte black."
The American actor Hayden Christensen, the new muse of the mark in the crocodile, said: "Lacoste is a casual sophistication, that of the active man who faces the challenges of life with a distinguished style and natural elegance".
"In the campaign which he is the icon, the actor is filmed and photographed in the process of jumping to catch the perfume bottle in midair. The slogan "Do not resist the call of the game" with these images." Source: Trends
April 1, 2009 - A First for Lacoste - Hayden is the first celebrity to represent a product for Lacoste. The ad campaign will be found in both print media and television.
Also, the bottle is meant to resemble a tennis racquet. Daily Thread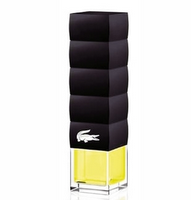 Google Translation
"He became Darth Vader, Emperor of the Dark Side, in the last episode of the Star Wars film saga. Today, Hayden Christensen becomes emperor of perfume Lacoste. The Crocodile brand actually uses the American [Canadian] actor to embody the face of its new fragrance, Lacoste Challenge."
"For Lacoste, the choice of Hayden Christensen seems to be a natural fit. In the words of Michel Lacoste, Chairman of the company: "He embodies exactly the modern spirit of the brand. He is young, elegant and dynamic, and in the eyes a charismatic spark which is exactly the philosophy of the new fragrance."
"The player side of Hayden Christensen
The advertising campaign Lacoste perfume Challenge will be aired in the press and on television. It is the fashion photographer Stefano Galluzi that is found behind the lens. His desire was to translate the concepts of challenge and action, and Hayden Christensen was ready Thursday to mind the slogan of the new Lacoste fragrance: "Never resist the call of the game or, in French, "Ne résistez pas à l'appel du jeu." Source
April 1, 2009 - Lacoste Tweet to Hayden Fan News - Lacoste new fragrance for men coming to US boutiques in June 2009.
Lacoste USA
"lacoste @haydenfannews Coming to our boutiques in June! Glad to see you're up on the newest of the new...:) about 2 hours ago from Splitweet in reply to haydenfannews"
Join Hayden Fan News on Twitter