August 29, 2008 - HCFN Site Update - There's a new photo gallery up. Updated this week is the Virgin Territory Album. Check it out and check back often for new additions to the albums.

August 28, 2008 - One More Year for Arts York Region School - (follow-up to previous story) - "Arts York students from across the region will get on a yellow school bus for at least the next school year. Earlier this year, York Region District School Board decided to stop busing services for the Unionville High School's regional arts program.
The program has produced such stars as Hayden Christensen, who played Anakin Skywalker in the latest installments of the Star Wars films and Adam Brazier, a performer with Mamma Mia. Read more...
August 27, 2008 - Beast of Bataan still in the works? - From August 21, 2008 - Bay City native Mark Jean, author of "Puddlejumpers," returns for a book signing - Some of Mark Jean's former neighbors in Bay City might recognize themselves in the filmmaker's first novel. "They're the antagonists," Jean said of "Puddlejumpers," the fantasy adventure he wrote with Christopher C. Carlson.
Today, the two men are working together on "Beast of Bataan," the true story of the first war crime tribunals held after World War II. "It's about doing the right thing, and it says a lot about the world today," Jean said. "It's very topical." Source....
August 27, 2008 - Virgin Territory Official Website - You can find a gallery, cast bios, synopsis, trailer and info on where to buy the dvd on the Virgin Territory website.
Click for Official Site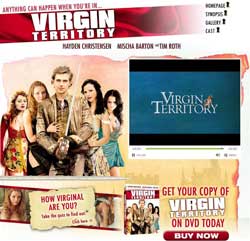 August 26, 2008 - Short Takes on DVD - Virgin Territory (Anchor Bay Home Entertainment, 2007) — The title, box art and box text would have you believe this is just "American Pie" in fancy dress. It is that, and more. It's smutty, but it's got a fun cast, witty narration and, considering the lowbrow genre, extraordinary production values. David Leland's film, based on Boccaccio's "The Decameron," takes place in 14th century Florence. Thousands are dying of the plague. Some pretty young friends escape to the country to try to dodge the pestilence. One (Mischa Barton) goes to a convent to wait for her noble fiancé, and encounters a dashing ne'er-do-well (Hayden Christensen) hiding among the sex-starved sisters. It was shot in lovely locations in Rome, Florence and rural Tuscany. The beautiful costumes were designed by the film's co-producer, fashion icon Roberto Cavalli. It's an easy-on-the-eyes guilty pleasure. R, for numerous lustful encounters, language, nudity and violence. Source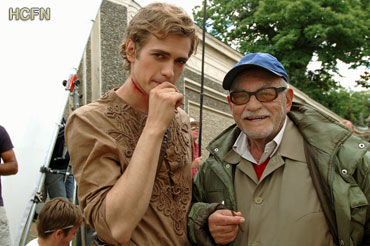 August 26, 2008 - Girl's Talk: Top 4 Chick Flicks - Virgin Territory a medieval chick flick? Now there's a thought but the Daily Record in it's list of the latest dvds says just that. Virgin Territory is out on dvd today in the US and in the UK. Source
Click the picture below to visit Anchor Bay to find our where the dvd is sold in stores and online.
Click for Anchor Bay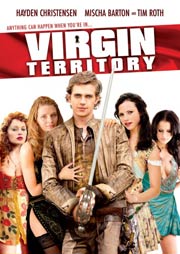 August 25, 2008 - From Gritty to Glittery Pink - "Europe's Black Plague isn't normal fodder for humor, but this goofy, irreverent romantic-comedy, loosely taken from several tales of The Decameron, ends up delivering unexpected laughs. Hayden Christensen plays Lorenzo, a rakish sort who desires the lovely, pampered Pampinea (Mischa Barton). Her fiancée dies only to have his place taken, against her will, by a usurping nobleman (Tim Roth).
Meanwhile, Lorenzo finds refuge in a convent by pretending to be deaf and dumb. There, the poor lad finds nuns ready to sacrifice themselves for him, while characters speak in modern argot and a contemporary soundtrack adds to the jarring effect. But it's all played for laughs, and with the stunning Tuscan countryside and a full roster of beautiful people (except for Tim Roth), the film is also a visual treat.
Rated R. 97 minutes. The DVD offers a 12-minute behind-the-scenes featurette, four non-shocking "Censored Scenes of Sexuality," and a look at around 50 of David Walliams' excellent costumes." Source
August 25, 2008 - Hayden on DVD - Latest releases of Hayden's movies on DVD are Awake and Virgin Territory (Region 2) in stores now in the UK.
August 24, 2008 - Hayden Christensen Fan News site updates - The Virgin Territory movie page is up and all new including three new desktop wallpapers (thanks to Matt and Total Assault). Take a look. More updates coming soon.
New Wallpapers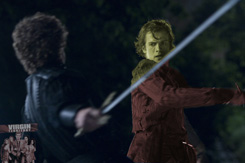 Click to go to the Movie Page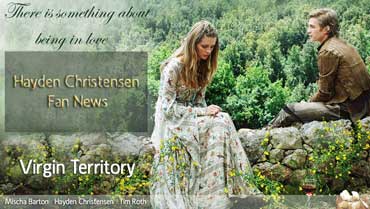 August 24, 2008 - David Leland Heads Into 'Virgin Territory' - What started as an idea to make an updated film version of Giovanni Boccaccio's The Decameron ended as Virgin Territory, a bawdy period comedy heading to DVD ($26.97) Aug. 26 from Anchor Bay Entertainment.
Virgin Territory stars Hayden Christensen as Lorenzo di Lamberti, a lovable scoundrel with plenty of ladies-in-waiting. But the one he wants is the one he can't seem to have, lovely Pampinea (Mischa Barton), who is betrothed to marry Count Dzerzhinsky ("Brothers & Sisters'" Matthew Rhys) and is also being vigorously pursued by villainous nobleman Gerbino (Tim Roth). Read more....
August 23, 2008 - New York, I Love You Teaser Trailer - Thanks to Sophie for the heads up.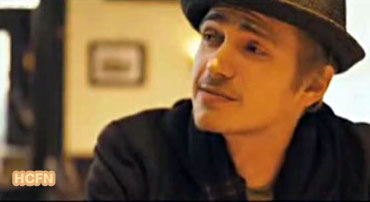 August 22, 2008 - Virgin Territory Quiz - Test Your Movie Trivia Skills. Take the quiz "Prove your not a Sex Comedy Virgin"
August 22, 2008 - More Site Updates Coming - Stay tuned this weekend for updates to the site. I will be adding a movie page for Virgin Territory with lots of info and new movie stills courtesy of Matt and Total Assault, the company doing the publicity for the DVD to be released next week so be sure to check back.
Here's a sneak peek:
Click to enlarge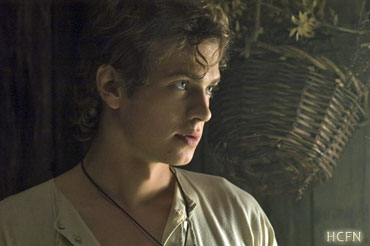 Click to enlarge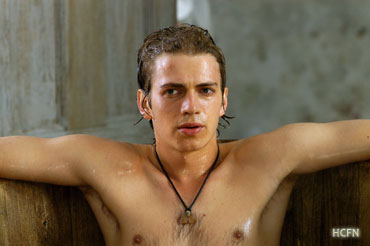 August 22, 2008 - Decameron Pie in Italian Cinemas - "Decameron Pie, which takes its name and a slice of inspiration from teen comedy blockbuster American Pie, is a retelling of the famously ribald Decameron stories by 14th-century poet Giovanni Boccaccio.
Mischa Barton and Tim Roth star in the film loosely based on Boccaccio's lively collection of stories, in which sexual misadventures were a frequent theme.
Italian pin-up actresses Elisabetta Canalis and Anna Galiena appear as naughty nuns keen to be seduced by hero Hayden Christensen, the Canadian actor who played the young Darth Vader in the Star Wars films."
Decameron Pie will open in Italian cinemas from September 5, 2008. Read more....
August 21, 2008 - Site Updates - It's my pleasure to welcome Hayden Christensen Italia as an affiliate. The affiliate page has been up for a little while and has been updated. If you haven't seen it yet, take a look at the other great websites listed and send me an email if you would like to affiliate. Hayden Fan News Affiliates
Also, check out the HCFN Guestbook (recently updated) and leave a message. Thanks.
August 20, 2008 - Hayden is Bahama Cool - Thanks to Mike for sending in a personal pic taken recently with Hayden in the Bahamas where he helped Hayden and Tove with an air condition unit.
Click to enlarge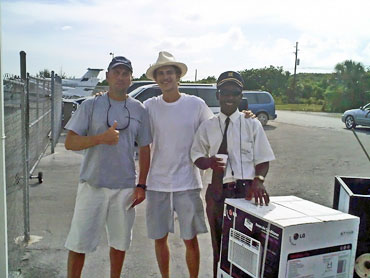 August 20, 2008 - The Making of the Force Unleashed - The book about the video game, "The Force Unleashed", is in stores now. As a video gamer and member of the Star Wars family Hayden has written the introduction to the book. You can find more information about the book on Amazon.com.
Click to enlarge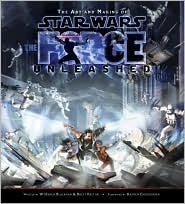 August 19, 2008 - "New York, I Love You" Sneak Peek at Toronto International Film Festival - The Toronto International Film Festival pays homage to neighboring New York City with a preview screening of the film "New York, I Love You" during the festival's scheduled "Special Presentations" track set for September 4 - 13.
....the festival will get a sneak preview/ work-in-progress screening of "New York, I Love You" which includes vignettes directed Scarlett Johannson, Natalie Portman, Brett Ratner, Allen Huges (one half of the Hughes Brothers), Fatih Akin (the very excellent "The Edge Of Heaven" from earlier this year), plus more international names such as Yvan Attal, Randy Balsmeyer, Shunji Iwai, , Shekhar Kapur, Joshua Martson, Mira Nair, Jiang Wen and Andrey Zvyagintsev.
The film is set to star actors like Ethan Hawke, Shia LeBeouf, Kevin Bacon, Orlando Bloom, Hayden Christensen, Natalie Portman, Blake Lively, Robin Wright Penn, Rachel Bilson, Christina Ricci, Olivia Thirlby, Drea de Matteo, Jule Christie, rapper/poet Saul Williams and many, many more (PS, did you know Williams' brother is Omar from "The Wire" aka Michael K. Williams) Read more...
Other Articles:
Click for TIFF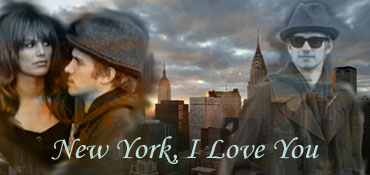 August 19, 2008 - Funding cuts threaten "Arts York" Program - AURORA, ON, Aug. 19 /CNW/ - "Well known Canadian artists and former students of the York Region's special "Arts York" Program join forces with more than 200 parents and students to fight the school board's decision to immobilize this special and unique program by terminating the funding for necessary busing services.
Former Department Head of the Drama Program at Arts York, Jeff Young, tells us of the well known Canadians who have graduated from the program: Hayden Christensen (actor - Star Wars) and Adam Brazier (performer - Mamma Mia) and how "my integrity had been compromised" by the decision of the school board to cancel the busing services essential to the success of the program and its availability to students throughout the vast York Region.
Former and current pupils, parents, a member of provincial parliament, have united in a special judicial review application to the Ontario Superior Court of Justice." Source
August 18, 2008 - Awake Blue-ray German Release - Import Watch Germancy - The Hayden Christensen movie Awake will be released by Kinowelt on December 12th, 2008. Source
Click Amazon.de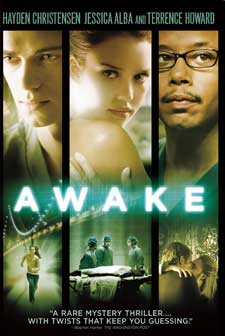 August 13, 2008 - Neuromancer Update - "Seven Arts Pictures has updated the movie's production web page and has removed Hayden's name from the synopsis where it had been included since January 2008.
August 13, 2008 - Jumper Pirates - A report coming this September from ALPA, The Association Against Audiovisual Piracy, analyzed piracy downloads in France between November 2007 and June 2008. The study, conducted by the French antipiracy group, claims that illegal downloads of popular films are "nearly as numerous as box office visits" with an average of 450,000 films downloaded daily. December 2007 totals were 536,000 per day.
The most popular 100 films both French and foreign were monitored between November 2007 and June 2008. The most popular American films illegally downloaded during this period were Doug Liman's Jumper starring Hayden Christensen, Renny Harlin's The Cleaner and Jon Favreau's Ironman with each being downloaded 20,000 times a day since their theatrical releases.
"We are facing a major phenomenon that can endanger the film industry and audiovisual industries. We did not expect such figures," ALPA director Frederic Delacroix told the AFP. Source and Variety.
August 12, 2008 - Stars Thrilled To Be Part Of 'Star Wars' Legacy - From Tim Lammers @ the movies - "Over the years, I've had the fun opportunity to interview several key players in the "Star Wars" movie saga, from Mark Hamill and Carrie Fisher, to Hayden Christensen and Natalie Portman. So in celebration of the release of George Lucas' "Star Wars: The Clone Wars," here are some quotes from the various "Star" interviews.
On The Impact Of Playing Darth Vader:
"Obviously, 'Star Wars' was a huge opportunity for me and opened a lot of doors, but just on a basic cool level, I got to play Darth Vader. It's not often where you get to work on a film and run around every day with a lightsaber ... I really have no qualms about that character following me for the rest of my life." --Hayden Christensen (Anakin Skywalker/Darth Vader)" More Star Wars stars comment...
Click to Enlarge

August 12, 2008 - Why not more original stars for Clone Wars? - It's been a question on the minds of Star Wars fans ever since the first Clone Wars trailer hit the net. George Lucas did an interview from his California Big Rock Ranch with journalists about his latest Star Wars movie "The Clone Wars" and Cinemablend has the scoop.
As it turns out, Clone Wars was being developed and filmed as a television series. There were no plans for a movie but when George Lucas saw what his crew had done with the project, he thought it was something fans would like to have the opportunity to see on the big screen. The movie was an afterthought and done on short notice.
One of the big questions on the mind of a lot of fans is why so few of the live action Star Wars cast showed up to participate voicing their animated versions. According to Lucas and his team, it all boils down to budget and timing. This was supposed to be a TV series after all, and though it's now a movie, their original plan didn't have the likes of Ewan McGregor and Hayden Christensen in the cards. Once they got around to asking them, time was too short. Cinemablend's George Lucas interview...
August 8, 2008 - New York, I Love You - Indiewire August Production Report - "A sequel of sorts to 2006's "Paris, je t'aime," concept creator Emmanuel Benbihy now assembles the world's top-flight filmmakers to New York City for twelve shorts surrounding the theme of love in The Big Apple.
Talent involved in this omnibus include (just to name a few) directors Allen Hughes, Brett Ratner, Joshua Marston, Fatih Akin and Mira Nair and actors Olivia Thirlby, Hayden Christensen, John Hurt, Christina Ricci, Orland Bloom, Kevin Bacon, Anton Yelchin, Ethan Hawke and taking a first stab at directing, Scarlett Johansson and Natalie Portman (who started in "Paris, je t'aime").
"If it wasn't for 'Paris, je t'aime' none of the agents would have taken a listen," says veteran New York producer Rose Ganguzza who met Benbihy through a mutual friend last year and agreed to come onboard as an executive producer. Helping Benbihy in preproduction, she says the first break was getting William Morris Independent interested, as they brought on clients Johansson, Marston, Hughes and Rachel Bilson. "This is important when you are trying to do a film like this that breaks the mold and is creatively challenging," Ganguzza explains.
Prep for the filmmakers was similar to what the directors of "Paris, je t'aime" went through. One designated New York-based crew did every short and the filmmakers brought along their head creatives. Directors came to New York for location scouting and did story development via e-mail and phone. Then they came back to New York for a two-day shoot (the project was 40-days total). Ganguzza champions the experience of the crew. "You want to tell everyone at the beginning to leave their egos at the door but that's easier said than done," Ganguzza says. "It's the question of a really good production team and I would venture to say we had a much more cohesive and experienced production team on this." " Read More...
New York, I Love You is expected in theaters Valentine's Day 2009.
August 8, 2008 - Awake Coming to Blu-ray - The Weinstein Company will release Hayden's medical thriller Awake on Blu-ray mid-November. No extras information is available yet but early tech specs include 1080p/VC-1 video and English Dolby TrueHD 5.1 Surround audio.
Starring Hayden Christensen, Jessica Alba, and Oscar nominee Terence Howard, 'Awake' grossed over $30 million at the domestic box office last Winter. The Weinstein Co. will debut the Blu-ray on November 18 (a standard DVD edition was released earlier this year) Source
Click for Movie Page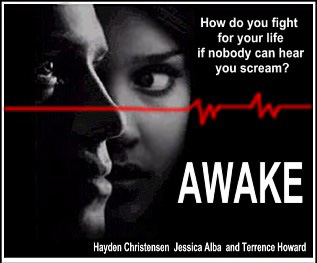 August 6, 2008 - Virgin Territory in Spanish Cinemas - Virgin Territory also known as Aprendiz de Caballero will open August 8 in Cinemas in Spain.

August 6, 2008 - Rachel Gets a Surfboard - Contgrats to Rachel for winning at the Teen Choice Awards for Choice Movie Actress: Action Adventure for Jumper. Samuel L. Jackson (Jumper) lost out to Johnny Depp (Sweeny Todd) for Choice Villain. The Teen Choice Awards airs tonight on Fox at 8:00 p.m. ET, with interviews from the Red Carpet (actually it's blue) an hour before the show on the E! Channel.
Click to Enlarge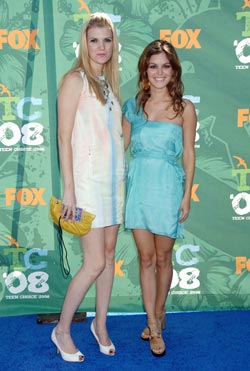 Photo Source: Celebutopia
August 3, 2008 - Teen Choice Awards - Best wishes to Rachel Bilson, nominated Choice Movie Actress: Action Adventure, and Samuel L. Jackson, nominated Choice Movie: Villian for Jumper. The Teen Choice Awards take place today, August 3 and will be televised Monday, August 4, 2008 at 8:00 p.m. ET. Watch coverage from the Red Carpet an hour before the televised awards show on E! Monday night.
August 2, 2008 - Jumper DVD Review - Yeah! What he said - Thomas Simpson sums up his thoughts on the movie in this DVD review of Jumper.
Over all the movie is a good, don't think too much, ride around the world with some wonderful special effects. From London to Cairo, to Ann Arbor and New York and Tokyo the films glossy shine hides its more gritty underlying theme. Discrimination. Sure it might not seem like the movie is a thinking movie and for the most part its not, but that theme is there, as is parental abuse. The book that the movie was based on also addresses these themes but in a wholly separate manner. And if you are a fan of the book, don't even think its going to be scene for scene with the book, there are a few similarities but after that, the two take different paths. The book goes with terrorist, the movie however goes with religious zealots with geneocide on the mind, which turns into what Griffin, portrayed by Jamie Bell calls, "the war".
The movie starts off rather slow, you get some background information and cover the basics of the idea. Once David Rice [Hayden Christensen] meets Roland [Samuel L. Jackson] things get interesting and the pace is sped up. It hits warp speed after Rice encounters Griffin [Jamie Bell] and the war ensues. After all is said and done, with Jumpers/Paladin mix-ups occurring at quicker and more break-neck speeds the finale of the film is rather quiet, subdued, drooling for a sequel. And having watch Jumper numerous times, I too am ready for a sequel. Read more...
August 1, 2008 - Hayden's Upcoming DVD Releases in August - You can pre-order the dvd's through Amazon.com and other video outlets.
UK DVD Releases:
Virgin Territory - Region 2 DVD - August 18
Awake - Region 2 DVD - August 25
US DVD Releases:
Virgin Territory - August 26