June 30, 2007 - Hollywood Exlcusive - Ask Stacy - "Where is Charisma Carpenter, formerly of "Buffy the Vampire Slayer," "Angel" and "Veronica Mars"? Haven't seen her in a while. Chris W., Cleveland
DEAR CHRIS: The one-time San Diego Chargers cheerleader, who turns 37 July 23, is expected to represent "Buffy" next month at Toronto's FanExpo Canada, a massive convention for science fiction and fantasy buffs with guest stars ranging from Hayden Christensen of "Star Wars" fame to "Lord of the Rings'" Sean Astin. Her recent credits include several made-for-TV movies, such as last year's Lifetime telepics "Cheaters' Club" and "Flirting With Danger." She stays busy as the mother of a 4-year-old son, Donovan, who was born to Charisma and husband Damien Hardy on March 24, 2003."
June 29, 2007 - SFX Fan Expo Canada - Ticket information for "An Afternoon with Hayden Christensen" is now on the Hobbystar website. You can find the info by going to Hobbystar SFX Guests.
Ticket package prices as listed at Hobbystar (always check for the latest updates at Hobbystar - SFX)
Tickets go on sale July 1, 2007
VIP TICKET $279
Includes FIRST PRIORITY reserved seating at HAYDEN CHRISTENSEN Q&A session
FIRST PRIORITY reserved seating at JAKE LLOYD and DAVID PROWSE Q&A session
8x10 photo with HAYDEN CHRISTENSEN and YOU!
HAYDEN CHRISTENSEN, in-person autograph
Free Premium Package Admission to the Expo
GOLD TICKET $169
Includes SECOND PRIORITY reserved seating at HAYDEN CHRISTENSEN Q&A
SECOND PRIORITY reserved seating at JAKE LLOYD and DAVID PROWSE Q&A
HAYDEN CHRISTENSEN, in-person autograph
SILVER TICKET $99.00
Includes general seating at HAYDEN CHRISTENSEN Q&A session
Guaranteed reserved seating at JAKE LLOYD and DAVID PROWSE Q&A session
HAYDEN CHRISTENSEN pre-signed Star Wars 8X10 Photo
June 26, 2007 - Hayden in Amsterdam? - No, not exactly. But Hayden did a promotional message for Jumper that was presented at Cinema Expo Internatonal. Cinema Expo International, being held June 25-28 in Amsterdam, is a trade show for the European movie and theater industry that will include seminars, promotions and screenings of upcoming movies.
From Variety:
"Taped promotional messages also flooded in from Hayden Christensen (for "Jumper"), and Eddie Murphy (for May comedy "Starship Dave")."
June 22, 2007 - Jackson Almost Done With Jumper - Sci Fi Wire (dated 6-14-07) - "Samuel L. Jackson told SCI FI Wire that he's almost finished filming his part in Toronto in Jumper, a movie about teleportation that reteams him with his Star Wars co-star Hayden Christensen.
"Jumper is going to be really cool," Jackson said while promoting his upcoming supernatural horror film 1408. "It's a film about kids who can teleport. I play a government agent that's sort of chasing them and killing them and kind of hates kids that can do that because they leave these interesting rips in the atmosphere when they do it." " More at Sci Fi Wire
June 17, 2007 - The Eye of Storaro - Mention of an old rumored project for Hayden has resurfaced and may possibly be an old quote included in this article.
"Even more exciting to me is the upcoming screen adaptation of my favorite book, Colette's 'Cheri." Asked about that project, Lange said, "Yes, it looks like it's a go, to be directed by Lasse Hallestrom, I'm with Hayden Christensen [perfectly cast as the ultimate boytoy] and Angelica Huston. There have been a few other film versions of this and, of course, Kim Stanley [who played Lange's mother in 'Frances'] did it on Broadway. Can you imagine Kim in that?" " Source
June 10, 2007 - May news has been archived and can be found HERE
June 10, 2007 - Our very own star factory - HOLLYWOOD - "By now it's fairly common knowledge that The All New Mickey Mouse Club, which graced the airwaves during the 1990s on the Disney Channel, proved to be a highly fertile breeding ground for hot new talent. .........Maybe there was something in the water in Orlando, where the revived series was shot. But while the Disney folks are entitled to bragging rights, a number of Canadian-produced kid-oriented shows didn't do too badly themselves when it came to serving as handy career launching pads........And, in a galaxy far, far away from Anakin Skywalker, Vancouverite Hayden Christensen appeared on a couple of episodes of Goosebumps, the Toronto-lensed family horror series based on the writings of R.L. Stine, that originally ran from 1995 to 1998." Jam Showbiz
June 9, 2007 - Vacation Time - I'm currently on vacation and will be travelling this week to a sunny location near the ocean for fun with family and friends. I hope everyone is having a relaxing and fun summer. I will have some internet access and will be checking email if anyone wants to get in touch. If you would like to send news and links that would be great and will help me catch up when I return.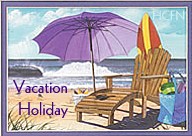 Right now, life is a beach and that's where you can find me.
June 6, 2007 - Jericho - This is a little off-topic here but I wanted to congratulate all the fans for winning "the battle of Jericho", giving CBS the incentive it needed to keep the show on the air and order new episodes scheduled for mid season next year. I hope they work on their promotion and schedule strategy so new fans can find and enjoy Jericho. Someone's sitting on 20 tons of Jericho nuts right now so I'm thinking they just might want to do their best.
I've been a part of similar campaigns to keep a favorite show on the air and they are very rarely successful, much less continually reported on in the mainstream news media as the one for Jericho. This is truly an amazing accomplishment. I love it when a plan comes together! You can find more information about the continuing Save Jericho campaign from the Capturing Skeet fansite.
June 3, 2007 - Awake - Scientific American Magazine June 2007 Issue - Lifting the Fog Around Anesthesia - "A Hollywood thriller due out this year centers on a young man who awakens while undergoing open-heart surgery but is unable to move or cry out. The film's plot will undoubtedly take many more dramatic turns from there, but its early premise is, sadly, not entirely far-fetched. Episodes of intraoperative awareness while under general anesthesia are reported by one or two of every 1,000 patients. In reality, such incidents are usually brief and generally do not involve pain or distress, but they do highlight one of several ways that even the newest generation of anesthetic drugs can sometimes leave much to be desired. Indeed, the medical specialty of anesthesiology has evolved into a sophisticated art form because scientific understanding of how anesthetic drugs actually work, and how to make them better, has lagged behind most other areas of drug development." (paid subscription needed) Scientific American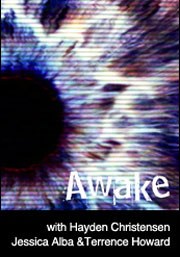 Awake with Hayden Christensen and Jessica Alba. Release TBD 2007
From The Star: "TKO As movie fodder goes, "intraoperative awareness" when a patient awakens during surgery, as Hayden Christensen does in the thriller Awake seems typically far-fetched. It's not.
One or two of every 1,000 patients endure the experience, writes Beverley A. Orser. Though the incidents are usually brief and painless, they show that even the newest anesthetic drugs can leave much to be desired.
Some research is focusing on memory-blocking. "With a cocktail of compounds, each of which produces only one desirable end point, the future version of anesthesia care could leave a patient conversant but pain-free while having a broken limb repaired, or immobile and sedated but aware while having a hip replaced." The Star