MARCH 2011

March 24, 2011 - Hayden Christensen's Possible New Project - Hayden was in good spirits as he arrived back home in Toronto March 23rd. He spoke briefly to reporters who asked about the farm and the pigs, to which Hayden smiled and replied that the farm is good, the pigs are good.
Click for Larger Image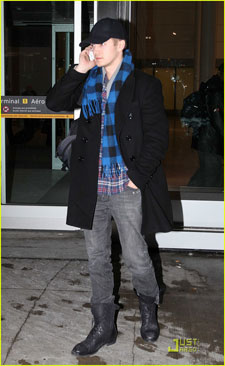 In other news: Hayden may be attached to a new movie project called Broken Horses with a possible cast that includes Nicolas Cage, Joel Edgerton (Owen Lars - Star Wars: Attack of the Clones) and Val Kilmer (thanks to JforJ for the news.). (Production Weekly. Other sources: New York Times Movies)
Based on the 1989 Bollywood hit movie Parinda, the film's story will be adapted for the US and directed by Vidhu Vinod Chopra who directed the original movie. Sources about the production say filming is projected for September 2011 in New York and New Mexico.
Click for Larger Image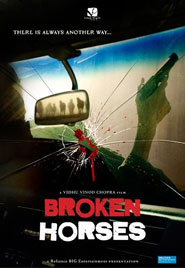 Synopsis:
When concert-level violinist Jake Heckum (Christensen) returns to his rural Western town to visit his simple-minded brother William "Buddy" Heckum (Edgerton), he learns that Buddy has fallen under the influence of murderous ganglord, Julius Hench (Cage), who has turned the gullible Buddy into a killing machine. Now, Buddy wants to quit the gang and join Jake in New York , but Hench has no intention of letting his prize hit-man go so easily.

March 17, 2011 - Happy St. Patrick's Day - The luck of the Irish be with you today. Cheers to all those who visit Hayden Christensen Fan News. Hope you have a fun day with family and friends. Slainte!
Old Irish Blessing
May love and laughter light your days,
and warm your heart and home.
May good and faithful friends be yours,
wherever you may roam.
May peace and plenty bless your world
with joy that long endures.
May all life's passing seasons
bring the best to you and yours!
Click for Larger Image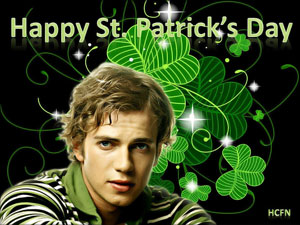 March 16, 2011 - "The Cold" IMDb Update - The listing for The Cold has gone through a couple of changes over the last month. Jesse Bradford and Shane West were briefly added back in the cast along with Hayden at the end of February and then all casting was removed not long after. Hayden is no longer listed in the cast of this movie.

March 15, 2011 - Hayden Christensen's Awake Gets Foreign Film Makeover - (Bollywood) The 2007 film Awake which starred Hayden Christensen as a man experiencing anesthetic awareness during open heart surgery is getting set for a Bollywood transplant. Adhyayan Suman will star in the film titled "Heartbeat" to be directed by his father Shekhar Suman. The film will go through some changes in the process as the production company is in negotiations with The Weinstein Company to give the new project a change both to the characters and situations in the story to avoid copyright problems.
Shekhar Suman to turn director for son - Adhyayan says, "My mother watched the film and was blown away. She made my father see it too. At that time, I wasn't in Mumbai. So they would repeatedly call me and say, 'Come back, we have got a great film for you.' I was shocked to see an engaging film like Awake so we immediately decided to take up the story."
You might also enjoy reading Roger Ebert's review of the original movie Awake at the Chicago Sun Times.
Synopsis - Awake, starring Hayden Christensen and Jessica Alba was written and directed by Joby Harold who was a first time writer and director at the time. The film centers around a man who experiences "anesthetic awareness" and finds himself awake and aware, but paralyzed, during heart surgery. His mother (Lena Olin) must wrestle with her own demons as the drama unfolds around them and the hidden story behind her son's new wife.
Click for Larger Image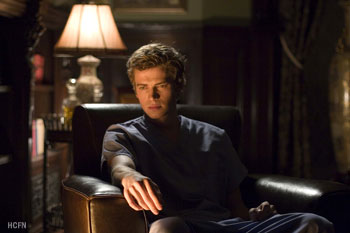 March 15, 2011 - Vanishing on 7th Street DVD Extras Preview - According to DVD Active Vanishing on 7th Street will get some interesting dvd extras when it is released May 17th on DVD and Blu-Ray. Magnolia Home Entertainment has announced that the DVD (SRP $26.98) and Blu-ray (SRP $29.98) will include a "making of" featurette, alternate endings and a photo gallery. Exact specs on each disc versions are not available at this time but hopefully both will include the special features especially the alternate endings. Sources: DVDactive and Bloody Disgusting and Dread Central.
Synopsis - An unexplained blackout plunges the city of Detroit into total darkness, and by the time the sun rises, only a few people remain - surrounded by heaps of empty clothing, abandoned cars and lengthening shadows. A small handful of strangers that have survived the night (Hayden Christensen, Thandie Newton, John Leguizamo and newcomer Jacob Latimore) each find their way to a rundown bar, whose gasoline-powered generator and stockpile of food and drink make it the last refuge in a deserted city. With daylight beginning to disappear completely and whispering shadows surrounding the survivors, they soon discover that the enemy is the darkness itself, and only the few remaining light sources can keep them safe. As time begins to run out for them, darkness closes in and they must face the ultimate terror.
Updated Images
Click for Larger Images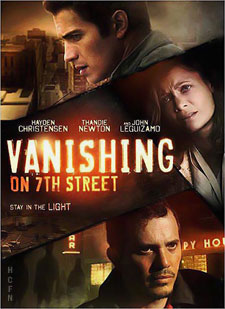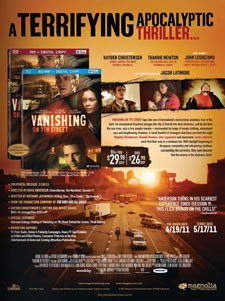 March 9, 2011 - Shanghai, I Love You Update - IMDb has updated the listing for the next Cities of Love film titled Shanghai, I Love You (aka Beijing, I Love You) with an April 2011 start date. Hayden has mentioned in a few interviews in the past (see video below) that he will possibly direct one of the shorts that make up the next anthology film from the producers of New York, I Love You and it would be his first time behind the camera as director. If Hayden does direct, he will have to develop a love story that takes place in one of the most beautiful cities in the world, Shanghai.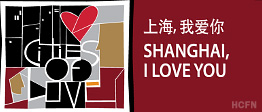 Thanks to Meyree for sending in a post on Twitter from Cities of Love producer Emmanuel Benbihy which confirms the IMDb update and more.
CitiesofLove / Emmanuel Benbihy
"Starting preparation on "Shanghai, I Love You". First directors flying in April. Pre-production starts June 27. Shooting starts Sept. 5." Posted 12:36 AM Mar 3rd via web
February 2011 Archive