NOVEMBER 2011

November 29, 2011 - Hayden Christensen and Battlecreek Gearing Up - Battlecreek is in the works, though information is still a little scarce. IMDB has it listed as "In Production" but also confusingly "production unknown". The wardrobe department seems to be gearing up for the production though according to one designer's Twitter post today. Battlecreek takes place in a small economically depressed southern town where a gifted young painter with a rare skin disorder must live his life at night. When a tormented young woman being chased by her own demons stumbles into town, their relationship forces both to ultimately reconcile with their pasts, enabling them to finally move forward to start a new life. (Thanks to JforJ for the heads up.)
A tweet from Universal Works confirms:
Universal Works - "Very excited to have just sent some clothes off to California for Hayden Christensen for his new film #Battlecreek !"
Battlecreek directed by Alison Eastwood, written by Anthea Anka and is produced by Maindiner Entertainment with Alison Eastwood, Joe Mundo, Tommy Alastra and Speakeasy Films.

November 24, 2011 - Happy Thanksgiving from Hayden Christensen Fan News - In spite of all the ups and downs of the past year, today is the day to think about things for which we are grateful. Thanks to all who visit and support and help out HCFN in any way. I am very grateful for you. Wishing you and all your families a happy and blessed holiday season.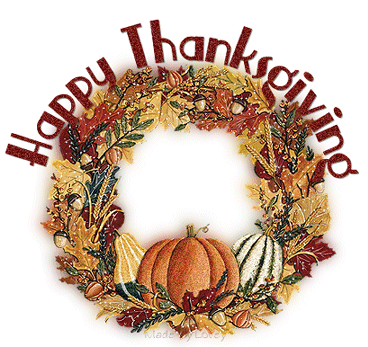 November 20, 2011 - Hayden Christensen at SAP Face-Off with Pete Sampras and Milos Raonic in Toronto - The Air Canada Centre was host to the SAP Face-off Hero vs. Prodigy on Thursday, November 17th featuring 14 time Grand Slam tennis champion Pete Sampras and Canadian rising star Milos Raonic. It was the fist time for a tennis event of any kind in the ACC in Toronto.
Before the big match-up of the night, the crowd was treated to a celebrity doubles match that included actor Hayden Christensen, ET news anchor Rick Campanelli and former NHL player Brad May. Canadian women's tennis players Aleksandra Wosniak and Genie Bouchard were also on hand for the fun.
On the court, Hayden and Pete Sampras paired up against Milos Raonic and Aleksandra Wosniak for a doubles exhibition match . The crowd knew the Darth Vader actor was good at swinging a lightsaber but most were surprised at how adept Hayden (a former junior tennis player) was at also swinging a tennis racket. Hayden paused with a big smiled before one of his serves to acknowledge a fan in the audience who shouted, "Hayden! Use the Force!".
Click for Larger Image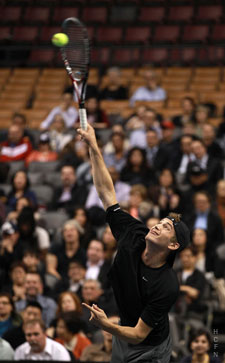 Click for Larger Image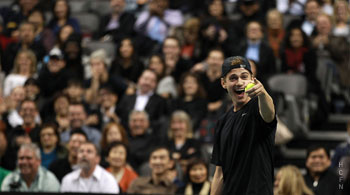 Every friendly tennis exhibition needs a little handicap so the mixed doubles players tried some handholding tennis during a serve and follow-up point. Hayden tossed the ball for partner Aleksandra's serve while holding hands and still holding hands Hayden went along for the ride on the point after. Meanwhile, Milos and Genie Bouchard ducked and showed their backsides in case there were any wild serves from Hayden and Aleksandra.
Click for Larger Image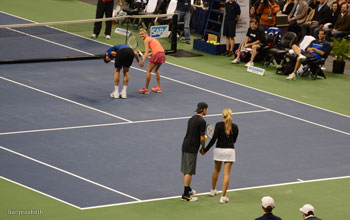 Click for Larger Image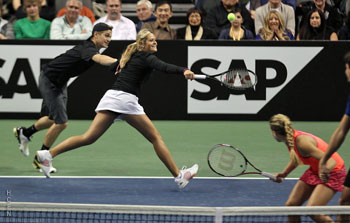 It was all good though as Aleksandra commented from her twitter later:
Aleksandra Wozniak - @haydenfannews @cjoanporter LOL he did good, the toss was perfect for my serve :) November 17.
Aleksandra Wozniak - @milosraonic Thanks for playing last night :) That was funny, you guys playing buttsup @ the net while I tried to serve w/ Hayden! November 18.
Click the picture below for a video interview of Hayden talking to City TV courtside:
Click for VIDEO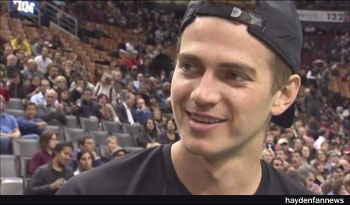 November 17, 2011 - Hayden Christensen Fun for All Tennis Night in Toronto - Judging by all the tweets from everyone who attended tonight's celebrity doubles match, a good time was had by all. Hayden's face was lit by a megawatt smile as he celebrated during the match. The fans agree. Hayden played some very good tennis and played a good net game in the doubles match where he was paired with tennis great Pete Sampras. Across the court were also crowd favorites Milos Raonic and Alexandra Wozniak.
Be sure to check out Hayden Fan News on Twitter for all the retweets and photos from people who were at the match.
Click for Larger Image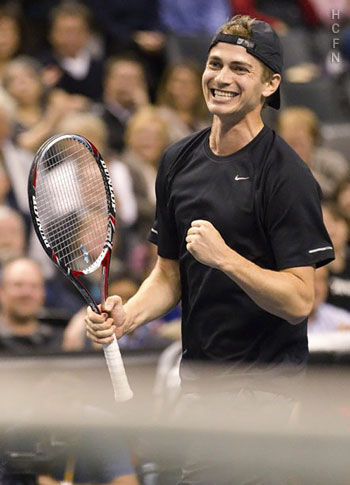 Click for Larger Image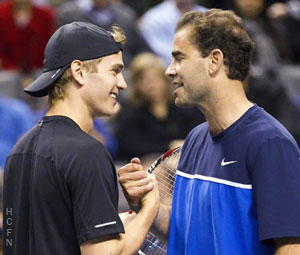 Click for Larger Image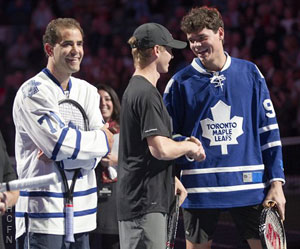 November 17, 2011 - Hayden Christensen Fan Photo - Danielle shared a picture of her with Hayden on her Twitter page. We wish Hayden the best of luck in his match tonight as part of the Face-Off and celebrity doubles matches at the Air Canada Centre in Toronto, featuring Pete Sampras and Milos Raonic.
Click for Larger Image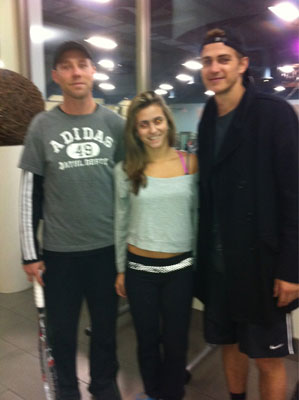 November 15, 2011 - Hayden Christensen has Game - Milos Raonic plans on bringing his game and he expects Hayden will do the same at this Thursdays Sampras vs. Raonic Face-Off in the scheduled celebrity doubles match where Hayden will be part of team Sampras. It all goes down at the Air Canada Centre Thursday night at 7:00 pm.
Raonic sizes up star-powered night (READ MORE...)
Milos Raonic refused to trash talk his idol, Pete Sampras, ahead of their exhibition match Thursday night at the Air Canada Centre. But Hayden Christensen was another matter.
The man who played Luke Skywalker's father in the most recent Star Wars saga is said to have game and will compete with Sampras against Raonic in a celebrity doubles match.
"Maybe I'll go on court with a lightsaber," a laughing Raonic said before practising at the Toronto Lawn Tennis Club Tuesday afternoon.
INTERVIEW
The Star: What about Christensen?
Milos: "I don't know him personally, but he used to play tennis quite often and I heard he's decent. Plus, he's from Thornhill, so he must have some game."
The Star: Will Christensen's experience with a lightsaber give him an advantage on the court?
Milos: "Maybe. I think it takes a lot longer to master a lightsaber than it does to master a tennis racket. But I'm pretty confident in the force of my serve."
Click for Larger Image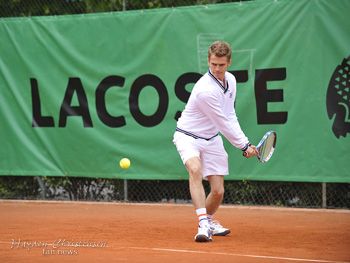 November 15, 2011 - Hayden Christensen Autograph Session - A special autograph session has been scheduled for 6:15 pm Thursday at the Air Canada Centre as part of SAP's Face-Off with Pete Sampras vs Milos Raonic and celebrity mixed doubles. Check out Tickemasters for more information about this event. Source: City TV
Click for Larger Image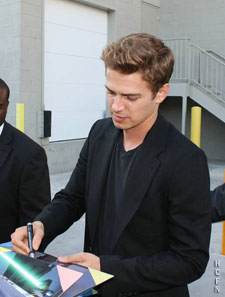 November 9, 2011 - Hayden Christensen joins Team Sampras in SAP Tennis Face-off - Tennis Connected is reporting that Hayden will join Pete Sampras in a celebrity mixed doubles match in Toronto on November 17th. Hayden will be one of many celebrities participating in the event to be hosted by top Canadian tennis star Milos Raonic, a fellow Thornhill native, to be held at the Air Canada Centre. Click the link below for ticket information.
Canadian Actor to compete in Celebrity Doubles portion during the first ever tennis event held at Air Canada Centre coming up Thursday, November 17 (READ MORE...)
"When I first decided to host this tennis event, I wanted to not only feature the best in tennis but also integrate other stars from my hometown of Thornhill," said Raonic, Canada's highest ranked male singles player ever. "Hayden's participation more than accomplishes this and I can't wait to play with him and put on the best show possible for the fans".
"Living in Los Angeles, California I have certainly played tennis with my fair share of famous actors and actresses but it's not often I get to play with one my kids know," said Sampras. "My two young sons can"t believe I am playing with Darth Vader and that he plays tennis".
Click for Larger Image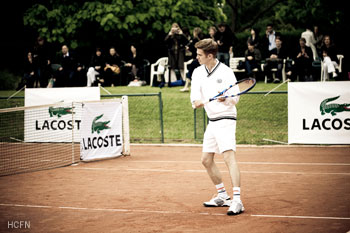 Hayden is no stranger to tennis, having been a ball boy and later on a competitive tennis player with prospects of a college scholarship before choosing an acting career. In 2009, as a representative for Lacoste, he played a friendly match against Mats Wilander during the French Open in Paris.
Click for Larger Image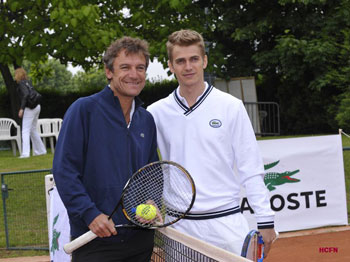 October 2011 Archive