Glacier Films' Cooties to Screen at Sundance
Actor and Spectrevision producer Elijah Wood along with Glacier Films producers Hayden Christensen, Tove Christensen, Sarik Andreasyan, Gevond Andreasyan and Georgy Malkov will be screening their horror film "Cooties" at the upcoming Sundance Film Festival in January. Cooties stars Elija Wood, Rainn Wilson and Alison Pill as teachers confronting preadolescent children transformed into a swarm of cannibalistic little monsters after eating chicken nuggets in the school cafeteria. That's pretty chilling. Right?
The picture below shows teachers coming face to face with one of the little nuggets...er....monsters in the teacher's lounge. From the angle in the picture, however, I'm more afraid of that pointy memo holder on the table. I guess the big reveal will come at the midnight screening of Cooties at the Sundance Film Festival, January 16 - 26 in Park City Utah. Source: Variety.
Click for Larger Image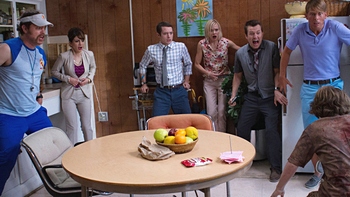 In other production news for Cooties, the Glacier Films and Spectrevision production has been picked up for distribution by Universal Pictures International for key markets in Brazil, Germany and the U.K. The horror comedy was written by fright master Leigh Whannell and "Glee" co-creator Ian Brennan and is directed by Cary Munion and Jonathan Milott. Cooties will be one of the first movies to be seen from Glacier Films production slate. Another Glacier Films production, American Heist starring Hayden Christensen is due for release in 2014. Source: The Hollywood Reporter
New American Heist Poster with Hayden Christensen
Enjoy Entertainment continues to promote American Heist at film events. This time a complete trailer for American Heist was presented at the Moscow International Film Market. Maybe we'll get to see the trailer soon.
American Heist is the story of two brothers, both with troubled paths, who find themselves in the middle of one last bank job. The movie is based on the 1958 Great St. Louis Bank Robbery starring Steve McQueen. American Heist will be released sometime in 2014 and was filmed on location in New Orleans and stars Hayden Christensen, Adrien Brody, Jordana Brewster and Akon.
"The presentation started with a fresh complete trailer "Robbery-up" [American Heist] in which we could see the helicopter crash, funny grimace on Adrien Brody and hear the joke about Yoda from Hayden Christensen. In the presentation dedicated to the third anniversary of the studio Enjoy Movies, flashed pictures of the "infected" [Cooties] - the horror of child killers with Elijah Wood as a school teacher. Producer George Malkov said that the movies could be the opening film of one of the closest major festivals."
Click for Larger Image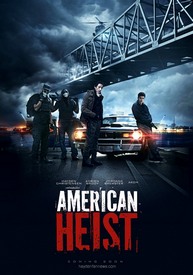 Hayden Christensen Fan News Site Updates
Hayden Christensen Fan News is celebrating 7 years online this month! I hope everyone likes the new layout and design. I compile the latest news with links and write most of the articles myself so you can always catch up here on all the latest details about Hayden's career.
There are some things still under construction and the site will be going through some continuous updating but it shouldn't disrupt the latest news. There is a link to the comment page in each post so feel free to comment on the latest updates.
If there are any problems with the new page displaying properly, please don't hesitate to send me an email. It will help if you send your browser's name and version number too. (Example: Firefox 25, IE 9, Google Chrome 25 etc.)
Hayden Christensen injured but okay during filming of Outcast.
Recent articles in the Chinese media give a little more information about Hayden's injury on location while filming Outcast in China. They were filming a chase scene and Hayden fell from his horse. After several takes of this particular scene, Hayden fell and tore the ACL in his shoulder. The article says that some scenes had to be postponed to film at a later date to accommodate Hayden's recovery. If other information is correct, Hayden may be going back to China in about a month to do re-shoots. Media reports say the film is still expected to be in theaters summer of 2014. That could be just the China release. There is no US release date yet. Source: China Daily
Hayden spoke about his shoulder injury at the launch of his men's collection for RW&Co. He was looking a little stiff and said he should be wearing a sling but went without it for the event. Hayden did go right back to China the next day to continue filming until production wrapped around November 8th. See the video below dated November 1, 2013.
Click for Larger Image


Movie Report - Outcast sells in nearly all international territories.
Hayden Christensen's latest movie project Outcast has sold to most major international markets. In an article on IF.com, Arclight Films looks to solve the problems of foreign co-productions and produce projects with appeal to both Chinese and Western audiences. Gary Hamilton, of Arclight Films, "is confident it will overcome the Chinese co-production hoodoo with Outcast".
The action film shot in China starring Nicolas Cage, Hayden Christensen and Yifei Liu was featured at the recent AFM where Arclight senior VP of sales and acquisitions Clay Epstein presented a clip of from Outcast. The co-production between China, the UK, France and Canada will be released some time in 2014. Source: IF.com
Hayden Christensen - Opening Ceremonies for the start of production on Outcast.
Click for Larger Image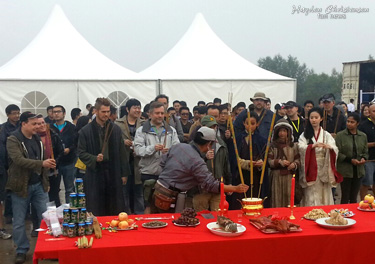 Hayden Christensen for RW&Co interview with TDot TV
Video interview with Hayden Christensen at the RW&Co. launch October 30th. Hayden talks about why he decided to take on the challenge of a fashion collection in collaboration with RW&Co. Did you know Hayden also once had an interest in becoming an architect? VIDEO Link: TDOT TV
Click for Larger Image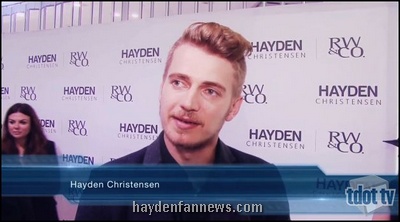 Click for Larger Image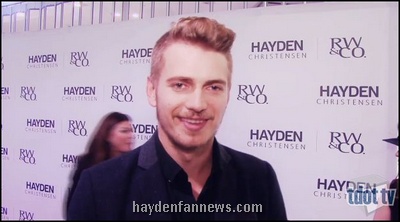 5 Minutes with Hayden Christensen
Flare Magazine did an interview with Hayden at the launch of his RW&CO. collection getting his thoughts on men's fashion and design inspired by time on his farm in Toronto. For more from the interview visit Flare Magazine Online
FLARE: How would you describe your collection?
HC: If I were to describe it, I would say it is clothing that is very accessible and easy to wear. There's a little bit of style where it's unexpected but there's also a modesty about it too-it's not flamboyant style, it's subtle style.
FLARE: What provoked your interest in designing a menswear line?
HC: Generally speaking, I have always had an interest in design. Growing up I thought I would study architecture or something similar, so I've always had an eye for the aesthetic of things. Through my acting, I have had some exposure to the fashion world and I started to think about clothes and design so when RW&Co approached me about the line, it just made sense.
Click for Larger Image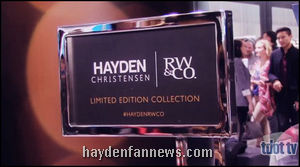 Outcast starring Hayden Christensen sells in most international territories.
As stated previously, Arclight Films had a very good experience at this years AFM. It is now known that Outcast starring Nicolas Cage, Hayden Christensen and Liu Yifei "had been pre-sold to nearly every international territory" according to Arclight senior VP of sales and acquisitions Clay Epstein who presented a clip at AFM. Outcast is scheduled to be released in 2014. Source
Easternlight, the Asia division of Arclight Films, is confident they can solve some of the problems in foreign co-productions faced when trying to find projects that appeal to both Chinese and Western audiences.
Hayden Christensen's Outcast Promoted at AFM
Arclight Films represented sales for Outcast during this months American Film Market recently held in Santa Monica. Outcast wrapped filming in Yunnan Province China on November 8th. Arclight Films scheduled a promotional screening with footage from the unfinished film starring Hayden Christensen, Nicolas Cage and Liu Yifei during the film market that ran from November 6 through November 13, 2013. AFM Info
Aussies buyers fairly active at the AFM - "The market for us was one of the best in years," said [Gary] Hamilton, pointing to sales for Chinese co-production Outcast and Left Behind, an action thriller starring Nic Cage, and "huge interest" in the trailer of the Spierig brothers' time-travelling sci-fi thriller Predestination."
Synopsis: - When the heir of the Imperial Throne becomes the target of assassination by his despised older brother, the young prince's only hope is the protection of his older sister, and the reluctant aid of war-weary Crusaders, Arken (Hayden Christensen) and Gallian (Nicolas Cage) who must overcome their own personal demons, to return the prince to his rightful place on the throne.
Click for Larger Image


Click for Larger Image

News for Outcast starring Hayden Christensen
VARIETY [Nov 10th] - AFM: Movie Business with China - "Chinese buyers are now talking more about the quality of the project than the number of distribution slots," said Gary Hamilton, CEO of production-sales group Arclight Films. "It is really important to them that this is a global project, rather than something niche. The first three questions they ask are: 'Who is in it?' 'Who is distributing in the States' and 'What's the budget?'
"In one significant way things are changing. Many of the Chinese firms here at AFM seem as interested in co-production as they do in outright acquisition," said Ying Ye, Hamilton's partner in Arclight's specialty Asian label, Easternlight."
The Chinese partner is likely to have a say in who gets cast. Arclight/Easternlight already have Nicolas Cage actioner "Outcast" [also with Hayden Christensen] and thriller "The Nest 3D," which is in development, structured as Chinese co-ventures. More: Variety
VARIETY [Nov7th] - Asia Bureau Chief - "Production is now under way in China on "Outcast," a Chinese-themed action movie starring Nicolas Cage. The film, repped at AFM by Easternlight, the Asian label of Arclight Films, is the directorial debut of British stunt director Nick Powell, who has won five Taurus awards for his stunt escapades and was action choreographer on "The Bourne Identity." Locations include several in Beijing, Hebei province and the exotic region of Yunnan."
"Nick Powell's expertise in the world of stunts and martial arts along with his discerning eye are all huge assets to ensuring an authentic and thrilling action film that will resonate with audiences all over the world," said Ying Ye, managing director of Easternlight." More: Variety
Hayden Christensen for RW&CO Fashion Nation TV Interview
Hayden Christensen for RW&CO Kiss 92.5 Headcam Interview
I'm sure a lot of people noticed the guy walking around the RW&Co Launch red carpet wearing a biker helmet. Well, now we can finally see what it was all about. It's called the headcam for 92.5 Kiss FM who did an interview with Hayden from the launch of his clothing line for RW&Co. You'll see in the video below why it's called the head cam.
Hayden Christensen's RW&Co. Interview for Canada AM
Hayden did a video interview for Canada AM. He spoke about becoming a designer and his latest movie project Outcast. He explained why he was looking a little stiff at the launch of his new clothing line and how he injured his shoulder doing a stunt on location in China. Click on the picture below to be taken to the video.
Click for Video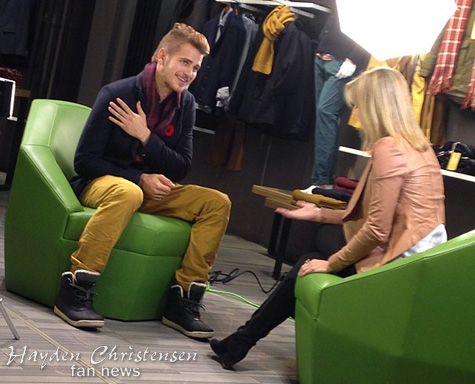 Hayden Christensen for RW&Co. Media
RW&Co. has added a new campaign video featuring Hayden and the new collection on the farm in Toronto.
October 2013