October 30, 2009 - TV Schedule Updates - The TV schedule has been updated including Starz Comedy and Starz Love schedule for Virgin Territory with Hayden and Mischa Barton.
October 30, 2009 - Happy Halloween - Time to get out the lightsaber and do some pumpkin carving. Happy Halloween from Hayden Christensen Fan News. Have fun and be safe.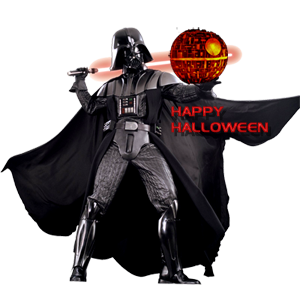 October 30, 2009 - New Takers Production Stills - New extra large production still of Hayden and the Takers' crew (From AllMoviePhoto.com). New Takers photo album added to the gallery.
Takers Stills and Poster Gallery
Click to Enlarge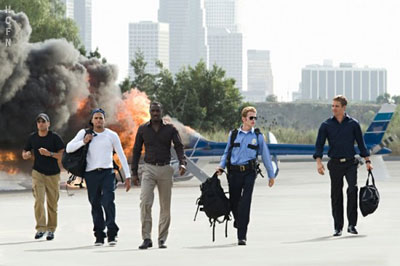 October 29, 2009 - New York I Love You - It's not known how much longer "New York, I Love You" will be in theaters so if it's in a cinema near you try to catch it this weekend. You can visit the official site to find what cities and theaters will be showing it at New York, I Love You the Movie.com
Roger Ebert of the Chicago Sun Times: Sweet, short bites are among slices of Big Apple in "New York, I Love You"
Inevitably, the film is a jumble sale, but you can make some nice discoveries. It's not one of those films where all the separate characters come together at the end in a miraculous coincidence, although a few people do turn up, still as themselves, in one another's segments.
I suspect the title isn't intended as a simple declaration, but should be pronounced in a wondering tone, with a wry shake of the head, as in, "oh, you kid." The film assembles a collection of colorful characters, who find that eight minutes is quite enough to make an impression, as so many New Yorkers would agree.
The very first segment, directed by Jiang Wen and starring Hayden Christensen, Andy Garcia and Rachel Bilson, begins the film with a deft touch worthy of O. Henry, the master of New York short stories. Bilson and Christensen meet in a bar, where he finds a cell phone she left behind. He opens a seductive conversation, interrupted by Garcia as her boyfriend, who immediately reads the other guy. The two of them elevate their confrontation to a level of sly expertise, in a way that is rather remarkable. Read more....
New York, I Love You in theaters now.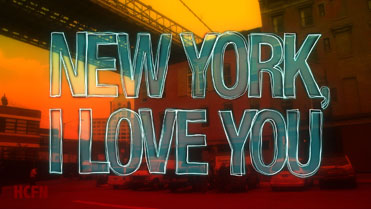 October 29, 2009 - Quantum Quest Screening and Panel - The recent Imagine Science Film Festival on October 20, held a screening of Quantum Quest: A Cassini Space Odyssey which may be a great kids movie but astronomy buffs and scientists alike are thrilled at the the animated film which includes stunning visuals from space by Cassini and other real life NASA missions.
While the film is cute, it's no Pixar triumph, and packs the plot into very few words and very little time. Still, it's characters got to me and I laughed at the jokes. Plus, it did a neat job of working some real science into a story of this kind (for example, the neutrino Reina can escape from the enemy because none of the fundamental forces affect her much). It did boast an unbelievable cast, which included two Captain Kirks (William Shatner and Chris Pine) and two Darth Vaders (James Earl Jones and Hayden Christensen). It also included Jason Alexander, Sandra Oh, Abigail Breslin, Amanda Peet, Mark Hamill, Samuel L. Jackson, and others. Oh yeah, and Neil Armstrong. Read more...
Quantum Quest is planned for wide release in February 2010.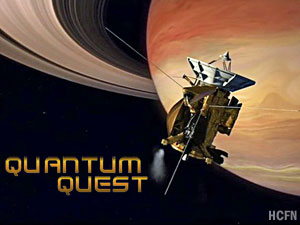 October 28, 2009 - John Leguizamo On Vanishing on 7th Street - John Leguizamo is on the movie set in Detroit along with Hayden and Thandie Newton. Jesse Averna (Droid) director, editor from Plum Pictures tweets about the movie too.
From Twitter:
John Leguizamo - "got depressing scene to shoot today 3 pages lots to learnabout" - 2 hours ago from mobile web - JohnLeguizamo
John Leguizamo - "started movie in detroit. Vanishing. hayden christansenn is actually really good + thandie newtonis really hot. dont worry wifey. i spoken 4" - about 2 hours ago from mobile web - JohnLeguizamo
Dr0id - 'Vanishing on 7th Street' is looking AMAZING! - about 20 hours ago from Echofon - Dr0id
October 27, 2009 - New York, I Love You Expands Release - More cities have been added to the release of New York, I Love You. Emmanuel Benbihy announced on his Cities of Love Twitter that New York, I Love You' will be released Friday in 7 more U.S. cities; Austin, Denver, Detroit, Houston, Minneapolis, Portland and St. Louis. Most critics agree that even if you don't like every short, the movie as a whole is worth the price of a ticket. If you're lucky enough to be near a theater showing NYILY make a date this weekend to go and see the movie.
Hayden plays Ben a street smart pickpocket who falls for a beautiful girl played by Rachel Bilson and maybe meets his match when her boyfriend played by Andy Garcia shows up.
Click to Enlarge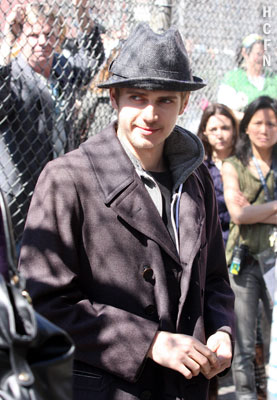 October 26, 2009 - Autographed Lightsaber benefits Children's Hospice - Samuel L. Jackson, Liam Neeson, and Ewan McGregor and Star Wars creator George Lucas and stunt coordinator/swordmaster Nick Gillard have all signed a Master Replicas Luke Skywalker lightsaber to be auctioned on Ebay. The autographed and highly prized collectible is being auctioned to benefit the Northern Ireland Children's Hospice. A signed quad sheet poster for the movie Jumper, autographed by Hayden Christensen, Jamie Bell and Rachel Bilson is also being auctioned with monies going to support Children's Hospice. The auction ends November 05, 2009 - 04:27:22 PST. Star Wars Official site...read all...
Click to go to Charity Auction on Ebay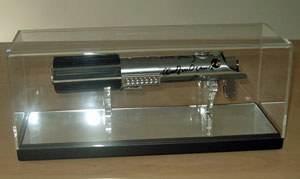 October 24, 2009 - Latest Takers News - Summing up the links and information for Takers. Hayden stars in Takers with Idris Elba, Matt Dillon, Paul Walker, Michael Ealy and Zoe Saldana in theaters February 26, 2010.
SYNOPSIS: TAKERS, directed by John Luessenhop, revolves around a notorious group of criminals (Idris Elba, Paul Walker, T.I., Chris Brown, Hayden Christensen and Michael Ealy) who continue to baffle police by pulling off perfectly executed bank robberies. They are in and out like clockwork, leaving no evidence behind and laying low in between heists. But when they attempt to pull off one last job with more money at stake than ever before, the crew may find their plans interrupted by a hardened detective (Matt Dillon) who is hell-bent on solving the case.
LINKS:
Official Movie Site
Takers on Facebook
ESTIMATED RELEASE DATES:
US - 26 February 2010
UK - 12 March 2010
Argentina - 15 April 2010
Germany - 15 April 2010
Sweden - 23 April 2010
Belgium - 5 May 2010
Netherlands - 6 May 2010
Bulgaria - 5 March 2010
Romania 26 March 2010
Czech Republic - 11 March 2010
Germany - 15 April 2010
Click to Enlarge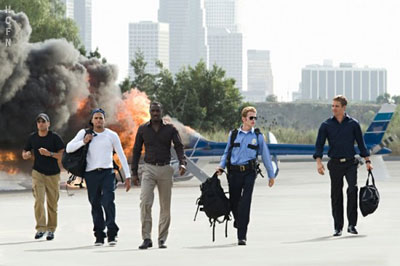 October 22, 2009 - News from the Set - Vanishing on 7th Street - So what does Hayden do while waiting for the call to action on the set? According to Jil Szewski on Twitter he passes the time playing FIFA with the crew.
TWITTER - JiLOnSet - "too tired to cheer on a FIFA match between our 2nd AD and Hayden Christensen" 6:30 PM Oct 22nd from web
October 22, 2009 - Hayden's Jeans Contest - If you are a fan of Hayden's fashion looks you can go to Just Jared for a chance to win a pair of Paige Premium Denim Jeans like the ones Hayden has worn in the last few weeks.
Visit Just Jared to find out how to enter...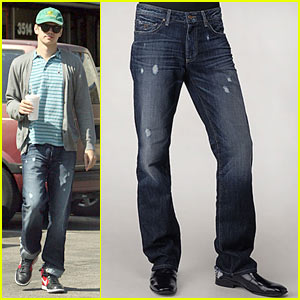 October 21, 2009 - Hayden in Glamour Top 30 Sexiest Under 30 - Hayden joins an impressive range of actors including most of the Twilight cast, Gossip Girl cast, Megan Fox, Jake Gyllenhaal, Shia Labeouf, Scarlett Johansson and others in Glamour Magazine UK's top 30 Sexiest under 30. Glamour UK Magazine
30. Name: Hayden Christensen - Born 1981
Why They're Sexy: We had a crush on Hayden as soon as he hit screens as the good-gone-bad-Jedi in Star Wars, Since then he's wiggled his way onto the A-list in many a leading man spot - and off screen he's had quite a string of beauties....
Click to Enlarge

October 21, 2009 - Vanishing on 7th Street Production - According to a Detroit Free Press article, the Michigan Film Office confirms that Vanishing on Seventh Street will be filming in Detroit and the surrounding area until November 17th. The Brad Anderson directed movie is set in a once thriving city where it's residents suddenly disappear. The movie also stars Thandie Newton and John Leguizamo. Source
"Christensen in the D - The Hayden Christensen film "Vanishing on Seventh Street" will be shooting in and around Detroit through Nov. 17, the Michigan Film Office confirmed with the Free Press on Tuesday."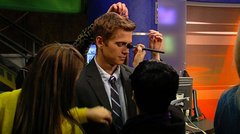 October 20, 2009 - Quantum Quest Screening - There will be a screening of the animated film Quantum Quest October 21 at Cuny Graduate Center in Manhattan. Hayden voiced the character of Jammer in the feature which comes to IMAX and theaters early next year. Quantum Quest uses real life images from space and will be part of an educational program for grade school students in the U.S. to forster interest in space exploration and science.
Screening details below and for more info visit Imagine Science Films
FILM SCREENING and PANEL DISCUSSION
October 21, 2009 at 7PM
CUNY Graduate Center // Manhattan
Proshansky Auditorium, 365 5th Ave, New York, NY 10016 - MAP
RSVP REQUIRED
Presented by: National Academy of Sciences/The Science and Entertainment Exchange, the CUNY Science and Arts Program and Imagine Science Films
Event Details: Quantum Quest: A Cassini Space Odyssey (2009), the long-awaited animated film by Director, Writer and Producer Dr. Harry Kloor, will be shown on October 21st at the CUNY Graduate Center. The screening will be followed by a PANEL DISCUSSION and RECEPTION immediately after. Dr. Kloor will be in attendance.
Due to a limited seating capacity, reservations are required for this event. Click the e-VENTS online reservation icon on the CUNY website to RSVP, or call 212-817-8215. Unclaimed reservations will be released to a standby line at the event on a first-come, first-served basis.

October 20, 2009 - Vanishing on 7th Street - Dave LewAllen has posted more behind the scenes on set photos of Hayden. More on Dave LewAllen's Facebook
Click to Enlarge and more in the HCFN Album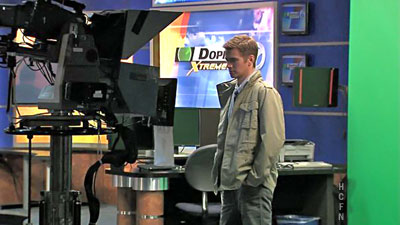 October 20, 2009 - Vanishing on 7th Street - Some of cast have been tweeting and posting bits of news to facebook on the filming of Hayden Christensen's new movie "Vanishing on Seventh Street". Young cast member Taylor Groothuis has met Hayden and is about to begin shooting her scenes. Director Brad Anderson has taken over Chanel 7 News for a few days and the high tech television station has been transformed into an eerie ghost station because everyone has disappeared...except Hayden. He's left behind trying to figure out where everyone has gone.
From Chanel 7 News WXYZ: BROADCAST HOUSE (WXYZ) - We have your front row seat to a big movie shoot right here at Channel 7. Here's a behind-the-scenes look at Vanishing on 7th Street, starring Hayden Christensen and WXYZ-TV!
Good morning, Hollywood! This is Action News like you've never seen it. At 4:30 a.m. Sunday, a crew of 75 took over Broadcast House with trucks, high-tech cameras, cables, lights, fog machines, and one famous face.
The star of the movie is Hayden Christensen, best known for his role as Anakin Skywalker in the Star Wars movies. Now he's a reporter in the movie Vanishing on 7th Street. The film is being shot in Detroit, and all the newsroom scenes are at Channel 7.
"It's a bit of a dark paranoid thriller," said Brad Anderson, the movie's director. "One night all the lights go out and there's a big blackout in a big American city, and when the lights come on moments later 99 percent of the people have simply vanished."
October 20, 2009 - New York, I Love You - The reviews are in and mixed but New York, I Love You will be in theaters for awhile. Ben Lyons on The Daily 10 recommends it saying, "It's a great date movie". The clips showing up on the net with Hayden, Rachel and Andy have a bit of comedy and a bit of dramedy and makes me want to see it all the more. The film's score sets a comical mood as Hayden's character spots a beautiful girl and follows her into a Tribeca bar.
You can find another clip here which I'm sure will also be on YouTube soon enough: New York Love Blog
I've added another NYILY photo album called "In the Scene". I'll be adding more soon.
Click to go to NYILY Album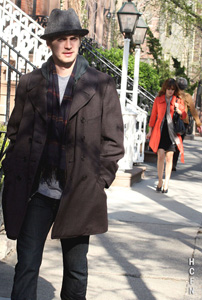 October 19, 2009 - NYILY Video Clip - One more clip from the short "Steal Your Heart" with Hayden and Rachel part of the movie "New York I Love You". Also, word from NYILU on Twitter that they are looking to expand to more theaters soon. Hopefully, every state will have at least one theater showing the movie. The new video clip is below. More clips from the movie at New York Love.co.kr
October 17, 2009 - New York, I Love You on Making Of - "Making Of", the movie portal website co-founded by Natalie Portman features all the clips from NYILY including the short featuring Hayden, Rachel and Andy.
About 'Making Of': Co-Founded by Natalie Portman, a behind the scenes Web portal that provides an intimate, fresh look into the process of making a film by the insiders themselves.
Click to go to Making Of NYILY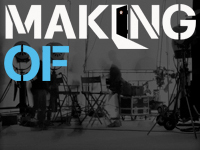 October 17, 2009 - Quantum Quest News - Quantum Quest the movie is now on YouTube and have added the trailer. Hayden is the voice of Jammer a solar wind surfing proton who helps a photon named Dave, voiced by Chris Pine, find his way through the solar system.
Click for Official QQ Movie Site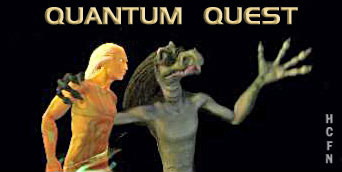 October 17, 2009 - New York, I Love You in Theaters - You can catch NYILY now in theaters in these cities across the U.S.: New York, Los Angeles, San Diego, San Francisco, Dallas, Philadelphia, Boston, Seattle, Chicago, Washington D.C., Phoenix, Atlanta, Miami.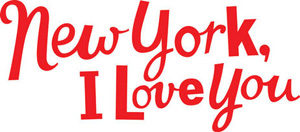 October 14, 2009 - Hayden's Love Interest - Only in the movie of course.More news about filming comes to us today from Detroit's Channel 7 Action News as they reveal some cast details and provide some video from the set of 'Vanishing on 7th Street'. WXYZ in Detroit will provide a number of cameos in 'Vanishing on Seventh Street' including real life reporter Erin Nicole who will be Hayden's love interest in the story in which a news crew covers strange disappearances in and around the city. A number of WXYZ news crew were there for news team photos with Hayden who plays Luke, a field reporter. What I want to know is, how long will Hayden stay neat and tidy in that suit before the horror/suspense begins. Enjoy the video and slideshow below from WXYZ. More about the story at Channel 7 WXYZ and the main story here.
October 14, 2009 - Hayden's Prime Time - Hayden looks like he's ready to take over as a prime time news anchor on the set of Vanishing on Seventh Street. Dave LewAllen posted more pictures to his Facebook album. See if you can spot Tove on set too. If you don't have a Facebook account, now would be good reason to sign up so you don't miss anything.
Click to Enlarge


And More from Twitter
Stephen Clark - Twitter @TomLeyden Hayden Christensen joins Action News Team PHOTO about 3 hours ago from TweetDeck - sclarkwxyz
October 14, 2009 - More Vanishing on Seventh Street - Dave LewAllen also posted to Facebook a little behind the scenes about script rewrites. I've read that Brad Anderson is a director who is always pushing the story direction and character development. Sounds like he is the kind of director Hayden or any actor would enjoy working with. Dave's Facebook was down yesterday so this post is actually from Tuesday.
Dave LewAllen's Facebook - OK, so now I'm really nervous... My scene for the movie, "Vanishing On Seventh Street" is being filmed tomorrow night at Channel 7--and today an almost entirely new script page was emailed over to me. It's much more involved than ...the original script. Yikes! It's been cram city tonight.
October 14, 2009 - Hayden On Location - Hayden was unable to be in NYC for the NYILY premiere. He had his mind on other things today. He was busy on the set of his new movie "Vanishing on Seventh Street". The Brad Anderson helmed film officially opened production on Monday in Detroit.
Thanks to anchor man Dave LewAllen from WXYZ in Detroit we have a couple of pictures from the set where you can see Hayden in the background. Today was Dave's big day as he made his movie debut having a role as reporter in the movie.
Hayden also plays reporter in the movie and according to Dave, Hayden's character's name is Luke. (I'm tempted to make a Star Wars comment here but I'll refrain. LOL) Good luck Hayden! Wishing you all the best on your new project.
Dave LewAllen's Facebook - "VANISHING ON SEVENTH STREET" Waiting and watching in the Channel 7 studio as the crew prepares for a shoot with the "news team," including Hayden Christensen. Hayden is one of the stars of the movie. He plays "Luke." who is a reporter.
Dave LewAllen's Facebook - "VANISHING ON SEVENTH STREET" As Tom Leyden gets a final touch-up from make-up, "Vanishing on Seventh Street" star Hayden Christensen waits for a "news team" photo with Erin Nicole, Carolyn Clifford and Stephen Clark. Filming for the movie started tonight in the Channel 7 studio.
Vanishing on 7th Street - Set Pics added to Gallery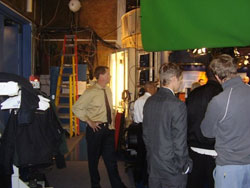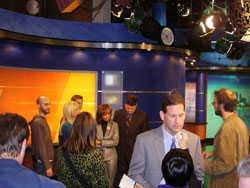 October 14, 2009 - Hayden Flies North - And from the looks of it to somewhere cold. Temperatures will be high 45 F in Detroit, a pleasant 54 F in NYC and 45 F in Toronto so maybe a parka is a good idea at night. I'm waiting for those Canadian snow geese flying south for winter to fly over any day now. But I digress. Pics of Hayden leaving from LAX in the album and extra large pics below.
Click to go to HCFN Gallery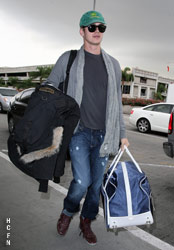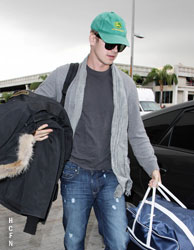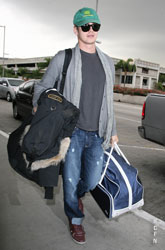 October 13, 2009 - New York, I Love You - Premiere event will be held in New York City tomorrow evening at 6:30 p.m. ET.

October 13, 2009 - Rachel Bilson on Bonnie Hunt Show - Maybe we'll get to see another clip of Hayden in "New York, I Love You" when Rachel makes an appearance on the Bonnie Hunt Show on Wednesday. Check your local listing for times. The show is syndicated which means times vary in different areas of the country. I get it here at 10:00 a.m.
Rachel was seen going to a Culver City Studio on Monday and that's where the show tapes so maybe Rachel has already filmed her appearance for tomorrow.

October 11, 2009 - Happy Canadian Thanksgiving - Canada celebrates Thanksgiving tomorrow. Wishing Hayden and his family and all our Canadian friends a very happy celebration and hope you all had a wonderful extended holiday weekend.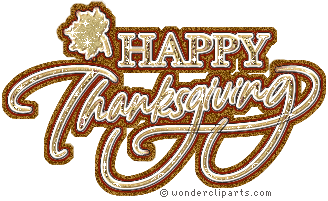 October 11, 2009 - STAR WARS MONDAY - Star Wars all day long on SPIKE TV starting at 7:00 a.m. ET with Star Wars Episode 2: Attack of the Clones. Wake up to Hayden as Anakin Skywalker in Star Wars.
October 11, 2009 - New York, I Love You The premiere for New York I Love You is set for this week. NYILU posted on Twitter about the event.
NY, ILY premiere next Wednesday.... Where else, but NYC! And t-minus 1 week until we release!~2:41 PM Oct 9th from web - nyilu
October 11, 2009 - Vanishing on Seventh Street - According to some of reports posted recently 'Vanishing on 7th Street' may begin filming on Monday, October 12. There have been some postings on Twitter and Facebook in the last few days about extras and cast making their way to Detroit for filming.
Taylor Groothuis - New cast member (Twitter) - Last day in LA for a while. Back to Detroit to finish one movie and start another, w/Hayden Christensen! Back to LA after tho! - 6:47 AM Oct 9th from mobile web - taylorkg (Taylor Groothuis)
Dave LewAllen - WXYZ (Facebook) "VANISHING ON SEVENTH STREET" I was handed the script today for "Vanishing On Seventh Street." Can't give away any trade secrets, so don't ask! Also met with Danielle and Hillary on wardrobe selections for my role as a... tv news reporter! Shooting on the film begins here next week. Should be a great time and cool experience! 9:11 PM Oct 8th from Facebook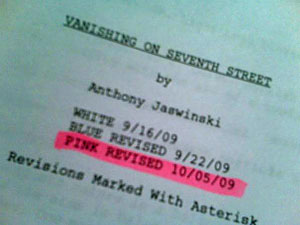 October 7, 2009 - NYILY Clips - I've put together the two clips of Hayden in the segment "Steal Your Heart" from the movie "New York, I Love You". Enjoy.
October 7, 2009 - NYILY Contests and Screenings - Check out these websites for information about passes to advanced screenings.
New York Observer
Complimentary Pass for Two
Date: Wednesday, October 14th, Time: 7pm
Location: Downtown
Open to U.S. residents 13 years of age or older at the time of entry. Sweepstakes begins at midnight EST on October 7th 2009 and ends at midnight EST on October 12th 2009. Limit: One (1) entry per person.
Film Metro
NEW YORK, I LOVE YOU Movie Screening
Phoenix, AZ
Film Metro is dedicated to providing information and tickets to advance screenings. Tickets for this screening are available for registered Film Metro members. Membership is free and is quick to complete. To become a member of Film Metro, please register now.
October 7, 2009 - New York, I Love You NYC Premiere - From Jesse Csincsak's blog - "NEW YORK, I LOVE YOU film Premiere in NYC Oct 14th - NEW YORK, I LOVE YOU film Premiere at the Ziegfeld Theatre with the After Party held at GreenHouse in NYC Oct 14th 2009."
October 7, 2009 - NYILY iTunes Podcasts - NYILY on Facebook has posted an update to it's iTunes podcast site. You can also watch the podcasts on YouTube.
(Facebook) "New York, I Love You - The third 'New York, I Love You: Meet The Filmmakers' Podcast is now available for download on iTunes! This week you can hear Josh Marston, director of the award winning independent hit, Maria, Full Of Grace, talk about the creative process ...and inspiration that led to his endearing look at everlasting love in the film New York, I Love."
New York, I Love You - (Twitter) AND our brand spankin new Itunes page is up filled with podcasts and exclusive content! www.itunes.com/nyiloveyou!!about 9 hours ago from web nyilu.
October 6, 2009 - Vanishing on 7th Street crew readies for Detroit - John Leguizamo posted to Twitter about the upcoming movie.
John Leguizamo - (Twitter) hayden christiansen + me + thandie newton gonna start movie in detroit this month. off the radar 4:47 PM Oct 6th from mobile web
October 6, 2009 - HCFN Site Update New York, I Love You movie information page has been added to the site. Please visit and if you have suggestions let me know via the comments page. I will be adding more NYILY links and pictures to the gallery soon.
Click to go to HCFN NYILY Movie Page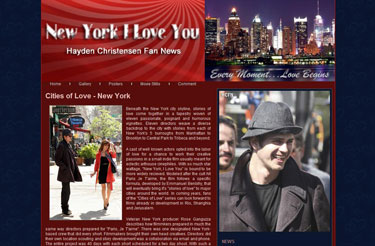 October 6, 2009 - Takers on Apple Movie Trailers - Hayden looks good in blue dressed as a cop in the small poster on the Apple trailer page. See below. The trailer is available in various sizes and formats. Hayden on your computer screen in small, medium and HD!
Click to go to Takers Trailer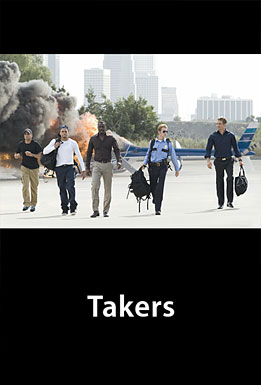 October 5, 2009 - Win passes to 'New York, I Love You' - Early screenings of NYILY are scheduled in Chicago and Atlanta on Tuesday, October 13, 2009. You can sign up to win free passes in those cities at the links below. I can't guarantee the information on these sites is legit so check it out first.
October 4, 2009 - 'New York, I Love You' Reviews - There aren't many advanced reviews yet for 'New York, I Love You' but of the few there is a common criticism. Though the individual stories are appealing enough, the movie as a whole lacks punch or a certain spark. Still, most think audiences will find something to like about NYILY.
Here's what one reviewer had to say about the movie and the segement 'Steal Your Heart' with Hayden, Rachel and Andy. Though he finds problems with the movie as a whole, the more he describes the segments the more curious I am to see the movie myself.
"Of the eleven short stories, the most interesting as well as the one that would most appeal to a broad audience, finds New Yorkers in a brief exchange, a battle of wits, a parable of the saying that there is honesty among thieves. As directed by Jiang Wen, a man (Hayden Christensen) chats up a woman (Rachel Bilson) in a bar, pretending that he found her pickpocketed cigarette lighter in the lavatory. When the woman's boyfriend (Andy Garcia) arrives, acting playfully with the thief as though not at all threatened by the latter's hitting on his mistress, there is a mutual exchange of skills that could set the tone for the rest of the evening's stories, but fails to do so. Most of what follows is filled with bland dialogue among badly-lit scenes but indoors and outside." Read all...
October 4, 2009 - New in Brief - From around the world wide web.
October 2, 2009 - What's Hot, Green, And Ripped All Over?
#2. Hayden Christensen: Organic Vegetable Gardener - Hayden Christensen, otherwise known as Anakin Skywalker (Darth Vader) in the Star Wars prequel trilogy, and one of People magazine's 50 Most Beautiful People, isn't just an actor: His modeling days date back to Louis Vuitton's Spring/Summer 2005 ad campaign. When Hayden's not posing or acting, he's working away on his 200-acre farm...outside Toronto in his native Canada...growing organic produce. Christensen also ran a public service announcement for Do Something, a non profit youth organization that inspires young people to change the world. The organization has initiatives for the environment, disaster relief, poverty, and more. Source
October 2, 2009 - Takers...who's with me? - I'm sorry, but sign me up for this one. Takers will be released in February, and I dunno why, but this trailer has me sold for seeing it in theaters. Who knew Paul Walker and Hayden Christensen were two different people? Who knew the husband from Obsessed was British? Who knew Chris Brown could jump through a square-foot-sized window? (Besides the LAPD) Who knew T.I.'s first name was "Tip"? This movie looks like a thick slice of popcorn action, and pulpy fun. I have a feeling that after the cold onslaught of the Sundance Film Festival in late January, Takers will be exactly what the doctor orders... Source
September 30, 2009 - Meet the new crop of Canucks stealing hearts -- and parts -- in Hollywood. - Canadian actors have never been strangers to the bright lights of Hollywood. And a new crop of Generation Y actors are continuing the trend. CTV.ca counts down the top ten Canadian Generation Y actors who are stealing hearts - and parts - in Hollywood. Source
Rising star: Hayden Christensen
Age: 28
Hometown: Thornhill, Ont.
Small start: A role on the soap opera 'Family Passions' at the age of 12.
Big break: Landing the role of Anakin Skywalker for the new 'Star Wars' franchise.
What's next: Christensen is set to star in at least three 2010 films, including 'Takers', 'Quantum Quest' and 'Vanishing on Seventh Street'.
October 2, 2009 - Extra Large NYILY Screen Cap - This is the full screen screencap of the Spanish website featuring Hayden.
Click to Englare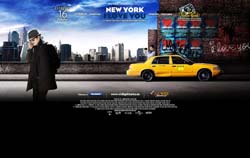 October 2, 2009 - New York, I Love You Officials - The Russian international poster for NYILY has been added to the gallery. Click the screencap below to go to the official Russian website which has a trailer and synopsis up. Click the screencap for Spain's Official NYILY website which is full of new and unique content. Visit the photo album for large screencaps with Hayden.
Click for Russian NYILY Site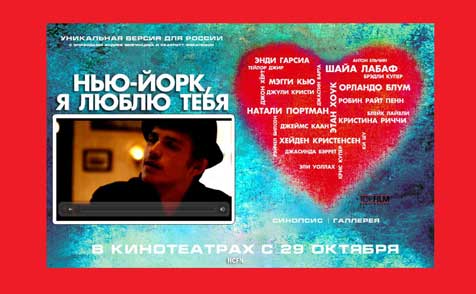 Click for Spain's NYILY Site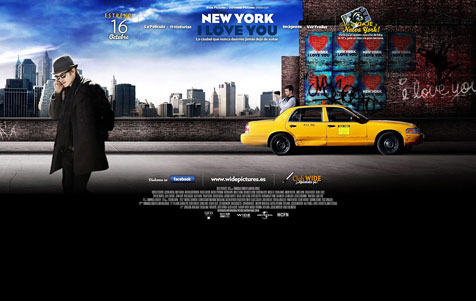 NYILY Russia and Spain - Large Screencaps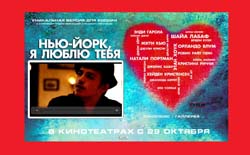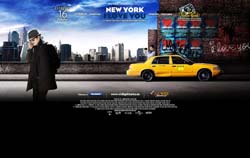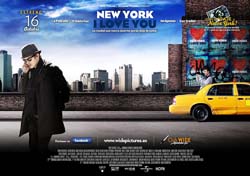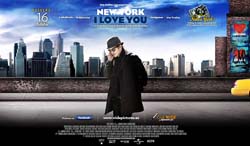 October 1, 2009 - Vanishing on 7th Street Production - Pre-production continues on Hayden's next project with casting of extras and other speaking roles. IMDB has added one security guard role played by Arthur Cartwright. Emmy award winning reporter Dave LewAllen for Detroit's top-rated WXYZ-TV will have a small part in the film as well. WXYZ News
"What a thrill! I got word following an audition yesterday that I was being cast in a major motion picture to be shot this month in Detroit. The film is 'Vanishing on Seventh Street', directed by Brad Anderson, whose previous credits include 'Session 9'. 'The Machinist', and 'Transsiberian'. The story is set in a once-thriving city where shadowy forms cause residents to inexplicably disappear. Five survivors fight to stay alive while grappling with the meaning of existence.
Hayden Christensen has signed to star, along with John Leguizamo and Thandie Newton. I was selected to play (of all things) a TV news reporter. This is an exciting first for me; hopefully my few lines don't wind up on the cutting room floor!
My Action News colleague, Diana Lewis, gained a measure of fame with her role in the first 'Rocky', and Bill Bonds appeared in the 'Escape from the Planet of the Apes', from 1971. Shooting for 'Vanishing on Seventh Street' is set to begin mid-October in Detroit."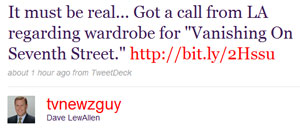 October 1, 2009 - Rachel Bilson on Craig Ferguson - Rachel is scheduled for a guest appearance on The Late Late Show with Craig Ferguson on October 7th. Just a guess, but I think New York, I Love You might be mentioned and hopefully they'll show a clip of the short with Hayden, Rachel and Andy.