Cities of Love - New York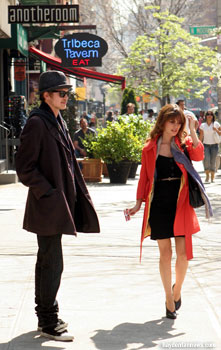 Beneath the New York city skyline, stories of love come together in a tapestry woven of eleven passionate, poignant and humorous vignettes. Eleven directors weave a diverse backdrop to the city with stories from each of New York's 5 burroughs from Manhattan to Brooklyn to Central Park to Tribeca and beyond.
A cast of well known actors opted into the labor of love for a chance to work their creative passions in a small indie film usually meant for eclectic arthouse cinephiles. With so much star wattage, "New York, I Love You" is bound to be more widely recieved. Modeled after the cult hit Paris Je T'aime, the film follows a specific formula, developed by Emmanuel Benbihy, that will eventually bring it's "stories of love" to major cities around the world. In coming years, fans of the "Cities of Love" series can look forward to films already in development in Rio, Shanghai and Jerusalem.
Veteran New York producer Rose Ganguzza describes how filmmakers prepared in much the same way directors prepared for "Paris, Je T'aime". There was one designated New York-based crew that did every short. Filmmakers brought their own head creatives. Directors did their own location scouting. Story development was a collaboration via email and phone. The entire project was 40 days with each short scheduled for a two day shoot. With such a schedule and formula for filming, production was tight. It's a credit to a good production team that all sides came together successfully on a film that is so creatively challenging and sure to be a satisfying experience for the audience.
Steal Your Heart
Short Synopsis - Ben is a pickpocket (played by Hayden Christensen, 'Star Wars', 'Jumper') who discovers the picture of a beautiful girl (Molly played by Rachel Bilson, 'Jumper', 'The Last Kiss') in the wallet of one of his marks. He soon finds himself stalking her and plotting to steal her heart from the object of her affections (Garry played by Andy Garcia, 'The Godfather III', 'Oceans Thirteen').
| | | |
| --- | --- | --- |
| Bradley Cooper, Justin Bartha, Andy Garcia, Hayden Christensen, Rachel Bilson, Natalie Portman, Irrfan Khan, Emilie Ohana, Orlando Bloom, Christina Ricci, Maggie Q, Ethan Hawke, Anton Yelchin, James Caan, Olivia Thirlby, Blake Lively, Drea De Matteo, Julie Christie, John Hurt, Shia LaBeouf, Ugur Yucel, Taylor Geare, Carlos Acosta, Jacinda Barrett, Shu Qi, Burt Young, Chris Cooper, Robin Wright Penn, Eva Amurri, Eli Wallach, Cloris Leachman | Jiang Wen, Mira Nair, Shunji Iwai, Yvan Attal, Brett Ratner, Faith Akin, Allen Hughes, Shekhar Kapur, Natalie Portman, Joshua Marston, Randy Balsmeyer, Scarlett Johansson (DVD extra) | Vivendi Entertainment, Ever So Close, Plum Pictures, Benaroya Pictures, Visitor Pictures |
Trailer
Movie Synopsis - In the city that never sleeps, love is always on the mind. Those passions come to life in NEW YORK, I LOVE YOU - a collaboration of storytelling from some of today's most imaginative filmmakers and featuring an all-star cast. Together they create a kaleidoscope of the spontaneous, surprising, electrifying human connections that pump the city's heartbeat. Sexy, funny, haunting and revealing encounters unfold beneath the Manhattan skyline. From Tribeca to Central Park to Brooklyn, the story weaves a tale of love as diverse as the very fabric of New York itself. Starring Natalie Portman, Orlando Bloom, Shia LaBeouf, Kevin Bacon, Robin Wright Penn and more.
Skip to 1:53 on video counter
Reviews
New York, I Love You, one of the most anticipated movies of 2009, debuts in theaters October 16, 2009. Read what people have to say about the film.
Jeffrey Lyons (KNBC): "Adorable, poignant, absorbing and some of the finest ensemble acting in a long time."

Theresa Alexandria (Fuel TV): "One of the best films of 2OO9. Stellar ensemble performances and direction, and a beautiful city as a backdrop - what's not to love about 'New York, I Love You?'"

Ben Lyons (E! Entertainment): " 'New York, I Love You' is an inspiring celebration of love that's full of hope, romance, and precious moments. An all star cast of some of the most talented and passionate actors and filmmakers of our time capture how it feels to fall in love in the greatest city in the world."