September 29, 2007 - Virgin Territory and Awake - According to Box Office Mojo some dates/countries have changed. The current release schedule on their site lists Virgin Territory and Awake as follows:
Virgin Terrirtory:
France and Algeria, Monaco, Morocco and Tunisia 11/30/07
Lithuania 12/14/07
Russia - CIS 12/13/07
Awake:
Germany 11/15/07
Romania 12/7/07
United Kingdom and Ireland and Malta 2/29/08
September 29, 2007 - Special Thanks to Sophie for sending in photos and news and Sarah for sending in news this week for the website.
September 28, 2007 - Jumper still filming - The actors weren't present at this filming in Ann Arbor, according to a poster on IMDB, but Doug Liman and a cast of extras filmed an action scene recently for Jumper. The movie is still slated for release February 15, 2008.
You can read the extra's post on the IMDB Jumper boarder here.
September 27, 2007 - Jumper ambitious project - "Doug Liman has been talking about his latest film Jumper and has revealed that this is his most ambitious project to date. He's also discovered a little about himself and his own style of film, saying that a Doug Liman film has no baddie, an interesting morsel to consider for Jumper." Source: Filmstalker
More from Doug Liman on Jumper including his reasons for casting Hayden in the title role in the new issue of Empire magazine on sale Friday September 28, 2007. Article: Empire Magazine
September 27, 2007 - Hayden in LA - A couple more pics from September 26, 2007.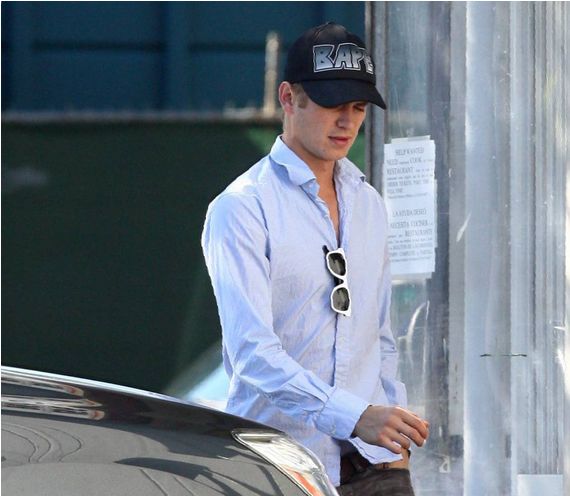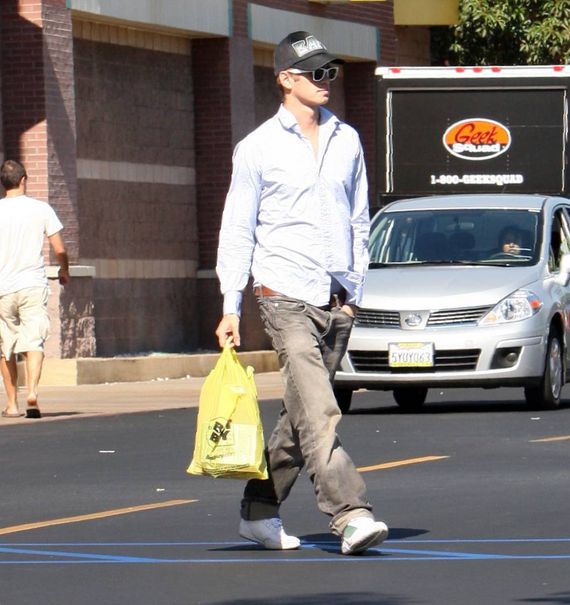 September 27, 2007 - Hayden in LA - Hayden was out and about in LA yesterday doing a little shopping. (thanks to Sophie for the pics) Click the photo to enlarge.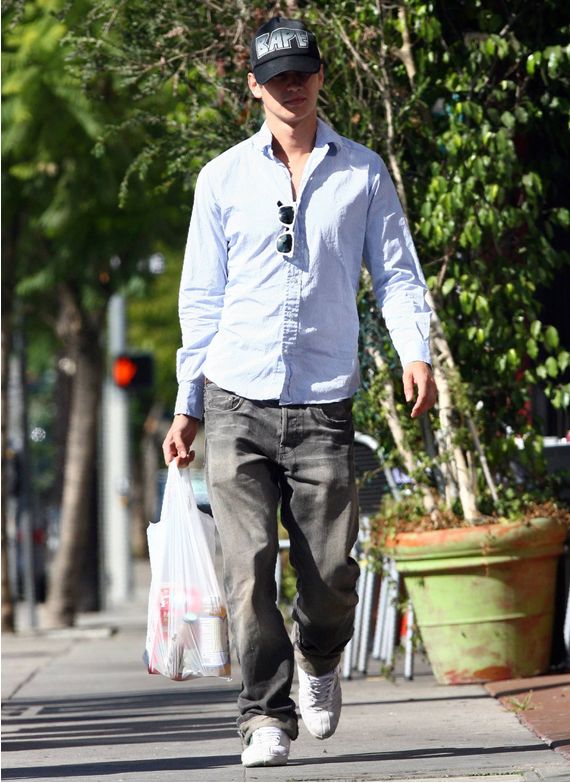 September 25, 2007 - Jumper Soundtrack News - Music and tracks are being collected for the upcoming movie. The band Slack Alley, from Eastbourne in the UK, have written a song called New Dimension for the movie's soundtrack. You can preview the track on the bands My Space page HERE
From Slack Alley:
"We've also just written a song called New Dimension for a film called Jumper which has a couple of nobodies called Samuel L Jackson and Hayden Christensen(?!) starring and is currently filming. Its just a little side project but we're hoping the track will make it pass the final stages, its in now to get onto the soundtrack!! Watch this space!"
September 25, 2007 - Jumper, Behind the Scenes - Another My Space article, this one describing the experience of being an extra on the set of Jumper from September 2006. Jumper
September 24, 2007 - Film Festival Video - "I'm surrounded by Canucks". The video interview from the Martha's Vineyard International Film Festival is up. Click on the picture below to go to their video page.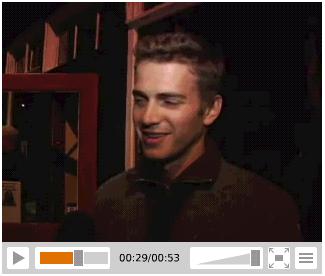 September 24, 2007 - Martha's Vineyard International Film Festival - From September 19, 2007 - "Swingers director Doug Limon (pictured left with Plum's Tom Scott) was just one of many filmmakers who attended the 2nd annual Martha's Vineyard Int'l Film Festival last weekend. It was three days of great films, amazing parties and, well, amazing films and great parties."
"Post-screenings, the crowd headed over to the Oyster Bar in Oak Bluffs to dance to the West African world-fusion beat of Mamadou. The Plum crew was on hand talking to Hayden Christensen and Doug Limon, among others. We'll have these interviews and more video very soon."
There is a slideshow of pictures from the Festival with the article and you might be able to catch a glimpse of Hayden in a couple of pics. Read the article and view the slideshow at Vineyard Plum TV and we'll be waiting for that video.
September 21, 2007 - Jumper - Daily Variety, August 6, 2007 - "Regency has wrapped production on "Alvin and the Chipmunks," the Doug Liman-directed "Jumper," the Alexandre Aja-directed "Mirrors" and the Eddie Murphy starrer "Starship Dave."
After a recent sighting of Doug Liman and Hayden in Martha's Vineyard (where part of the 2nd book, Reflex, takes place), we have to ask if they are still doing reshoots on Jumper or starting another movie? Sequel?
September 19, 2007 - Getting a little bored lately? Need something new to discuss? Can't wait for Jumper to hit a big screen near you?
I hear ya!
JUMPSCARS - This might help pass the time until the movie comes out. You may have read the books Jumper and Reflex and you may know the movie will be based on the books but we're also told it will not be a literal adaptation. So, to tie in with the February 2008 release of Jumper, a 4 comic miniseries titled Jumpscars is being released over the next few months that will tell prequel stories about Mary Rice (played by Diane Lane) and give some background into the movie's mythos we haven't seen before. What happened to Davy's mother when she disappeared so many years before? Hayden Christensen, plays Mary's son, the Jumper, David Rice.
With studio and producer's notes in hand, Nunzio deFilippis and Christina Weir are the writers on this project with the first comic in the series due out October 26, 2007. Their published works include Superman and X-Men stories for Marvel and D.C. comics among others. Brian Hurtt is a critically acclaimed comic author and illustrator.
Preview Jumpscars below. Oni Press is the publisher and they have a handy comic store locator (US, Canada, UK, Ireland) HERE. Each comic is 24 pages, full color and suggested for mature readers because of harsh language and mature situations.
THERE BE SPOILERS AHEAD!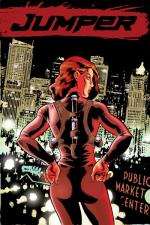 Click for larger image.
Jumper Jumpscars #1
Release Date: 10/26/07
Cover Price: $3.99
Mature Readers
A prequel to the upcoming Hayden Christiansen and Samuel L. Jackson feature film from director Doug Liman (Mr. & Mrs. Smith), JUMPSCARS pulls back the world we know to reveal a spectacular and ancient war being waged under our very noses!
For centuries Jumpers have lived among us—special individuals with the ability to teleport or "jump" nearly anywhere in the world. For almost as long, the Paladins, a secret and powerful order, have protected us from these dangerous and unpredictable individuals, sacrificing everything to keep humanity safe!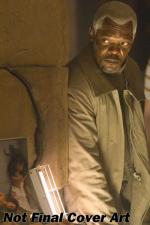 Jumper Jumpscars #2
Release Date: 10/31/07
Cover Price: $3.99
Mature Readers
A prequel to the upcoming Hayden Christiansen and Samuel L. Jackson feature film from director Doug Liman (Mr. & Mrs. Smith), Jumpscars continues to expose the covert war being waged by the "Paladins" against the teleporting "Jumpers." But what happens when a Paladin's target is revealed to be merely a small child?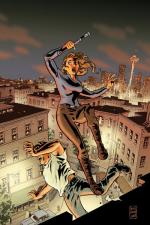 Click for larger image.
Jumper Jumpscars #3
Release Date: 10/26/07
Cover Price: $3.99
Mature Readers
Continuing the prequel to the upcoming film from director Doug Liman (Mr. & Mrs. Smith) starring Samuel Jackson and Hayden Christiansen! Mary — the Paladin trainee — is hunting a rogue jumper. But could her newfound romance with a seemingly innocent bystander end her involvement with the Paladins? Or are the consequences even graver?
(thanks to Mariel for links for this article)
September 18, 2007 - Martha's Vineyard International Film Festival - "Occasional familiar faces was seen around town over the weekend. Hayden Christensen and Doug Liman blended in with a crowd bouncing to West African band Mamadou, and at a dinner thrown by Cape Cod cable channel Plum TV." Source: Indiewire.com
September 18, 2007 - Plum TV - "The "high-season" might be over, but throngs of film lovers took the pilgrimage to Martha's Vineyard for the film festival. Plum presented the 2nd Annual Martha's Vineyard International Film Festival. On hand for the festival were filmmakers Doug Liman, Killer Film's Christine Vachon, Ted Hope, Star Wars' Hayden Christensen and Teeth's Mitchell Lichtenstein." Source: Plum TV
September 13, 2007 - Nice background information on Bocaccio's Decameron and synopsis for the upcoming movie "Virgin Territory" in this article from Old TV Shows Blog. The trailer is also included. Source: Old TV Shows
September 10, 2007 - August news has been archived. You can find it here.
September 9, 2007 - Release strategy is a tricky game - This article from Variety may be of interest to fans who are anticipating the release of certain movies. It gives some insight into the process of dating a movie for release and the various considerations involved in what seems to be a real juggling act to get that final release date for a film. And we thought it was frustrating for us as fans awaiting our favorite actors movie releases.
"TORONTO -- This is the time of year when I empathize with those studio mavens who are charged with the responsibility of deciding how and when to open their new fall films."..........
"Decisions of this sort are tougher this fall for several reasons: With the studios shrewdly mobilizing their sequels and threequels, the summer clearly belongs to the tentpoles, with few screens available for specialty pictures. At the same time, the number of specialty films vying for attention has increased exponentially. Between five to seven serious contenders (many from distinguished filmmakers) seem to be opening each weekend, with Globes and Oscars already flashing before their eyes." Source: Variety
September 9, 2007 - At the Arthouse - New York Daily News - Virgin Territory is listed among the most anticipated fall movies. No release date is given and the movie is listed among coming soon art house movies which might be a sign that it will be a Weinstein Company limited or semi-limited release.
"Speaking of "Virgin Territory," that's the name of David Leland's new film, starring Hayden Christensen and Mischa Barton, from a collection of 12th-century stories." Source: New York Daily News
September 2, 2007 - A Technicolor Autumn - Fall Bursting With Interesting Films - The Hartford Courant calls Virgin Territory the "smarmiest title" in the fall lineup but a movie "which actually has an interesting premise". The article lists Virgin Territory as a September 21, 2007 release. Source: The Hartford Courant
September 1, 2007 - Deauville Film Festival - Factory Girl will be one of eleven films in competition at the annual Deauville Film Festival being held from August 31 to September 9, 2007 at the French seaside resort. The festival focuses on both major and independant American films, some of which will have their European or French premieres at the festival. Deauville Competition Lineup