Synopsis

Reviews

Trivia

Links

Video

Official

Projects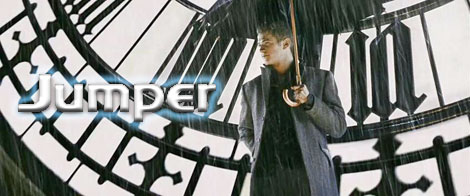 ---
"Anywhere is Possible"
---
"David Rice is a Jumper, a teleporter who can go anywhere, anytime. He can see twenty sunsets in one night, whisk his girlfriend around the world in the blink of an eye, and grab millions of dollars in a matter of minutes. But his life takes a sharp turn when he finds himself relentlessly pursued by a secret organization sworn to kill Jumpers. Forming an uneasy alliance with another Jumper, David enters a war that has been raging for thousands of years, a war with our history hanging in the balance.
Leaping from the American Midwest to the streets of Tokyo and the ruins of Rome, this action-packed adventure is the first chapter in an epic trilogy."
A Film from 20th Century Fox and New Regency Enterprises
Release: February 14, 2008
Director: Doug Liman
Written by: David S. Goyer, Simon Kinberg, Jim Uhls
Froma the Novel by: Steven Gould Produced by: Lucas Foster, Simon Kinberg, Jay Sanders
Cast: Hayden Christensen, Jamie Bell, Rachel Bilson and Samuel L. Jackson, Diane Lane, Max Thieriot, Anna-Sophia Robb
Source: New Regency Enterprises
---
"He could jump anywhere....anytime. Where would you go?"
---
October 15, 2007
Author: Barbara
Hayden Christensen Fan News
Before you see the movie, here's some background information about the books written by author Steven Gould. Jumper the movie is an adaptation of the popular novels Jumper and Reflex. The mythology has been expanded for the movies but the essence of Steven Gould's story seems to still be there. Hopefully, the wider universe created for the movie will only enhance the original story and just give fans of the books more to enjoy about their favorite characters.
When Jumper was first published in 1992, it appeared on the American Library Association's list of banned books until 1999. The novel, aimed at teens, had some mature subject matter that made it a problem for the ALA to recommend it for that age group. It was one of those books that could not be contained, however. The book surfaced as a popular book not only for teens but for adults as well.
The main character, Davy Rice, is a teenager trapped in a broken and abusive home life. His mother disappeared when he was a young boy and he can't understand why she would have left him. When he can't take another beating from his drunken father he is shocked to find himself....someplace else. He is transported, teleported somehow to the Stansfield Public Library.
The idea of teleportation might be old but with the capable talents of author Steven Gould it seems new and exciting. In this story teleportation isn't done by machine, it is done by a person but that is not what makes the story an interesting page turner. What is fascinating is Steven Gould's patience in setting up for the reader all the intended and unintended consequenses of someone who finds out they have an ability that seems impossible and wonders if there are others or if he is as alone as he feels.
The author doesn't abbreviate the learning process as Davy tries to figure out if he is sane or insane and then why he can do what he does and how. It makes Davy real, intriguing and vulnerable and we can't help but empathize with him as he learns the ins and outs of his power and the effect it will have on his life. It also makes Hayden Christensen (Life as a House, Shattered Glass) the perfect choice for the role. Hayden has the ability to draw empathy from an audience while also bringing the audience into his character's story.
In the story of Superman, Martha and Jonathan Kent find a baby in an other worldly wreckage in a farmer's field. They quietly adopt the child from Krypton and give him the ideal family life and all the guidance that loving parents can give but that was the 1940's and 50's. Superman, Clark Kent, might have turned out very differently if he had landed elsewhere and in another time. In Steven Gould's Jumper, our hero is not so blessed and is left to fend for himself in the often too cruel world of the 1990's. He is a runaway and stranded with an ability he knows nothing about and having to make up his own mind about right and wrong and the kind of person he will be.
While the author takes the time to fully develop Jumper's main character, it also flows into an action adventure story that takes us places around the world in the blink of an eye finding Davy in danger and falling in love and becoming a reluctant hero.
---
Davy believes he is the only person in the world who knows he can teleport. What if he's wrong?
---
In Reflex, the sequel to Jumper, David finds he is not alone but hunted and captured by people wanting to use his abilities for their own purposes. Reflex is a tense action story that continues the story of David who is now 10 years older. There are elements of a pshychological thriller as he is brainwashed and conditioned and forced to carry out missions with political and military implications all over the world. But David is really just biding his time in captivity.......and there is something no one knows, not even David, but it just might save his life.
The book sparked interest as a movie project about 10 years ago which shows the long process of getting a story to the big screen. Finally, the script by David S. Goyer (Batman Begins), Simon Kinberg (Mr. and Mrs. Smith) and Jim Uhls (Fight Club) was written and polished and was readied to go before cameras by 20th Century Fox in 2006. Under the direction of Doug Liman, the long filmaking process turned into a marathon run with filming around the globe as the story traces the steps of the movie's characters.
While Jumper is a Sci Fi film with special effects, it is nice to have a movie that takes you to actual places and cities around the world rather than relying just on computer graphics to get you there. This a film with true international appeal. Doug Liman's unique formula for making movies and bringing his brand of excitement to a good script and story is what set the tone for The Bourne films. From the buzz and looks of the trailer, Jumper seems to be an interesting Sci Fi action story with enough steam to run for a planned trilogy.
Now take a look at the trailer.....and take a deep breath.
---
Articles and Interviews
---
February 26, 2007 - Christensen Leaps Into New Realm With 'Jumper' - Since he signed on to play Anakin Skywalker/Darth Vader for the second and third films in the "Star Wars" prequel trilogy, there's no doubt that Hayden Christensen has done his share of cinematic traveling.
But there's a distinct difference between Christensen's trip to "a galaxy far, far away" and his destinations in the new box office hit "Jumper."
"Other than the stuff in Cairo, everything else we more or less were able to do for real," Christensen said in a recent @ The Movies interview, referring to an awe-inspiring computer-generated shot atop a sphinx in Egypt.
That's because, he added, the last thing director Doug Liman ("The Bourne Identity," "Mr. & Mrs. Smith") wanted was to make the film "in front of a blue screen where he was interchanging backgrounds."
"He really wanted us to go to the locations and let the environment have an effect on us. So, everything that you see is there," said Christensen, who has scenes spanning across the world from Tokyo to the Roman Coliseum to New York City. "Of course, we obviously weren't falling from the Empire State building, but we filmed a little bit on top of it." Read more.....
Sept. 26, 2007 - Exclusive: Doug Liman On Jumper - Doug Liman has succeeded in every genre he's touched so far: buddy comedy (Swingers), ensemble drama (Go), action movie (The Bourne Identity), romantic comedy (Mr And Mrs Smith). Now, he's tackling sci-fi, and it might be the director's biggest challenge so far.
Jumper, the story of a young man (Hayden Christensen) who discovers that he can teleport and sets out to find the man responsible for his mother's death, involved a lengthy production process, casting changes and all sorts of scurrilous rumour about troubled sets.
"This is by far the most ambitious thing I've ever done," Doug Liman told Empire recently. "The script came to me a little under two years ago. I loved the concept; the script needed a lot of work ? which is the story of my life. Which probably doesn?t mean the script always needs a lot of work, just that I have unusual taste or something...So, we spent about 9-10 months working on the script and then started shooting last August".
In re-tooling the script, Liman decided to excise one key element: the villain. Though Samuel L. Jackson's character, a government agent tasked with tracking and killing all jumpers, would appear to be the natural bad guy, Liman says that things are not so clear cut in his version.
"I've figured out what a Doug Liman movie is. A Doug Liman movie is one where there is no villain," Liman continues. "Everyone has their different viewpoints, so who says that the person you're following has to be the hero. I think it's much more interesting to have the grey areas".
As with any movie taking over two years to make, and, in fact, any movie directed by Doug Liman, there have been numerous press reports that things have been troubled on set. Something Liman dismisses simply as time spent getting the movie right.
"I remember an argument that I had with the head of Universal [when making The Bourne Identity] and she said, 'This isn't your film school. You don't get to run around and try ideas out. This isn't your film school'. She was wrong. That's the way you get something original. You don't want to fall back on something someone else has done. Then you're a hack". (October 2007 issue of Empire Magazine.)
Email: Hayden Christensen Fan News
JUMPER International Posters. Click to Enlarge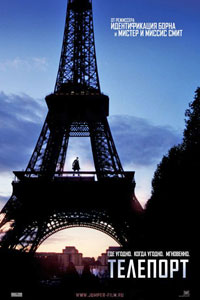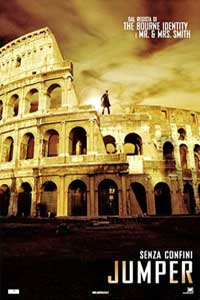 JUMPER International Posters. Click to Enlarge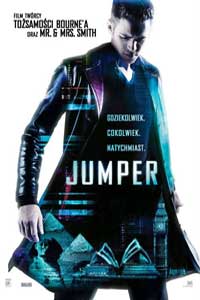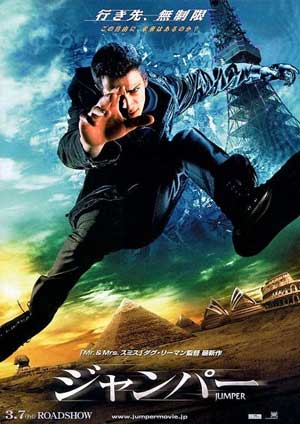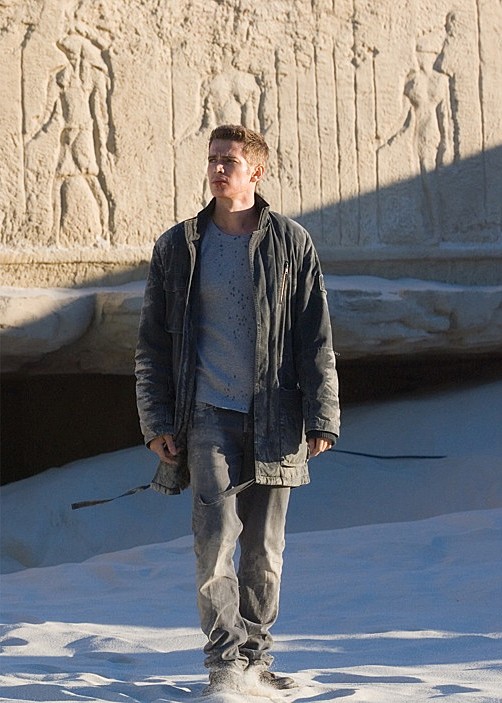 Click Picture to Enlarge

And since it's 5:00 somewhere.........