APRIL 2010

April 30, 2010 - Takers Notorious Badasses - Moviefone's Summer Movie Guide - 25 Reasons to be Psyched about Summer 2010 - "25. Chris Brown, T.I. and Hayden Christensen, notorious badasses. 'Takers' features a rather unusual cast (Idris Elba, Paul Walker and Michael Ealy in addition to the above-mentioned three) playing a gang of infamous, unbeatable criminals, which makes us very curious about this stylish-looking action/crime flick. The plot concerns (yep) one last high-stakes job and a hardened detective (Matt Dillon) who tries to intercept it." (August 27) Moviefone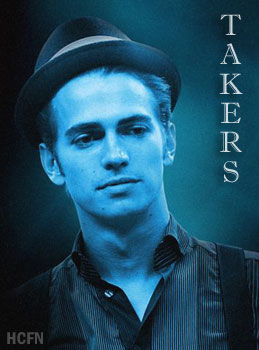 April 30, 2010 - Quantum Quest Comes to Life - Quantum Quest: A Cassini Space Odyssey on Twitter and Facebook has finally come alive with loads of links and posts on the upcoming film due out this June. There are new posters, images and educational downloads. There is also a new larger format trailer on the official movie site. Hayden is the voice of Jammer in the 3D film due in IMAX and theaters this summer.
Official Quantum Quest Movie
Quantum Quest - Facebook
Quantum Quest - Twitter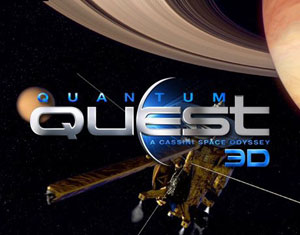 April 30, 2010 - Possible Release Date for Vanishing on 7th Street - Ultracine (Argentina) is showing the first mention of a possible release date for 'Vanishing on 7th Street' as December 2, 2010. This date could change but it does seem that they are trying to put the movie in theaters before the end of 2010.
[EDIT: The above date is a release date for Argentina so the US date is probably not the same but it's still nice to know it really is coming soon.]


April 30, 2010 - Lucas Vidal Recording Vanishing on 7th Street Score - [Via Facebook] Hayden Christensen and Jacob Latimore are pictured on the monitor as Lucas Vidal prepares to conduct the orchestra for the score on 'Vanishing on 7th Street'. The string orchestra and cello octet have been recording the music for Brad Anderson's latest directorial project at Village Recorder. More images in the photo album. Music and Motion - Facebook
Vanishing on 7th Street - Production Album
Click for Larger Image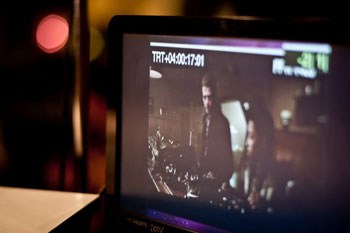 April 30, 2010 - Twelve HQ Screen Caps of Hayden from RED Video - High Quality screen captures of Hayden have been added to the photo album under "Appearances". Hayden appeared in the latest promotion for RED's Lazarus Effect Campaign.
Click for Larger Image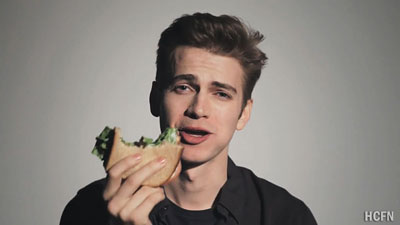 April 29, 2010 - Hayden in New PSA for RED - Red Launches the Lazarus Effect Campaign - Hayden appears in a new PSA to make people aware of the importance of funding for medications for HIV and the progress that is being made to bring down the costs of such drugs and make them more accessible. Hayden along with other celebrities such as Bono, Julianne Moore, Javier Bardem, Penelope Cruz, Hugh Jackman, Orlando Bloom and many more appear in the PSA about what just .40 cents a day can do for someone with HIV. Source
Click for Larger Image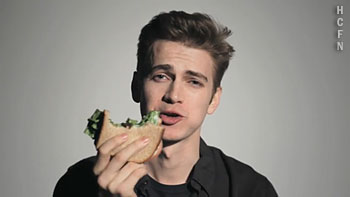 April 24, 2010 - Quantum Quest Site Updates - New HD images have been added to the gallery at the official movie site for Quantum Quest: A Cassini Space Odyssey. The trailer has also been converted to HD quality. And they've been up for awhile, but if you haven't seen Jammer's videos, take a look to see Hayden's animated character have fun surfing the solar winds.
The 50 minute 3D educational movie will be in IMAX and regular theaters in June and schools can schedule the film for students and take advantage of the learning materials and lesson plans on the official site as part of an approved curriculum.
Quantum Quest Gallery - Images
Quantum Quest - Trailer
Cast - Jammer - Videos - Click "next" at Hayden's name for videos.
Click for Larger Image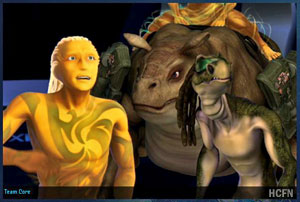 April 24, 2010 - Vanishing on 7th Street Movie Site - IM Global has posted the link to the official movie site for Hayden's soon to be released 'Vanishing on 7th Street'. Although, the site is currently under construction, there is lots of information about the movie, cast and crew and links. The movie has been given a PG-13 rating but no release date has been announced. There are photos featuring Hayden and the rest of the cast and a video but a trailer is not yet available.
Vanishing on 7th Street - Movie Site
Vanishing on 7th Street - Twitter
Click for Larger Image

Click for Larger Image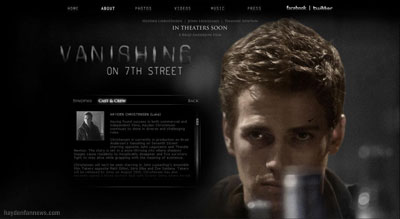 April 22, 2010 - Happy Birthday Hayden - More Fan Memories - Big thanks to Terri for sending photos and her story of how she met Hayden at the 2006 Bullrun. There are more stories and greetings on the Birthday 2010 page including an encounter on the set of Factory Girl and a sweet Happy Birthday from Taylor Groothuis who co-starred with Hayden in Vanishing on 7th Street.
Share your stories or just post your good wishes for Hayden by visiting the birthday page. Not everyone has met Hayden but maybe you have other memories you can share. Jumper holds special memories for me and my husband because I asked him to take me to see it on Valentine's day. It was a great dinner-and-a-movie night. He still comments on how much he liked that movie. LOL
Happy Birthday Hayden 2010
Terri's Bulrun 2006 Photos
Click for Larger Image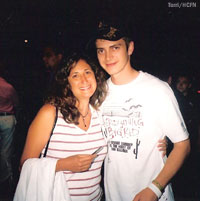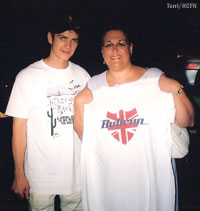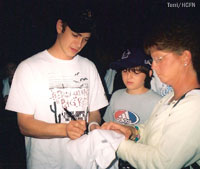 April 22, 2010 - Vanishing on 7th Street Video - Dateline NBC has added the video of Hayden and Brad Anderson on the set of 'Vanishing on 7th Street' to go with the transcript they posted Monday. The video clip below is part of the Dateline story "City of Heartbreak and Hope". Hayden filming Vanishing on 7th Street in Detroit.
Click for Larger Image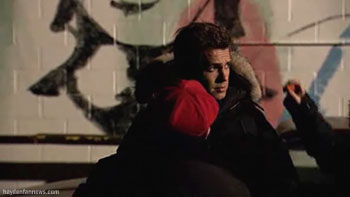 Click for Larger Image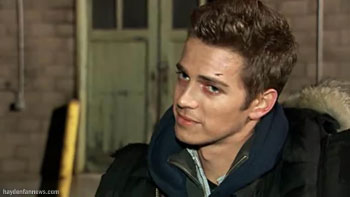 "April 22: Actor Hayden Christensen and Director Brad Anderson talk to Dateline NBC's Chris Hansen about shooting "The Vanishing on 7th Street" in Detroit."

April 19, 2010 - Hayden Mentioned on Dateline - Dateline NBC's Chris Hansen goes back to his hometown of Detroit to examine the "City of Heartbreak and Hope". The episode aired April 18, 2010. Hayden is only quoted in the transcript and isn't in any of the videos on the Dateline site.
"Le Petit Zinc, the thriving French bistro in the Corktown district, is highlighted, and Star Wars actor Hayden Christensen, shooting a movie downtown thanks to the city's incentive-laden film industry boom, deems it "a privilege" to be working in Detroit." Source
Transcript:
HANSEN: (Voiceover) And in a desolate area near downtown, there's a restaurateur who's opened a French bistro, an improbable success. The movie industry is an unexpected one. Thanks to a generous state tax break, Hollywood has been shooting scores of films in the Detroit area. Like "The Vanishing on Seventh Street," starring Hayden Christensen of "Star Wars" fame.
(French bistro; film being shot in Detroit; Hayden Christensen)
Mr. HAYDEN CHRISTENSEN: It's a privilege, you know. And they've opened up all the doors for us, and the city's been great. Source
Video - French Bistro that will be featured in Vanishing on 7th Street.

April 18, 2010 - Happy Birthday Hayden! - All of your fans wish you all the best on your birthday! We hope you have a very special day.
A special birthday page is up where you can get all sentimental and post your favorite memories of Hayden. Whether it was your first time seeing Hayden on the big screen or your favorite YouTube video, artwork or a personal encounter, please share your memories and don't forget to check back to see what others have to say.
Click for Birthday Page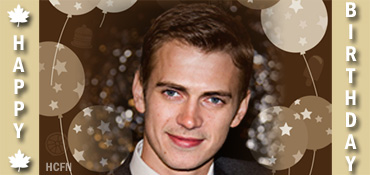 I'd also like to thank Michelle for sending in the cool birthday banner at the top of the page.

April 15, 2010 - Spring Safari to benefit Museum - It's not exactly confirmed that Hayden and Rachel will be attending tonight's Spring Safari to benefit the American Museum of Natural History. As posted earlier this week, Hayden and Rachel are honorary chairs for the event which will take place tonight in New York. Just in case, I thought I'd give you some links early so you can keep an eye out for news and updates about the event throughout the day and this evening. Check back for any additional information.
Lilly Pulitzer on Facebook - Streaming video available or info on where to go for the video on LillyPulitzer.com.
Lilly Pulitzer Twitter - Will be twittering throughout the night.
Hayden Fan News Twitter - Follow us on Twitter for late breaking news.


April 13, 2010 - Carnegie Hall Picture Correction - I received an email today with the correct names and info about the young people pictured with Hayden and Rachel when they recently attended the Grapes of Wrath concert at Carnegie Hall. It's Lauren Schwartz and not Rose as previously posted (on Flickr). Lauren and Alex Schwartz are Hayden's cousins. The email was very much appreciated. Thank you.
Hayden Christensen pictured with his cousins, cast member Alex Schwartz and his sister Lauren Schwartz, and Rachel Bilson at Carnegie Hall.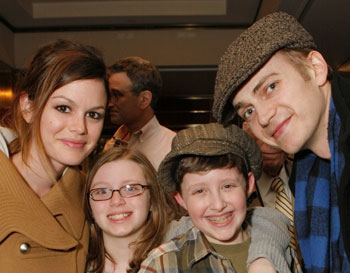 April 12, 2010 - Vanishing on 7th Street Composer Lucas Vidal - Ep. 2 - When Vanishing on 7th Street, starring Hayden Christensen, is ready for the big screen, the music will be a subtle but ominous background to what is happening within the story. Listening to Lucas Vidal's raw film score from the studio is guaranteed to give you chills and make your skin crawl which I'm sure is just the right effect for this or any horror movie. The video below is a continuation of the "Behind the Music" posted on April 5 below. Source: MumoProductions.

April 9, 2010 - Hayden Named Honorary Chair for Museum Benefit - Hayden Christensen and Rachel Bilson have been named honorary chairs for the American Museum of Natural History's 2010 Spring Safari Dance event. The list of honorary chairs includes Claire Danes, Hugh Dancy, Mariska Hargitay, Gwyneth Paltrow, Susan Sarandon, Molly Sims, Ian Somerhalder and Paul Rudd and others.
"For more than four decades, the American Museum of Natural History's Museum Dance has captured the attention and imagination of 800 young New Yorkers for a spectacular evening of dinner, dancing, fun and philanthropy at the Museum. This year's dance, a Spring Safari, will be held on Thursday, April 15, 2010. All funds raised from the event benefit the Museum's scientific and educational programming." Source
Other Articles About Spring Safari
Well Appointed House - "The Spring Safari will be chaired by Tinsley Mercer Mortimer and Coco Rocha to name a few, with honorary chairs such as Gwyneth Paltrow, Rachel Bilson, Hayden Christensen...."
Lilly Pulitzer Spring Safari - Info and Live Streaming of the Event.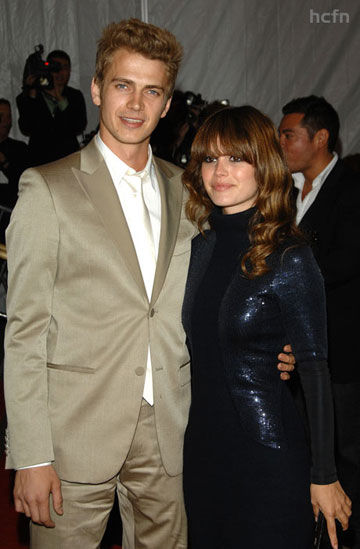 April 9, 2010 - Hayden Attends Carnegie Hall's Opera-In-Concert - Hayden and Rachel attended the Collegiate Chorale's performance of "The Grapes of Wrath at Carnegie Hall in New York on March 22, 2010. Performed by the American Symphony Orchestra, the musical presentation was narrated by Jane Fonda and featured a cast including Broadway stars such as Christine Ebersole in this concert rendition of the 1939 John Steinbeck novel.
Hayden Christensen and Rachel Bilson pictured with cast member Alex Schwartz and his sister Rose Lauren. (Pictures via Flickr and DH.net/Twitpic and Missou at SA.com)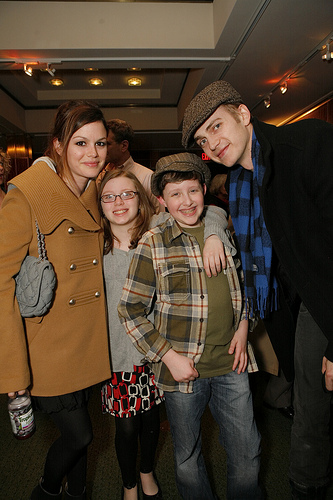 April 8, 2010 - Higher Ground on Vision TV - If you missed any episodes of Higher Ground the last time it aired on Vision TV you can catch up when the Canadian network airs the series again starting today. Hayden Christensen stars along with Joe Lando, A.J. Cook, Jewel Staite and Anne Marie Loder about a school for trouble teens. Vision TV - Higher Ground
Vision TV - Hayden Christensen marches on HIGHER GROUND, Thursdays starting Apr 8 at 6pm ET: http://www.visiontv.ca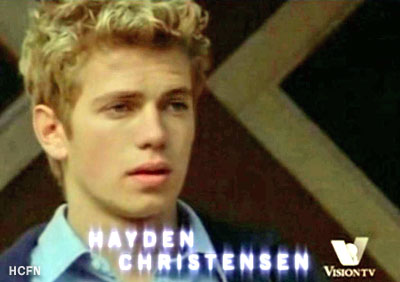 April 5, 2010 - Music Composer Lucas Vidal on Vanishing on 7th Street - Lucas Vidal speaks about his work as composer for one of Hayden's latest movies Vanishing on 7th Street. He describes Brad Anderson's film as complex and profound with the relation between light and darkness and life and death a very important contrasting theme in the story. Brad wanted an experimental sound so there is a combination of contemporary classic and electronic music included in the score. You can watch Lucas Vidal's video and follow him on Facebook.
"Follow Lucas Vidal in the process of writing the music for Vanishing on 7th street, Brad Anderson's (The Machinist, Transsiberian) new film, staring Hayden Christensen (Star Wars, Jumper), Thandie Newton (Crash, 2012), and John Leguizamo (Romeo+Juliet, Ice Age)" Facebook Video
[Edit: Click to play embedded video below. From MumoProductions.
Click to Play Video


April 5, 2010 - Jumper this month on Cinemax - Hayden Christensen stars as David Rice in the 2008 actioner about a young man with the ability to teleport anyplace, anytime but finds that with great power comes great consequence. Check out the TV Listings in the left column for more updates.
Click for Larger Image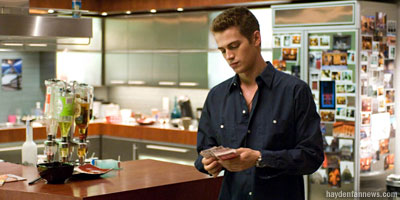 April 3, 2010 - Happy Easter! - Wishing you all a joyful holiday and the best of times with family and friends from Hayden Christensen Fan News.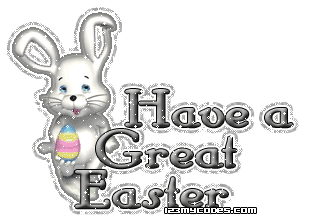 March 2010 Archive