AUGUST 2011

August 31, 2011 - Hayden Christensen Rumored in Battlecreek - IMDb has also added another new movie to Hayden's list of upcoming projects. Battlecreek is listed as in pre-production and is to be directed by Alison Eastwood. Recent information from sources around the web point to a September start with locations in Savannah, Georgia.
Battlecreek Synopsis: - In a small economically depressed southern town, a gifted young painter with a rare skin disorder must live his life at night. When a tormented young woman being chased by her own demons stumbles into town, their relationship forces both to ultimately reconcile with their pasts, enabling them to finally move forward to start a new life.
Click for Larger Image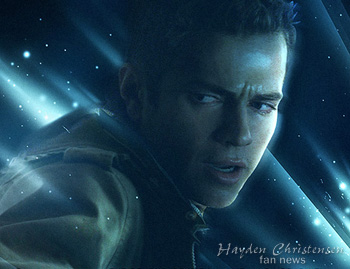 August 31, 2011 - The Diplomat with Hayden Christensen is back in Development - IMDb has added The Diplomat back to it's movie listings as being in the script phase of development. Hayden is listed in the part of Brent (rumored) with Tove Christensen and Forest Park Pictures added to the production. Christian Slater had also been rumored to be part of the cast but is not listed at this time. Paul McGuigan is directing from a script written by Peter A. Dowling with production by Future Film Groups and Fusion Films.
Synopsis - An American diplomat finds himself caught in the middle of an investigation that is just about to expose a traitor when the traitor kidnaps the diplomat's wife and daughter.
Click for Larger Image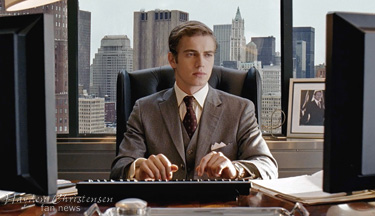 August 24, 2011 - Bioware Community Manager says Hayden Christensen Not at Gamescom - Chris Collins the European Community Manager for BioWare has solved the mystery of Hayden being in Germany one day and Toronto the next. Read his Twitter post below.
Chris Collins Twitter - "Just to confirm that Hayden Christensen was NOT at the #SWTOR GamesCom booth. It was just someone that looked a LOT like him."

August 23, 2011 - Hayden Christensen Traveling Man - Hayden has either been globetrotting between Germany and Toronto or the gamers posting about seeing Hayden at Gamescom have been stuck in the snake lines a little too long.
Pictures of Hayden taking a departing flight from Toronto on Tuesday, August 23, are online at Just Jared.

August 23, 2011 - Hayden Christensen at Gamescom Germany? - Thanks to Valeria from Hayden-C Germany on Twitter for posting a possible sighting of Hayden at Gamescom in Cologne, Germany for the latest release of Star Wars The Old Republic game. So far there are no news article or blog reports about Hayden in Germany so I'll keep my eyes open. Below is a post from a German fan forum about seeing Hayden at Gamescom. Please keep in mind this is translated from German to English with Google so there could be some inaccuracies.
Star Wars: The Old Republic - Hayden Christensen at Gamescom
08.20.2011, 01:47 PM by Moran - For me, the Gamescom 2011 was the first and last! I never go back to Cologne, which are simply no match for the onslaught and the halls are all too confusing. But a great moment I had when I was in the Swtor snake, a developer Bioware came with a man to the people from the snake and asked everyone, "Have you seen the movies?" and "Do You Know This Man?". No one knew him and when he came to me and he asked me, I looked up and said only a brief Anakin?. This was Hayden Christensen and nobody except me has known him at the beginning xD. But unfortunately I only get a poster and no previous access to the game.

August 16, 2011 - Hayden Christensen Loves Nachos - Hayden and Rachel spent a leisurely day out together in Los Angeles back in May where they were seen enjoying the sunshine and a lunch truck meal. Nacho Truck recently posted a picture of Hayden on their NachoTruckLA Facebook. Thanks to Jacey and SA Forum for the find. Thanks to Meyree for pic of Hayden and Rachel.
Click for Larger Image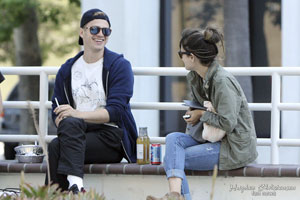 Click for Larger Image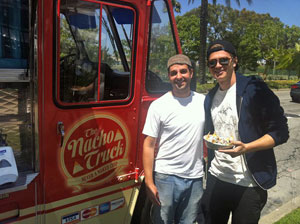 August 16, 2011 - Hayden Christensen Not Doing Unknown Son - According to a Twitter post by one of the producers for Unknown Son, Nathan Riley, Hayden is no longer attached to the project Unknown Son. The tweet is posted below.
@rilo3 Nathan Riley - @hellobilson "Hayden Christensen has been cut from the cast due to personal reasons. Updates coming soon! :)"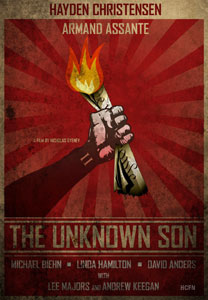 August 5, 2011 - Hayden Christensen Mentioned in Star Wars Insider - Thanks to Terry for sending a scan and information about one of Hayden's rumored projects. The Star Wars Insider Issue # 127 for August/September 2011 mentions The Diplomat as one of Hayden's upcoming projects. The magazine is on news stands now where you'll find the article on Page 10 in the feature called Launch Pad Beyond the Outer Rim by Brian J Robb. The blurb says that Hayden has signed to star in The Diplomat, an international espionage thriller also starring Christian Slater, to be directed by Paul McGuigan.
Diplomat Synopsis:
An American Embassy attache' in Budapest, finds himself caught in the middle of an investigation that is just about to expose a traitor when his young daughter witnesses a murder that sends his family into hiding.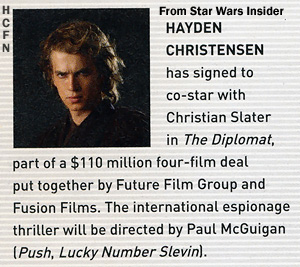 July 2011 Archive