New Outcast Movie Posters with Hayden Christensen, Nicolas Cage, Liu Yifei
Click for Larger Images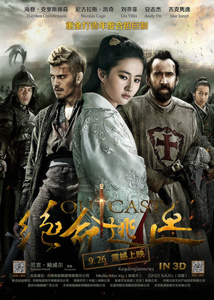 New Outcast movie posters have been added to the gallery featuring the cast and one character poster with Nicolas Cage. Check out the extra large movie posters in the gallery. Oucast Movie Posters Gallery
New Outcast stills with Hayden Christensen and Liu Yifei.
Click for Larger Images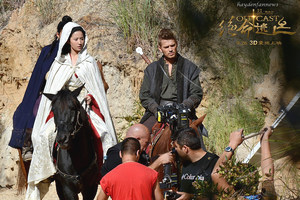 Outcast movie stills were released yesterday in part as celebration of Liu Yifei's birthday on August 25th. The new stills feature Hayden, Liu Yifei, Bill Su and Coco Wang and Andy On. More extra large movie stills in the gallery. Oucast Movie Stills Gallery 3
Click for Larger Images

TIFF plans early first look screenings including American Heist.
Click for Larger Images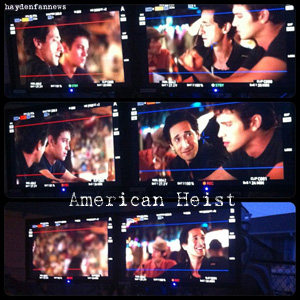 Screendaily is reporting that early first look screenings are being planned for the first weekend of TIFF for distributors and their reps who may not be at the festival during the second week when many anticipated film premieres will take place. It is not confirmed but Screendaily has listed a large number of films with first look screenings including American Heist that will take place on Monday September 8.
"However the reality of Toronto's packed public and industry screening schedule is that buyers will be able to see most if not all must-see acquisition titles in the first five days, hence the expected departure of many movers and shakers in the acquisitions world by mid-week."
Nick Powell, Hayden Christensen and Nicolas Cage add action to Outcast.
The action is sure to please fans in Outcast under Nick Powell's direction in some great sword and action sequences with Hayden and Nicolas Cage in the upcoming film to be released in China 9/26/2014 and in the US 2/27/2015.
Outcast may be his first feature film as director but Nick Powell is internationally recognized for his stunt choreography and second unit direction in films like Braveheart, Gladiator and The Bourne Identity, winning some impressive award titles along the way. Take a look at this stunt reel for an entertaining look at his accomplishments.
With his long resume as a Stunt Coordinator, Nick Powell began as a fan of Asian action movies and cinema as a teen, spending hours in the cinema gaining appreciation of the films of various directors as well as Asian actors. He studied and trained as an actor in the UK before becoming a stunt man and then stunt coordinator and has trained and written choreography for the likes of Mel Gibosn, Tom Cruise, Russell Crowe and Matt Damon.
Hayden went to China a couple of months before Outcast filming began to train for his role which included sword and martial arts training. As Arken, a Knight from the 12th century Crusades, he abandons the fight to travel East along the Silk Road to seek peace and redemption and ends up in China. There he aids a young heir to the throne and his sister who are fleeing a murderous brother to get to allied generals.
Powell hopes to bring east and west together in the Canadian, French and Chinese co-production for an international audience. Enjoy more HQ movie stills of Director Nick Powell with Hayden Christensen, Nicolas Cage and Liu Yifei on the set of Outcast. Movie Stills Gallery
Click for Larger Image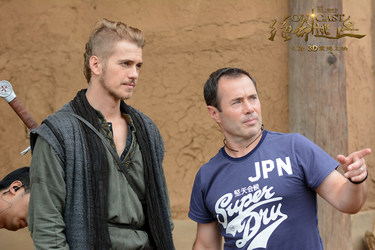 Click for larger image

New Official long HD Outcast trailer with Hayden Christensen and Nicolas Cage
The Official HD long trailer for Outacast has been release. Courtesy of Deadline Hollywood on Youtube.
TIFF in-depth synopsis for American Heist with Hayden Christensen and Adrien Brody.
Click for Larger Images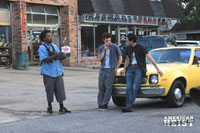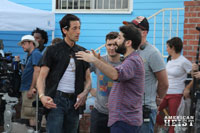 TIFF has added an expanded American Heist synopsis and review with more interesting highlights from Jane Schoettle, TIFF's Special Presentation programmer. Be sure to read all the new updates for american Heist at the TIFF link below. A biography of director Sarik Andreasyan has also been added.
"This criminal collaboration between the two brothers and some other very smart, very bad men leads to several of the most inventive and explosive action sequences to be found in a film this fall. But despite the off-the-charts levels of excitement and suspense, the film's true heart is the relationship between James and Frankie: bonded by a difficult childhood, but separated by their subsequent experience and vastly different moral wiring. Christensen's and Brody's deeply considered performances, evidencing a lifetime's worth of bad blood, bitterness, and love, elevate this already compelling crime story to near-mythological proportions."
TIFF Scheduled Screenings for American Heist starring Hayden Christensen and Adrien Brody.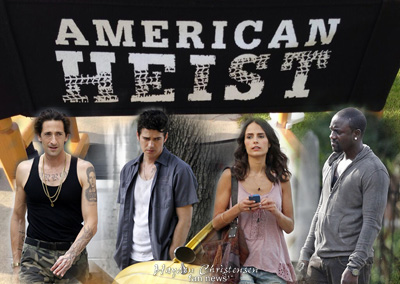 TIFF screening schedule and ticket information has been posted.
"Thu, Sep 11, 7:00 pm, Princess of Wales Theater
Fri, Sep 12, 12:00 pm, Ryerson Ryerson Theatre
Sat, Sep 13, 5:30 pm, Scotiabank Theatre"
Hayden Christensen and Adrien Brody TIFF Special Presentation performances.
Click for Larger Image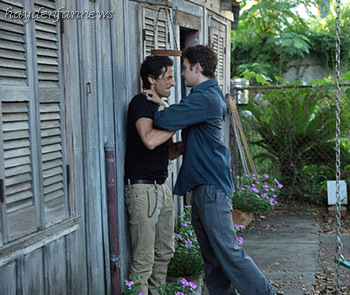 Jane Schoettle's, Tiff programmer, highlights American Heist with Hayden Christensen and Adrien Brody from the Special Presentation list of films.
Adrien Brody, Hayden Christenson as bonded, combative brothers --emotional with a super action packed third act. http://t.co/xBHIVbeDEx

— Jane Schoettle (@jane_tiff) August 19, 2014
Hayden Christensen among stars coming to TIFF
Click for Larger Image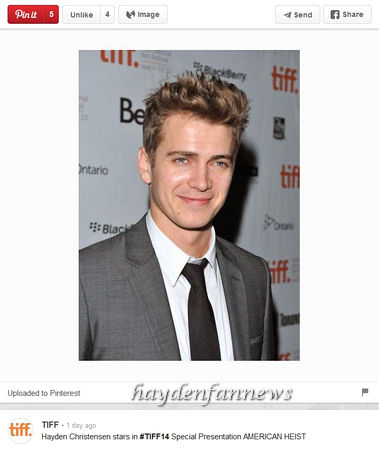 TIFF's weekly Tuesday updates included the list of stars and filmmakers who will be coming to Toronto for the annual Toronto Film Festival. TIFF also has an official Pinterest site with pictures of all the guests who are attending including Hayden's picture with the caption "Hayden Christensen stars in TIFF14 Special Presenation American Heist". American Heist Director Sarik Andreasyan is also coming to TIFF and so is Jordana Brewster. The Festival runs from September 4 - September 14. Source: TIFF Pinterest
Outcast Stills with Hayden Christensen, Nicolas Cage Liu Yifei and Jike Junyi
More Outcast movie stills have been released. A few more stills of Nicolas Cage and Jike Junyi's characters along with more of Hayden, Liu Yifei and Andy On sporting a nice scar . Images below and in the gallery.
Hayden Christensen's ice bucket challenge.
Click for Larger Image

In the words of a twitter friend, "Hayden did the #IceBucketChallenge before it was cool." It happened a year ago on the set of Outcast in China. The cast and crew were roughing it a bit while shooting in the Beijing and Yunnan countryside for some of the location filming. During filming, Hayden did a little method acting and decided to pour a bucket of ice water over his head to feel his character's misery. Outcast Movie on Weibo posted the picture on 8/18/2014 making it a challenge to the Outcast actors. Andy On? Liu Yifei? Jike Junyi?
"...[Google Translate] Liu Yifei: Hayden is a gentleman. He works very hard and is hard on himself. Once on the set he deliberately experienced the cold to feel the pain of his character.

Liu Yifei: I remember once he took a cold bucket of ice and I said to myself, I did not understand but he said he wanted the state [of his character].

NetEase new media: He really freeze himself? Why did he do this?

Liu Yifei: He felt this way more miserable, more able to feel the painful condition....."
Outcast 30 second trailer with Hayden Christensen and Nicolas Cage
A second trailer was posted by Sina news. The Outcast trailer is a 30 second spot with a few additional scenes that are not in the longer trailer. I've added it to Youtube. Outcast starring Nicolas Cage, Hayden Christensen, Liu Yifei and Andy On is coming soon to China in September and the US in February 2015.
Outcast Official Trailer with Hayden Christensen and Nicolas Cage
I've added the the first Outcast trailer to Youtube in case anyone has problems viewing the one from Mtime. Outcast with Nicolas Cage, Hayden Christensen, Liu Yifei and Andy On is a Chinese, French and Canadian co-production and will be released in 3D in China on September 26, 2014 and next year in the US on February 27, 2015.
Outcast Movie Stills released with Hayden Christensen and Nicolas Cage
More HQ Outcast movie stills were released today to go with the new official trailer that came out yesterday and have been added to Gallery. Outcast will be in theaters in China in 3D, September 26, 2014 and in the US February 27, 2015.Visit the Gallery.
Click for Larger Image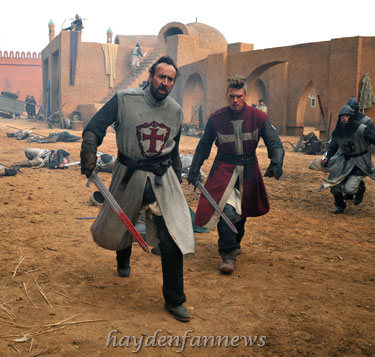 Click for larger image

Full HD Shanghai Film Festival Outcast Trailer with Hayden Christensen and Nicolas Cage!
The official trailer first shown at the Shanghai International Film Festival is now online in China and in HD features Hayden Christensen, Nicolas Cage, Liu Yifei and Andy On. A great find by Marcy from Sweetest Adoration website. Be patient. The video may take awhile to load. Source: MTime China
Sarik Andreasyan puts aside comedy for crime in American Heist with Hayden Christensen and Adrien Brody.
[Google Translate] Summary - American Heist Director Sarik Andreasyan recently gave an interview to AIF.ru and gave the history of how he came to Hollywood and made his first movie in America. American Heist was filmed in New Orleans a year ago and will soon make its' world premiere at the Toronto International Film Festival. This is the first film by a Russian director to be shown in one of the main film categories at the festival.
Click for Larger Image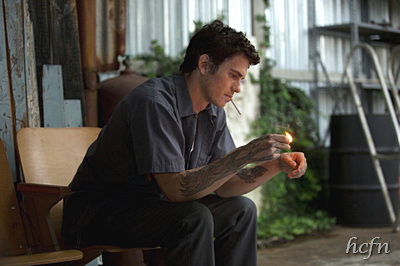 The US/Russian co-production from Glacier Films finished post production in late May and according to Andreasyan the forms were filled out and sent in early July to the TIFF committee for consideration. The selection committee sent a reply saying they were impressed with the film and the work of its' director and cast Adrien Brody and Hayden Christensen but he says they had to wait a few more days to get confirmation that American Heist had been selected for the "Special Presentations" program of the festival.
Sarik Andreasyan first met Hayden and Tove Christensen in a meeting arranged by friends a few years ago in New York. He gave Hayden some of his Russian movies to watch and a few days later Hayden contacted Sarik saying he liked the way he made his films and he wouldn't mind working together and they began the search for the right project and shared a lot of ideas. Since it was his first film in the US, the director listened to his actors and observed the differences in filming in the US and Russia.
"...[Google Translate] Filming lasted two months in New Orleans. Long days and very hot. "I never saw flying roaches but in Louisiana I saw everything".

But I saw that the same professionals and we have in our country, but how the actors - it's a whole different level. I've never seen Brody or Hayden go to the site with a script in hand, although some scenes were 7 pages - and never look at the paper! And Adrian requested that the camera keep rolling some double takes in a row, with a break for five seconds, until, until I spoke "I'm happy". I looked at it hard work, and it fascinated me. And never got indignant...."
Thanks for the link from Eternal Love and Amazing Hayden sites.