DECEMBER 2010

December 31, 2010 - Happy New Year - Wishing Hayden, his family and friends and all those who visit this website happiness and much success in the new year. Thank you to all of the friends online who visit and help in any way with this site. See you all again in 2011.
Click for larger image.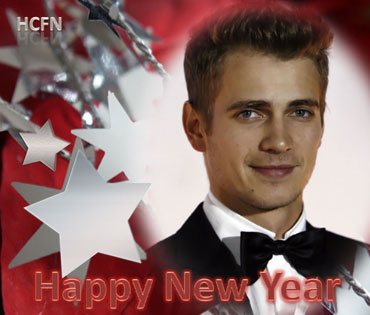 December 31, 2010 - Hayden Christensen in ET's 2011 Movie Preview - Entertainment Tonight - "A-list stars, highly anticipated sequels and a new batch of superheroes will ring in the coming year, and we have a complete preview of all things comedy, drama, action and adventure in 2011!"
"Hayden Christensen, John Leguizamo and Thandie Newton fear the dark in the apocalyptic thriller 'Vanishing on 7th Street' (Feb. 18)." Source

December 30, 2010 - Hayden Christensen in Takers Coming Soon to DVD - Sony's DVD Home video site for Takers is live with the dvd trailer, contests and interactive games. You can own Takers on Blu-Ray and DVD January 18, 2011.
"This high-stakes action thriller stars Matt Dillon, Paul Walker, Idris Elba, Jay Hernandez, Michael Ealy and Tip "T.I." Harris. After pulling off a spectacular series of brilliantly planned bank robberies, a notorious team of professional criminals attempts one last heist, a once-in-a-lifetime job with a $25 million payoff. And all that stands in their way is a cop hell-bent on doing whatever it takes to solve the case and bring the TAKERS down. Chris Brown and Hayden Christensen costar in an adrenaline-rushed thrill ride packed with twists and turns."
Click to Go to Takers Home Video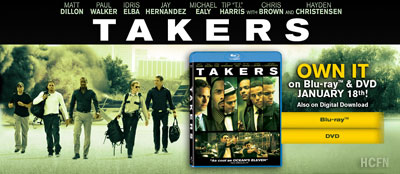 December 28, 2010 - Hayden's Latest TV Schedule - The TV Appearances have been updated with the list of Hayden's movies airing in the coming weeks. Catch a double feature of Jumper tonight on FX at 7pm / 9pm CT and 8pm / 10pm ET.

December 27, 2010 - Vanishing on 7th Street - Hayden is a Survivor - Brad Anderson had a list of people he was interested in working with when gathering his band of survivors and Hayden Christensen was at the top of that list. "I like his work and he seemed like a good fit for the Luke character," says Anderson. "He told me he wanted to do a movie that was not completely dialogue driven, but not all action either. In our film, he plays a guy who has to use his wits to try and survive a terrifying ordeal."
Working with Anderson was a motivator for the actor, who first came to worldwide attention for his role as the young Anakin Skywalker in three Star Wars blockbusters.
"I've admired Brad's work for a while," Christensen says. "When he approached me with this script, I was really keen to get involved. He's a very smart filmmaker; super analytical. Brad is on top of every aspect of the movie, and at the same time he allows himself to try and experience what the characters are going through."
Christensen remembers being intrigued before he finished the first page of the script. "It started with the famous quote from T. S. Eliot's poem, 'The Hollow Men,' 'This is the way the world ends, not with a bang but a whimper.' That was very impactful to me."
"One of the other things I responded to was the containment of the story," he continues. "Once all the characters get to the bar, there was an intimacy I liked."
The script's deft combination of emotion and intellect made the project impossible to turn down. "I was impressed by the way the film could exist on two levels at the same time. One is as a tremendous thriller that's intended to elicit a very visceral response. On a more subtle level, it's a medium to explore some very big ideas and philosophies. It's kind of an examination of what it means to exist." (Hayden Christensen cast interview courtesy Magnet Releasing)
Vanishing on 7th Street is gathering new playdates around the country. Opening in the following cities:
2/25/2011
West Los Angeles, CA: Nuart Theatre
Denver, CO: Mayan Theatre
Philadelphia, PA: Ritz at the Bourse
3/4/2011
Portland, OR: Hollywood Theatre
3/11/2011
Palm Desert, CA: Cinemas Palme D'Or 7
Photos courtesy of Magnet Releasing.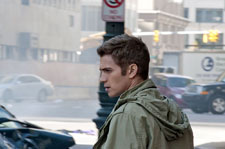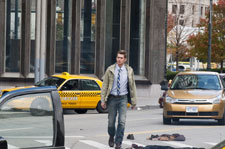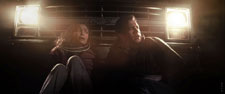 December 25, 2010 - Happy Holidays - Merry Christmas and Happy Holidays to Hayden and his family and all those who visit the web site. Wishing you the happiest celebrations with family and friends. Have a good one.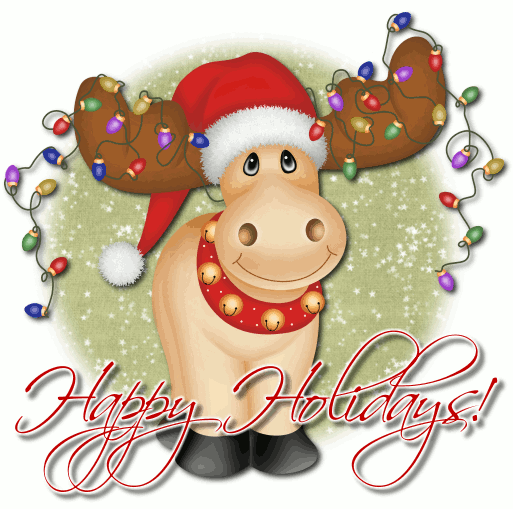 December 20, 2010 - Hayden with Taylor Groothuis on the set of Vanishing on 7th Street - Here is a picture of Hayden and Taylor in makeup getting ready for filming of Vanishing on 7th Street. Vanishing on 7th Street will be in Theaters February 18 in New York and L.A. before expanding to more theaters in Los Angeles, Denver, Philadelphia on February 25th. If you don't live in one of those cities, never fear, you can catch Vanishing on 7th Street On Demand January 7, 2011. (Thanks to Taylor and her mom Dana for the picture.)
Magnet's Vanishing on 7th Street - Magnet's new opening page with extra information about the movie.
Vanishing on 7th Street Trailer Page - New HD Trailer page on Apple iTunes
Click to Enlarge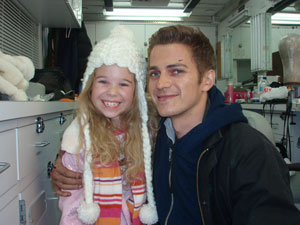 December 19, 2010 - Rally for Kids With Cancer Raises $2.5 Million for SickKids Foundation in Toronto - Hayden Christensen and Eva Longoria served as honorary chairpersons for the Toronto Rally for Kids With Cancer event sponored by Rosseau Asset Management. The event benefited SickKids Hospital and Foundation which helps provide support and the latest treatment for children battling cancer.
During the Rally's Scavenger Cup held on September 25, 2010 in Toronto, Hayden and other guest celebrity drivers visited with children at SickKids Hospital. A visit that hit close to home when Hayden realized that one of the kids grew up a few houses down from him. Of his visit he said, "It was inspiring actually. The spirits of these children are pretty remarkable. They're all fighters so I got a lot out of it and it was fun cause, you know, they got a kick out of meeting me. I made 'em smile so it was a nice thing. It makes you really proud to come from a city where something like this is possible."
Celebrities and particiapants helped raised donations totaling $2.5 million. Check out the pictures in the album of Hayden visiting SickKids Hospital. (Thanks to Meyree for photos.)
HCFN - Hayden visits SickKids Hospital in Toronto
Rally for Kids Site - Updated Photos
Click to Enlarge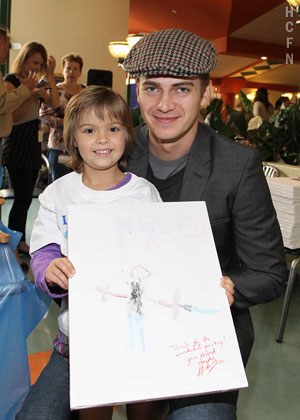 December 12, 2010 - Possible New Project for Hayden - IMDb added The Diplomat to Hayden's list of projects in development. Tove is listed as a producer on the movie. The information is dated November 22 but added on December 12. The film has been added on this page in the right column to rumored and in-development projects.
UPDATED INFORMATION - (December 19, 2010) The Diplomat has is no longer listed in the Internet Movie Database. The status of projects in development are subject to change without notice.
Synopsis of The Diplomat
Brent Forbes, an American Embassy attache' in Budapest, finds himself caught in the middle of an investigation that is just about to expose a traitor. When his daughter is witness to a murder, Brent, his daughter and his wife are taken to what they think is a safe house but they are really prisoners of the traitor. As Brent tries to get help, he is drawn deeper into the traitors conspiracy and must find a way to free his family before time runs out. (Hayden Christensen: Brent Forbes)

December 6, 2010 - Vanishing on 7th Street First Theatrical Trailer - Yahoo has your first look at the creepfest that is Vanishing on 7th Street complete with stalking shadows in the theatrical trailer for Hayden's latest movie which will be available everywhere On Demand January 7th and in theaters February 18th.

December 5, 2010 - Movie Project Updates - There have been changes to two of Hayden's movie projects. (Thanks to JforJ for the info.)
The database listing for Beast of Bataan has been removed from IMDb.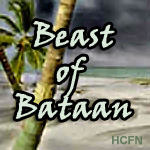 Brad Anderson has added The Genesis Code to his page of films in development which is to star Hayden and is being produced by Forest Park and Myriad Pictures.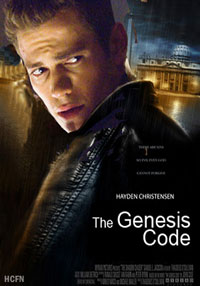 December 2, 2010 - Hayden Christensen Featured in New Poster for Vanishing on 7th Street - Hayden is featured walking out into the darkness in front of Sonny's Bar in the latest poster for the upcoming Vanishing on 7th Street. The movie can be seen On Demand January 7, 2010 and will be released in Los Angeles and New York on February 18 with more cities to follow. Click the picture below for the larger version. Source
UPDATED IMAGE: (December 6, 2010) Click below for larger poster and look for the secret word.
Click to Enlarge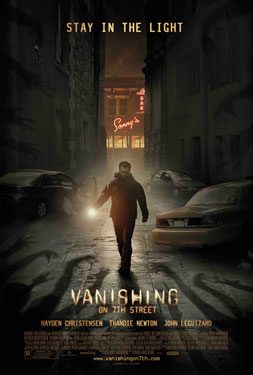 December 2, 2010 - Hayden Christensen Exits Paradigm For UTA - (Nikki Finke - Deadline) - "The 29-year-old actor had been at Paradigm, and before that at ICM, with Jim Osborne. He just co-starred in Sony's Takers and will next appear in film Vanishing On 7th Street. But his career never took off -- and it should have -- after his turn as Anakin Skywalker in the second and third Star Wars prequels or his breakout role in the 2001 film Life As A House. Christensen and his brother Tove run the production company Forest Park Pictures, which has a 3-pic deal with Screen Gems. As for his acting, I don't think Hollywood has really seen what he can do yet." Source

December 2, 2010 - Vanishing on 7th Street to be Distributed in Italy - Movie One will distribute Vanishing on 7th Street to theaters in Italy in 2011 according to Best Movie Italia.

December 1, 2010 - Vanishing on 7th Street At the Turin Film Festival - Italian move-goers will have a chance to see Hayden in Vanishing on 7th Street at the Turin Film Festival this week. The festival runs from November 26 to December 4. Source

December 1, 2010 - Vanishing on 7th Street At Whistler Film Festival - The Whistler Film Festival is in full swing from December 1-5 this week a couple of hours north of Vancouver. Vanishing on 7th Street is one of the movies being presented as a late night chiller feature Saturday December 4, 11:45 p.m. at Village 8. Hayden Christensen stars along with Thandie Newton, John Leguizamo, Jacob Latimore and Taylor Groothuis. Source

December 1, 2010 - New Preview of Vanishing on 7th Street - Thanks to JforJ for posting this to IMDb. Blip TV has a 3 minute Magnolia Pictures On Demand preview and behind the scenes look at Vanishing on 7th Street which will be available on VOD January 7, 2011. New scenes with Hayden and the cast. Blip TV
30 Second HD Promo for Vanishing on 7th Street On Demand

December 1, 2010 - Vanishing on 7th Street Appears in Theaters February 18th. - Hayden's latest movie will be released in New York and Los Angeles on February 18, 2011 but will also debut on Video on Demand (VOD) on January 7th. Plans are to expand to more theaters some time after the February release date. Also starring with Hayden in the psychological chiller is Thandie Newton, John Leguizamo, Taylor Groothuis and Jacob Latimore. Sources: Fangoria and Dread Central
"Vanishing on 7th Street" Updated Synopsis - Shock Till You Drop:
An unexplained blackout plunges the city of Detroit into total darkness, and by the time the sun rises, only a few people remain - surrounded by heaps of empty clothing, abandoned cars and lengthening shadows. A small handful of strangers that have survived the night (Hayden Christensen, Thandie Newton, John Leguizamo and newcomer Jacob Latimore) each find their way to a rundown bar, whose gasoline-powered generator and stockpile of food and drink make it the last refuge in a deserted city. With daylight beginning to disappear completely and whispering shadows surrounding the survivors, they soon discover that the enemy is the darkness itself, and only the few remaining light sources can keep them safe. As time begins to run out for them, darkness closes in and they must face the ultimate terror.
November 2010 Archive