NOVEMBER 2010

November 25, 2010 - Happy Thanksgiving - Thank you for visiting. Thank you for your support. Hayden Christensen Fan News is 4 years old this month. I hope you all have a special and Happy Thanksgiving with family and friends. Travel well for the holidays.
Click to Enlarge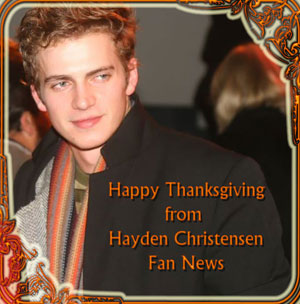 November 24, 2010 - Takers on Stephen King's 2010 Top Ten List - Every year Stephen King makes his list and checks it twice. It's his list of best movies. Takers makes his list this year with enthusiastic praise for the movie, Hayden and the rest of the cast. Audiences went for Takers as late summer fun and generally ignored critics who sometimes take things too seriously. Takers took the number 1 spot in it's opening weekend.
5. Takers - "This satisfyingly complex cops-'n'-robbers movie [featuring] great performances from Matt Dillion , Idris Elba , and - surprising but true - Hayden Christensen. The climax strains credulity but the characters feel real, and the armored-car heist is the best action sequence I've seen this year."
You'll find the entire top ten list of movies with Stephen King's commentary on each in King's "King of Pop" column in the latest issue of Entertainment Weekly on newstands now with a picture of "The Walking Dead" on the cover. Source and Source.
Click for larger image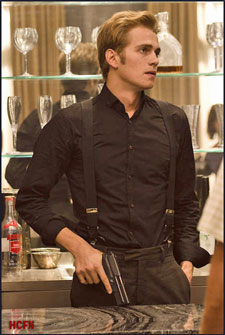 November 22, 2010 - The Cold Status Updated Again - The status has changed back to "Pre-production" and "Shooting Winter 2011".
November 20, 2010 - "Film producer HEATHER RAE is now on the Sundance Institute board. She also has a couple of films in post-production, including Idaho writer and director Jaffe Zinn's "Magic Valley", which was filmed in Buhl. It has been submitted to the Sundance Film Festival. Her next project "The Cold", written by her husband, Russell Von Friedenberg, will start filming this winter. Rae's documentary about the Idaho foster-care system "Family: The First Circle" premiered at the Woodstock Film Festival in September."

November 20, 2010 - The Cold Status Updated - IMDb has updated one of the projects Hayden is attached to. The Cold is now listed as "development unknown". It had previously been listed as in "Pre-production" with filming to begin this winter.

November 20, 2010 - Hayden Christensen Fan News Updates - Hayden's latest TV Schedule has been updated in the left column. The "Dates and Events" section has also been updated with Takers DVD release information in the right column.

November 17, 2010 - Hayden Christensen in Takers debuts in France - Takers premieres in France November 24th. Enjoy the French trailer below with a new quick view of Hayden dubbed in French saying something like "Life is looking pretty good".

November 15, 2010 - Takers DVD Coming January 18, 2011 - Hayden Christensen stars as AJ, one of a group of notorious bank robbers in John Luessenhop's action packed film Takers set to release in the U.S. January 18, 2011. Paul Walker, Idris Elba, Chris Brown and Michael Ealy also star as the well styled crew with a perfect score in heists until a former member played by T.I comes back with the biggest heist plan of all. Matt Dillon and Jay Hernandez play the LAPD officers obsessed with taking them down.
Click for larger image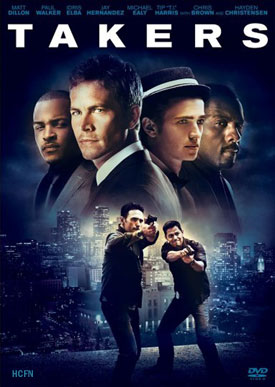 Amazon. com (US) has updated it's Takers listing with production stills and dvd information. Amazon.com (UK) is showing a February 7, 2011 DVD release for Takers. Fans may want to be on the lookout for a Takers DVD with exclusive or special features offered elsewhere before pre-ordering.
2010 Takers Comes to Blu Ray January 2011
The tech specs for the [BLU RAY] release include full 1080p Hi-Def video in the 2.40:1 aspect ratio and DTS-HD 5.1 Master Audio sound. The title is already available for PRE-ORDER over at Amazon with a $23.99 price tag. The bonus materials set to be included on the release are listed below.
PS3 Wallpaper Theme
BD Exclusive: movieIQ and BD-Live connect you to real-time information on the cast, music, trivia and more while watching the movie!
Filmmaker and Cast Commentary
Executing the Heist: The Making of Takers
Take Action!
"Yeah Ya Know (Takers)" By T.I. - Promotional Music Video
**Note: Features may differ on the DVD version from the Blu Ray version.

November 12, 2010 - Hollywood Star Adam Beach Moving to Vancouver Island - (Times Colonist) - Adam Beach is hoping to steer youth in a good direction through his studio partnership. The Manitoba-born Saulteaux native is relocating to the Cowichan Valley to form a creative partnership with producer Robin Webb to make independent films through his Bay Film Studios. Beach hopes to reach out to First Nation youth and steer them away from drugs, alcohol and gang lifestyles through film production.
Beach plans to ask for help with his Island mission. "He's brainstorming with actor Hayden Christensen, hopes to lure Sam Rockwell and guarantees his best friend, actor Scott Caan, will be "hanging out here."
Adam appeared in Clint Eastwood's "Flags of Our Fathers" and Windtalkers with Nicholas Cage. Hayden worked with Adam on Higher Ground. He appeared in the episode titled "What Remains" as Forest Ranger Aaron Reifel. They have been friends a long time. He attended Hayden's 25th birthday in Las Vegas.
Click for larger image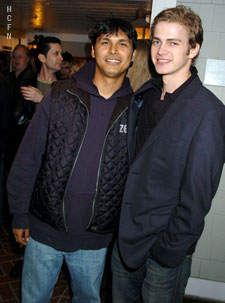 November 11, 2010 - Hayden Likes his Pea Coat and Boots - When Hayden was in Rio de Janeiro in June , he was asked about his style. He said he likes to keep it simple like jeans and a t-shirt, although he enjoys getting dressed up for premieres. Not one to be over the top or outrageous in his choice of clothes, he listed a few essentials like his pea coat and boots. We could also add to that a scarf because it seems to be one of his constant accessories and also, a little less often, one of his stylish hats other than the regular ball cap.
Click for larger image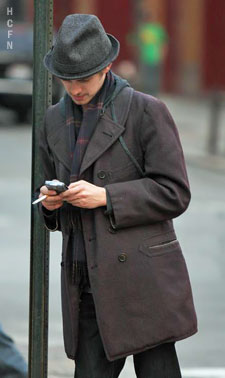 Recently, Joe.ie covering the never out of style pea coat, mentioned those who wear them well. "This style of coat is a favourite of celebrities such as Ewan Mcgregor and Hayden Christensen - for the sharp guy that does not try too hard. The high-street is awash with Pea Coats of different lengths and colours - so be sure to shop around."

November 11, 2010 - Academy Award Winning Producer Dino de Laurentiis Remembered - Funeral services for Dino de Laurentiis will be held in Los Angeles on November 15 at the Cathedral of Our Lady of the Angels in Los Angele at 1:30 pm. He was 91. Mourners have been asked to wear red instead of the traditional black, the favorite color of the famed Italian producer who died November 10.
You would recognize some of the movies he's produced. Oscar winner U-571, Oscar nominated Ragtime, Conan The Barbarian, King Kong (Jessica Lange), Serpico and Dune were all produced by Dino de Laurentiis.
One of the last completed movies released by Laurentiis was "Virgin Territory" with Hayden and Mischa Barton. Hayden has said in interviews how he enjoyed his time in Italy working with and being a guest of the Laurentiis family. Filming in Italy was a different experience with time taken out from shooting to enjoy lunch, to enjoy life.
Click for larger image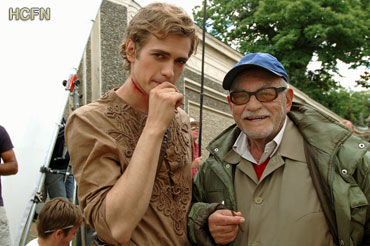 November 10, 2010 - Hayden Christensen in Shattered Glass, One of 411 Mania's Top Ten Biopics - (411 Mania) - 10. Shattered Glass - "This 2003 detailing of Stephen Glass' fall from grace at The New Republic is a real hidden gem that I firmly believe more people need to see. The performances, particularly Hayden Christensen as Glass and Peter Sarsgaard as his editor, are wonderful and the story is much like a car accident on the highway. You know something bad is coming but you just can't turn away as you watch Glass pile lie upon lie. When you get to end, you almost believe his lies as much as he does."
Click for larger image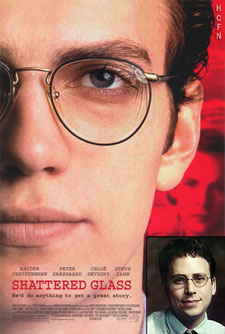 November 7, 2010 - Hayden Christensen InStyle Magazine - Hayden Christensen: Man of Style - (InStyle Australia) For such a nice, well-mannered guy, Hayden Christensen has made quite a career out of pretending to be anything but, playing liars (Shattered Glass), crooks (Jumper), and the personification of evil (Anakin Skywalker in two of the Star Wars prequels).
Click for larger image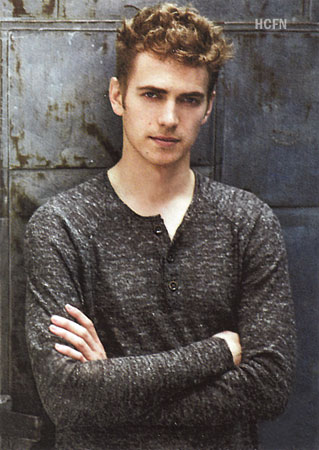 The 29-year-old Vancouver native continues his march of mayhem in the new film Takers (out November 18), which features fellow hunks Matt Dillon and Paul Walker. In the fast-paced, stunt-laden flick, Christensen is A.J., the bomb builder in an expert crew of bank robbers who are out for the last big score before going on the straight and narrow. "I wanted to do a traditional action movie," he says of his latest choice. "I personally really enjoy those types of films." Given his history, we should have guessed.
One of the first things you notice about A.J., your character in the film, is that he's covered in tattoos. Are any of those real? "No. I've always had a bit of an affinity for tattoos, but I don't think I could make a decision today and know that I would still want to see it in 50 years. I had a lot of fun with A.J.'s, though. A friend of mine has a big grim reaper on his back. I always thought it was such a cool tattoo, so I had it copied."
I heard that you often clip your hair yourself. So the style in our shoot... "Is a Hayden. I usually cut my own hair when I'm not working. I'm very adept with the dog trimmers."
You use the same clippers on your dogs? "Not the exact ones, but the same model. It's easier, and takes a lot less time." Very resourceful. You and your well-groomed dogs spend time on your huge farm north of Toronto. Since you've already got clippers, what's going to be your next purchase for it? "Absolutely 100 per cent it will be a nice baby grand piano for my place."
You're the one we hear at the keyboard in Takers, right? "Yes, I grew up playing jazz and blues. I started with classical when I was four, which I was never really interested in."
Does what you wear in the country differ from your city attire? "It doesn't...I don't mind getting things dirty. I had a pair of brown Gucci boots that I wore for the longest time. They weren't supposed to be farm boots, but they ended up there."
How would you define 'Canadian style'? "It's tough for me to speak on behalf of my countrymen, but I would say it's very comfortable. I personally wear a lot of flannel [shirts] and jeans, and I feel very Canadian when I have them on." - Megan Deem

November 5, 2010 - Vanishing on 7th Street at Whistler Film Festival - Vanishing on 7th Street, directed by Brad Anderson and starring Hayden Christensen will be featured at the 10 Annual Whistler Film Festival December 1 - 5, 2010. Selected from over 900 submissions the 10th annual Festival will present 68 films consisting of 34 features and 34 shorts on four screens in three theatres over five days. Vanishing on 7th Street has been selected as part of the Western Canadian Premieres program. The international lineup of films featured at the festival is set against the backdrop of the spectacular Coast Mountains of British Columbia just two hours north of Vancouver. Sources: Whistler Film Festival and Quiet Earth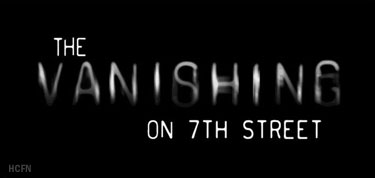 November 4, 2010 - Jumper 2 Update - Hayden is no longer listed in the cast on IMDb for Jumper 2. The last news we have of Jumper 2 is from the Takers red carpet where Hayden was asked about the upcoming sequel by MTV. Hayden spoke briefly about the sequel and that they were working on it and trying to figure out the story so this turn of events is a little surprising. You can watch the video of Hayden being interviewed by MTV below. (Thanks to JforJ for the heads up.)

November 1, 2010 - Hayden's Upcoming Film The Cold at AFM - Hayden's next feature film, The Cold, is listed at this month's American Film Market. The market takes place every year in Santa Monica, California and this year runs from November 3 - November 10. Worldview Entertainment is no longer listed as a production company for the film on AFM or IMDb. The Cold is listed under production for SC Films International, starring Hayden Christensen, directed by Daniel Calparsoro and produced by Sergio Aguero, Heather Rae, Simon Crowe, Alvaro Longoria. Source
The Cold - (Idaho, USA) - 7 friends head off into the wilderness to begin their annual hunting trip. As a snow storm gathers the big white out starts. Snowed in, cold and isolated, the men begin to question their friendship and loyalties. Soon they are terrorised by an unseen beast, what is stalking them?

November 1, 2010 - Takers Coming Soon to DVD - The late summer boxoffice hit, Takers, starring Hayden Christensen, Idris Elba, Paul Walker, Chris Brown, Michael Ealy and T.I. is coming soon to dvd. Amazon. com (US) has it listed for pre-order with no release date. However, Amazon.com (UK) has it listed for release on January 31, 2011. If that date is accurate, the US release date could be sooner. Fans might want to wait to see if there will be a Takers DVD with exlusive special features offered elsewhere before pre-ordering.

October 2010 Archive