DECEMBER 2011

December 31, 2011 - Hayden Christensen Home for the Holidays in Toronto - Hayden and Rachel were out holiday shopping and made some fans very happy by taking a few photos with them. The fans were good enough to share them on Twitter and Facebook.
Click for Larger Image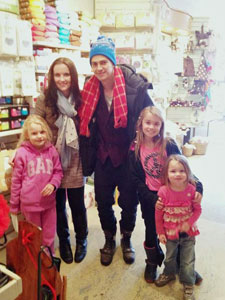 Click for Larger Image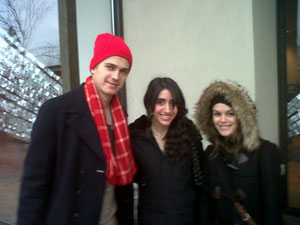 December 31, 2011 - Toronto's 2011 Top 100 Events - BizBash Toronto recently named it's top events for 2011 and mentioned Hayden as a celebrity participant in the Rally for Kids With Cancer fundraiser which raised money for SickKids Foundation.
"The Rally for Kids With Cancer Scavenger Cup attracted celebrities like Eva Longoria and Hayden Christensen to help raise more than $2.5 million for the SickKids Foundation. September 16-17." Source
Click for Larger Image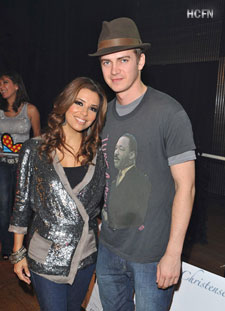 December 31, 2012 - Jumper 2 with Hayden Christensen Still on Some Minds - Here's a wish for the New Year. How about a Jumper 2 sequel. I often see chatter about Jumper with Hayden on Twitter and around the web. The movie is still popular as it airs on television around the world. The idea in Jumper of someone being able to teleport is so romantic and cool it's hard to stop thinking about these characters. The end of the movie is etched in my mind. Here's a recent article about sequels that led to some interesting comments from readers about Jumper and a clip for lagniappe. (Thanks to Ruth for the link to the article.)
I'd really like to see another Jumper film.

December 31, 2012 - Shattered Glass with Hayden Christensen in the News - There have been several articles reporting the news that Stephen Glass has appealed his denial to practice law in the State of California and naturally many of those articles reference the movie Shattered Glass. Hayden portrayed Stephen Glass in the movie about the disgraced journalist who fabricated more than 40 articles for The New Republic and other well know magazines from 1996 to 1998. Later, Glass passed the New York and California bar exams after graduating from Georgetown University School of Law. Shattered Glass continues to be a movie shown and discussed with students in journalism classes today. As a movie, it continues to draw critical acclaim for director/writer Billy Ray, actors Hayden Christensen and Peter Sarsgaard for portrayals of true to life suspense and drama. You will find a link to one of the articles below and also the trailer for Shattered Glass.
California Supreme Court To Decide if Stephen Glass Can Practice Law in California

December 31, 2011 - Happy New Year from Hayden Christensen Fan News - May all your dreams come true in 2012 and wishing you and yours every happiness.
Click for Larger Image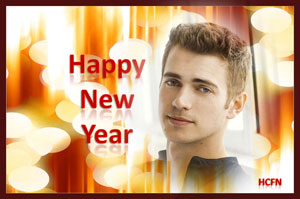 December 14, 2011 - Season's Greetings from Hayden Christensen Fan News - Wishing peace and merry Christmas and a happy holiday season to you and all your loved ones.
Click for Larger Image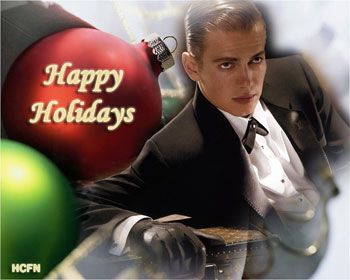 December 14, 2011 - Hayden Christensen's Rumored Project Battlecreek in Production - According to IMDb, production is moving forward on Battlecreek and casting is being finalized on the project. IMDb has Hayden listed as being attached in the role of Henry, an artist who must live his life at night, unable to go out in the daytime because of a rare medical disorder. His nightlife gets complicated with the appearance of a troubled woman who enters town with maybe a chance at a new life for both of them.
Click for Larger Image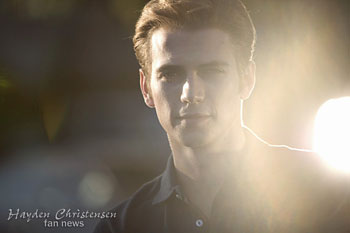 November 2011 Archive