FEBRUARY 2012

February 28, 2012 - Hayden Christensen's International thriller in Pre-production - The Diplomat has been updated and is now listed in pre-production. According to IMDb the movie will film in locations including Bucharest, Romania and London, England in the UK. Hayden is joined by Jim Broadbent and Joseph Fiennes in the thriller about a junior diplomat living abroad with his family who find themselves in the midst of a deep and dangerous conspiracy.
The project has undergone many changes but finally seems to be on track. Thanks to JforJ for noticing a new director. Simon Wells who directed The Time Machine takes over for two previously listed directors.
Synopsis - Junior diplomat Brent Forbes is thrown into a violent conspiracy when his daughter witnesses the murder of the US Ambassador to Romania and forces stop at nothing to make sure she never testifies.
Click for Larger Image


February 14, 2012 - Hayden Christensen to Co-star with Jim Broadbent and Joseph Fiennes in The Diplomat - Last we heard about this project, Fusion Films and Future Film Group had a slate of 4 film scheduled for production. Of the four, two have been completed and one has been delayed. The Diplomat was the fourth on the list and it seems that production is gearing up. Jim Broadbent (Moulin Rouge, Harry Potter) has been added to the cast along with Hayden and Joseph Fiennes. According to IMDb, Broadbent will take the role of Ambassador Jack Coleman, the boss of Hayden's character, Brent Forbes, who is a junior diplomat.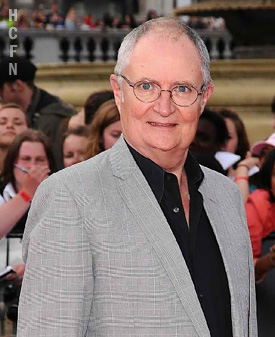 February 12, 2012 - Hayden Christensen - Runelords Movie Poll Second Round Voting - Runelords movie producers have decided on a second round of voting to further narrow the choices for the lead roles in their film. Hayden is included in the second round of the Runelords Movie Poll for the role of Gaborn with Kellan Lutz and Matt Cohen. You can vote in the second round even if you voted before. You will need to register this time to be able to vote. Below are quick links to the pages to register and vote.

February 1, 2012 - Hayden Christensen - Runelords Poll Update - Voting in the Runelords polls is continuing. If you haven't voted yet, do so now. I don't know how long the poll will stay open. Hayden has gone from having 55.7% of the vote to 51.1% in one day so things could change quickly if fans don't rally. Don't let it slip away. It's not over til it's over and the Runelords organizers haven't announced a end of voting or final totals. Remember the system only allows you to vote once so ask others to vote too.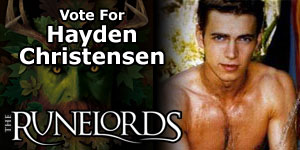 January 2012 Archive