February 19, 2013 - Hayden Christensen and Sebastian Shaw Immortalized in Mythos Vader Collectible Statue. - Slideshow Collectibles has opened pre-orders to collectors for the Darth Vader Statue that is getting some high praise from fans of the Star War franchise. The beautifully rendered statue, with interchangeable parts, is able to depict a newly transformed and scarred young Darth Vader in the prequels as portrayed by Hayden Christensen and the older Darth Vader as played by Sebastian Shaw in the original trilogy. Different arms with mechanical hand/fist or light saber are just some of the parts included to make the statue more personally yours. The statue begins shipping September 2013. Enjoy a few of the pictures below.
I recommend going to Slideshowtoy.com to see more pictures and read the Darth Vader story which gives some intriguing insight into the movie character of Darth Vader and background on the inspiration for the statue.
More story links
The Coolest Darth Vader Statue Ever
I Want That Darth Vader Mythos Statue
Click for Larger Images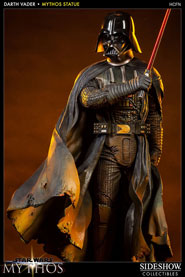 Click for Larger Images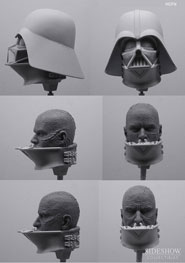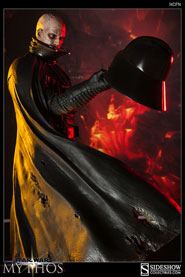 February 15, 2013 - Was Hayden Christensen robbed by the Academy once upon a time? - According to SFGate he was. The movie was Shattered Glass and though it did receive critical acclaim then and continues to do so today there were no Oscar nominations from the Academy.
They Wuz Robbed - By the Academy - "The Academy has made some mistakes over the years, some big ones; they've already made some big mistakes this year, and the awards haven't even been given out yet. And if you believe the prognosticators, it looks like they're primed to make a few more mistakes at the ceremony on February 24."
"And so today we take a few moments to ponder some of the Academy's big mistakes."
Three possible nominations for Shattered Glass - picture, actor (Hayden Christensen as Stephen Glass) and especially Peter Sargaard as his editor. No nominations.
Click for larger image.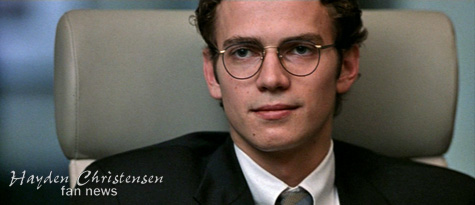 February 13, 2013 - Hayden Christensen to begin filming Outcast in August with Nicolas Cage in China. - Nicolas Cage is a very busy man, with several films in the pipeline currently getting ready to begin filming. When I read that he had signed on for the lead role in Tokarev which begins filming in May, I wondered how that might affect Outcast filming. Not to worry though. Hayden and Nic will still be in the roles of two wandering knights who end up in China and rescue a princess.
The Hollywood Reporter (February 12, 2013) is saying that the movie originally moved to a November 2013 start date before it finally landed an August date to accommodate Mr. Cage's schedule. Hayden attended the Beijing press event last November to announce the launch of the co-production with Gary Hamilton of Arclight Films, Ying Ye of Easternlight Films and director Nick Powell and top ranking Chinese film officials. Location shooting was to begin in April in Yunnan Province, China but now Hayden has a little more time to brush up on his Mandarin.
Click for larger image.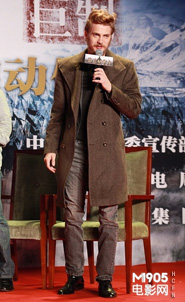 February 8, 2013 - K-OS says Hayden Christensen is a Renaissance dude. - When Canadian rapper K-OS needed a little creative atmosphere to help him finish his Black on Blonde Album last year, he ended up at the Laurel Canyon home of fellow Canadian and friend Hayden Christensen. Hayden's stylish modern home is up for sale now but K-OS made the most of his time there. His Black on Blonde double album was released January 29, 2013 and is available on iTunes. You can read more about Hayden and K-OS below.
The Force is With Canadian Rapper K-OS - "The force was definitely with Canadian singer-songwriter-rapper-producer k-os when he was making his new double album of hip-hop and rock, BLack on BLonde.
K-os, whose real name is Kevin Brereton, wound up at the Laurel Canyon house of Canadian actor Hayden Christensen, who played a young Darth Vader in the Star Wars prequels.
"Oh, my God, I'm a Star Wars nerd," said the Whitby, Ont.-born, Vancouver-based artist, 40.
"It just made sense where I was like four or five records (into my career). I'd already done a lot of stuff in Canada and being in a new environment, but also having a place of my own, especially that place, cause it's very much a barren Miami Vice old '80s mansion. It's nothing glamourous. There's a lot of space. But there's that lonely feeling that you can channel. (Hayden's) also a musician. He's a great piano player. We'd jam together. He's a renaissance dude. So he totally relates to everything I do."
It turns out k-os met Christensen on a flight to Vancouver during the 2010 Winter Olympics, and moved to L.A. for five months in 2012 originally because of a girl, an actress, but they've since broken up.
Click for larger image.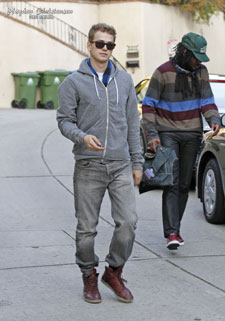 January 2013 Archive