Hayden Christensen for RW&Co and RAD Hourani
Recent pictures of Hayden have appeared online from Jimmy Hamelin for RW&Co and Rad Hourani of RAD Haute Couture. A couple of teaser pics from another photoshoot hosted by Deminology have also surfaced and hopefully we get to see more soon.
Click for Larger Images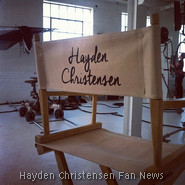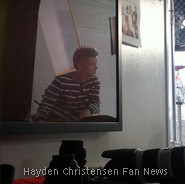 Click for Larger Images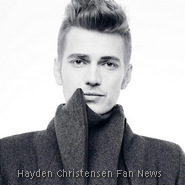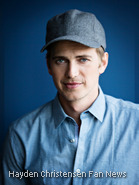 Hayden Christensen New Fashion Collection Coming Soon.
Karola-Style (Twitter) recently tweeted some interesting and welcome news. According to Karola-Style, Hayden will be announcing a new clothing line soon probably for Spring and/or Summer.
#haydenChristensens new clothing line is fabulous for men. They are great for summer. I love a sweater which is "beefy". Watch for it

— Karola Style (@Karolastyle) February 12, 2014
@tomandlorenzo I hope you check out #haydenchristensens new line in a month or two. Amazing

— Karola Style (@Karolastyle) February 12, 2014
China and France Connect with Outcast starring Hayden Christensen
Click for Larger Images

Variety - France has experienced significant increases in international productions coming from China in the last 10 years. China is one of the world fastest growing international film and television markets. Still it's a challenge to get a production going in China and film producers from around the world have needed to find a different approach to working there. The U.S. and France are two of a small list of countries that have made films in China with France developing an increasing number of co-productions
Variety
"Co-productions not only involve locations in France, but also VFX and sound work.

For example, film financier Leonard Glowinski, coproduced the Chinese-Canadian-French co-production Outcast, starring Nicolas Cage and Hayden Christensen, with sound post-production conducted in France.

Chinese producers are looking to include a few specific things in their films in order to engage with Chinese audiences including shots of Paris, French castles and vineyards, Glowinski suggests. "
Glacier Films adds The Tank to production slate.
Berlin: According to Deadline.com Hayden's production company Glacier Films will be producing the upcoming thriller "The Tank" acquired for U.S. distribution by Open Road Films during the Berlin Film Festival.
Deadline Exclusive
"Open Road Films is picking up U.S. distribution rights to The Tank, a thriller from writer-director Kellie Madison. The pic revolves around six people entering an isolation tank designed to simulate the lengthy trip to Mars. Production is set to begin in April in Ohio. Glacier Films. Tove Christensen, Sarik Andreasyan and Vladimir Poliakov are producing alongside Steven Schneider. The deal was negotiated in Berlin by Tom Ortenberg and Elliott Kleinberg of Open Road and Ben Weiss of Paradigm. "
Hayden Christensen's American Heist part of growing international industry.
Berlin Film Festival News - Katya Mtsitouridze, Roskino CEO, the government backed organization that promotes Russian cinema worldwide is hopeful for a growing movie industry that includes international producers making movies with Russian partners.
Source: Berlin: Russian Biz Looks to Bond with International Industry
Variety
""More and more Russian producers are looking to get involved in co-productions, Mtsitouridze and Ruzaev [Variety Russia] agree. One of the most active is Georgy Malkov's Enjoy Movies, whose Russia-U.S. pics include action-thriller American Heist, starring Hayden Christensen. Pic's production partner is Glacier Films." "
Click for Larger Images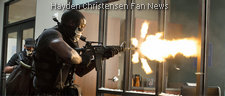 Vader Facebook Look Back Video with Hayden Christensen
A Facebook Look Back video created by Joshua Dill starts off with the familiar and always thrilling: "A long time ago in a galaxy far, far away." Look Back videos have been created by Facebook on many popular topics. Anakin Skywalker and Darth Vader as portrayed by Hayden Christensen and Jake Lloyd are remembered in flashbacks from all the Star Wars films along with famous quotes and memorable scenes in this Facebook Look Back.
Hayden Christensen interviewed by actress Joan Chen for CCTV6
VIDEO INTERVIEW CONTENT:
Part 1

Part 2

Part 3

Original videos:
CCTV6 Star Wars Event - 30 minutes
CCTV6 Video with Hayden - 10 minutes
CCTV6 Star Wars Happy New Year - 1 minute
Joan Chen: What was the Star Wars casting process like?
The casting process was long and Hayden returned for 4 or 5 call-backs. He had a meeting with Robin Gurland and then on another trip he met with George Lucas at the Skywalker Ranch. Hayden recalled that meeting with Lucas at Skywalker Ranch for the first time was a very surreal experience. He also felt a bit overwhelmed when he finally met Natalie for their audition together.
Joan Chen: Mentioned how she hates auditions and wondered if Hayden remembered any nerve wracking moments during the Star Wars process.
Hayden said he was very nervous with butterflies in his stomach and at one point got a frog in his throat and briefly lost his voice while auditioning with Natalie Portman. Joan Chen also recalled a story she heard that Hayden threw up on the way to the ranch. Hayden made light of it and said he wasn't going to bring that up but it did happen.
In another interesting behind the scenes story, Hayden said that Robert De Niro showed up to the set the day they filmed the end of the fight scene where Obi Wan cuts down Anakin on the shore of Mustafar. De Niro came up to him while he was doing push-ups and said he does the same thing when getting ready for a scene. Hayden said there were a lot of neat people that showed up to the set to watch the filming just because it was Star Wars and they wanted to see it first hand.
Hayden and Anthony Daniels took a few questions from the audience and were asked about the new Star Wars movies to be produced by Disney and directed by JJ Abrams. Specifically asked about their participation, Hayden said he probably would not be in the movies especially since Darth Vader died in Episode VI. Anthony Daniels said that he has appeared in all of the past six movies but hasn't gotten a call about appearing.
Joan Chen: Wanted to know what Hayden learned the most as an actor during the two movies.
"It was the most incredible learning experience I could have asked for. I got to watch George Lucas, amazing visionary storyteller work, and I got to work with him and seeing his process and how he goes about making his decisions and that was what was most interesting...was watching him craft his stories and make them into these amazing movies...was the greatest learning experience."
January 2014