Hayden Christensen on China CCTV6 Star Wars Special
Disney and Lucasfilm have been growing in Asia with the recent opening of a post production studio in Singapore and with previous ILM visits to Beijing. George Lucas was escorted by his now familiar and usual squadron of stormtroopers and of course Darth Vader to officially open Lucasfilm's new Singapore headquarters. Lucas couldn't be more proud of their accomplishment saying they couldn't have found a better partner anywhere in the world.
Lucasfilm president Kathleen Kennedy was also on hand for the occasion and noted this will be the biggest year ever at Industrial Light and Magic. Source: Hollywood Reporter
George Lucas, Kathleen Kennedy, Matthew Wood, Anthony Daniels and Hayden Christensen were among those on hand doing press and interviews to celebrate the Lunar New Year with a special airing of the prequel trilogy.
A special Star Wars movie event on CCTV6 marked the Chinese Lunar New Year, the year of the horse, and gave fans in china the opportunity to see Star Wars Episodes I, II and III on consecutive nights beginning on February 1, 2014. Special interviews were scheduled to air during the showings including one with Hayden Christensen and Anthony Daniels. Hayden had just finished filming Outcast in China in December and was available for an interview with Joan Chen which aired duing the Star Wars special in February. Source: Netease Entertainment
More interview photos can be found in the China Outcast Album
Click for Larger Images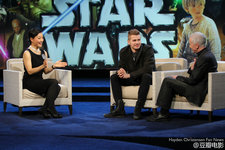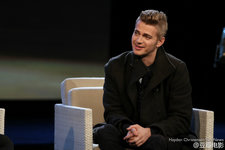 Click for Larger Images