JUNE 2011

June 25, 2011 - TV Appearances for Hayden - The schedule has been updated for Hayden's latest movies on television. Catch Awake with Hayden and Jessica Alba tonight at 11:00 pm ET and again Sunday night and July 3rd on the Lifetime Channel.
Visit Lifetime's Awake page for more updates. Source: Lifetime Channel
Click for Larger Image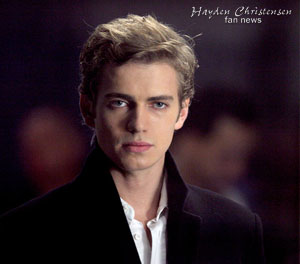 June 24, 2011 - Hayden an Apprentice of a Different Kind in New Film? - Mirror Images LTD posted news today that it begins filming in July on The Unknown Son. The production company posted it's latest casting for the movie today on Twitter which includes Hayden Christensen, Armand Assante, Linda Hamilton and Michael Biehn, Andrew Keegan, David Anders, Lee Majors. (Thanks to JforJ for a heads up.)
Stay tuned for more information to be added when available. Hayden's participation in this movie is not confirmed.
Twitter-Mirror Images LTD - @mirrorimagesNicholas & Nathan - #theunknownson cast: Hayden Christensen, Armand Assante, Michael Biehn, Linda Hamilton, @questionanders, Andrew Keegan, Lee Majors. #Boom! 24 Jun via HootSuite
Synopsis - The Unknown Son can be described as a cross between John Grisham thriller, "The Firm," and classic film, "The Boys From Brazil."
Noah Prentice, a man searching for his past, has only a mysterious tattoo on his wrist from childbirth to guide him towards the answers he seeks. Fresh into the workforce, Noah is thrown into a web of mystery and intrigue as he uncovers a massive plot born inside the walls of Kaiser Global, an American financial institution. The conspiracy leads Noah closer to understanding his purpose, while unearthing evidence linking Kaiser Global to remnants of Hitler's Third Reich aiming to finally claim the victory they failed to achieve many years ago.
Mirror Images LTD - Have a look at the story board presentation with a script reading.
Click for Larger Image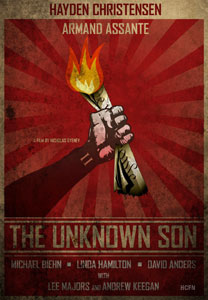 June 22, 2011 - Hayden at home in Canada - Summer Fun June 17th - Looks like Hayden is enjoying the outdoors this summer. Click the link below for pictures of Hayden riding a dirt bike just outside Toronto.

June 13, 2011 - Takers Prequel Update - Almost as soon as Takers debuted in theaters August 27, 2010, producers began mentioning the possibility of a second movie to tell the story of how the crew got together. Plans were to gather the original actors, Idris Elba, T.I., Chris Brown, Michael Ealy, Paul Walker and Hayden Christensen to revisit their roles again for the big screen in a prequel.
With Takers airing for the first time on Cable TV this past week, we are again hearing talk about a prequel as well as enthusiastic affirmation from the fans, especially on Twitter, to see more of the Takers Crew .
In reply Chris Brown took to his Twitter yesterday to say:
@chrisbrownChris Brown - S/O to everyone watching Takers on cable this weekend...I talked the studio into writing a PREQUEL. Be on the look out!!! 12 Jun via web
Click for Larger Image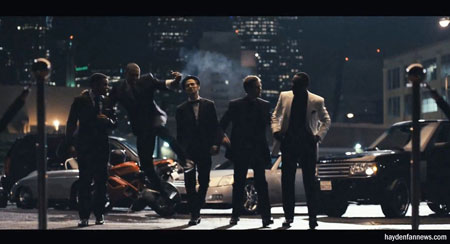 June 8, 2011 - Hayden's Summer Style - Hayden's been seen around LA recently sporting a casual style and changing up his fav sunglasses for some new cool shades. His signature Ray-Ban Wayfarers have been set aside for a couple of new looks to go with a new shorter hairstyle just in time for the hot summer months. Pictured below: Hayden wearing his Ray-Ban Wayfarers at the 2010 Toronto International film Festival. Hayden in Los Feliz, June 2, 2011 wearing Ray-Ban Clubmasters and lastly Hayden out for lunch in Los Angeles wearing Persol's Steve McQueen Special Edition Collection.
Click for Larger Images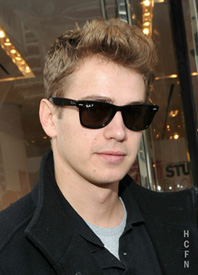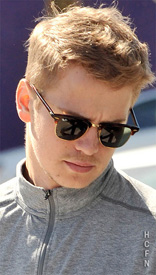 Click for Larger Image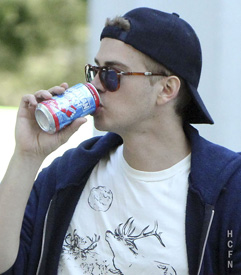 Hayden was asked about his hair in a funny moment during an interview about Lacoste for Glamour Magazine in June 2009.
Asked about his hairstyle:
Glamour - "You don't use your hair as a sexual weapon?"
Hayden - "As a sexual weapon? (chuckles) No. No I don't. I don't. (smiling) To me it just grows on the top of my head. I try to make sure it's not too out of control."
Enjoy an encore of the interview clip below.

June 4, 2011 - Hayden Christensen in Takers on Starz! Tonight. - Takers begins airing on Starz tonight and again tomorrow. Check the tv schedule in the left column for listings.
Click to Enlarge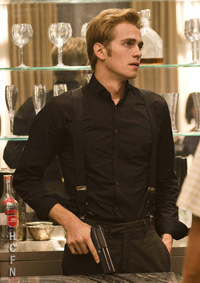 May 2011 Archive