MAY 2011

May 25, 2011 - Watch Hayden Christensen in Takers on Starz! Saturday Premiere in June - Starz! airs the television premiere of Takers Saturday June 4th. Catch Hayden Christensen, Paul Walker, Michael Ealy, Idris Elba, T.I. and Chris Brown as the coolest looking crew going after their biggest heist yet.
Watch a clip below featuring Hayden Christensen (as piano-man AJ ) and Michael Ealy with commentary about Hayden's character by director John Luessenhop.

May 25, 2011 - Hayden Christensen Television Schedule Update - The television schedule featuring Hayden's movies on cable and network tv has been updated with current listings for Jumper, Star Wars II and III, Takers and New York I Love You. The world television premiere of Takers on Starz! happens Saturday June 4th.

May 18, 2011 - CONTEST: Win a signed Vanishing on 7th Street poster and DVD from Magnet Releasing - Enter the Magnet Releasing contest on Facebook for a chance to win a signed Vanishing on 7th Street poster featuring Hayden Christensen and a DVD. The movie is out now in stores on DVD and Blu-ray and at online sellers such aa Amazon.com
Magnet Releasing Facebook Contest - Vanishing on 7th Street - Click to enter.
ANSWER THIS: "If there was one Celebrity you could make Disappear who would it be?? Answer for a chance to WIN a signed VANISHING ON 7TH STREET poster and DVD/Blu-Ray. VANISHING available today on DVD and Blu-Ray!!" (click above link to enter for a chance to win.)
Click to Enlarge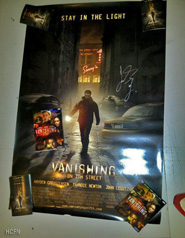 May 17, 2011 - Hayden Christensen in Vanishing on 7th Street Available on DVD and Blu-ray - Vanishing on 7th Street is now available on DVD and Blu-Ray and also on Netflix today in the US. You can also order from Amazon.com and online or in stores like Best Buy, Walmart and Target.
Extras included on the disc include alternate endings, commentary by the director, interview with the director and actors, a Making of Vanishing on 7th Street documentary and a photo gallery.
Click to Enlarge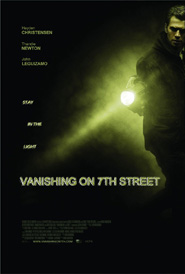 May 13, 2011 - "The Diplomat" with Hayden Christensen and Christian Slater part of Four Picture Deal - We thought this project had disappeared back in December when the listing was removed from IMDb but according to The Hollywood Reporter it is back again and part of a four picture deal between Future Film Groups (UK) and L.A. based Fusion Films. (More info in News Archive on December 12, 2010.)
Agreement covers Steven Sommers' "Odd Thomas," epic adventure "Nicholas North" and "The Diplomat" with Christian Slater and Hayden Christiansen.
"The fourth project on the slate is international espionage thriller The Diplomat, helmed by Paul McGuigan (Lucky Number Slevin) with Christian Slater and Hayden Christiansen lined up to star."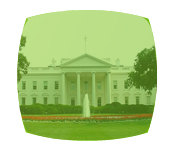 May 8, 2011 - [Updated] A One-of-a-Kind Live Performance Event - The Film Society at Lincoln Center has updated its' ticket information for "Memos and Testimonials from the "War on Terror" and Hayden and Rachel are no longer listed for the May 24th event. (Thanks to JforJ for sending in the update.)

May 8, 2011 - A One-of-a-Kind Live Performance Event - The Film Society of Lincoln Center presents on May 24, 2011, the Doug Liman directed "Memos and Testimonials from the "War on Terror". First performed at the 2011 Sundance Film Festival, Robert Redford, Ellen Barkin and other surprise guests performed readings composed mostly from classified documents obtained through the "Freedom of Information Act" by an ACLU lawsuit. According to the Film Society, Hayden and Rachel will be doing readings in the upcoming performance live at Lincoln Center on May 24th. (Thanks to Rachel Online for the info.)
Memos and Testimonials from the "War on Terror"
From the frontlines of the war on terror comes a one-of-a-kind live performance/installation event that shines a light on the scope and human cost of the post-9/11 torture program and the courageous men and women who stood up for what is right.
Directed by:
DOUG LIMAN for the stage and a future documentary
Featuring writers and artist:
RUSSELL BANKS writer
RACHEL BILSON actress
HAYDEN CHRISTENSEN actor
COL. MORRIS DAVIS former military prosecutor
AASIF MANDVI of The Daily Show
BILL MOYERS journalist
JACK RICE former CIA officer
With original artwork by JENNY HOLZER
With remarks from:
JAMEEL JAFFER Deputy Legal Director, ACLU LARRY SIEMS Director, PEN Freedom to Write program
Presented by:
THE ACLU, PEN AMERICAN CENTER, AND FILM SOCIETY OF LINCOLN CENTER.

May 8, 2011 - Happy Mother's Day from Hayden Christensen Fan News - Wishing everyone a Happy Mother's Day and hoping you celebrate well. Peace....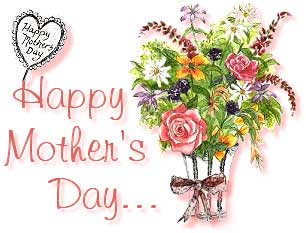 May 7, 2011 - [Update] Hayden Christensen Rumored Appearance at Star Tours 2 - Chalk this one up to the rumor mill. StarTours2Live on Twitter has posted today that Hayden won't be at the Star Tours 2 grand opening. Hayden was never officially confirmed by either Disney Hollywood Studios or Star Wars / Lucasfilm to be making an appearance at the event. George Lucas has been rumored for months to be appearing but there is no official confirmation of that either. Still, the new Star Wars themed Star Tours 2 in conjunction with Star Wars Weekend promises to be a whole lot of fun for everyone.

May 5, 2011 - Hayden Christensen Rumored Appearance at Star Tours 2 - Star Tours 2 Official Opening at Walt Disney World Hollywood Studios Florida - We've had rumors before about Hayden appearing at a Star Wars Celebration or Star Wars Weekend so this is just a heads up. There is no official confirmation as yet from anyone at either Disney or Star Wars so we'll keep you updated. If anyone has any info to share about this event please email me.
Here's the blurb from StarToursLive.com:
George Lucas and Hayden Christiansen Confirmed for Star Tours 2 Official Opening in Walt Disney World
"We reported earlier that one of our sources confirmed that George Lucas plans on attending the Star Tours 2 opening in Disney's Hollywood Studios. We've now received a separate source for this, as well as word that Hayden Christiansen, star of Episodes II and III, plans on attending the opening event as well. No word about their availability during Star Wars Weekend for autographs or meets.
Please note that Disney has not announced or commented on this; plans may change at any time!"
Star Tours 2, Disney World Hollywood - Opening May 20, 2011 (Click to Enlarge)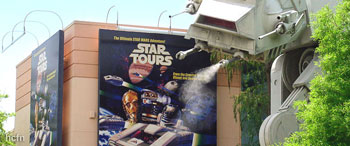 May 4, 2011 - Star Wars Day Special Announcement - Star Wars.com has announced the release of the complete Star Wars saga on Blu-ray September 2011. The news had been kept secret with a clock counting down to a special announcement and now everyone knows what that announcement is. Visit May the 4th be with you, a special page with all the details, images and art from all the Star Wars episodes.
A Surprise for 'Star Wars Day': Complete Series on Blu-Ray (Read more...)
Click for Star Wars May 4th Special Announcement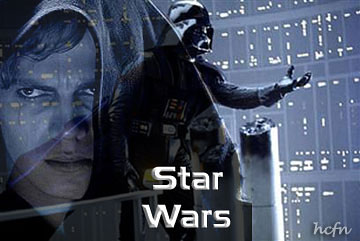 And while you're visiting StarWars.com take a look at the new Anakin Skywalker Sound Board with Hayden Christensen speaking lines from Star Wars Episode II and Episode III.
Anakin Skywalker (Hayden Christensen) Sound Board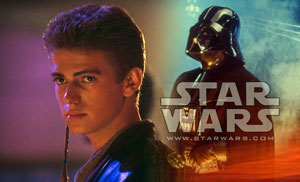 May 4, 2011 - Happy Star Wars Day from Hayden Christensen Fan News - May the 4th be with you! Today marks the unofficial Star Wars celebration that came about because of the popular take on the quote from the movies, "May The Force be with you." Star Wars holds a lot of very special memories for kids and adults alike so go ahead and indulge your inner fanboy or fangirl today.
Hayden and others have often spoken about their years involved in the making the Star Wars prequels and the friendships and family atmosphere that George Lucas fostered on sets and locations around the world as well as Skywalker Ranch.
Stars Thrilled To Be Part Of 'Star Wars' Legacy (Read more...)
"Obviously, 'Star Wars' was a huge opportunity for me and opened a lot of doors, but just on a basic cool level, I got to play Darth Vader. It's not often where you get to work on a film and run around every day with a lightsaber ... I really have no qualms about that character following me for the rest of my life." --Hayden Christensen (Anakin Skywalker/Darth Vader)
"The very first day Hayden walked out on the set with the Darth Vader suit was about two or three weeks before we finished shooting. About 1,000 people from all over Sydney came to watch it because it was like a seminal iconic moment in their life. We tried to let as many people on the stage as we could." --Rick McCallum (Producer)
Happy Star Wars Day from the Skywalker family (Click to Enlarge)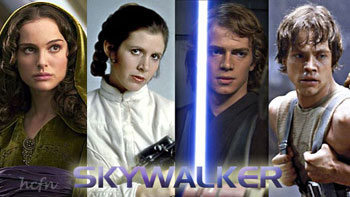 April 2011 Archive