Breakfast Television Montreal - Exclusive RW&Co interview with Hayden Christensen
One more video featuring Hayden being interviewed about the new 2014 RW&Co summer collection coming May 8th. Don't forget to visit the new Hayden Christensen for RW&Co site to see all the latest pics and vids with Hayden dressed for Spring and Summer.
City TV interviews Hayden Christensen about his new RW&Co collection.
Hayden is a busy guy these days. Last year he announced a new production company at the Cannes International Film Festival that he runs with brother Tove and an international group of partners. He filmed two movies back to back last year. American Heist which stars Hayden (also producer), Adrien Brody (producer) and Jordana Brewster (Fast and Furious) is in post production along with the second movie Outcast, filmed in China which co-stars Nicolas Cage and Crystal Yifei. He also served as a producer on the upcoming horror comedy Cooties starring Elijah Wood and the now in production horror film Lady of Csejte.
Somewhere in 2013 Hayden also found time to collaborate with RW&Co to design a men's clothing line. The fall collection debuted in October of 2013 and was well received and Hayden says he's been bitten by the design bug and enjoys the process very much. When not working in Hollywood Hayden has spent time back home in Canada using his talents and creativity to design buildings and the landscape around his 200 acre farm.
This May, RW&Co will launch Hayden's second clothing line for Summer. As much as the color palette and inspiration for the new line comes from his country home in Ontario, Hayden says he also was inspired by the time spent in Barbados while working on the collection. You'll find a casual yet well put together style in this latest RW&Co men's line. (author: Barbara)
See two video interviews with Hayden from City TV of Canada. Find Part 1 from 0:00 to 1:57 on the counter. In Part 2, find Hayden at 4:15 on the counter.
Hayden Christensen and RW&Co announce new 2014 collection.
Hayden has once again collaborated with Canadian retailer RW&Co for a new summer collection. Hayden says the 18 piece collection reflects the Ontario countryside where Hayden has a farm and likes to spend time outdoors. The organic colors of the clothes come from nature surrounding the farm community outside of Toronto.
While you might think that all the pieces in the collection would appeal only to men, some of the fall collection did have appeal for women too. Slim fitting jeans, shirts and scarves in the fall collection will be replaced with chambray and denim shirts and even shorts for summer that also have a casual feminine appeal. Hayden says he likes the idea that women like the clothes too and that it's kind of like wearing your boyfriend's comfortable shirt.
The new menswear line will be available May 8th in RW&Co locations in Canada and on their website. The new website went live March 26th with a new design and layout featuring Hayden dressed for Spring and Summer. An upbeat teaser trailer for Hayden Christensen for RW&Co is below. (author: Barbara)
Another Hayden Christensen photoshoot coming soon...
Karola Style just posted a Twitter teaser. Keeping our eyes open for another photo shoot of Hayden coming very soon. Eagle eyes.....
@haydenfannews my guy looks fabulous! Wait in 2 days more photos from another shoot coming at you

— Karola Style (@Karolastyle) March 25, 2014
Hayden Christensen Interview in April issue of Madame Figaro China
Click for Larger Images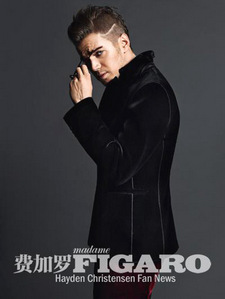 Click for Larger Images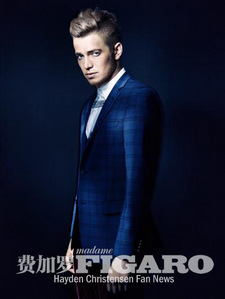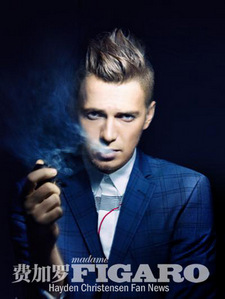 Click for Larger Images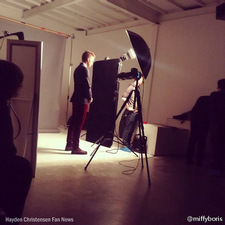 Hayden interviewed in the April 2014 issue of Madame Figaro China.
Hayden's layout and article in the fashion magazine includes a stunning photoshoot and a brief interview with Hayden. As always, it's a general translation so don't take anything as an exact quote. My translator skills with Chinese are hit and miss. (Thanks to Marcy for finding the on set photo.)
Madame Figaro Magazine Article - March 19, 2014 (Translation)
Figaro did not ask any questions about Anakin Skywalker. After all, that chapter of his life has been completed. Hayden Christensen says he does not want to imagine the future. In fact, he feels living in the past also does not make sense. As he put it, "The most important thing is to cherish now."
About Hollywood
Even if Hayden Christensen were with a million people in the main square, I believe you would see him at a glance. Anyway, I could. Not because I am so blessed with keen observation or good eyesight, but because he is so handsome. Like the lyrics to a song: I love your heart. It is particularly soft. If applied to Hayden Christensen: "fell in love" because his smile can melt everything, including your heart.
About Life
And how is life going for Hayden Christensen? In the issue, he answered a series of questions: After filming he will probably go back to his farm in Toronto and do some architectural design [or construction] play piano, write music, do fashion design, manage the new production company [Glacier Films] with his brother. There is a dog. The pigs were supposed to be mini-pigs but they ended up growing to standard size. He'll go for a walk in the country or ride his dirt bike and hopes to raise a few horses....
Who wouldn't want this way of life if you had the ability to choose it?
Q & A (MF-Madame Figaro, HC-Hayden Christensen
MF: You have had a beard for a very long time now. How do you like the style?
HC: For filming the "Outcast", I have had a beard, but this makes me look like a circus performer, ha ha. I am very happy with the role and to have a different style. For this role, it was worth it.
MF: When did you realize that you are especially handsome?
HC: To be honest, I never thought about it.
MF: Do you think it's a compliment if people think your are handsome?
HC: I am always glad to accept a compliment. Of course I prefer that people praise for me my actions and not just because of the good looks my parent gave me.
MF: What is the biggest challenge you've ever faced?
HC: Faced with the pressure of work and life, to be able to stay true myself and what I believe. To always be humble and calm in the face of praise and not forget what my parents taught me.
MF: There were a lot of martial arts scenes in Outcast. Was it a lot of hard work
? HC: I love a challenge. Every movie is a new challenge for me. This movie had a lot of action scenes which can be challenging. I know my own body so I faced the challenge but the difference was doing this while living in China faced with a different culture, food and experiencing many interesting and exciting things I never had before.
MF: Are there many scenes that you play opposite Liu in Outcast?
HC: There are quite a lot. She is very good, a very talented actress. We worked well together. She is very beautiful but I have a girlfriend already.
MF: What kind of actor do you want to be?
HC: I admire an actor who can put themselves in the role. After 10 years I'd like to look back to see that I've experienced many different types of roles and become a better actor.
MF: How do you blend in with the Hollywood lifestyle?
HC: I find Hollywood interesting, you can extend the communication, you can be original. Some people like to live every day in front of the camera. Hollywood will give them that kind of environment. I like to become invisible when I'm not acting. Hollywood can also be a comfortable place for me to live.
MF: What kind of girl do you like?
HC: Someone confident, funny, optimistic, kind. Inner beauty is important.
MF: What is your family's biggest influence on you?
HC: Family is important to me. We love each other. My parents taught me when I was very young to face life with optimism. This had a big influence on me.
February 2014