OCTOBER 2012

October 31, 2012 - Arclight's AFM 2012 slate includes Outcast starring Hayden Christensen. - Arclight Films movie slate for the AFM 2012 film market, which kicks off today, includes the historical drama Outcast with Hayden and Nic Cage co-starring. Easternlight Films, the China division of Arclight Films will also produce. The movie is hoping to begin filming sometime in 2013 in China. Source: Chicago Tribune
Synopsis - Outcast is an action adventure film set in ancient China where a prince and princess hire a former Crusader to protect them when they flee after the murder of their Emperor father.
Also on Arlight's AFM 2012 lineup is the remake of "Left Behind" which also stars Nicolas Cage. Shooting on that movie hopes to get underway in early 2013 and could affect when filming begins on Outcast.
Click for Larger Image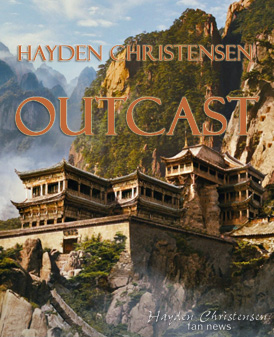 October 30, 2012 - Star Wars has nine lives. - The story of Luke Skywalker and Anakin Skywalker (Hayden Christensen) may have ended with episode 6 but the saga will continue after all. Disney today has acquired Lucasfilm and the Star Wars Franchise and intends to make a new trilogy of movies starting with episode 7 to be released in 2015. George Lucas has hinted about retiring for some time now and it appears he is doing just that and leaving his characters and creations in the capable hands of the Disney Studios. Lucas will still be on board as a consultant. The deal also includes the Indiana Jones character and franchise, the special effects company Industrial Light and Magic, Skywalker Sound and LucasArts video game company.
I love all the Star Wars films so this is good news and as The Clone Wars and all the Star Wars novels have proven there is so much more to explore in the Star Wars Universe. It's also a little bittersweet for me as I greatly admire George Lucas imagination and talent. I will always be grateful for the family memories and fun created in our home and family outings watching Star Wars movies together.
Click for Larger Image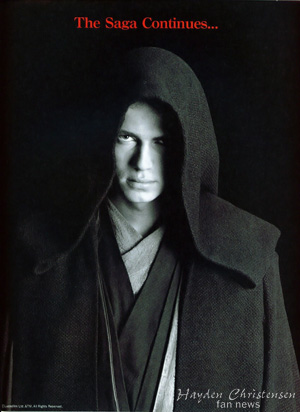 October 28, 2012 - Hayden Christensen Tidbits from Around the Web - Catching up on some of the interesting conversation around the world wide web about Hayden. Read all about it below.
October 28, 2012 - K-OS has another album ready to hit stores November 27th and Hayden has been watching the progress and supporting his friend's latest musical work. Hayden has been spotted out with K-OS a few times in the last year while he was in LA working on the album and also in New York in the audience for the Jimmy Fallon late night show. Might there be another music vid featuring Hayden?
K-OS Black on Blonde Double Album - October 02, 2012 - "Innovative, provocative, ground-breaking, fearless and incredibly talented - k-os is yet again leading the charge of our musical landscape's next chapter. What better way to do that then with a double album - out through Crown Loyalist / EMI Music on November 27, BLack on BLonde is two slamming records: one album of rock tunes, on which k-os sings and plays drums, guitar and bass, and one album of old-school hip hop jams. Recorded at Hayden Christensen's deserted Laurel Canyon mansion, BLack on BLonde is Canadian hip hop's first double album and the only thing large enough to contain k-os' big musical ideas."
Click for Larger Image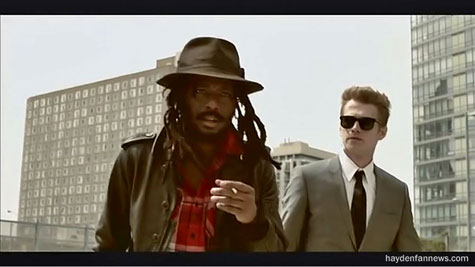 October 28, 2012 - Uh Oh, another comic book movie coming our way. This time it's Ant-man and you-know-who (Hayden) is mentioned. Okay, I know what you're thinking. Ironman, the Hulk, Thor, Captain America......Ant-man? Meh. However, considering what Marvel has done with the other Avengers, I trust that Ant-man (aka Henry "Hank" Pym a founding member of the Avengers) has a story more interesting than his alter-ego's name would imply. Over at ComicBookMovies.com a contributor has written his argument for Hayden being cast in the upcoming Marvel film. (I'm not one of those silly fan girls. I'm not! Really! Well, maybe just a little.)
My fan casting for who should play Ant-Man. (themcdougalbugle) - September 16, 2012 - "(Dear Marvel, I'm not a normal fanboy. I'm smart like you guys, listen to my cast, go with Hayden Christensen!) Despite the doubts of Ledger and Hathaway being cast in Nolan's Batman trilogy. There were people that made logical arguments for their casting. Here's mine if they cast Hayden Christensen. So there. When do choices for comic book movies please everyone? Look at all the casting choices so far in the MCU and the director choices. Did you have doubts? Anyone remember when Ledger was first cast as the Joker or Hathaway as Catwoman? I know film, I know my sh*t. Yes, I have completely unrealistic dreams of being a filmmaker of top grossing movies. But like I said, I'm not your average fanboy, Iv'e put my thinking mode in the heads of Marvel and this is what should happen."
Click for Larger Image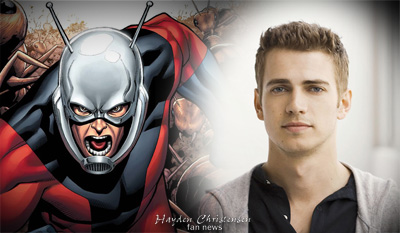 October 28, 2012 - A scathing review of Factory Girl except for one thing.........Hayden Christensen! I've always thought Hayden was the best part of that movie but I'm totally biased. That's why I like to hear it from someone who isn't and that's why I like this review of Factory Girl about Hayden's performance.
With Factory Girl, I Swear Off Biopic Fiction For A While - September 15, 2012 - "Why, then, do I list the acting as one of the few decent things about this movie? First, Hayden Christensen. Yup, Hayden Christensen. Writers Aaron Richard Golub, Captain Mauzner, and Simon Monjack and director George Hickenlooper may have chickened out or not gotten the clearance to call Christensen's character anything other than "Musician" but from the moment Christensen appears on screen, he is Bob Dylan. And you know what, it's not "Hayden Christensen as Bob Dylan," it's Bob Dylan. He's that good. No one is more surprised than I!"
Click for Larger Image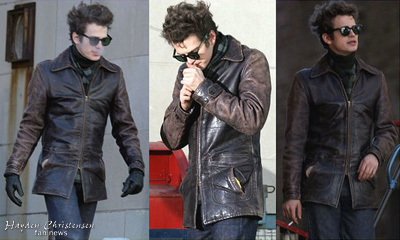 October 28, 2012 - Remember the biopic Poker Brat aka The Madison Kid? Phil Helmuth's story is a very interesting one. At the age of 24, he dropped out of college to play professional poker full time and became the youngest World Champion of Poker in 1989 by defeating the two-time defending champion, Johnny Chan, in the World Series of Poker main event. Helmuth's father, a college professor, was not pleased to say the least but he eventually reconciled with his son.
Confessions of a poker player: Phil Hellmuth - September 2012 - Question - "Who would play you in the film of your life?" Phil Helmuth - "Hayden Christensen was signed to play me in the movie of my life. Then he decided to shoot Jumper instead."
Click for Larger Images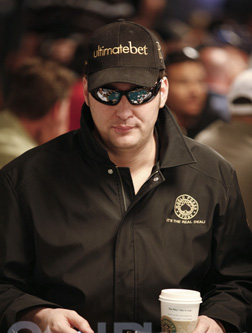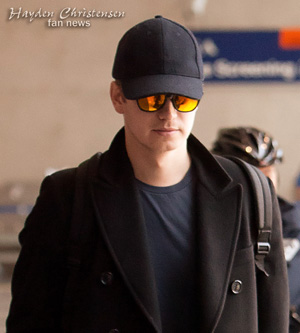 October 11, 2012 - Hayden Christensen and Nicolas Cage added to "Outcast" - IMDb has updated it's movie listing for Outcast by adding Hayden and Nicolas Cage to the cast of the film about a warrior who tries to redeem himself by saving a princess in 10th century China. IMDb shows Outcast as being in Pre-production. Just a little FYI but Hayden and Nicolas Cage were rumored to be attached at one time to the movie Broken Horses. Also, this would not be Hayden's first historical or period movie as he appeared in Virgin Territory, a tongue in cheek medieval romantic comedy based on The Decameron.
Click for Larger Image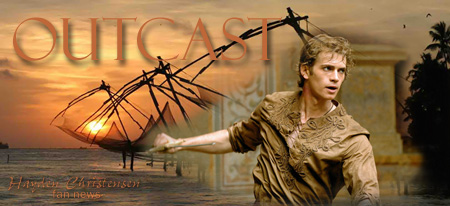 October 9, 2012 - Hayden Christensen and Nicolas Cage to Star in "Outcast" - According to a Wrap exclusive, Hayden along with Nicolas Cage have signed on to appear in Outcast, to be sold to film buyers ahead of the American Film Market by Arclight Films and also produced by Notorious Films and Impact Pictures. The movie centers around the story of a warrior who tries to redeem himself by saving the life of a princess in 10th century China. With a budget of $25 million, Outcast is aiming to start filming in China some time next year.
Outcast - IMDb Synopsis - A mysterious warrior teams up with the daughter and son of a deposed Chinese Emperor to defeat their cruel Uncle, who seeks their deaths.
Click for Larger Image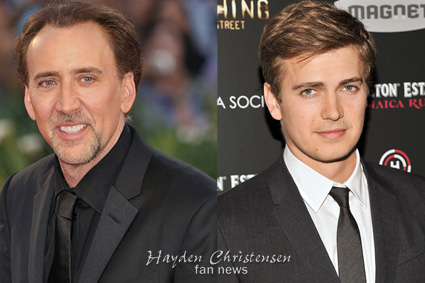 September 2012 Archive