SEPTEMBER 2012

September 6, 2012 - Hayden Christensen's Shattered Glass has become one of the movies on journalism and authors by which other movies on the subject are judged. - Name a movie concerning integrity about journalism, authors and writers. Almost inevitably, the movie Shattered Glass is brought up as an example of an intriguing and realistic look at the pitfalls and drama that can be a part of that world. Hayden Christensen's compelling and engrossing portrayal of Stephen Glass, who made up so many of his stories published by the New Republic Magazine, is often brought up when comparing these types of films. Here's the latest article by Time: Entertainment that does just that with the Bradley Cooper movie "The Words", giving it a less than glowing review. Shattered Glass writer and director Billy Ray continues to remain a master of creating true to life drama that is always hard to turn away from and fascinating to watch.
The Words: Oh What a Tangled Web They Weave
"If you want to see a master at the craft of crimes against truth on a page, check out Shattered Glass, Billy Ray's riveting rendering of the Stephen Glass story, with Hayden Christensen as the famously duplicitous New Republic writer, or The Hoax, which starred Richard Gere as the fabulist biographer of Howard Hughes."
Click for Larger Image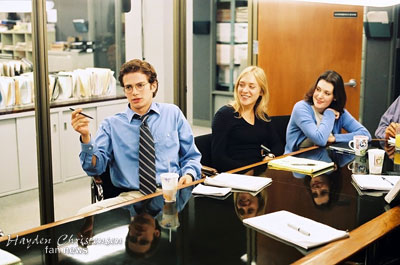 August 2012 Archive