SEPTEMBER 2011

September 8, 2011 - Hayden Christensen Arrives in Toronto - Toronto blogs and news media are stargazing this week in advance of the Toronto International Film Festival, keeping track of all the notable celeb arrivals. Hayden was sighted arriving at Pearson's International Airport greeted by family. (Thanks to JforJ, Ruth and others for sending info.)
SPOTTED: Hayden Christensen lands in Toronto
"We felt a great disturbance in the Force, kind of as if millions of fangirls suddenly cried out in ecstasy and never stopped. That's right, Hayden Christensen was spotted at the Toronto Pearson International Airport (and, like Juliette Lewis, he was wearing a hat, although his was of the black baseball variety)."
Click for Larger Image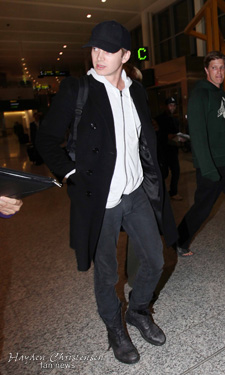 September 7, 2011 - Hayden Christensen Attached to Upcoming Project Battlecreek - The status on IMDb has changed to show Hayden as being "attached" instead of rumored in the Alison Eastwood directed drama Battlecreek. Casting is currently underway for the lead actress. According to Production Weekly filming begins October 17th on location in Savannah, Georgia.(Thanks to JforJ for contributing info.)
Synopsis - In a small economically depressed southern town, Henry (Hayden Christensen) a gifted young painter with a rare skin disorder must live his life at night. When a tormented young woman being chased by her own demons stumbles into town, their relationship forces both to ultimately reconcile with their pasts, enabling them to finally move forward to start a new life.
Click for Larger Image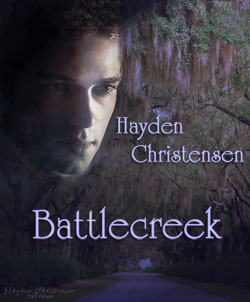 August 2011 Archive