September 20, 2013 - Hayden Christensen, the Apprentice Designer - Hayden did a Q & A for Canada's Metro Journal. Source: Metro Journal
Via Google Translate
A childhood memory related to fashion?
My baggy MC Hammer pants. Up to 9 or 10 years, I wore very often and I thought it was the coolest clothing the world! I still have a pair or two at my parents.
What is now your everyday style?
It is difficult to describe something that represents us personally. I hope the clothes speak for themselves. These clothes reflect my style.
Are you on the lookout for trends?
No, not really. I try to wear clothes that reflect my personality and where I feel good.
Your travel a lot in your work. What are the essential pieces for flying?
Parts that can be worn on different occasions: a cool jacket, wrinkle-free shirt and a sweater. Several pieces of my collection are also ideal for traveling, as I chose fabrics that breathe and do not wrinkle too easily.
You know Canadian winters ... Is it possible to face them with style?
We must be much more versatile to cope with temperature changes! We must focus on quality, the things that keep us warm and make you feel good. I love the layers.
Click for Larger Image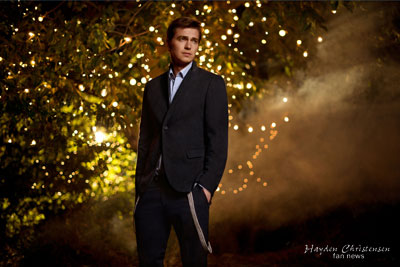 September 16, 2013 - Hayden Christensen on the Cover of Men's Fashion September Issue - Hayden appears in the latest issue of the national Canadian publication of Men's Fashion. The article covers his collaboration with RW&CO on a new capsule collection men's fashion line which includes Hayden's designs of some of his favorite pieces of clothing. Of course there's a peacoat and hoodie and the collection wouldn't be complete without a baseball cap. There's also some warm coats suitable for riding the snowmobile around the farm in the coldest winter months. The collection will be available at RW&CO locations across Canada and also online in early November.
The designs reflect Hayden's casual style and tastes and yet show an elegant sophistication that includes a dress jacket, shirts and pants with suspenders. Modern and yet country gentleman styled. The photoshoots and videos were filmed on Hayden's farm in Toronto and he gives us a glimpse into why it's one of his favorite places in the world.
Article Quote: - "After taking a break from making movies, HAYDEN CHRISTENSEN is back. He's a partner in a new production company, has just finished shooting his first film in three years and in November sees the launch of a menswear collection for RW&Co."
You can order back issues of Men's Fashion on their site. They ship internationally and to the US. St. Joseph Media: Product Page
Click for Larger Image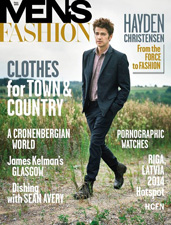 September 16, 2013 - Hayden Christensen introduces his new clothing line for RW&CO - With the Toronto countryside and his farm as a backdrop, Hayden's sense of style was on full display as his capsule collection was announced for Canadian fashion brand RW&CO.
Click for Larger Image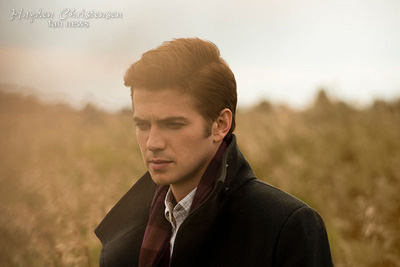 RW&CO. Launches First Capsule Collection with Hayden Christensen
- (PRNewswire) INTERNATIONALLY ACCLAIMED ACTOR PARTNERS WITH CANADIAN FASHION BRAND TO DESIGN A LIMITED EDITION MENSWEAR COLLECTION.
MONTREAL, Sept. 16, 2013 /PRNewswire/ - RW&CO. is proud to announce an exciting collaboration with renowned Canadian actor, Hayden Christensen. Under the label Hayden Christensen for RW&CO., the 20-piece collection of stylish, modern menswear for Holiday 2013 is the first design collaboration for RW&CO. The collection will be available at RW&CO. stores across Canada as well as online in early November.
US residents will be able to order online just in time for the holiday season.

September 8, 2013 - Hayden Christensen's first day on the set of Outcast - It's Monday, September 9th, in Beijing and Hayden is on the set for the first day of production on his new movie Outcast aka The Last War. Below you can see the first pictures from the set with Hayden, Liu Yifei and director Nick Powell. The movie currently filming on newly constructed sets in Beijing, will eventually move to the beautiful countryside in Yunnan Province. In an interview with Chinese media at the Venice Film Festival, Nicolas Cage mentioned that he will be joining the Outcast production on September 23rd for three weeks of filming. It's been rumored that Cage's character will be a former Crusader turned roguish bandit living in China.
Click for Larger Images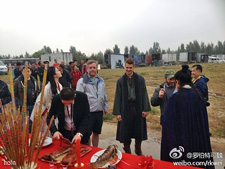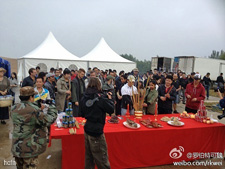 August 2013 Archive