March 30, 2013 - Happy Easter from Hayden Christensen fan News - I hope it's a beautiful weekend wherever you are and your holiday is a funfilled celebration.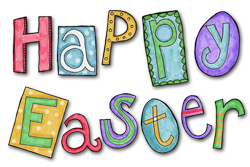 March 22, 2013 - Hayden Christensen, Joseph Fiennes movie The Diplomat still on? - A report about a new role for Joseph Fiennes in the upcoming Brett Ratner Hercules movie also mentions The Diplomat which was recently put on hold.
Fiennes lands Hercules role - "Joe has releases lined up through 2014. Production is underway for his next film, Simon Wells thriller The Diplomat, with Hayden Christensen. The celebrated actor will also join Morena Baccarin in Ross Katz sci-fi thriller The Unholy next year.
Click for larger image.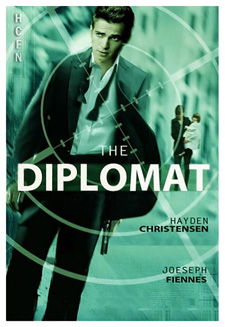 March 20, 2013 - New Hayden Christensen video. - This video from Youtube doesn't look recent and there is no other information posted about it. They are speaking French so my best guess is that this might be from Hayden's French Open visit to Paris in 2009 or when he was there filming some scenes for Jumper in 2007. If anyone has anymore information about the video, please send me an email and I'll post it here.

March 6, 2013 - Ian McDiarmid wanted Hayden Christensen and Ewan McGregor to take their swords skills on the road. - As Emperor Palpitine in the original and prequel trilogies, Ian McDiarmid was a master of the dark side of The Force. Later this year he'll bring his talents to Star Wars Celebration Europe to be held 26-28 July at Messe Essen in Germany. Recently he spoke about his Star Wars experience and about the action in Revenge of the Sith.
Star Wars' Ian McDiarmid on taking Palpatine to Celebration"> - "What was it like filming the action scenes?" "Well, I didn't have a great deal of physical action to do, of course in the movie. It looks like I'm an expert swordsman, which I assure you I'm not, but I was surrounded by them, particularly Hayden [Christensen, Anakin Skywalker] and Ewan [McGregor, Obi-Wan Kenobi], who really, really worked hard and I don't know whether they keep it up, but they are as good as it gets in terms of saber fighting. I joked to them that they should go on the road when we were selling the movie and so and do a few demonstrations, just to show how skillful they were, because what happens in digital movies and the way things are cut up and edited, you never really see how brilliant they are, and also you can think Oh well (as they did in my case), they can always fake it."

Click for larger image.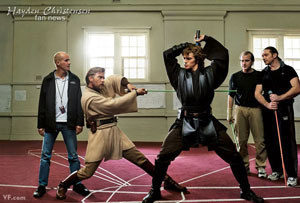 Click for larger image.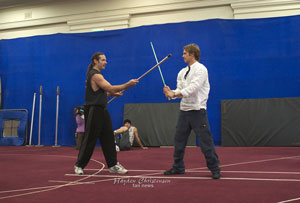 Click for larger image.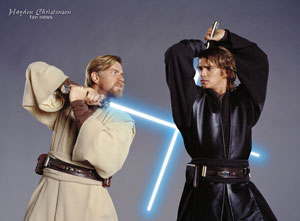 Click for larger image.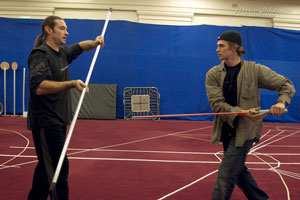 March 17, 2013 - Arclight Film's Hayden Christensen / Nic Cage movie Outcast debuts at Filmart Asia - The Hollywood Reporter - Outcast, staring Nicolas Cage and Hayden Christensen and repped by Arclight, will be given its sales rollout at the Asian industry confab. A Nicolas Cage-starring mainstream remake of the Christian film Left Behind will also be making its Asian market debut at Filmart.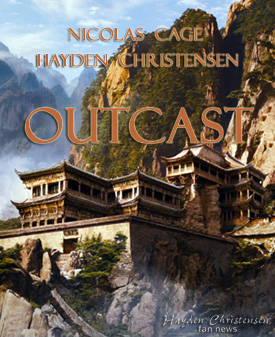 February 2013 Archive