November 24, 2012 - Hayden Christensen at the Beijing launch of Outcast. - More articles and video from Hayden's visit to China for the press announcement of Outcast. Nicolas Cage is in advanced negotiations to co-star in the 12th century historical adventure film about warriors from the Crusades traveling to China tasked with protecting a Chinese Princess and her young brother. We're also awaiting news of who has been cast in the role of the princess. Hayden's brother Tove Christensen was also in China for the event and he appears in the videos below where director Nick Powell also talks about choosing a Chinese actress for the film.
Click for Larger Images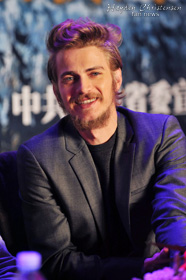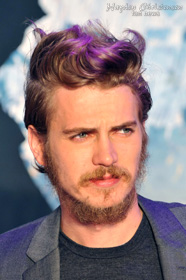 Click for Larger Images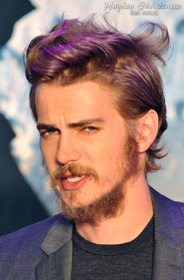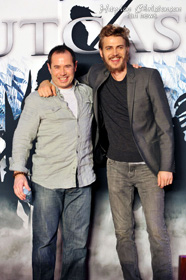 Click for Larger Image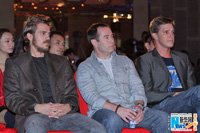 November 22, 2012 - Happy Thanksgiving from Hayden Christensen Fan News - Wishing you all a very happy holiday with family and friends. Enjoy!
Hayden Christensen Fan News has been online 6 years this month. Thanks to all of you who visit and hope you keep coming back. Thanks to friends who contirbute with information and pictures. It is much appreciated. I look forward to continuing to bring good news and keeping us up to date about Hayden's career. Stay tuned.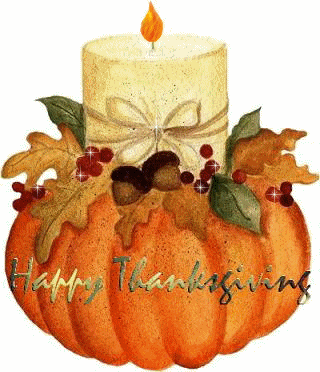 November 19, 2012 - Hayden Christensen is your tour guide from China. - There are more posts today by Hayden as he went out to see the sites in and around Beijing. Pictures below.
WEIBO - Hayden posted the following pics and comments to Weibo today. Click on WEIBO to visit Hayden's page.
"All my Chinese fans It's getting cold,keep warm okey?love you all:)"
"Okey i am your guide today let's go:)"
"The world is my oyster so i'm enjoy it:)"
"maybeeeeeee i should be more serious:)"
Click for Larger Images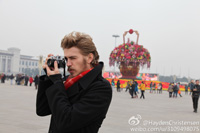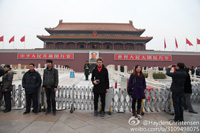 Click - Previous Great Wall Enlarged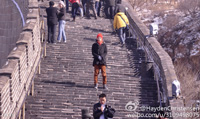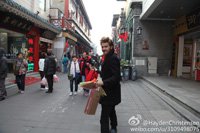 November 18, 2012 - Hayden Christensen posting on Weibo for fans in China. - Ni Hao China! Hayden greeted fans in China on Weibo, China's version of Twitter, in a video saying it was a pleasure to be in China and he was excited to be making his next movie there. He invited fans to watch the film when it comes out. While in Beijing Hayden took time to walk about the city and posted pictures from his climb of the Great Wall. Hayden was in Beijing Thursday for the press launch of a new China co-production on the film Outcast which also stars Nicolas Cage. Arclight Films is in charge of sales and it's China division company, Easternlight, will distribute in China.
VIDEO - Ni Hao China!
WEIBO - Hayden GreatWallWalker went for a walk about up the Great Wall of China and posted the following pics to Weibo with the following comments.
"Greatwallwalker tired out after climbing the greatwall.well...i gotta go to sleep.i really love China and love my chinese fans:)"
"hey bro let's climb the Great Wall ,come on"
"hey, buddy i'm here:)"
"It's my first time to come to China.I just want it to be good.I love you my Chinese fan:)"
"Ni Hao China!"
"I love China!"
Click for Larger Images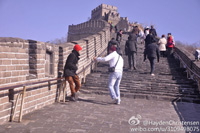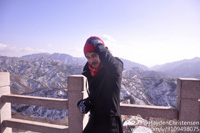 Click - What a nice day :)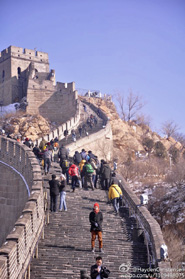 November 18, 2012 - Hayden Christensen's video interview from Beijing for the launch of the movie Outcast with Nicolas Cage. - Hayden did several interviews while in Beijing for the announcement and press of the new movie Outcast. I can't promise the video will work for everyone. Make sure your flash player and/or Quick Time player are updated.
If the video no longer works, you can visit the site to view it HERE.

November 18, 2012 - It's Official - Hayden Christensen's next movie will be Outcast with Nicolas Cage. - Stay tuned for updates, pictures and video this week about Hayden's upcoming movie Outcast. As I posted to the HCFN Blog earlier this week, Hayden was in Beijing along with Director Nick Powell to launch the Chinese Co-Production for Outcast. Hayden said in an interview that Nicolas Cage is in exclusive negotiations to join the film. Other reports out of Beijing say Cage has agreed to do the film and details are being finalized. The two actors will play disgraced knights who find their way east to China and become involved in protecting a princess and her young brother. Hayden has already started to grow a beard for the role and intends to let it grow until shooting begins in April 2013 and his hair is getting long too. At the moment it's styled high on top of his head but one wonders how long before gravity eventually takes hold. He also says he will be putting on some size for the role of Arken who will use a fighting style similar to Braveheart instead of Martial arts.
Inevitably Hayden was asked about the much talked about Lucasfilm sale to Disney and if he would have a role in the new upcoming Star Wars trilogy. "It's obviously very big news", he said, and "Star Wars will continue to live on and they will be making star wars movies for many years to come....I don't know if i will have any involvement in it....Darth Vader dies at the end of Episode 6....we'll leave it up to disney..we'll see".
Hayden was also asked about which Chinese actress would take the role of the princess. Rumors are flying about which actress will play the part but, Hayden, according to the reports kept everyone guessing.
"The actresses I'm interested in working with are the ones we are going to be meeting with so again I can't....we can't....really talk about it. We'll be very interested to share with you once we cast someone but at this point it just wouldn't be appropriate." Meanwhile the fans in China have their favorites for the role and a few were mentioned. Among them, Fan Bingbing, Li Bingbing, Tang Wei and Zhang Ziyi.
Director Nick Powell also answered questions about the film. He has worked as an action and stunt coordinator and 2nd unit Director on some very big action films like The Bourne movies, Gladiator, Braveheart and The Last Samurai. This will be his first movie as Director. One article on the Beijing movie launch says Hayden has known Nick Powell for a long time and they are good friends. Hayden is very excited to be working with him.
Outcast begins filming in April 2013 and The Hollywood Reports says it will be in theaters in November 2013. Hayden and Nick Powell will be going to Yunnan Province in January for more preparation. The Yunnan Film Group is backing the production. Arclight Films' Gary Hamilton and their China Division Easternlight Films are also producing. Picture Souce
Click for Larger Images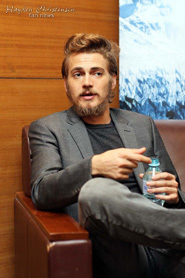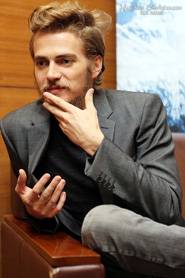 Click for Larger Images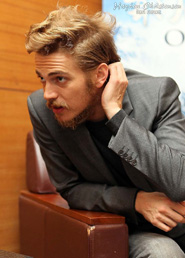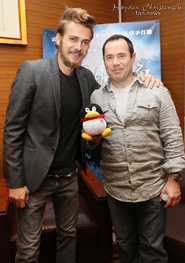 Click for Larger Image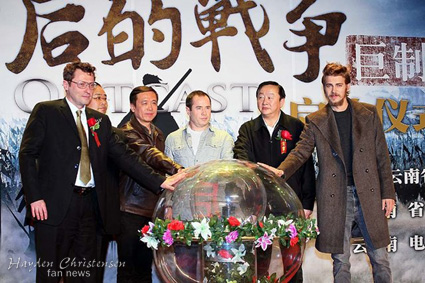 November 4, 2012 - Help for Hurricane Sandy Victims - Most of us have seen by now the terrible toll that Hurricane Sandy took on the New York and New Jersey coastline. As someone who has seen the aftermath of a hurricane first hand, I know that the people of New York and New Jersey and other nearby communities will be needing help for a long time to come. With winter and the Holidays just around the corner, some hope and the basic necessities will be needed immediately.
Fortunately, beside government agencies there are also private organizations and charities who have the means to mobilize large numbers of people and goods to help meet basic needs right now. Governor Chris Christie of New Jersey gave special thanks recently to the American Red Cross and charities like The Salvation Army and The Southern Baptist Convention who have gone to the area to volunteer help and to provide necessities and hundreds of thousands of meals to victims and responders.
I am providing the names of some of the organizations who have demonstrated in the past the ability to help in times of natural disasters for your information. There are many other organizations so I am also including a link to Charity Navigator, the web site that gives organizational information and rates charities, to help you do your own research if you are trying to decide how best to help.
Click to visit Organization




November 2, 2012 - Outcast starring Hayden Christensen, a Knight in Shining Armor. - I began to suspect there might be more clarification on the cast for Outcast after Nicolas Cage was announced to be starring in the remake of "Left Behind" and also filming in 2013. As of today, Hayden is the only cast noted on Easternlight's production page for Outcast. There is also an update to the synopsis which gives more details about the story and you can read that below along with the first teaser poster. The one sheet announces, "From the producer of Resident Evil Franchise - Two Worlds Collide - One Epic Battle - Directed by Nicholas Powel - from Easternlight and Arclight Films - Coming Soon" A start date is projected for some time in 2013.
Synopsis - In ancient China, Princess LIAN and her younger brother, ZHAO, flee for their lives when their father, the Emperor, is murdered by his ambitious eldest son SHING.
Pursued by Shing's soldiers, the royal runaways hire battle weary Briton, ARKEN, who's wandered east to escape memories of the Crusades, and an unlikely romance blooms between the refined Han princess and the rough English man of war.
But Arken has a secret from his past. A MOOR has tracked him half way across the world seeking revenge. Worlds collide when his past endangers Lian, Zhao and ultimately, the throne.
Click for Larger Image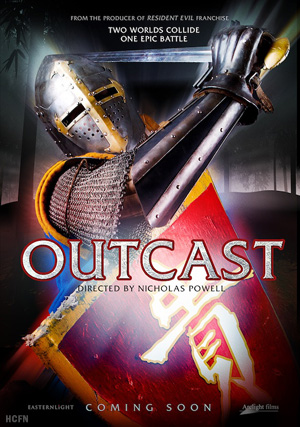 October 2012 Archive