Movie Pages - Click on the pictures below to go to Hayden Christensen Fan News movie pages for Awake,, Jumper,Factory Girl and Virgin Territory, New York, I Love You with trailers, reviews, articles, trivia, release dates and general information. Check out the interactive media page for Jumper.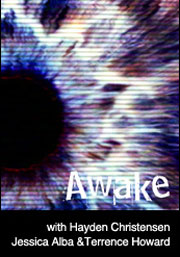 Hayden Christensen - TV Listings

Hayden has worked with the following charities:
Rally for Kids With Cancer 2010 raising donations for SickKids Foundation.
Buy ( RED ) - helping in the fight against Aids
Christopher and Dana Reeve Foundation - Supporting those with spinal cord injuries.

HAYDEN CHRISTENSEN FAN NEWS UPDATES / BREAKING NEWS
EMAIL and COMMENTS: - Share news, comments, updates and images. Contact me about anything concerning the site. Your help is always appreciated and credit will be given. Infringement of any rights is not intended.Email: Hayden Christensen Fan News. A credit and/or a link back to this site when using pictures, information and resources found here would be much appreciated. Please don't copy content or hotlink images or remove tags. Thank you.
Comments Page is back up and running. Have your say!


October 3, 2013 - Hayden Christensen most at home on his farm but ready for a "Return Engagement". - Yes, we've been missing him and we were always happy when he would suddenly appear out of nowhere for a brief sighting here and there. Now Hayden says he is back from a three year break and looking forward to making more movies and being a part of the creative process as well.
He didn't waste any time. Back in April it was announced that he would be filming American Heist as part of his new production company Glacier films with brand new partners from Russia and his brother Tove. In May he was at Cannes taking care of Glacier Films business with his partners. Not long after filming on American Heist started in July, it was announced that he would be producing Cooties a film starring Elijah Wood which is now in post-production. Filming recently began on another project in China. Outcast is currently filming with fellow cast members Nicolas Cage and Liu Yifei on location in Yunnan Province.
November marks the debut of Hayden's collaboration with RW&Co of Canada for a new men's clothings line that will be available just in time for the holidays. You can find below magazine scans for Men's Fashion which is available to pre-order here: St. Joseph Media: Product Page
Click for Larger Image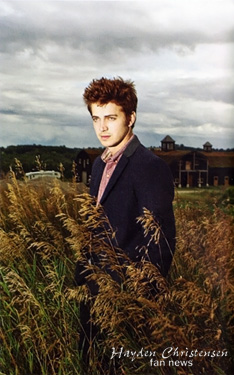 Click for Larger Images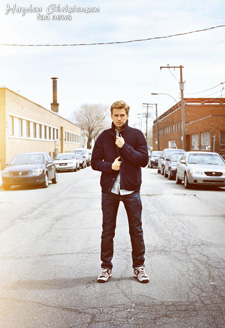 Click for Larger Images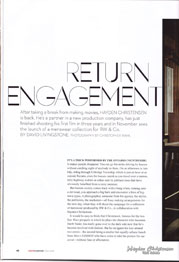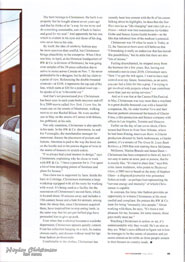 March 2013 Archive